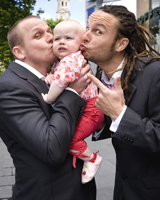 Soon I'll be out shaking hands on the Mana campaign trail.
This time I'm standing for the ALCP. Last time I stood for Libertarianz. This time the Bill and Ben (pictured left) Party won't be around to compete for the party vote at "the lower end of the scale".
I'm pleased. The so-called "wasted" vote belongs to the Aotearoa Legalise Cannabis Party.