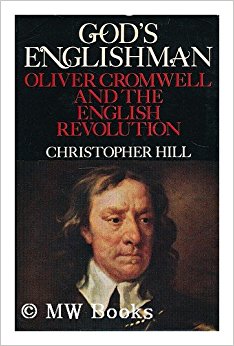 I have just started reading Christopher Hill's 'God's Englishman' Oliver Cromwell and the English Revolution and from the very start I find the Biblical political Ideology and dynamics within the Reformation that led to the full exposition of the Just limits to Kingly or Popish powers, and the inalienable nature of the God given rights of every Individual.
The Author introduces his readers to 'Thomas Beard'.
He was Schoolmaster in the Free school of the Town of Huntington attended by Oliver the Boy… and is a person whom Hill says history records as a greater influence on the young O.C than his own father.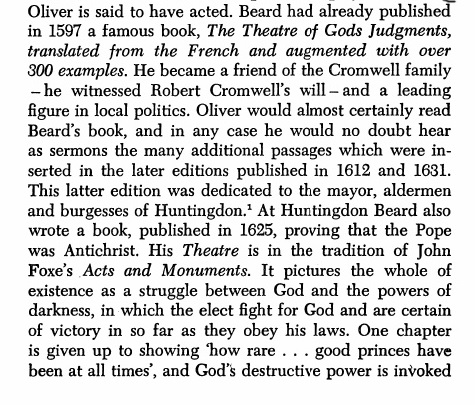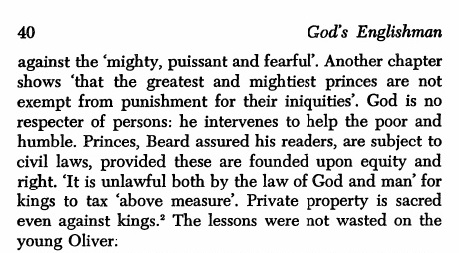 The whole book can be found on line here…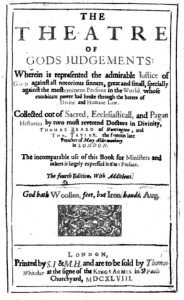 There is a vital truth in all this for the factual historic argument that Libertrainism was born of Protestant Christianity.
An unassailable fact that has been utterly bamboozeled by that commonplace naive and ignorant Atheist delusion about a historic battle between science and religious superstition.
The modern world and esp Western Freedom and prosperity are not the fruits of any supposed 'triumph of secular materialist rationalism'.
It was not the growth of Materialism them gave birth to the ideals and principles of Liberty… but all the struggles for power and tyranny between the Religious factions , and the arguments the Protestant theologians found in the bible… that justified their calls for Freedom of Religion, private property rights, freedom from excessive taxation…. etc.
Thus the Doctrines of the equality of Humanity and the God given inalienable rights of the individual, and the limited just powers of government.
You have to be ignorant of a massive amount of the history of western civilisation to maintain that tired fantasy that enlightened progress and prosperity in the West is due to atheism and the abandonment of religion.
The Protestant Reformation was a doctrinal and political revival of the true faith …it stands opposed to the absolute power of either State or the Church.
So far I am only up to page 40… 250 more still to go so no doubt I will blog a many more comments on this book before I am through… so epic were the game of thrones at this time… for real.
The Right of Revolution….even Regicide.
So Thomas Beard is yet another example of this Protestant Christian Libertarian Enlightenment.
It's King James Bible Time.
Tim Wikiriwhi
Protestant Libertarian.
More from Tim…
Guy Fawkes. Agent of The AntiChrist.
History of The King James Bible: God's Perfect Word
Materialism renders Man Nought. Meaning-less, Value-less, Right-less
The Light of the gospel reaches the utmost parts of the Earth. Bi-Centennial of Samuel Marsden's Christmas Message. Bay of Islands. 1814.
The Christian Fellowship is a voluntary private society, not a theocratic political movement.
Not PC: FREE RADICAL #75 – The Right of Revolution: In Praise of Commodore Frank Bainimarama. by Tim Wikiriwhi