Last night I came home with my son Roman when my wife announced to him… "It's Halloween!".
I had just finished a short Father/Son discussion in the car about this subject with him saying that Halloween is about evil things, and that Christians ought not to celebrate it, yet that because our God is stronger than the powers of darkness we have nothing to fear from it.
I had just stopped off to buy a few beers, and had contemplated buying some sweets to give to the kids that knock on the door… yet I decided against it… we were not going to do the Halloween thing…. yet that changed as soon as we walked in the door.
My Wife knew Roman was looking forward to it, and she had bought a few treats to hand out…. I was not going to argue about it… and I did not even protest when she asked me if I had any Ghoulish accessories I could put at the letterbox to let kids know this was a 'Trick or treat' house.
I had a genuine Pig's skull and a 'Chrystal skull' Vodka Bottle that I painted white with red eyes and these were placed on our letterbox.
Nor was I done yet, and I hastily created the 'Happy Halloween' poster (Below), and as you can see for yourself, my intention was to take this opportunity to tell any of the neighborhood kids who showed up trick or treating( and their Guardians) that Jesus loves them!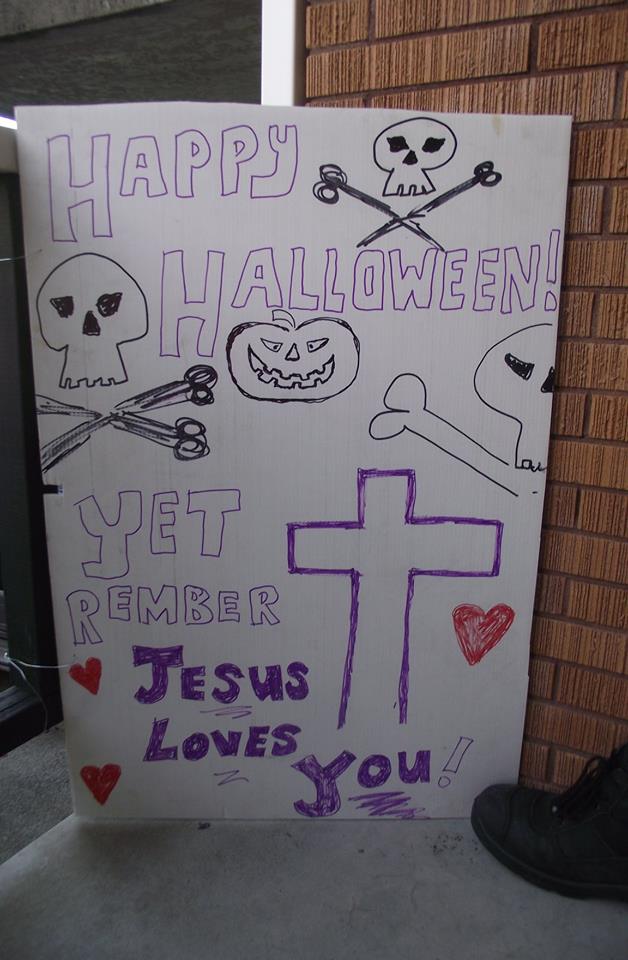 I personally think this is the best way for a Christian to deal with this Pagan celebration… esp if they have young kids too, because it teaches them many valuable lessons that I believe are important about Christian tolerance, Liberty, and conduct.
Christianity is not properly *Anti-Everything*… anti-Fun… etc.
I am not saying that Christians who refuse to have anything to do with Halloween are doing anything *intrinsically wrong*, as long as they are abstaining from a desire to please God, rather than from some sort of Pharisaic legalism that thinks Halloween should be illegal, and that Children who dress up as Ghouls are some how *worshiping Satan!*
That is delusional… and Medieval!
That most Christians today tolerate things like Halloween is Far more within the Spirit of Love and Grace… ie… truly Christian Civility… than earlier times when The church Tyrannized over society and Burned witches, and heretics at the stake… Tortured and maimed Thieves… etc.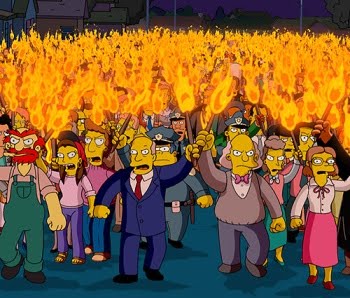 So many Pharasaic type Moral legalist Christians dont grasp what the Gospel of grace is all about… or how living by grace in the fellowship of the Mystery is supposed to be vastly different than living as an Old Testament jew under the Law!
Our Apostle Paul had to constantly tell his spiritual children not to return to the Yoke of Bondage… the Law…(Galatians 5) and he even said that *We can even eat meat that has been offered to Idols!*(1 Corinthians chapter 8)… such is the great liberty we have in Christ under Grace!
Thus there is no reason why a Christian cant attend a celebration, a wedding, etc when invited by his non-christian neighbours… even if the food has somehow been consecrated to a false God!
And this is another important fact of Liberty we Christians ought to understand today… That we have nothing to Fear from the powers of Darkness!
"For God hath not given us the spirit of fear; but of power, and of love, and of a sound mind."(2Tim1vs7)
It is pure superstition to think that by allowing your kids to dress up for Halloween that somehow you are inviting Satan into their lives… Because *OUR GOD IS GREATER* than Satan and his demons.
"Ye are of God, little children, and have overcome them: because greater is he that is in you, than he that is in the world."(1John4vs4)
Taken in totality The Christian does not have to fear being 'defiled' or 'cursed' by his unbelieving heathen neighbours…
We can Love them any use every opportunity that presents itself to practice Christian love, Liberty, and Grace!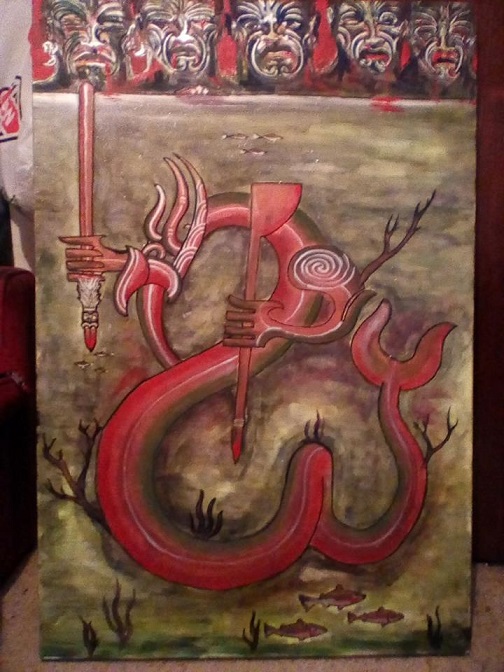 Matarehua/ rotokakahi This Epic Painting by my Cousin Jae Jae Wickliffe
I do not deny the reality of spiritual things… far be it! I am no Materialist. I have personally experienced a spiritual encounter, and I study phenomena that does not fit the materialist paradigm, from freewill, to Near death experiences, etc… all the things that Materialists must arbitrarily delineate as 'Illusory'… yet I am careful not to be carried away by delusional hokus pokus.
In My library of History, Philosophy, Religion, and Law I have a Buddha, some African 'Fetish' looking wooden carvings, an Aztek God… among other things.
I have recently acquired a large painting of a Taniwha… a Water spirit… and guardian that My People believed lived in their Lake (above)…. and I fear no ill from any of these things… they are a part of History, and culture… and it is important to me that I teach my 8 year old son that Christians should not behave superstitiously towards such things, and to understand them… not fear them or be ignorant about them.
The most important thing being that I educate my son in Biblical truths, and Ethics… and set him an example by my personal walk… so that he sees how important The Lord is to me, and how I implement Christian values in my life… Loving my neighbours… being heroically Good in spite of hardships … To have fun! and enjoy life… to have grace… to be wise… Appreciating the many blessings we enjoy… asking The Lord to help us live as a good Christian… to revere the wisdom of the scriptures… and not being superstitious about things like Halloween.
If you raise your children right they will be able to navigate themselves in this world even after you have gone… even if they stray yet still will they have a light shining in the darkness to where they can find their way again… The sure foundation you taught them, and your own personal example.
Next Year I hope to have greatly improved my Gospel poster ready for October31, and also have some cool gospel tracts to give out with the sweets.
By my reckoning we are not going to stop Halloween from being celebrated in our communities so we may as well turn them into an opportunity to share our Saving faith that is so desperately needed by the lost.
Tim Wikiriwhi.
Christian Libertarian.
1611 King James Bible believer, Dispensationalist.
Update: In response to a comment below about 'All Hallows Eve' as a 'historically Christian celebration'.
I appreciate your view… 'All Hallows Eve' today can basically be considered the same as celebrating Christmas, and Easter…. Looking back in time we see the Roman Catholic Church 'Christianized' all these days, yet the fact remains that these were all Pagan celebrations.
The 'Prudence' of Roman domination and Empire was not to absolutely annihilate the institutions and customs of the nations they Conquered by sword, or by Saint…. but to *assimilate* them so that the people did not feel absolute subjugated (less alienation…less likely to rebel… easier to rule)… and of course more likely to embrace the Catholic faith and submit to the Pope.
Protestants historically have challenged all these types of Popish additions to the Christian faith yet slowly have assimilated these themselves so that it is rare that a christian does not celebrate Christmas with a decorated tree (Pagan), or Easter with chocolate Rabbits and eggs (Pagan)…. and it appears that even Halloween is now becoming the Norm too… despite all its Wikken and occultist trimmings.
Though personally I am uncomfortable with all this business, nonetheless there is a futility in trying to avoid it all, and still retain the christian spirit of Love, and grace… just as futile as trying to get the names of the days of the Week changed from their Pagan origins… etc etc….
I think The important thing is to be aware of the history behind all this stuff, and to teach our Children the truth… without becoming fanatically legalistic… trusting in the Grace of God (as prescribed above).
More from Tim…
FAITH, SCIENCE, AND REASON. THE POMPOSITY OF ATHEISM.
THE ROCK OF DIVINE REVELATION.
DEFUNCT / ARCHAIC WESTERN DOGMA BLINDLY INSISTS : 'WHATEVER DOES NOT FIT THE NATURALISTIC MATERIALIST PARADIGM IS ILLUSORY'. ENTITY ATTACKS
SPACE TRUCKIN: DEAD FOR 45 MINUTES.
SCIENCE GOES GA GA! THE SPIRIT TEMPLE-MATERIAL INTERFACE. THE HUMAN BRAIN.