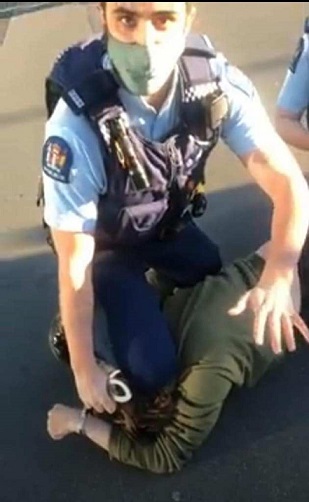 Read/ watch An Ex-police View of the Arrest for Not Wearing a Mask
Great article (above) by the BFD.
Informative.
Must read to get a legal analysis of what happened from an Ex Cop.
This looks to be yet another case of NZ Police acting like Nazi's/ Political enforcers with regards to yet another Comrade Ardern dictate.
Disgraceful!
This guy may have been an annoyance, and yet I did not see him commit any crime.
He said he had a mask exemption.

Two You tube videos from the BFD article (above).
These NZ Police brutalised this guy and have stitched him up with Bogus charges.
They did not follow a single principle of good policing.
They intended to make this guy regret not being a compliant slave and instead challenging Ardern's dictates.
The question really must be asked what sort of 'instructions' had these Junior officers received from their superiors in dealing with 'resistance to the mask mandates'?
I suspect NZ Police are being brainwashed into thinking Non-compliant people *are a real and serious danger* to the Public…. which is complete BS.
They never seem to contemplate that *they themselves* and their Oppressive enforcement of tyrannical laws *are a real and dangerous threat to the public!*
COMPLY OR ELSE!
I recently watched a similar situation in Australia whereby the Thugs in uniforms were bullying a woman for not wearing a mask even though the law stated she did not have to wear one when exercising… which is another example of police willingness to break the rules, and attempt to make up the rules thinking the public are too scared or too ignorant to know the cops are scamming them.
We live in such times when the people can't trust the police to be acting lawfully!
In this particular instant the vile evil of these Auzzy cops they tried to insinuate the woman had 'mental health issues'… which is simply a pretext for them to arbitrarily deny her rights, grab her, and get her treated like a raving lunatic!
Luckily for her she managed to walk away from these dangerous criminal cops who enjoy abusing their powers.
The Covid Plandemic has turned the free West into a collection of Leftist Police States!
These mask mandates are just another travesty… pseudo-science… BS the net result will be not greater safety, but *detrimental to public health*.
They are a Joke… a symbol of paranoia… and a pretense for Police State surveillance and control… and the sheeple 'feel safe' when they should feel outraged and horrified that their freedom and rights have been swept away….
For an observer of Social dynamics, what an amazing social experiment this is to witness… all it takes is an edict from our Supreme Leader and instantly our once smiley friendly Supermarket staff become Nazi Informants and look upon any non-compliant black sheep with dehumanising contempt.
This gives us an insight to the fickle herd mentality and is a modern demonstration of how the Witch craze of the middle ages in which old woman would suffer the hysterical outrage of their otherwise 'normal' neighbours and get burned at the stake… because of the perception these woman represented a grave threat to them and their children… and it was all complete BS… yet the 'Civil society' at the time turned into a frenzied murderous mob.
Read the following Newshub article…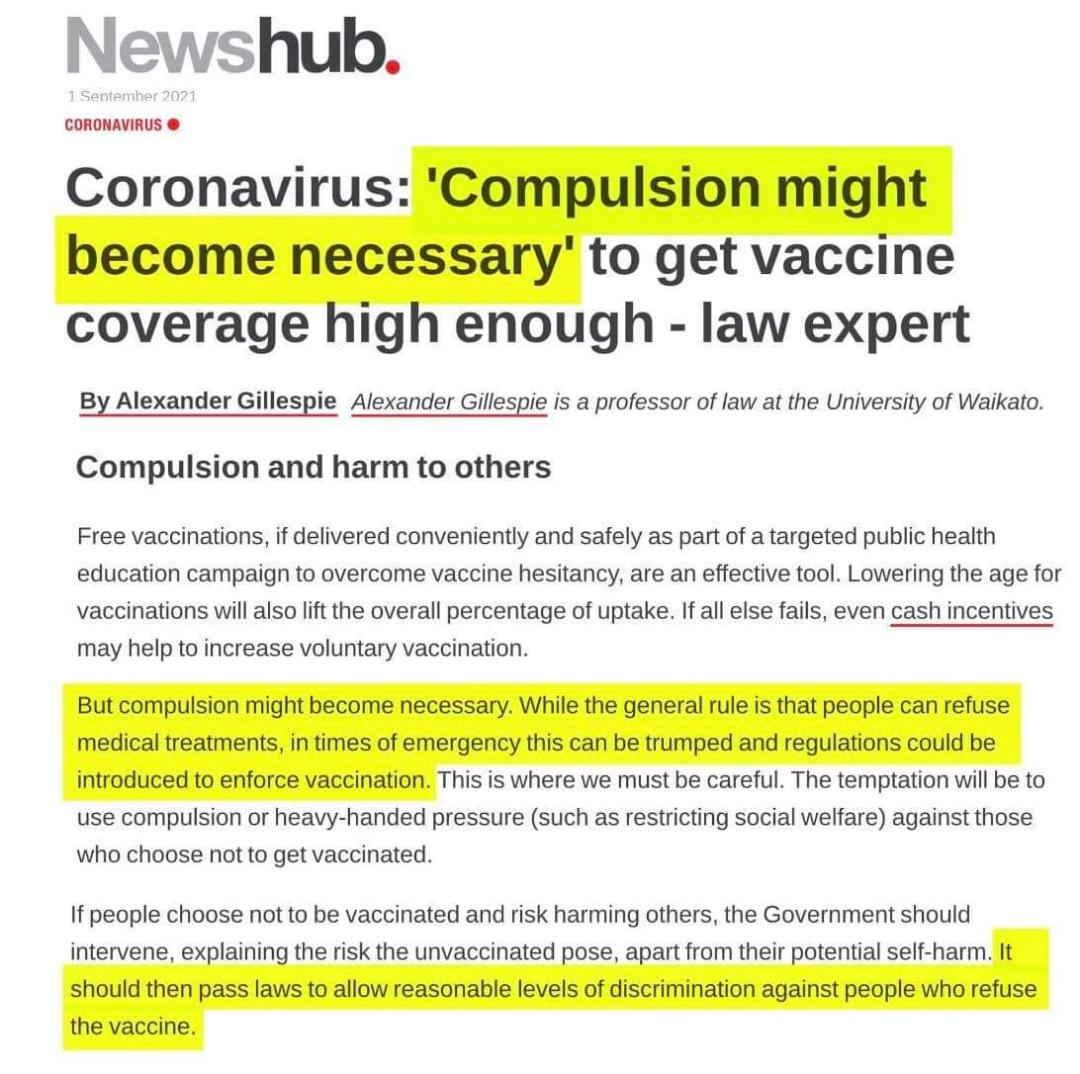 In a blogpost last week I warned that the Ardern Regime would have to resort to compulsory vaccination to achieve their stated targets.
It is difficult to exaggerate just how outrageous, backwards, and dangerous are these calls by a so-called 'Legal Professor' Alexander Gillespie to the rights and liberties of New Zealanders.
His proposal literally reduces New Zealanders to slaves… and yet too many people choose to turn a blind eye to what his proposals really mean.
'Reasonable levels of Compulsion'… is like saying 'reasonable levels of Rape'.
These are the sorts of 'Law Professors' Kim Jong -un and Xi Jinping use on a daily basis to run their 'Reasonable Tyrannies'….
To think we taxpayers pay this arsehole Nazis wages!
We must resist this at all costs.
If the government can inject you against your will you are no longer a free person… you are like their Cattle… Farmers don't ask permission of their cows and sheep when they Dip them and dose them… This is what this Scum Legal professor is advocating and calling it 'reasonable'.
The principle of consent is one of the most important prerequisites of personal freedom and self ownership, yet in recent years duplicitous Socialist academics have been muddying the waters of what consent really means. The hypocrisy of Leftist academics is exposed when you consider how vocal they have been screaming 'My Body, My choice' when it comes to Abrortion, and yet now they turn around and say Your Body, but not your choice when they want to force toxins into your veins!
Where are the Legal professors defending out right to choose?
Their cowardly Silence is deafening!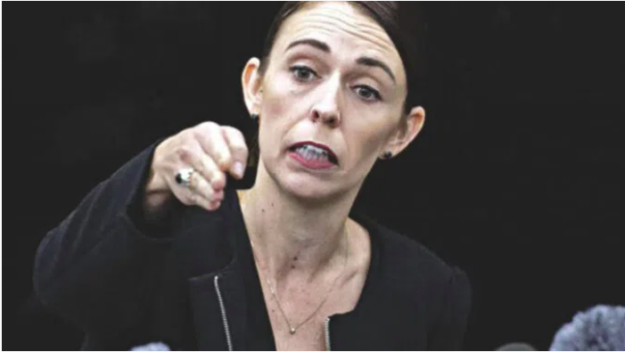 The treatment of this peaceful man by the Supermarket and esp the New Zealand Police also exposes the true nature of Ardern's politics… Your rights have been taken away and her edicts are ultimately undergirded by Thuggery in uniform… and she can get away with this because the Sheeple believe such thuggery is justified… to keep them safe.
Had enough of this Nanny State Tyranny?
Find a local group of likeminded people and start Peaceful Resistance and protest!
Tim Wikiriwhi
Christian Libertarian.
PS. PARENTS BE WARNED! The government is now advertising on the radio and elsewhere offering vaccines for kids ages 12 and above without informing listeners that the Pfizer shots have not been through thorough safety checks and still only have 'Emergency use authorisation' from the FDA which itself is only for ages *15 and over!*
There are serious health risks involved to getting the shots.
They are not ordinary true vaccines, but are completely different… they are a form of Gene therapy.
There is a massive gap in understanding what the long term affects of these shots will be.
And given children and young people are at extremely low risk from Covid 19 I believe it is callous to risk their health with these Vax.
In truth I believe it would be much better/ safer for our kids to gain immunity naturally by exposure to the virus… which has been common practice for generations, eg such thing as 'Chicken pox parties'. These is a hell of a lot of propaganda and mis-information that tries to promote vaccines over such 'Old school practices', yet the people promoting the vaxes are in the Back pocket of Big Pharma who make Billions from Vaccines.
Medicine is one of the most heavily propagandised markets that is rife with money making pseudo-science.
Appreciate that greed and money corrupts science all day long.
More from Tim…
THE GLOBALISTS HAVE BEEN SLOW TO DISTRIBUTE THE VAX TO NEW ZEALAND BECAUSE THEY WANT TO BANKRUPT US FIRST VIA LOCKDOWNS.
LEGALISED FORCE ATTRACTS THUGS AND BULLIES LIKE FLIES TO…
EX COP APPEALS TO LAW ENFORCEMENT PERSONNEL TO REFUSE TO OBEY ORDERS YOU KNOW ARE EVIL.
GEOFFREY PALMER AND THE RAPE CULTURE OF SOCIALIST GOVERNMENT. TEACHING LIBERALS THE PRINCIPLE OF CONSENT
Nazi Thugs just over the ditch! Australian Police State well advanced… New Zealand Bikers Beware!
Police Brutality in 'God's Own'
Filthy Bastards: "It was an Accident". Kim Dotcom Raid.
Un-ask-able questions… Police Brutality: When should you shoot a Cop?