I will be doing my part in supporting Carl Bromley's campaign for Christchurch Mayor.
It is unfortunate that his electorate is so distant from where I live that severely limits what assistance I can be.
The one thing I can do is share his press releases etc here on Eternal Vigilance blog, and on Gab and Mewe Social media sites… and encourage others to do the same.
I will encourage any of my readers living in the Christchurch region to make contact with Carl and to get out there on the streets and support him.
Carl Bromley stands in stark contrast to the fashionable woke madness that is sweeping the globe and corroding the very foundations of our societies.
And he does so without guile.
Anyone who is unfamiliar with my personal Political leanings, let me state that I myself am a Christian, and a Libertarian, and a Maori who does not support the politics of Treaty separatism.
I believe it is important for Maori who do not support the hateful woke radical far left to stand up behind good and honest candidates like Carl who have the integrity and courage to vocally challenge the systemic racism and power grabs that are raging under the current Far Left Ardern regime.
I defend Carl's assertions about the injustice and divisiveness of the Separatist agenda and call the people of Christchurch to shrug off the bogus woke guilt trip that Maori are an oppressed victim-population… that Non-Maori are Usurpers… and to boldly rally behind Carl's call for an end to racist politics. I believe Carl's policy is not only righteous, but in the best interest of the nation… including the Maori people.
Remember Martin Luther Kings dream? It is as applicable here in New Zealand as it was when he said it. The irony is that now it is the Pakeha who are being unjustly judged by the colour of their skin. For all their wild claims of inclusivity it is the Woke far left who exhibit extreme exclusivity, division, and venom.
I have written on this subject many times, and I have even stood for Council myself in Hamilton, and so I know from first hand experience the road that Carl is walking.
And hopefully enough Christchurch voters are not so stupefied by Woke lunacy and appreciate that a vote for Carl is a vote for all that has been good about our country… and made New Zealand the envy of the world… All the things that the Far Left despise… Our values… our openness… our Freedoms… our prosperity… Our independence… Our unity.
I will post some links below.
Follow Carl's Youtube channel… 'Is it just me NZ'
I have also blogged on Carl's 'run ins' with the Ardern regime because of a refusal to bend the knee… the very real oppression he has suffered because of his insistence to remain free.
Among other things, as a Pastor and Church leader Carl refused to allow the Ardern regime to prohibit his congregation from worship during the 'Fake Covid pandemic'… by fake I do not mean Covid 19 not a real disease, but that it was never the 'existential threat' the 'Schwab-ite treasonous Far left Leaders about the globe pretended it to be for the sake of bankrupting Western civilisation via extreme lockdowns and by subjugating whole populations to home-detention unless they submitted to receiving a 'Global Vaccine passport'.
Anyone who still believes the lies of their Far left government henchmen must have rocks for brains as now even Bill Gates admits Covid 19 was no where near the world ending pathogen they had insisted it was and which was the justification for the lockdowns and the attempted mandatory inoculation of the entire population of humanity!
Bill Gates recent confession proves people like Carl were 100% right, and the Governments like the Ardern regime… absolutely wrong… and found to be peddling a globalist scam rather than acting in the best interest of New Zealanders.
How much of Carl's bid for Office will focus on how our Government behaved during the past two years I do not know. I know he certainly has other matters on his radar, such as his opposition to the governments 'Three Waters' Asset grab, and it's related 'He Pua Pua' agenda which is blatant racism and yet another attempt to sell out New Zealand to the UN Globalist agenda.
These are serious matters that have bearing on how local councils will function in the future.
While it is possible that as Carl's campaign progresses Carl may release some policies with which I will not agree, my endorsement for Carl will not be easily shaken given his conduct in recent years has given me insights into the kind of man Carl Bromley is… he is a man after my own heart… a man who exemplifies the traditional spirit and values of our once great nation.
Carl want's future generations to enjoy the same liberty and quality of life as we enjoyed as children.
Carl is a man of good will to all despite what any Radical Far left haters might say… simply because he opposes their blatant prejudices and oppressive ambitions.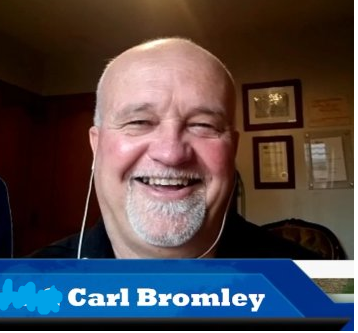 Carl has stepped up!
Carl has given freedom lovers someone to vote for!
It's now up to every individual to be equally committed to carrying him into office.
As Lee Williams says in his video above, Carl is starting off as a rank outsider and has his work cut out.
It is an uphill battle because we can be sure he wont get fair play from Christchurch's media when it comes to informing the voters about where the various candidates stand on the hot topics… Media are notorious for supporting the status quo and in this regard they fail in their moral duty to maintain a level playing field. This makes it all the more imperative that those of you who are awake to the dire need to get people like Carl elected that you dig deep and seriously commit to getting the word out to the people of Christchurch… by sharing Carl's campaign flyers… helping pay for his press releases to be published in local newspapers… help him to pay for Election posters, and even door knocking.
It is possible for a small group of committed supporters to carry Carl into registering 5%-10% on Polls and then the mainstream will pay him more attention and he will start to get better press… and yet it will be up to his supporters to put him on the map as a real contender.
He cannot do this on his own.
And should he start to gain traction, that is when it is possible some Citizens of means may pour in much needed campaign funds for him to drive his Run all the way home!
This is doable!
It just takes dedication and hard work… from everyone.
I have told Carl I am here for him to discuss issues and policies, and bounce ideas off, yet he has not as of yet taken me up on this offer.
My experience with local body politics and elections, and insights in how to avoid embarrassing inconsistencies is at his disposal.
Maybe my Libertarianism is a bit rich for his tastes… I can understand that.
Yet the offer stands.
I have no doubt that Carl and I will have differences of opinions on many matters and policies, and yet at the vital core of fundamental values and ideals we are in accord.
And it is for this reason I believe Carl is fit for Council… a man of good will and integrity… and thus without reservation I endorse his candidacy and encourage the people of Christchurch to support him in his bid for Mayor.
I am still pondering whether I shall run again for Hamilton City Council myself.
Tim Wikiriwhi.
P.S Yesterday I attended a sausage sizzle… 'The Common sense BBQ' put on by Hamilton Deputy Mayor Geoff Taylor on the Pukete-Flagstaff foot bridge.
He will be running for Hamilton Mayor.
Like Carl Bromley, Geoff also sees the 'Three Waters' Ardern Agenda as an outrageously undemocratic Asset grab.
He is also running a petition for a public referenda on the Current drive to rename Hamilton places and Streets in an attempt to blot out our Colonial heritage, and also on the anti-democratic separatist scheme of 'Co-governance'… which is nothing less than racist socialist apartheid.
He seeks to curb spending, and free up land for housing to reduce the current madness of 'intensification' by which we can see the New Zealand quality of life evaporating before our very eyes.
Geoff seeks to facilitate privately inspired development of Hamilton rather than 'fund it' via rates.
On the strength of these important policies I will be encouraging Hamiltonians to vote for Geoff Taylor.
Update: 26-6-22
'No Hope'?
This Blogpost had only been up on social media 1/2 an hour when a feeble minded turnip remarked… "There's no way he'll win so all he's doing is splitting the vote helping the opposition…"
This is the sort of defeatist slave mentality that perpetuates the Rot!
I apologise for my derogatory tone… the proposition is worth discussion as it is a point of view that many people have been duped into believing.
Unless we can snap people out of this pessimism there is little point in having elections…. for the powers that be… will remain entrenched.
Satan laughing spreads his wings!
My Reply…. " …Splitting the vote between who?
Is there a Candidate more worthy of your vote than Carl?
Then give them your vote! But if there is no candidate who better represents your personal views than Carl… then you will be wasting your vote if you do not give it to him!
That is how democracy is supposed to function… not how you foolishly suggest… ie like betting on the races!
You would vote for someone who does not represent your values simply because in your mind they have more hope of winning?
That is like scoring an own goal!
Carl will not win… if people who know he is right… still don't support him…"
That would be a failure on their part, not his.
In 2014 I wrote a blogpost about voting cowards and fools… suckers who have been duped into voting for the powers that be….
Read… SPINELESS BETRAYAL AND EVIL PREVAIL. VOTING IDIOTS, COWARDS, AND TRAITORS.
As I said in my post … It is an uphill climb yet if those who care get behind Carl and the people of Christchurch get to hear and appreciate what Carl represents… he can win.
In fact by standing up for what is right, and giving likeminded Enlightened people a worthy candidate upon which to cast their vote… Carl is already winning on the moral front.
Democracy is supposed to contrast itself to Monarchy and Elitist Oligarchy. It is supposed to be classless and give the working man an equal opportunity to participate in parliament, or Council. It is only the folly of the working Class that they so often vote for Fat Cats, and Tyrants, and neglect the Hard working Family men and Champions of Common sense… like Carl.
And you wonder why Parliaments and Councils fill to the brim with University graduate radicals and Plutocrats???
We need to break this hypnotic stupor.
Read more from Tim…
JACKBOOT NEW ZEALAND POLICE USE FAKE COMPLAINT TO RAID CHRISTIAN PASTOR CARL BROMLEY' S HOME AND TAKE HIS LEGAL FIREARM. WAS THIS ANOTHER ATTACK BY THE RADICAL FAR LEFT DEPLATFORMING GANG?
LOST PLOT. WORLD PRESS FREEDOM DAY.
ARDERN GOVERNMENT WILL USE 'HISTORY CURRICULUM' TO INDOCTRINATE OUR CHILDREN WITH RACIST FALSEHOODS. TIM WIKIRIWHI'S SUBMISSION FOR ' AOTEAROA NEW ZEALAND'S HISTORIES IN THE NEW ZEALAND CURRICULUM '.
TROJAN HORSE: THE UN SEPARATIST DECLARATION OF INDIGENOUS RIGHTS.
'REVOLUTION AT THE ROOTS' MAKING HAMILTON'S CITY COUNCIL SMALLER,BETTER, AND MORE CONDUCIVE TOWARDS PROSPERITY. TIM WIKIRIWHI.
TIM WIKIRIWHI REPRESENTS AFFORDABLE WAIKATO IN THE HAMILTON CITY COUNCIL ELECTIONS. MAYOR AND WEST WARD.
FREEFM RADIO INTERVIEW WITH AFFORDABLE CITY'S HAMILTON MAYORAL CANDIDATE (AND WEST WARD) TIM WIKIRIWHI