To be edited…
Click and Watch this video (below)…
Ardern's Megalomania blooms!
She is being wooed and encouraged by the Globalist Cabal, and worshipped by myriads of spineless sycophant's at home.
A common psychological trait of famous people surrounded with adoring worshipers is they can become bewitched by it… and begin to think they really are God's gift to humanity.
She faces Zero opposition in parliament…. Zero.
Instead of Being held to account by a questioning media, they shamelessly propagates her Cult!
She has become comfortable wielding tyrannical powers… and is now getting off treating people like Cattle she is farming with complete disregard for the economic disaster she is orchestrating.
I salute Independent voices like Paul Watson for using their channels to expose to the world they tyranny of Ardern and showing the plight of our nation under her thumb.
An economic catastrophe is unfolding… all hail Jacinda Ardern and the Plandemic!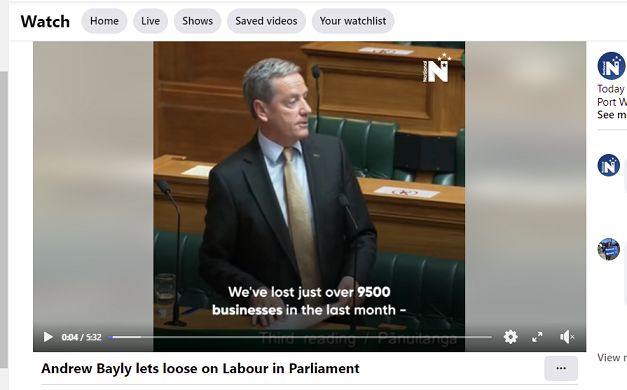 Watch this video of National Party MP and 'Shadow Treasurer' Andrew Bayly lets loose on Labour in Parliament.
This was shared to me via Email. (I'm not on FB yet we can still watch it)
It's still not 100 on the money as far as Arden's planned oppression of the non-vaxxed… it still promotes Lockdown welfare… yet it is still epic because It exposes the reality of the pain going on that the NZ media have been complicit in hiding.
Good on this man…. He's about as good as New Zealand seems to be able to muster at present… at least he's not kissing Arderns arse like Colins.
Ardern is destroying our nation.
Setting us up for the great reset… and you can bet she expects to be well rewarded in the NWO for her treachery.
This validates what I was talking about… Read
THE GLOBALISTS HAVE BEEN SLOW TO DISTRIBUTE THE VAX TO NEW ZEALAND BECAUSE THEY WANT TO BANKRUPT US FIRST VIA LOCKDOWNS.
Why do you think the Mainstream media are not informing New Zealanders about the real costs of Ardern's lockdowns?
Why are they allowing such a lrge percentage of Kiwi to go through these Lockdowns blissfully unaware of what is really the cost of Ardern's policies?
The Nation has never been slung with such massive National debts in our entire history… Our Businesses have never suffered such Devastations!
Ardern is leading the sheeple down the garden path.
Yet you may recall the saying you cant fool all of the people all of the time!
That is because reality has a way of waking people up!
After two years of Covid hysteria and 'Emergency Tyranny' the so called 'Team of 5 million' is not so cuddly now!
A Popular Uprising has begun… Listen to this Radio interview…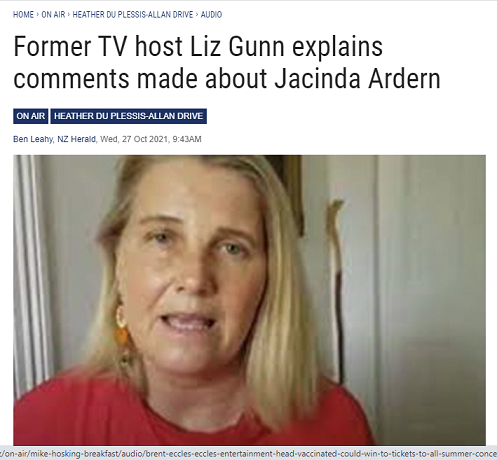 Former TV host Liz Gunn explains comments made about Jacinda ArdernON AIRHEATHER DU PLESSIS-ALLAN DRIVE
The People… conservative people… are waking up to what Ardern is doing to our country and what is at stake for their children's future.
Liz Gunn is to be highly praised for not being like so many Kiwi woman… absolutely mesmerised… rendered catatonic by Cult Leader Jacinda Ardern.
Liz refuses to drink the cool aid.
She is Righteously Pissed off!
Liz is calling New Zealanders to rally for our freedom against Ardern.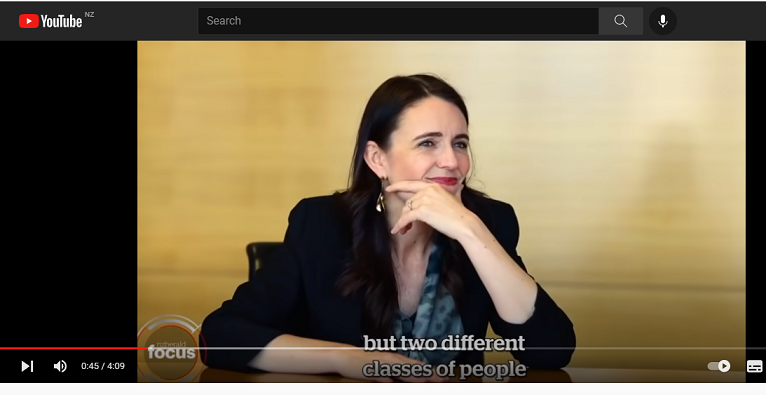 The two classes of people Arden is creating in New Zealand are those who obey her and comply with her dictates… they keep their rights to the degree of her own discretion, and then there are the second class citizens who choose not to obey her… choose not to comply with her wishes. She has so twisted our system of government to be able to Punnish New Zealanders who disagree with her… and impose oppressive measures against them… taking away their rights,,, under threat of Police thuggery!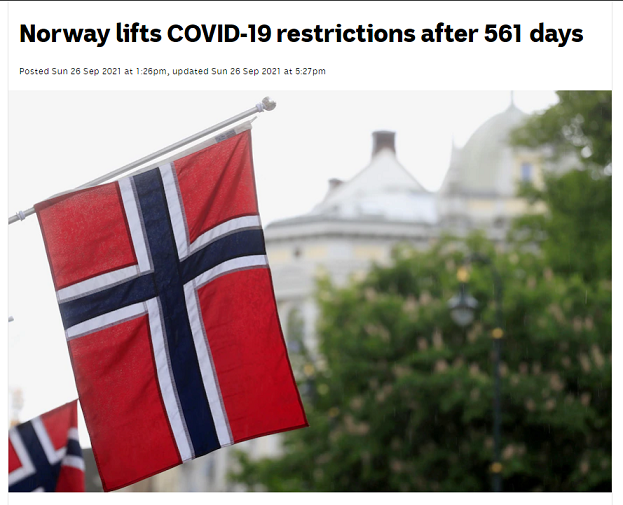 There is no *science* behind Ardern's 'goal' of 90% vaccination as being some sort of magic number that will 'Save New Zealanders' from Covid 19.
It is simply and purposefully an extreme level of compliance that guaranteed Ardern would have to resort to further draconian policies to achieve.
There was never any hope of getting such a total voluntarily as there are far more than 10% of the population who are personally opposed to the Ardern/ Global Vax Scheme.
These powers and rules were always going to be dropped upon New Zealanders who refuse to submit to her… punishing her political opponents… that is the minority of people willing to stand up for their Freedom and rights.
Unless she feels the indignation of the people, she will simply continue the accrual of power unto herself, and the imposition of her own will.
New Zealand will be transformed into a Chinese like Socialist State.
Should these ever-ratcheting oppressive powers succeed in getting 90% compliance, it will never be legitimately claimed that such measures are a pragmatic 'Success'.
It will signal that Freedom in New Zealand is dead.
Take a look at Norway (Read here) which has ended all Covid Restrictions and Returned to Normal.
No Social distancing… every thing open… and they did this having only 67% fully (two shots) Vaccinated!
This is just one of many examples that exposes Ardern and her demands for 90% compliance before lifting Covid restrictions as being maniacal.
This is to completely flout the New Zealand bill of Rights section 11 which states the New Zealanders have the right to refuse medical treatments.
It does not make exceptions saying compelling medical treatments is ok…'For National emergencies'… or 'for Pandemics'… or 'For the common good', etc.
It says *We have the right to refuse medical treatments* because of what happened in WW2 with Nazi Germany!
We have the right to refues medical treatments because *we own ourselves*… we are not slaves of the Government.
Yet the NZ Bill of rights is as useless as toilet paper because it is not entrenched.
And Ardern seeks to enslave us all and sell our Nation out to the Globalist New World Order.
As a Libertarian I has spent the last 20 years trying to warn New Zealanders about how open our system was to abuse of power, and that it allows the indefinite expansion of Political power at the expense of our rights.
I have warned that we need to create a new constitution that limits State powers and guarantees our Rights, Liberties, and Property.
We have reached a crisis point.
All it took was the rise to power of a Socialist dictator who hates the New Zealand way of life and everything it is founded upon.
Someone willing to turn every apparent crisis into an opportunity to destroy our freedoms.
Are you going to roll over and allow this to happen without a struggle?
Make no mistake… we still have the means to thwart Ardern's Communist take over!
PEOPLE POWER!
Rise up now before she has utterly destroyed the Kiwi Dream and the Kiwi way of Life!
'Pride cometh before the fall'. Arden thinks she is our Empress!
She has become Autocratic. and that we must be subject to her will.
She circumvents the democratic processes at every turn.
We must unite against her and bring her down by People power… and all the Lapdogs in parliament whom have aided and abetted her.
We must show them who really is Boss in a Democracy!
That our Rights are not held by their caprice!
Do not be fooled that all hope is lost simply because the mainstream media is not reporting any resistance!
Check out alternative social media and video streaming platforms like Rumble and Bitchute.
Quit being brainwashed by Facebook and the Mainstream media who are own by Ardern and Pfizer!
Don't believe that the whole country is taken in by Ardern's Cult.
People are not happy, and this issue has the capacity to unify a very broad spectrum of New Zealanders together whom at other times are at variance with one another.
For example there is very strong Activism afoot within the Maori Community who… being the most Vaccine adverse demographic in New Zealand realise they will suffer the most from Arderns medical apartheid.
Watch… NZ HERALD COVERAGE OF SOVEREIGN HIKOI OF TRUTH, NEW ZEALAND
And CARLENE HEREORA, SPEAKING AT TE TII WAITANGI MARAE, SOVEREIGN HIKOI OF TRUTH, NEW ZEALAND
These Maori are not going to sit by and allow Ardern to trample them down!
These are people with whom other demographics opposed to Compulsory Vaccination and coercion to join together in a common cause, yet to do this we must be prepared to put our differences of opinions on other matters aside for the sake of this commonly held concern… and such cooperation will without doubt be conducive to more amicable dialouges in the future on other issues as trust is built up and the realisation that in the end we all share common desire that can only be justly served by treating eachother with mutual respect and upholding Equality before the Law, and freedom for all.
In the Paul Watson You tube video, his comments about 'Maori being oppressed' in the 50s ought to be forgiven him given that is by far the most common view almost universally propagated on the net, and yet he is smart enough to see that Ardern's new Tyranny will dis-proportionately affect/ Oppress the Maori demographic given they are the most Vaccine hesitant.
And they are *Hesitant*… not simple 'out of touch' or 'out of reach'…. They don't want the Vax… they don't trust it or the government.
So Ironically this fight to get rid of Ardern and her tyranny will unify many disparate groups who in other times have been at variance.
Just as WW2 cause us to swallow many differences and ally ourselves for the sake of Defeating the common Axis Enemies.
This cause has given us a common interest, and we must be 'Big enough' to put our differences aside for this most vital Battle for freedom.
WE can return to sorting out these other issues when we have defeated this Evil.
Perhapse by standing together on this vital mission will form bonds and lines of communication that will lead to a more conciliatory attitude on the other matters too simply by the realisation that ultimately we all share common hopes and dreams and that we are stronger when we are united.
This 'Hikoi of Truth' which has caused some disruption on the Auckland Covid Blockade has caused the Media to wheel out some 'Maori Elites' for comment…
Go Listen to this…
HONE HARAWIRA & DEBBIE NGAREWA PACKER PUSH FAKE NEWS RE THE SOVEREIGN HIKOI OF TRUTH (COUNTERSPIN).
It is really telling what Harawera said about this Hikoi being 'mostly Pakeha'… 'mostly Trump supporters', 'Mostly Maori who have been sucked in', and none of their political clique, etc
So according to Harawera and Packer 'It's not a real Hikoi' unless its for some grip they have, and they or their mates are leading it!
What does that tell you about these people!
They wont even stand up for Maori people's rights to make their own medical choices… they won't complain that Ardern's new divisive system of Vaxxed and non-vaxxed will affect Maori the most!
These professional activists are telling people to shut up and do as you are told… without activism!
Packer's talk that 'their 'real' hikois' have always been about 'uniting people' is a complete lies.
Their Hikois have always been characterised by vehemence and Threats.
These people have always been hypocrites… they have always used the Maori people for their own political gains… they have never put New Zealanders first as a Nation… they have always thrived on divisions.
The true nature of these Racist radicals are being exposed… so to is their Façade of being resolute defenders of Maori from oppression… they are fine with it when it suits their own opinions.
Take heart Freedom lovers!
There is an Uprising stirring… yet if it going to prevail we all must grow a pair… and stand together now.
This is not something a Man can cowardly leave for others to achieve. We must carry some of the risks… and by doing so we shall also carry some of the Glory when she is brought down and we have saved our Nation from the Globalist tyranny that is seeking to steal our country from us and our children.
This is a wake up call for all freedom lovers.
We must establish a New Constitution with an Iron Clad Bill of rights that takes away the tyrannical powers Ardern has used to attempt to enslave us.
And we must do all these things via the power of peaceful protest.
This is our greatest strength as long as we maintain the high ground.
No one who promotes violence can be allowed to infiltrate our cause as that will not only de-legitimise our righteous cause but be pretext for Arderns State to use The Police and Army to crush the movement. Even if we should maintain our integrity The Ardern worshipping Media will begin to tell lies about us being 'Dangerous Radicals'…. harbouring 'Domestic terrorists'… etc and maybe we will face some measure of police brutality just as happened to the Black Civil Rights movement in the US… Yet in that dark hour…when By standing New Zealanders witness the true nature of the Evil they have supported… that is when the tide will turn against Ardern… and we shall prevail… and yet for these things to transpire will require People of the strongest Mettle and Moral principle to stand in the face of the heaviest State Evils… for Tyranny will not surrender without meeting face to face with the strongest Resolve.
We still live in a democracy (Just) and The means of peaceful protest to push for change is a fundamental right of the people that cannot be easily resisted without exposing a tyrannical bent… Unless they can find pretext to discredit the movement.
Tuff times are bringing communities together to fight an existential threat to our way of life!
I have felt a ray of hope as reports on the Jungle grapevine reveal that New Zealanders are starting to revolt… and rally!
It does lift the spirit!
New Zealand is not done yet.
Ardern keeps pushing her Commie tyranny… yet there will be a reckoning!
Tim Wikiriwhi
Christian Libertarian.
A Perfect Circle – The Contrarian from Olshansky & Olshansky on Vimeo.
More from Tim
JACINDA ARDERN IS MORE DANGEROUS THAN COVID-19: CENSORSHIP AND CONTROL OF THE PRESS.
HOW MANUFACTURED FEAR TURNS SOCIETY AGAINST MINORITIES AND INDIVIDUALS. THE JACKBOOTS OF JACINDA ARDERN.
MY SUBMISSION ON THE INQUIRY INTO THE GOVERNMENT'S RESPONSE TO COVID 19.
THE STORY OF COVID 19 IN NEW ZEALAND, BY TIM WIKIRIWHI 2021.
HOW MANUFACTURED FEAR TURNS SOCIETY AGAINST MINORITIES AND INDIVIDUALS. THE JACKBOOTS OF JACINDA ARDERN.
TIM WIKIRIWHI'S SUBMISSION TO THE NEW ZEALAND GOVERNMENT'S CONSTITUTIONAL REVIEW. 2013