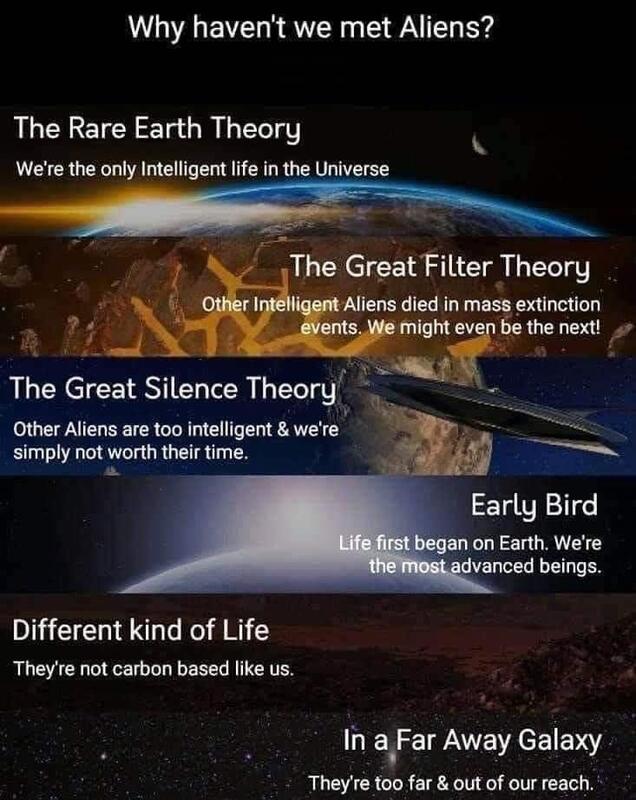 I subscribe to the first postulate because Life is far to complex to arise spontaneously.
This is the verdict of mathematics given the size and age of the Universe.
The idea aliens exist is held mostly by Atheist materialists who believe in Evolution and spontaneous generation/ abiogenesis.
IMO those are archaic fallacies that originated in times of ignorance to how complex life is.
In short the idea of 'a simple cell' is a complete myth.
There is no such thing.
We know this now due to scientific advances in biology and tech.
The Multiverse theory is primarily an attempt to rescue materialism from the mathematical absurdity of their claim Life arose spontaneously *even once* in the universe.
Tim Wikiriwhi.
Christian Libertarian.
More from Tim….
THAT MOMENT WHEN THEY BEGIN TO EXPLAIN THAT ABIOGENESIS IS NOT SPONTANIOUS GENERATION.
PASTEUR'S LAW, CREATION SCIENCE VS NOSE BONE ATHEISM.
DINGBAT ATHEIST PSEUDO-SCIENCE. INSTANT LIFE… JUST ADD WATER!
THE WALLS ARE CLOSING IN ON ATHEISM… NOT THEISM.
The myth making processes of Pseudo Science. The Epic Tale of the Simple cell. (Part 1)
David Berlinski—Atheism and its Scientific Pretensions
Evolutionary 'Mumbo Jumbo' of the the Week. "Why Do Humans Cry?"
Multiplying Absurdities Equals Certainty… The Math Magic of Modern Atheist Astrologers!
Dingbat Atheist Pseudo-science. Instant Life… just add water!
Science goes Ga Ga! The Spirit Temple-Material Interface. The Human Brain.
Russell's Teapot really refutes Atheism not Theism!
The Ludicrous Claims of Evolution! Why not ESP?
Faith, Science, and Reason. The Pomposity of Atheism.
Square Circles. When Continuity is claimed as Evolution
The Lies of Atheist Pseudo Science.