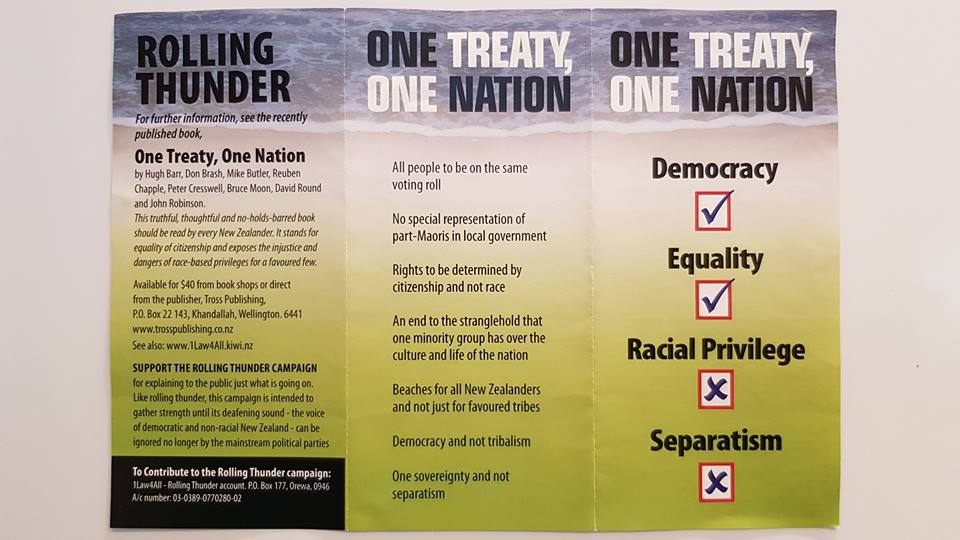 As a Libertarian Maori Living in such times as we do, and having spent two decades fighting the racist separatism that has been imposed upon our Nation under the general pretense of 'Honoring the Treaty of Waitangi' I have become weary… Fatigued… to the point that I often struggle to summon the strength to get myself up upon my soap box to decry the latest Racist, slanderous, and Fallacious claims made daily by Socialist academics and politicians leveled at Pakeha New Zealanders, yet despite my exhaustion the latest outrage by the 'Advertising Standards Authority (ASA) demands I once again raise my voice in disgust.
Having now deemed a political pamphlet distributed by the Political Lobby group 'Onelaw4all' as a'Racist' pamphlet likely to cause 'serious offence' and must not be distributed I see this as farcical, and yet another example of patent hypocrisy and pretentious arrogance against a legitimate political perspective that is calling for the abolition of treaty separatism.
The Ideals contained within that pamphlet are definitively *Anti-racist* in nature!
The pamphlet is an exposition that condemns the systemic racism of our government today!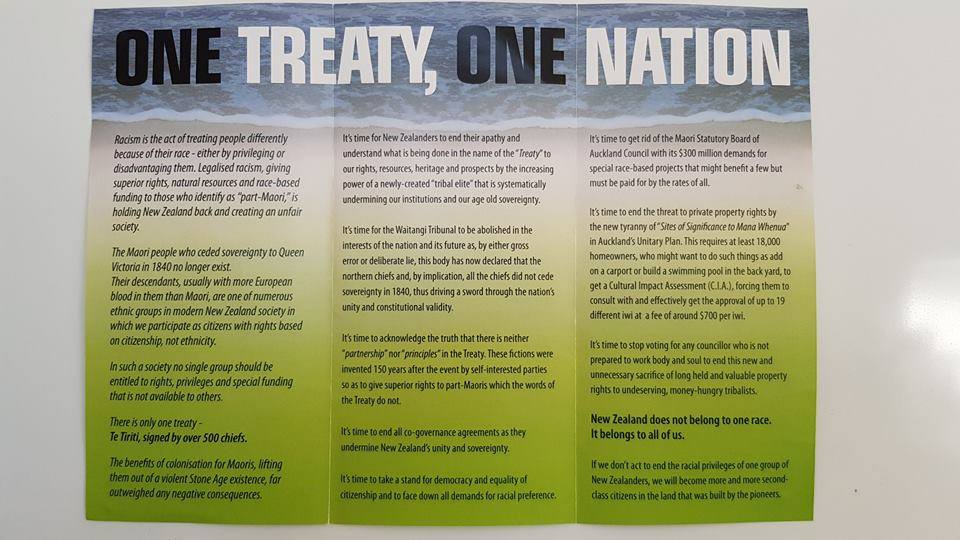 These are the facts that the Ardern government (and obviously many of within the ASA) seek to shield from the gaze of the New Zealand Public.
The ASA is self-appointed Non-governmental organisation that falsely claims to be be 'an authority' whose judgments and opinions they now expect to be binding upon Political lobby groups and parties such as OneLaw4All.
The Truth is the ASA has no such Legal authority… esp no authority to prohibit Political pamphlets that express the valid opinions of a large portion of the New Zealand people!
Yet Because Onelaw4all exposes the travesty of Waitangi separatism, Andrew Little seeks to use his position of power to push for legislation to prohibit these contrary political views from being freely expounded in the Public sphere.
It is from that motive that he scurrilously labels the tract as 'Racist', 'offensive', and attacks it's veracity… as by slinging such muddy accusations he is practicing Textbook lefty Liberal modus opperadi… By arbitrarily painting 1law4all as malicious and deranged, he is laying the groundwork and pseudo justification for perusing the forceful legislative suppression of His own ideological opponents.
The Judgement the ASA have passed upon the OneLaw4all pamphlet obviously was not arrived at via any sort of robust process or hearing that could withstand rigorous scrutiny.
I question what degree of objective investigations… if any… were performed on the content before arriving at their verdict???
It appears they have simply taken upon themselves to label it as 'Racist', 'Miss-leading', 'contains False statements', and 'likely to cause serious offence'… upon no more solid grounds than their own Political opinions, prejudices and ignorance!
They are merely parroting verbatim what Andrew Little said to the media back in April!
It is preposterous to expect that New Zealanders who subscribe to the contents of the Pamphlet, and know that it's claims are grounded in historic facts, and who are quite within their democratic rights to organise themselves, and to solicit support from the public for their Political values and policies will pay the slightest heed to this so-called Toothless and Corrupt Authority!
The very point of Free speech, and open debate, in a democracy is to *allow the people to hear for themselves*,discuss and weigh the merits of various arguments *for themselves* *NOT* for some Pompous organisation to do all the thinking for them… and try and 'spare the people from hearing arguments they may not like'… and effectively make political judgments and decisions for them!
It is only when Citizens are fully informed that they can then cast votes founded upon the dictate of their own mind and conscience.
The truth is there are Political interests who dont want the New Zealand voter to be fully informed!
OneLaw4all asserts that it is our Current government whom via separatist policies are the culprits practicing all the Racism here, that it is the Governments manufactured Treaty narrative that is Misleading, contains false statements, and that all this shameful institutionalised Prejudice causes grievous offence to a great portion of the New Zealand people!
You see the duplicity of those within the ASA who obviously dont give a toss *about how hateful and offensive and racist and unjust, the Governments Treaty separatist policies and institutions are!
Why? because the bigots within the ASA are complicit with the prevailing Politically correct racism and prejudices of the status quo.
They should stick to judging Toothpaste advertising and the like… ie stay withing the narrow confines of their expressed objectives…stay out of practicing partisan politics and matters of legitimate Free speech!

Opposition to the Separatist Status quo… those who want to establish One Law for all are not confined to a few fringe dwelling loons either!
Polls indicate that such a view may in fact be above 50% of the New Zealand population, and includes many notable New Zealanders, and despite what the ASA assumes… Maori like myself also Support the views and claims as expounded in this now infamous document.
We Are Not offended by the assertions made therein!
We are offended by the shameful way Maori are characterized by the socialist government as Social basket cases and hapless victims of British colonisation!
In fact though I was a Libertarian Independent at the time, I was honoured to be asked to deliver a guest speech for OneLaw4All at their AGM in 2014.
Read it here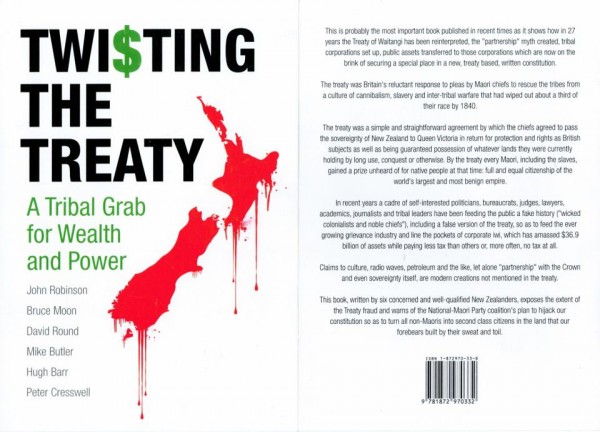 Like I said at the beginning of this Blogpost I have in fact spent the last 2 decades publicly expounding Ending Treaty separatism and establishing One Law for all.
I have delivered speeches all over the North Island, I have argued for this several times on NZ Television and radio, and I have stood on this platform for Parliament in the Hamilton West electorate both as a Representative and spokesman on Maori affairs for the Libertarianz party and later as a Libertarian Independent.
I have challenged the official narrative and revisionist history that is used to excuse the governments Racist meddling and laws, and so I know what I am talking about when I say that the current Treaty separatism is a massive racist fraud that is being perpetrated upon the people of New Zealand and I am prepared to step up upon any public forum, against any academic or politician who is willing to debate me.
And though the said pamphlet does not contain any of my own contributions it does contain several from individuals I know personally and admire, and whose opinions I share, and so I take it upon myself to express my indignation at the Advertising Standards authority for labeling my Values, Principles, and well founded historic assertions as being something that should not be allowed to be propagated and 'Removed from circulation'!
Basically they are trying to make all my work for the last two decades Illegal!
Thank God they have *Zero Legal authority* to do so!
I defend the authors and contributors of the Onelaw4all pamphlet standing up for their own honour against the slanderous, Bigoted, and racist lies that are peddled by the Government against them and their ethnicity!
Onelaw4All are not the villains here!
The blatant hypocrisy of Andrew Little and Ardern is clear for all to see in that these lefty Liberals have been falling over themselves to counter what they describe as 'Anti-immigration' hate speech oblivious to their own conceit in that they themselves support a very potent form of that very type of 'Anti-immigrant' bigotry that is systematically heaped upon a very large portion of New Zealanders…The Pakeha.
the decedents of the British Pioneers and Colonialists… Immigrants…. whose Blood, sweat, Ingenuity and Toil made New Zealand a First world Nation… bequeathing to us all the Advantages and enlightened Ideals of High British Civilization are held in contempt by our so-called 'inclusive Coalition government'!
And so I maintain that the Pakeha have every right to protest the systematic vilification of their heritage via Highly propagandized Revisionist history which is nothing short of Falsification for nefarious political ends.
It is the Liberals infesting our government whom practice *Identity politics* that segregates the races, and sexes, and religions, and pits them all against each other!
They cant accept the fact that there are many Maori like myself who know that Treaty separatism is a based upon monumental frauds, and reject their socialist propaganda that the British colonization of New Zealand was some sort of 'Criminal take over'.
In Truth, historically speaking the colonization of New Zealand stands in stark contrast to how colonization unfolded in other parts of the Empire.
For Starter New Zealand was Colonized in the midst of the most enlightened Era in which England had abolished slavery!
The Treaty of Waitangi is a document of unparalleled enlightened values that attempted to safeguard Maori interests by granting them Full Rights as British subjects!
Yet when Pakeha New Zealanders stand up to defend themselves and their Ancestry from the bigotry heaped upon them by Socialists and radicals, they are the ones being vilified as racists… they are the ones being to 'to go home'!
This is very same evil that our Woke PM Jacinda Ardern spoke publicly against when she condemned US President Donald Trump when he said that of the 'Squad' of Radical Liberal democrats did not like America… they could leave!
In the light of such posturing, we should ask how then can she reconcile her patently contradictory stance by which she supports the ongoing vilification of the descendants of Pakeha immigration?
Obviously she cheery picks her moments to 'Virtue signal' whenever it serves to further her own political objectives!
The truth is that People who support the establishment of One Law for all… like myself.. a Maori, and Don Brash are *humanitarians* fighting systemic racism for the principle of Equality before the Law!
I fight Waitangi apartheid not only because it is racist and unjust, but also because it has ensnared the Maori people in poverty and welfare dependence and is the chief cause why Maori are doing so poorly across the board as measurable by every social metric.
The simple facts are that Socialism and Treaty separatism are Abject Humanitarian failures… and its time it was forsaken.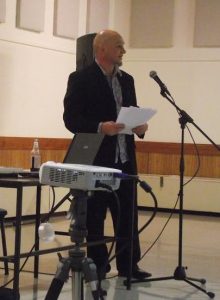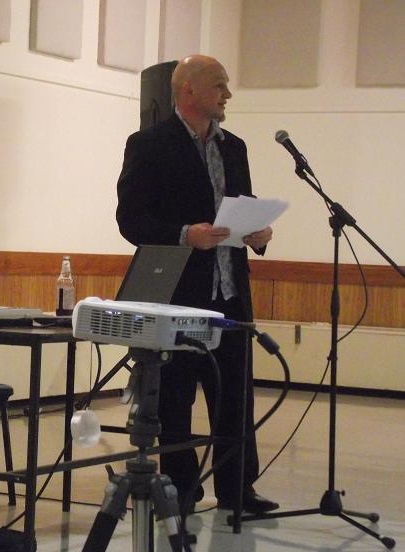 We live in dangerous times!
We have a political class that is determined to erode our rights and liberties!
What makes the attack on Onelaw4all esp dangerous to our democracy is because unless their right to expound their political arguments is successfully maintained, there is *no other means by which the people of New Zealand will hear their side of the debate.
The Left will have an effective monopoly on free speech, as the mainstream media only reports on issues from the official Leftist Narrative, and the escalation of Censorship on the Liberally controlled social media, Liberalism is busy shutting down dissenting onions on line.
New Zealand freedom is slipping away.
We have never before suffered such a relentlessly oppressive political ideology… all cloaked under the Facade of Politically correct 'benevolence'.
These Wolves in sheeps clothing pretend to be fighting against oppression and intolerance, when in reality they are systematically imposing an extremely intolerant and oppressive socialist tyranny!
They fool the gullible by filling their heads with the delusion that 'Nanny State cares'… when in fact Nanny State Hates!
Nanny state Hates anyone who disagrees with their policies and agenda.
Nanny state hates anyone who does not embrace their Godless values.
If they get their way the Freedom that we grew up in and loved, and which made New Zealand one of the greatest places on Earth to call home… will be gone forever.
It will be replaced with a Politically correct Tyranny… and the Racial separatism of Watangi apartheid will grow and be perpetuated indefinitely… This is what Ardern, Her Socialist Minions, and esp the Racist Maori radicals who profit from all the Treaty Loot are tirelessly working to acheive.
My fellow countrymen I raise my voice in dire warning for Arderns Coalitions governments desire to write and enact 'Hate speech legislation' that is nothing short of a tyrannical desire to take away our rights to Free speech and critise the government!
Voices like mine will be outlawed!
More and more people will find themselves in court for expressing their own views!
We are already seeing Christians being prevented from sharing the beliefs in public!
Opposition to the Ideals embodied in the call for OneLaw4all is not new.
I have faced many Maori radicals who have hurled abuse and threats.
I have been snubbed by the media and at Election rallies, yet never before has their been such a determined effort by those who disagree with us… the vested interests and powers which our arguments threaten… to have us shut down… have our pamphlets outlawed, have us banned and de-platformed on social media!
Our Political adversaries cannot defeat us with facts and reason and so they are resorting to Force!
They want to silence our voices and have us punished for sharing ideas and facts that they dont want the general public to contemplate.
They want to control what you Read.
they want to control who you get to hear!
They want to control what you think.
WAKE UP! It's time to Rally!
Its Time to stand up and kick out these enemies of your Rights and liberties… the enemies of your Traditional Kiwi values!
Speak Up!
Support Onelaw4All

As Things stand the best advice I can give you all for now is to Join the Act party and start being active in growing their ranks.
I am not a spokesperson for the Act Party, but as an Independent Political observer and commentator on New Zealand politics, I know the Act Party have strong views about maintaining Free Speech and many members there also wish to End Treaty separatism.
Dont Delay!
Get Involved NOW!
Tim Wikiriwhi
Libertarian Maori.
Christian.
More from Tim…
KNOCK! KNOCK! IT'S THE NEW ZEALAND POLICE AND WE WOULD LIKE TO HAVE A FRIENDLY CHAT WITH YOU ABOUT YOUR OPINIONS SHARED ON SOCIAL MEDIA: VJM PUBLISHING 19-7-19
WELCOME TO THE MACHINE! I GUESS IT WONT BE LONG BEFORE I AM PUT IN JAIL FOR BREAKING NEW ZEALAND 'HATE SPEECH' LEGISLATION.
BAD PERSONAL CHOICES AND SOCIALISM TO BLAME FOR MAORI PREDICAMENTS, NOT COLONISATION. LETS TALK ABOUT FACIAL TATTOOS.
STOP WITH THE LIES AND BLAME! MAORI NEED TO TAKE RESPONSIBILITY FOR THEIR OWN SHOCKING CRIME STATISTICS.
PHIL ARPS: A PORTRAIT OF A REAL ALT RIGHT NATIONALIST WHITE SUPREMACIST: COMBATING MALICIOUS LEFT WING PROPAGANDA.
MY SUBMISSION IN OPPOSITION TO THE ELECTORAL (ENTRENCHMENT OF MĀORI SEATS) AMENDMENT BILL
28 OCTOBER NEW ZEALAND: FAKE DAY OF REMEMBRANCE :THE MAORI WARS OF 1860S
Tim Wikiriwhi's Submission to the New Zealand Government's Constitutional Review. 2013
Alcohol, Drugs, Nanny State, and the Plight of the Maori People.
New Zealand's Hopeless Election Choices… The Selling out of New Zealand to BrownMail. RMA 2017
The Verdict is in… as predicted… 'Closing the Gaps' Socialism has been a disaster for Maori and New Zealand as a whole.
The Wanganui River and the incredulous incantations of the Neo-Tohungas…
My speech for the 1Law4all party 2014 AGM. Tim Wikiriwhi. 17 June. Hamilton
The New Zealand War of the 1860s was not a 'Land war'… It was a Sovereignty War.
Mt Everest is for Wimps! Lets Conquer Apartheid Government in New Zealand! A strategy.
Looking Forward, not Backwards: Dynamic Culture vs Stagnation. Why British Colonisation was good for Maori.
The Shame of Maori Radicalism. Hate and Violence.
Maori Renaissance… *EPIC FAIL!*
Low Lives in High Places. Water and John Key's Racist Alliance
Trojan Horse: The UN Separatist Declaration of Indigenous Rights.
Universal Pride in Washington, Separatist Shame in Wellington.
Lost Plot. World Press Freedom Day.
Spiel on brain washing, and socialist engines of confomity. State education.
The Great Waitangi Debate. 2010
BAD APPLES. HERETICS AND INFIDELS.
LOST PLOT. WORLD PRESS FREEDOM DAY.
WORLD WAR 3 ON THE WORLD WIDE WEB. THE CRUSHING OF FREE SPEECH IN NEW ZEALAND.
EPIC DEFENSE OF FREE SPEECH: ANN WIDDECOMBE | WE SHOULD NOT SUPPORT NO PLATFORMING (8/8) | OXFORD UNION. YOUTUBE
NEW BOOK. TWISTING THE TREATY.