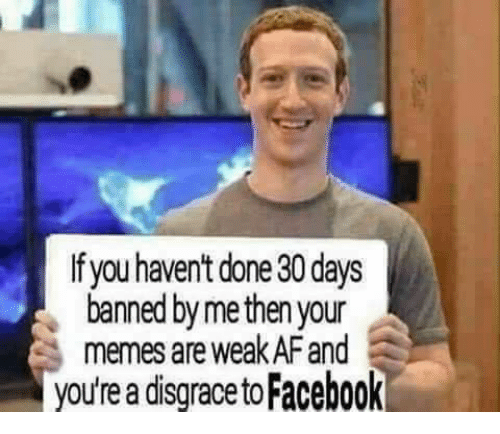 Without any warning… I woke up the other day to find I had been locked out of my Facebook social media page for 30 days… I was told that my sentence was this long 'because you continue to post things that violate Facebook community standards'.
My Heinous crime this time?
Posting a Picture of Adolf Hitler smiling!
It was a harmless joke!
The context was not malicious whatsoever… I was not glorifying Hitler… was not engaging in antisemitism or anything… yet this Ban is a demonstration of the Lefty PC Tyranny that prevails at facebook and that There is no Free Speech there… no room for Adult dialogue… or humour, and so if anything this Ban should tell the Freedom lover that it is time to find a new Social media home.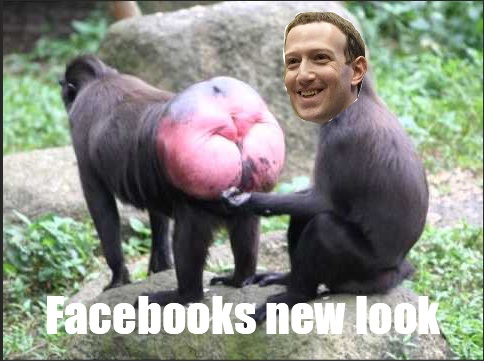 The inconvenience of being shut out of one of my main means of communication with my people, and the fact that there was no warning, rhyme, or valid reason for what they did has not stimulated me into being a more woke individual… the very opposite … hence the Classy Baboons Arse photoshop of the Zucc… made by my 8 year old son! 🙂
Behold my Crime! (Below)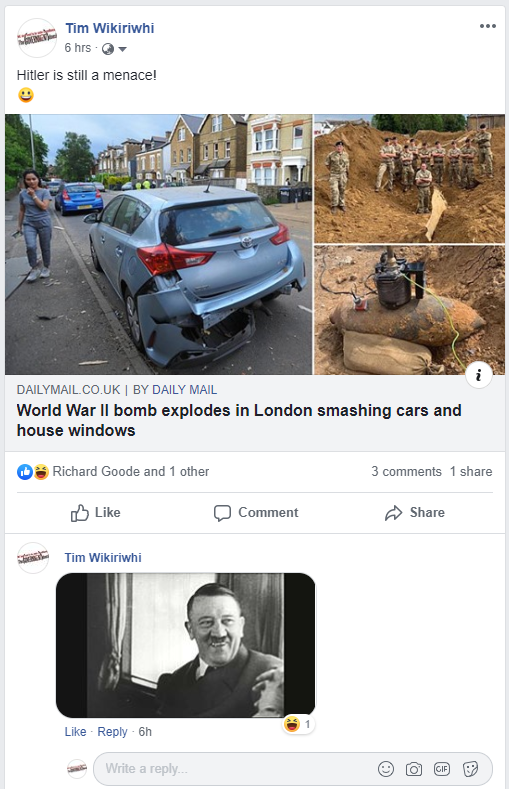 That this should have happened to me is no surprise… its happened to me before several times over the most petty reasons, and this type of lefty SJW 'offence taking' Prejudice, Bans and deplatforming has become so general and commonplace of Facebook that sadly it has become normal and worse… it has become *accepted*… even by many people who are supposed to be ruggard free thinkers.
I had however anticipated that I would get Zucced sometime in the near future and so like several of my Facebook friends and groups, I have set myself up an alternative Social media presence at MeWe.
You can find me Here.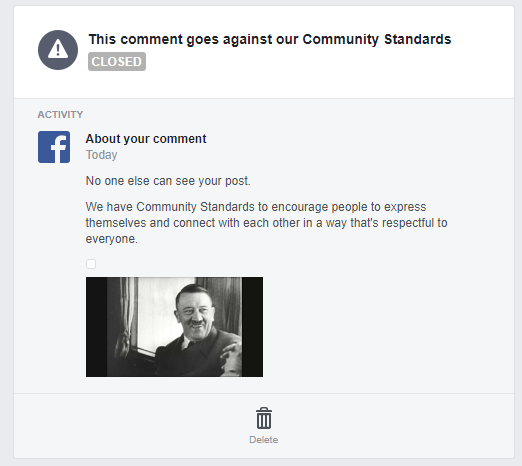 Having a ban from Facebook for a month will have some beneficial consequences in that I have begun to aclimatise myself to the Mewe format, and have searched and found… much to my joy… several Libertarian personalities whose activism and insights I enjoy and admire… yet of course there is currently only a fraction of Libertarians and groups there compared to facebook… and that is the Power facebook holds… even over people who despise the the political bias and censorship that tyrannizes over all.
So many people submit to it because their families and friends are there… maybe they have a business presence there… and their favorite groups are there too.
Whatmore most of us have developed an unhealthy facebook addiction having assimilated facebook into our lives and routine… all these factors make the thought of migrating elsewhere to a platform that currently is comparatively lacking in content…. like a crack addict contemplating going cold turkey!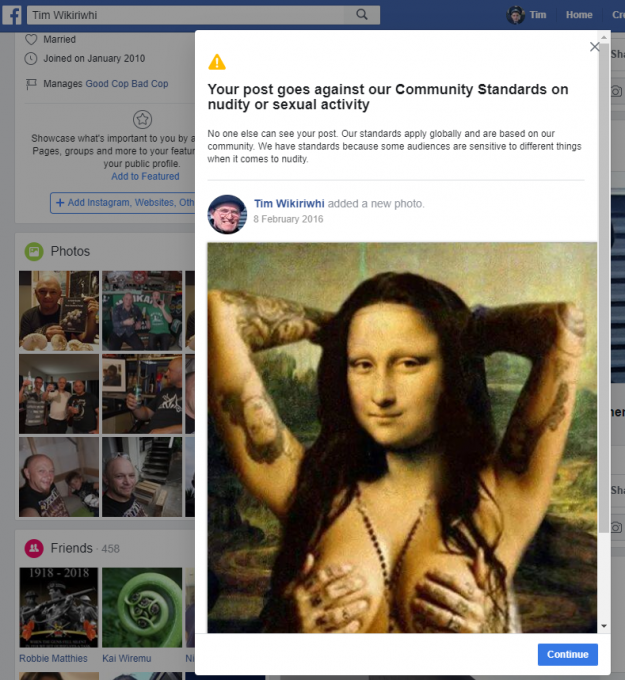 Yet This Blog post is an appeal to you facebook addicts who love freedom and who wish to remain in contact with some of the Best Freethinkers to at least create yourself a Mewe account and try to at least visit your meWe page daily… and to regularly encourage your Family, friends, and groups, to do the same.
It is this way that Mewe will start to become far more fun and a genuine alternative to the Gargantuan Facebook Beast.
I am of two minds as to what other actions I should take… Its my opinion that facebooks Left wing prejudices renders it dangerous to Freedom in society, and that is unworthy of our custom, and on that principle alone It makes sense to *Punish facebook* by withdrawing ourselves… and the more people who do so the better, yet again why should any Libertarian 'Permanently ban themselves' from such a powerful Social media site… esp when despite their heinous prejudices …there are still so many befits to be gained there?
The Libertarian rebel in me says… no!… I will not leave… that is to surrender to what the Lefty SJWs desires!
Better to start focusing on developing a Mewe community, yet also continue activism on facebook… regularly using facebook to promote Mewe…. regularly using facebook to critisise Facebook…. and of course using facebook to rebut Left wing (and right wing) delusions, articles, and activities.
Its via pro-active foresight that Liberty lovers stay empowered rather than slowly being crushed into submission out of fear of being deplatformed… Zucced.
And facebook users should be looking out for your friends… if they 'disappear' … stop responding to your comments, and posts, etc there is a high probability they have been Zucced, and so they cant post, cant reply to you messages, etc and so unless you have set yourself up an alternative Social media presence (like on Mewe) or they have set up a second Facebook account under a pseudonym that you know about… it is as easy as pie for facebook to sever your communications with your closest social media friends, Family, etc.
Anyway I wont be back on facebook for 3 more weeks, though at no stage was i aware that posting a joke pic of Adolf Hitler would get me in trouble with the facebook Gestapo!
How Ironic it is that facebook has become so Hitlerian!
One day I am sure I will get my entire facebook presence deplatformed and probably my blog will also get banned too so I am appealing to my Family and friends to set themselves up a mewe account so we can stay in contact should these things eventuate…. It could happen sooner than anyone would imagine.
Tim Wikirihi.
Christian Libertarian.
P.S Zuckerburger is a Big Baboons Butt!
😀
More from Tim.
FACEBOOK IS WAGING A WAR ON INFORMATION.
FCAKEBOOK TRANSGENDER PREJUDICE NOT FUNNY.
IMO GREEN MP GOLRIZ GHAHRAMAN IS A MENACE TO FREEDOM. DAVID SEYMOUR SHOULD NEVER APOLOGISE FOR CALLING HER OUT.
PHIL ARPS: A PORTRAIT OF A REAL ALT RIGHT NATIONALIST WHITE SUPREMACIST: COMBATING MALICIOUS LEFT WING PROPAGANDA.
WORLD WAR 3 ON THE WORLD WIDE WEB. THE CRUSHING OF FREE SPEECH IN NEW ZEALAND.
WELCOME TO THE MACHINE! I GUESS IT WONT BE LONG BEFORE I AM PUT IN JAIL FOR BREAKING NEW ZEALAND 'HATE SPEECH' LEGISLATION.
NIGHT OF THE LONG KNIVES: SJWS RUNNING THE INTERNET ARE SILENCING CRITICS AND SYSTEMATICALLY UNDERMINING FREE AND FAIR ELECTIONS ON A GLOBAL SCALE