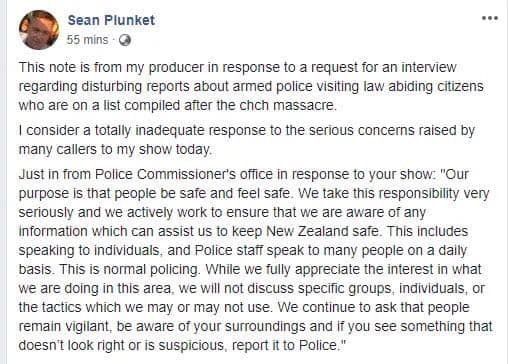 Update:From Facebook, Andrew HS: 15-4-19.
"Hate Speech Laws and Blasphemous Libel: A Tale of Hypocrisy.
A few months ago, the Honourable Andrew Little quite rightly proposed a bill that eventually removed the last blasphemy law (s 123 of the Crimes Act 1961) from our statute books.
Before its removal, the effect of s 123 was to make it an offence to vilify or degrade Christianity with an intent to cause serious offence or by abusing sacred objects or beliefs (Bowman v Secular Society Ltd).
Section 123(3) went on to specify: "It is not an offence against this section to express in good faith and in decent language, or to attempt to establish by arguments used in good faith and conveyed in decent language, any opinion whatever on any religious subject".
Thus the cumulative effect of s 123 was to make it an offence to vilify or degrade Christianity either in bad faith, or using indecent language.
At any rate, the repeal of s 123 was premised on concerns about the right to free expression. The necessary implication being that speech is *protected* notwithstanding that it is expressed in bad faith or indecent language, and vilifies Christianity.
If free speech grounds a right to vilify Christianity in bad faith or using indecent language, there is similarly a right to vilify any other religion in bad faith or using indecent language.
And yet I'm told that the latter would be legally actionable hate speech…"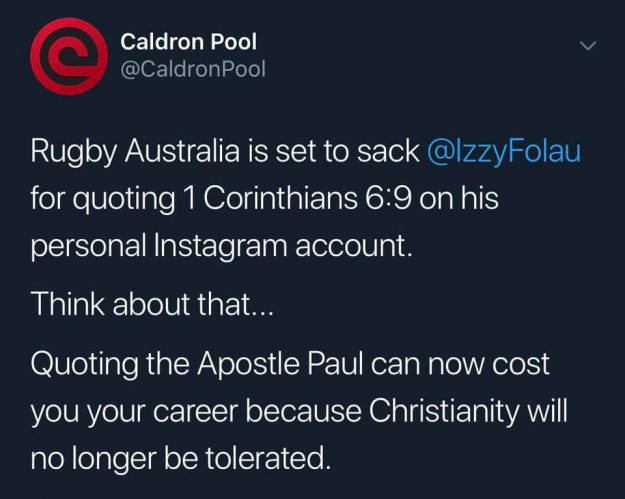 The pace with which the current Ardern government is moving towards a police state, and the destruction of freedom is truly frightening!
And there seems to be nobody in parliament standing up in opposition to any of it!
The National Party have been hypnotized by the Ardern Cult of Personality… they pander to her every whim!
How the hell they ever expect this sort of Kowtowing to the Liberal agenda will help them get elected into power again is a mystery.
The Lefty infested New Zealand Press are hard at work lobbying for New Hate speech legislation and has acted like a Lynch mob towards Austrailian sports star Israel Folou quoting the Bible on his own social media page. and the condemnation he has received from our New Zealand Prime Minister Jacinda Ardern herself, with the press goading her… begging her … to label what he said hate speech…here 'Jacinda Ardern fires back at Israel Folau and social media comments'… while she was restrained by current legal definitions to label what he said as being a crime, she said she called it 'Damaging', yet we also know that her government is determined to push through New 'hate speech' legislation… with the same callous disregard for the rights of New Zealanders and due process they displayed with the latest Firearms prohibitions, and when you see what her minion Andrew Little thinks constitutes 'hate speech' if New Zealanders are not alarmed, and rise up against this abuse of power they truly deserve the expression of being a bunch of Sheep!
Unless new Zealanders wake up and stand against this sort of agenda driven anti-religious liberty… anti Free speech propaganda… Our country is doomed, and our children will not be taught anything other than what the government wants them to learn… and what they are allowed to believe… and think.
What has been circulated in the NZ media about Folou's 'Homophobia' has been absolutely dishonest!
Read: Why does the Left have such venom when it comes to Folau?
And… 'Faith comes first' for unrepentant star Wallaby
For the record… I'm too a Christian, I do not hate homosexuals, yet I reserve the right to peacefully and freely preach about my Religion and quote the Bible… precisely as I have done for the last 34 years, and no Law from Parliament will stop me from doing this… They will have to arrest me to stop me!
This is precisely what the Right to free speech entails!
Go study the history of religious oppression and the birth of religious liberty in western civilisation… This is where the right to free speech was born!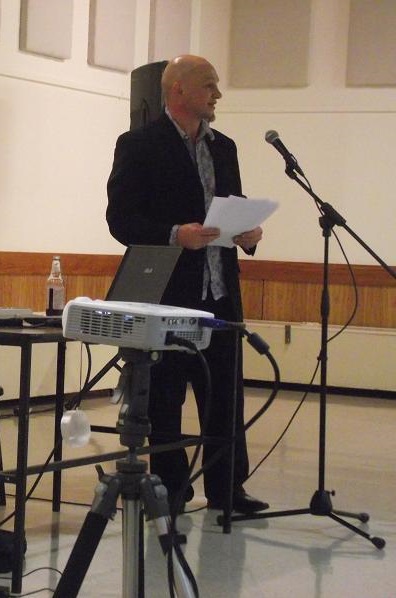 Look at What Arderns' Minion Andrew Little has to say about a political pamphlet that was circulated in Point Chev… this is her main man responsible for framing new Hates speech laws!
The Pamphlet called for 'One law for all'… thats an *inclusive* Ideal in which all peoples of New Zealand are subject to the same laws… no favoritism… no discrimination… and yet he has called this *Racism*!
Quote: "The pamphlet titled One Treaty One Nation, calls for an end to state partnership with Māori, scrapping the Waitangi Tribunal, Māori electorates and wards and says Māori have benefited from colonisation lifting them out of "a violent stone age existence".
Andrew Little who is overseeing a review of hate speech in the wake of the terrorist attacks told the Herald his view was the pamphlet is racist.
"It peddles myths about pre-European Maori society that historical scholarship does not bear out. If it demonstrates anything, it is that the author of it is an ignorant fool."
****
How Arse-backwards and hypocritical could anyone possibly be???
The Man is worse than an imbecile!
Hes a Dangerous Political snake… and if he thinks by writing legislation that outlaws political opinions that disagree with his own patently wrapped Ideas he has another thing coming!
Little is suggesting this pamphlet calling for one law for all is written by some nutcase when in reality it is expressing a view that is held by a great portion of New Zealanders including many respected politicians more than his equal and many other prominent and intelligent New Zealanders.
The Principle of Racial equality is neither 'Anti-Maori' nor Fringe!
It is a legitimate Political position held by thousands of New Zealanders, well reasoned, and has been a foremost topic of elections for the past 50 years!
Does Andrew Little think he can impose his own liberal apartheid views by labeling opposition as hate speech?
Read: Anti-Māori pamphlet show gaps in hate speech law: Andrew Little calls for action
Here is the Pamphlet (Thanks Kiwi Front line)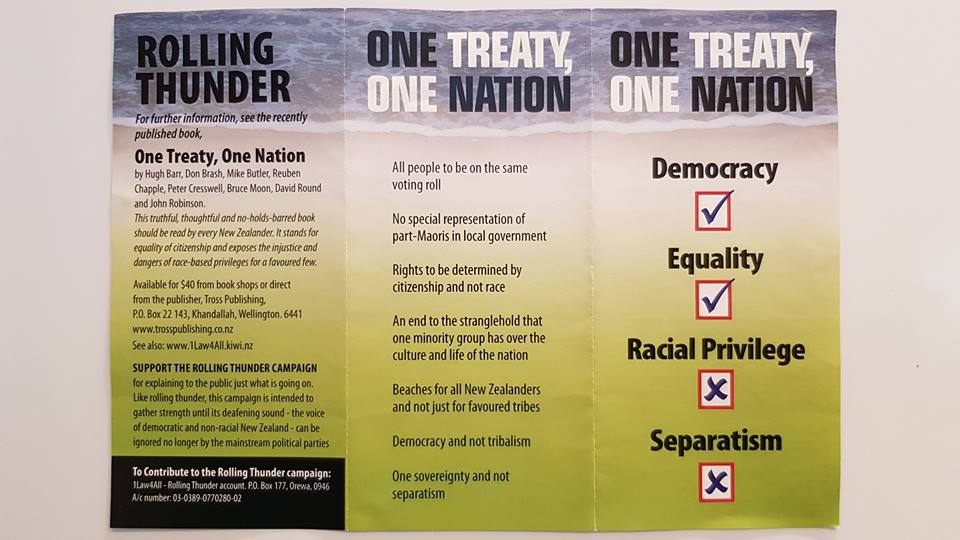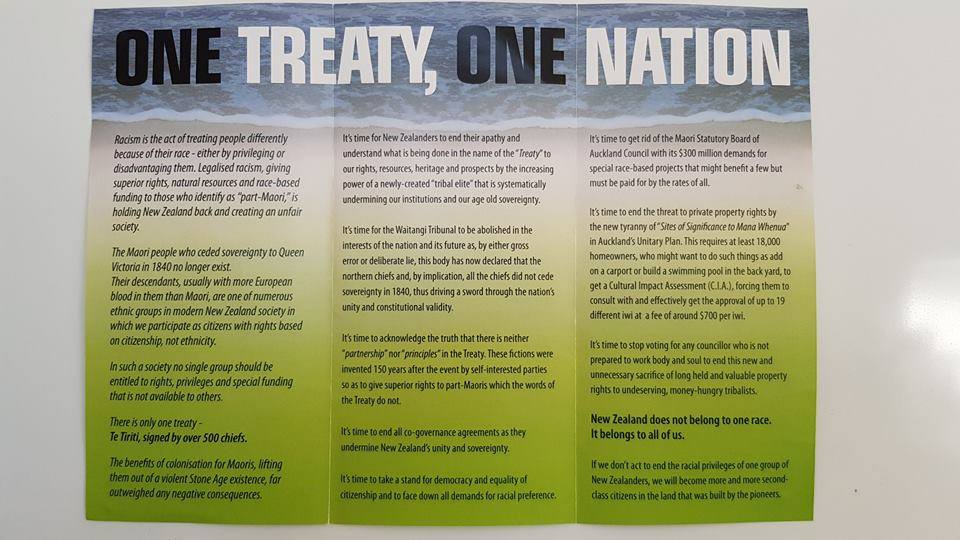 As a Libertarian… I reserve my right to propagate the Idea of *One law for all New Zealanders* and to fight for the Principle of Justice… *Racial equality before the law*… just as I have done for the past two decades, and no new 'hate speech laws' written under the excuse of the Christchurch atrocity
will silence me from condemning the apartheid state that Ardern and Little are now at the helm!
I dont care if Andrew Little believes that Fighting for Racial equality is somehow 'Anti-Maori' and Hate speech!
It is not hate speech! I do not Hate Maori… I am a Maori myself!
I want what is best for them and all the people of New Zealand, and I condemn as unjust and an absolute failure the current Apartheid syatem that has not lifted Maori out of the gutter of our Social statistics, but has been a gigantic extortion racket!
I will not stop… I will never cease from seeking to expose the dishonesty of the Governments False revisionist history that seeks to deceive New Zealanders into accepting the lie that the Treaty of Waitangi created a two tier Racial system rather than uniting *all the peoples of New Zealand as one people under one law and one sovereign with equal rights* The Government will have to arrest me and throw me in jail because I will never stop using my natural right to freely speak the truth!
I declare that the current policies of Waitangi separatism are Evil!
Read:
One month on from Christchurch mosque shootings, big changes are still coming
So New Zealanders… will you surrender our country to such evil and tyrannical powers as have manifested themselves under Jacinda Arderns Psychotic Government????
I wont!
I have Children and Grand children who I want to live free and know the truth!
Id rather die in jail that surrender Political Freedom and My faith to the evil powers that threaten these most precious of values!
Will I have to rot in a dungeon as a political prisoner for New Zealanders rights to free speech and the principle of racial equality before the Law???
That this is even a possibility shows how dangerous to rights and freedom this new proposal for hate speech legislation is!
We can be sure that Little's new Hate speech laws will result in a wave of censorship and Punishment for Thought Crimes… maybe the will force some of us to drink Hemlock for not worshiping the State Gods and Corrupting the Youth!
Read: BAD APPLES. HERETICS AND INFIDELS.
Political writer Dr Muriel Newman has written about these things in an article named 'A totalitarian state' and I quote…
"Calls for restrictions on free speech by radical Government MPs should raise the alarm about our future. While the Bill of Rights protects our freedom of thought, expression, and association, as we have already seen through the Censor's bans, these rights are fragile and can easily be taken away.
Laws to protect New Zealanders from 'hate' can already be found in the Crimes Act, Harmful Digital Communications Act, Human Rights Act, and the Sentencing Act. If the Government is committed to stronger deterrents, they simply need to enforce the existing laws.
Already the call for action against 'hate' since the Christchurch attack has resulted in people losing their jobs for making thoughtless remarks, websites being blocked, and a social media crackdown being implemented. It may also have been responsible for a man losing his life.
New Zealanders who value the freedom and liberty that underpins our society should strongly oppose new laws to ban 'hate'. Such laws, that would enable the Police to act against anyone expressing ideas contrary to those deemed acceptable by the Government, have proven to be a disaster in countries where they have been introduced, over-criminalising the population and allowing vexatious complainants to destroy lives. "…
I concur with Muriel, and implore the People of New Zealand to rally and protest against this Hitlarian Drive against Freedom in our country!
Do you want your children to grow up free?
Do you reserve the right to teach them your own Values and beliefs?
Or do you surrender these priceless things .. and give your children's minds to the State to brainwash them with the beliefs and ideals these Political psychopaths running the machine?
Satan laughing spreads his wings.
Tim Wikiriwhi
Christian Libertarian.
PAUL HOLMES ON WAITANGI DAY STENCH.
More from Tim…
TIM WIKIRIWHI'S SUBMISSION TO THE NEW ZEALAND GOVERNMENT'S CONSTITUTIONAL REVIEW. 2013
MT EVEREST IS FOR WIMPS! LETS CONQUER APARTHEID GOVERNMENT IN NEW ZEALAND! A STRATEGY.
THE SHAME OF MAORI RADICALISM. HATE AND VIOLENCE.
WHY A NEW CONSTITUTION FOR NEW ZEALAND MUST PROTECT THE INDIVIDUAL FROM MOBOCRACY.
STATE OF CONFUSION. THE RULE OF LAW VS THE MANDATE OF THE MAJORITY. NEW ZEALAND'S CONSTITUTIONAL CRISIS.
TROJAN HORSE: THE UN SEPARATIST DECLARATION OF INDIGENOUS RIGHTS.
UNIVERSAL PRIDE IN WASHINGTON, SEPARATIST SHAME IN WELLINGTON.
LOST PLOT. WORLD PRESS FREEDOM DAY.
THE ART OF FEIGNING OPPRESSION.
IS THE TREATY HOLDING BACK NEW ZEALAND?
28 OCTOBER NEW ZEALAND: FAKE DAY OF REMEMBRANCE :THE MAORI WARS OF 1860S