Screenshot from Twitter: Newsroom NZ's gloating Woke radical Marc Daalder expounding the Leftist anti-free speech 'dictum' 'deplatforming works' that advocates for the censorship and deplatforming of political critics and dissenters of woke radicalism, and Leftist government policies.
Marc celebrates 'cancel culture' and the reprehensible practice of 'deplatforming' independent voices.
Deplatforming is a truly despicable act that not only silences citizens exercising their legitimate democratic rights, but often also involves slander and extortion of third parties… threats to business reputations and results in the devastation of peoples lives.
The date of this Twitter post correlates perfectly with the deplatforming of Kiwi Vinny Eastwood from Youtube. Vinny's channel boasted more subscribers than any mainstream NZ media outlet.
Now it's gone. In January this year Daalder labeled Vinny 'Far Right'.
Read Daalder's celebration of Twitters heavily partisan deplatforming of Donald Trump, and thousands of other on the 'Far Right' here. for 'wrong think' and discussing 'forbidden opinions'.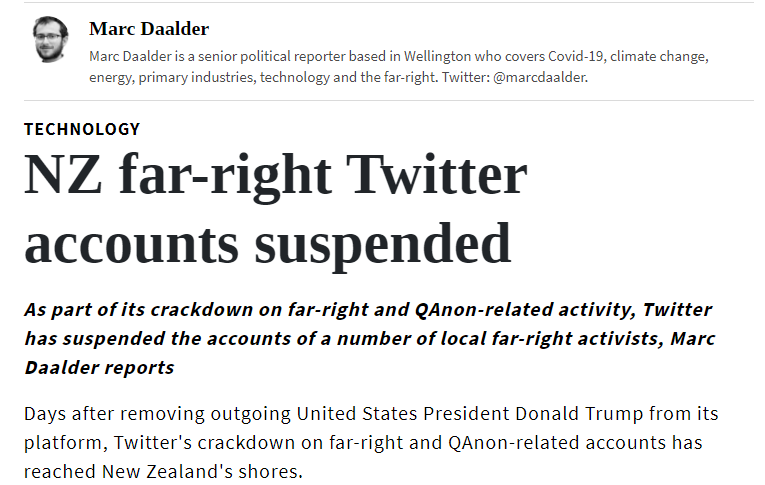 This Blogpost is the first in the series I am writing to expose an active Far Left extremist deplatforming gang that has been attacking New Zealand political commentators on radio, and on You Tube. This operation has been coined 'The Great Deplatforming of Matariki 2021' by the Racist Radicals and Alt Leftists committing these abuses.
I will be focusing today on the activities and ideas of one of New Zealand's most malicious peddlers of Far Left Extremism and misinformation.
Newsroom's Propagandist Marc Daalder.
My next Blog will zero in on Daalders ideological followers and fellow deplatformers… a nasty bunch of Racist radicals and far left nut jobs who have been engaged in despicable deeds.
Attacks on free speech via cancel culture, deplatforming, esp on the internet have reached frightening Levels both here in New Zealand and globally to the degree that they threaten Democracy!
These Attacks come from one direction… the Far Left, with the Woke Technocrats controlling the internet the Left have been blatantly stacking the deck in favour of their own political prejudices, and acting as the chief arbiters of what may or may not be expressed on line.
This exposes the voting public to heavy political bias.
This corruption of the public square is very much welcomed and encouraged by globalist socialist parties and politicians all working to overthrow capitalism, and traditional Christian values upon which Western civilisation is founded.
Socialists despise individual rights and liberties that set limits to government power.
As a result of the ascendency of Leftist ideology Western nations have become a mere shadow of what they once were.
Freedom and independence are in retreat as Leftist Socialism spreads like a cancerous growth… mostly via the tyrannical control of the flow of Information.
Leftist propaganda and Toxic doctrines infect minds en Masse creating hysteria and Psychotic outrage.
The hate, the racism, the sexism generated by the Woke Left is very real and extreme, and yet it is all cloaked in the fake garb of 'social justice', and 'saving the planet'… fake virtue and fake virtue signaling.
That is how the Far Left roll.
The hypocrisy of it all is rank!
The Left has turned the truth on it's head!
This is why violent and criminal far left organizations like Antifa and 'Black Lives Matter' have sprung up and are wreaking so much havoc, mob violence, and wanton destruction.
BLM is run by the most bigoted racists, and yet claims to be fighting racism.
The same thing can easily be proven to be true of the Maori Radicals in the Maori Party… all the while being excused by Radical leftist politicians like Jacinda Ardern and the Greens.
And the compromised fake news mainstream media.
Toxic Leftist doctrines ferment and pseudo-legitimize bigotry and racism, violence and chaos, and outrage… via the fraudulent excuse that they are fighting bigotry and racism, and violence, and oppression.
These people are so lobotimised they cant see the wood for the trees!
This is all thanks to Radical Far left wing ideology and propaganda that blinds the gullible devotee and turns them into useful idiots for furthering the aims of Far Left Politicians.
Fear of impending Doom guarantees the Billions of dumfounded sheeple accept the proliferation of new Police States because in believing the world faces extreme crisis… they assume this justifies extreme measures and that individual rights must be sacrificed upon the alter of greater common good.
This is pure Communism.
One of the greatest political scams being foisted upon western populations today by the Far Left via mass propaganda campaigns and mis-information is that Western Societies are in grave danger from 'Far Right Extremism' and that this threat justifies heavy censorship, deplatforming, of political commentators the left themselves deem to be far right exponents, and also is being used to justify the criminalization of opinions and speech that does not conform with leftist ideals.
This is the real hidden reason why there is a push across Western societies for new hate speech legislations and censorship powers… it has zero to do with humanitarianism, and everything to do with seizing absolute power and the establish a New World Order.
Wolf in Sheep's clothing, Jacinda Ardern has proven to be the most opaque and devious PM in the history of New Zealand, most of the time keeping her ultimate ambitions as closely guarded secrets because her Far Left ideals are in sharp variance with mainstream New Zealand's hopes and aspirations, which is why she must veil her activities, and implement her agenda with the least public discourse as possible.
.
Ardern exposed her true colours in a Pro-Globalist speech she made at the UN in 2019 when she rebuked calls made by Trump for 'More Nationalism'.
Trump had called world leaders to focus on problems at home as that is where their primary loyalty ought to be.
Ardern exclaimed…"Experiences in recent years should lead us to all question whether any of us ever truly operate in isolation anymore.", and "Our globalised, borderless world asks us to be guardians not just for our people, but for all people."
This speech rang alarm bells for many New Zealanders as it indicated Ardern was seeking to sell out our nation to Socialist Globalism.
In keeping with this under Ardern in New Zealand signed up to the UN Global Compact on Migration which at the time sparked concerns about the abrogation of our national sovereignty and included a section not merely to propagandise the public into accepting open boarders, but also included advocacy for censorship and 'hate speech laws' that framed any opposition to the UN scheme as being 'hateful Xenophobia'… to be criminalised.
It is obvious to some Kiwis that to achieve the Socialist Globalist New world Order will require an incremental strategy that first puts in place the tyrannical tools to manipulate the public into acquiescence, minimise any possibility of public protests, and punish critics as 'far right mongers of hate against 'vulnerable minorities'.
This is the game plan the Machiavellian Globalists are implementing with precision, and it just so happens that all this grand scheming by our Woke Globalist PM did not escape the attention of several Kiwi based Independent Youtubers who began to make you tube videos in which they expressed their opinions about what they believed was going on.
They are not Racists. They are not Far Right, but conservatives.
They are seeking Racial Equality before the Law. not systemic entrenched racism… its the leftists like Ardern who advocate for that!
One was the ordinary working bloke Lee Williams, who some of you will know was the target of the hateful and malicious campaign by the nasty far left radicals which are the central topic of this blogpost.
Not only intent on getting him deplatformed from You tube, these Sociopaths also set about to destroy his life. Another You tuber who made videos highly critical of Jacinda Ardern was a guy called Damien De Ment.
By making videos critical of the Far Left Socialist Agenda these two guy became the focus of Far Left hatred, and were then targeted for slander and deplatforming.
A textbook New Zealand example of a professional Far Left Globalist operative, propagandist and expert in mis-information embedded in the New Zealand media. Newsroom's Marc Daalder
Exhibiting all the duplicity, dishonesty, Fear mongering, and advocacy of censorship and deplatforming that is distinctive to the diseased Far Left mind.
Daalder is an Igor-like minion and worshipper of our own personification of Woke-Evil the 'Free Hugs' 'Rush through oppressive Legislation' Prime minister Jacinda Ardern.
We shall see that Mark Daalder was on the hunt for targets to become the focus of his Radical Left vehemence when at some point Lee Williams and Damien De Ment came to his attention, possibly when they both spoke at an anti-lockdown protest in Auckland.
Having discovered they had expressed criticism of the UN Global Compact for Migration on their You tube channels was all Marc needed for his purposes.
Marc knew this could be used as propaganda to frame them as 'Far Right extremists' and he set about to sell this narrative to the New Zealand public.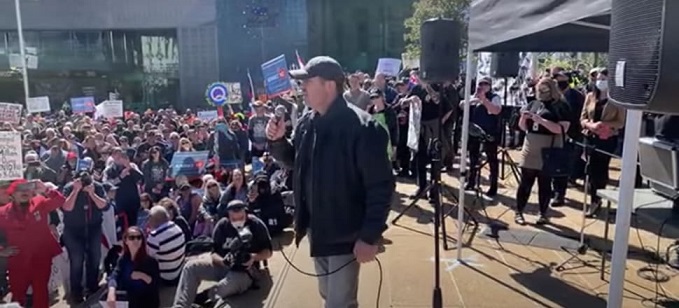 Photo: Newsroom Article/hit piece by Marc Daalder. 'Far-right speakers Featured at anti-lockdown march' Sept 15 2020
In an article written in September 2020, Daalder would label both Lee Williams and Damien De Ment 'Far Right Speakers'.
The protest was peaceful and aptly named 'The Liberty March', and organised to voice legitimate concerns about how the Ardern government had acted in an oppressive manner in her handling of the Covid 19 pandemic.
Marc Daalder's Noowsroom article (Far-right speakers featured at anti-lockdown march Sept15 2020) is a textbook piece of Left wing propaganda designed to discredit public protests against Left Wing Socialist Prime minister Jacinda Ardern by associating the protest with the Boogie man of 'Far Right Extremism'.
When investigating what sort of 'reporter' Marc Daalder is we do not find an objective thinker applying high journalistic integrity. No.
Marc is not hogtied by pesky and antiquated ethics of Journalism.
We find a Far left Radical, a Propagandist and Spin Doctor for Leftist Globalism, a schemer, and peddler of misinformation.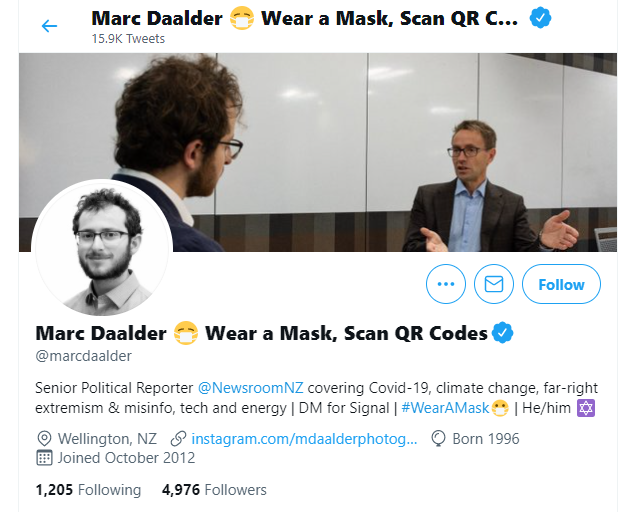 The above screenshot is from Daalders Twitter profile descripting himself as 'Senior Political Reporter at Newsroom NZ covering Covid-19, Climate Change, far-right extremism and misinformation, tech and energy.
That is basically a bullet point checklist for a textbook Far Left Wing Propagandist, and subsequent analysis of his published articles confirms this in spades.
Any Newspaper, or media outlet that was seeking to build a reputation for quality Journalism with high integrity looking to employ reporters capable of producing objective and well balanced accounts of newsworthy events… Marc Daalder would not qualify let alone be 'Senior Reporter'. It would be impossible for him to present 'the other side' of any story with fairness.
Note how he self identifies as a reporter on 'Far Right Extremism and Miss-information'.
His political prejudice could not be more overt, and the inference to be drawn here is that manufacturing Leftist counter-propaganda is his specialty.
Seeing the world through his glasses automatically means labeling any criticism of leftist ideology as 'Far right miss-information'.
The skew on reality is that when you are seeking to 'normalise' far left extremism, you must sell the lie that mere Conservatism now occupies 'Far Right'.
Lefties like Daalder think the best way to mount a counter-offensive is not to employ sound arguments, but to slander their character, then insinuate they are dangerous and ought to be censored and deplatformed.
Marc retweeted a whole series of graphs that demonstrated to fellow radicals the efficacy of deplatforming in reducing the reach cancelled Youtubers.
The question I ask is who at Newsroom is 'Senior Political Reporter for ***Left Wing Extremism and Misinformation***???
Nobody.
They probably don't believe Far left extremism even exists.
What about the serious dangers posed by Maori Radicalism?
Who at Newsroom is investigating and reporting on this well known variant of Racist Extremism?
What about Green extremists?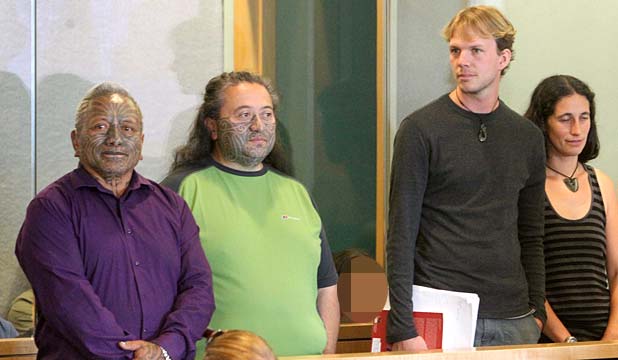 Anyone remember the would-be Terrorist cell Tame Iti and the Radical Greens running around in the Urewera's training for Terrorist attacks?
What were *their beliefs and ambitions*?
And are these same ideas being promoted today?
If so by whom?
Deafening silence.
These sorts of questions are *forbidden* to even contemplate!
To do so evidences far Right Extremism!
Yeah Right.
Read: Would be Terrorists Escape Justice. Far Leftist Racist Radicals and Environmental Extremists.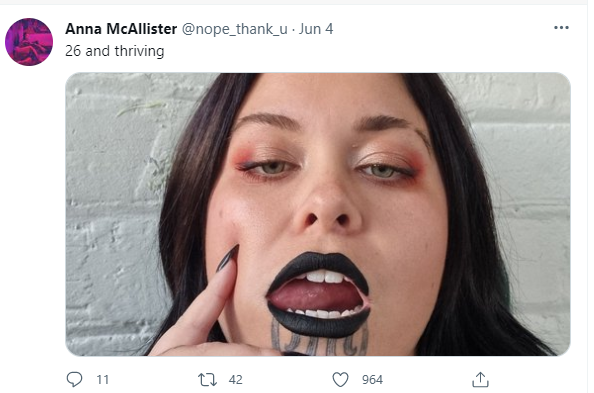 Photo: From Anna McAllister's public Twitter feed.
Introducing Anna McAllister. Artist, government employee, and Maori Radical. And Overt Racist against White people. She is a member of the deplatforming gang that destroyed Lee Williams life.
In part 2 of this series on 'The Great Deplatforming of Matariki 2020' we shall profile Anna, and see several other of Daalder's own followers are Maori Radicals, and that they put into practice Daalder's personal Anti-free speech/ pro censorship pro deplatforming… gutter scraping … political subversion tactics.
Daalder is not just a instigator. He was himself was personally involved in the deplatforming of Lee Williams from You Tube, cloaking his activity as 'simply doing his job'… and yet gloating about it at the same time in his article…
'Brighter spotlight on far-right YouTubers' June 3 2021.
saying
" Williams has struggled to keep his channel going in the face of increased scrutiny. He has deleted the vast bulk of the videos from his channel after receiving a two week ban. The ban came after Newsroom asked YouTube why some videos, which appeared to conflict with its community standards, had been approved to remain online by the company."
Not merely reporting the story… Daalder boasts about taking part in the story.
Such 'Activist Journalism' practiced by Daalder is straight out of the Woke Far Left handbook… so too is bragging about it, otherwise known as 'Virtue signaling.
He sees himself as being a bit like an armchair superman fighting super villain's, though his target Lee Williams was not actually a criminal, and not actually doing anything wrong, but was simply guilty of having his own contrary opinions which he shared from his soapbox on Youtube… you know… exercising his democratic rights to free speech!
How extreme!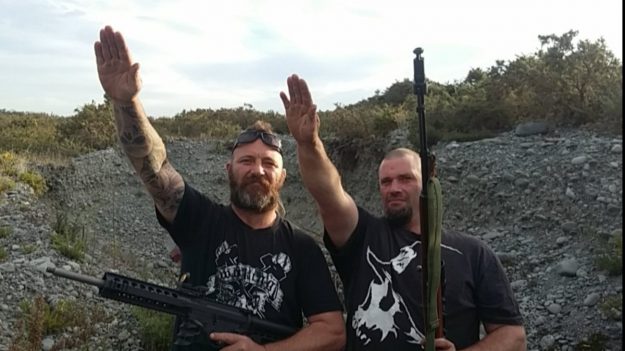 Photo: What an actual Far Right Extremist looks like… Phil Arps. he posted actual threats of violence towards the Muslim community.
Read: PHIL ARPS: A PORTRAIT OF A REAL ALT RIGHT NATIONALIST WHITE SUPREMACIST: COMBATING MALICIOUS LEFT WING PROPAGANDA.
You gotta feel a bit sorry for Daalder… The great would-be slayer of Far Right Extremists doesn't have any truly impressive super villain's to slay!
New Zealand completely lacks any *Real* politically active Alt-Right Swastika waving White supremacist's* that believe in Arianism supremacy and still want to 'Exterminate Sub humans'.
Unfortunately for Marc Daalder, yet fortunately for New Zealand Race haters on the Right such as the now notorious 'Phil Arps' are as rare as hens teeth!
Far Right Extremism here is a non-event!
Even the once infamous Kyle Chapman has found Jesus and now loves charity work!
This is why Marc must make do with slaying much less menacing types… meek and tiny fish Like Lee Williams… who is not even a racist… he just is concerned with the UN Compact for migration.
He just disagrees with Arderns Draconian handling of Covid 19.
How extreme!
Newsflash to Daalder!
Believing in controlled immigration that focuses upon migrants suitability to fit in well with New Zealanders common values and beliefs is *Not Far Right Extremism*!
I'm sure Marc knows this, yet is intentionally applying his own 'misinformation' for the sake of duping New Zealanders into thinking anyone who critisises Jacinda Ardern, or the UN Global Compact on Migration is an extremist.
The Truth be known national sovereignty and boarder controls are Mainstream Kiwi beliefs!
Not Radical… not extreme… and the desire to keep things this way is called Conservatism!
The reverse is also true… calling for open boarders while maintaining a welfare State *is extreme*… and that makes Daalder and Ardern the extremists at variance with most New Zealanders.
Read: Sovereignty concerns shroud NZ's bid to sign UN migration pact
What part if any did Marc Daalder's minions play in the Deplatforming of John Banks from Magic Talk Radio show, that ultimately also claimed Sean Plunket I have no evidence, and yet we can clearly See Daalder is making a point of slandering Talk back host Peter William's.
Daalder obviously would twitter his joy should we loose yet another commentator with the courage to question the activities of the Ardern regime.
While this gang of Extortionists are at work there is every possibility that Peter Williams will some time be deplatformed.
Daalder already accuses Peter of granting a platform to 'Anti-Vaxxers' when all Williams was doing was informing the public about how dodgy Jacinda Arden's Roll out of the Covid vaccination was! Lawyer Sue Grey took the Ardern regime to court for breaking the Health act… and won! Yet instead of complying with the spirit of the Law, Ardern and co rushed through legislation in the dead of nite… again without public consultation to legalise their formerly illegal vaccination scheme!

Read about Sue Grey here: NEW ZEALAND LAWYER SUE GREY DOING SOME GOOD WORK WITH RESPECT TO NZ GOVERNMENT COVID 19 RESPONSE AND 'VACCINE' ROLL OUT.
New Zealanders must wake up to the fact that the far left have been busy censoring people who hold fundamentally the same ideals they themselves and appreciate the blatant Bias and Anti-Free Speech toxic rubbish which flows for Daalders pen for what it really is!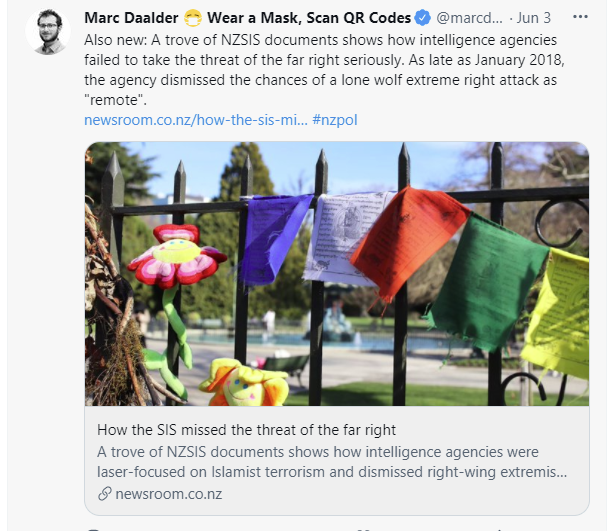 It certainly is not reasonable to suggest that New Zealand based 'Far Right Extremists' had anything at all to do with the horrific Christchurch Terror attack against Muslims and yet Daalder does his very best to try and implicate Lee Williams in that tragedy by saying Lee was visited by Police twice after the March 15 Terror Attack… that is how despicably dishonest he is!
Read Far-right speakers featured at anti-lockdown march
That the police started harassing innocent New Zealanders in the wake of that event was a gross violation of their rights, and the beginning of Ardern's 'Thought Police' mentality.
Obviously this meets with Daalders personal stamp of approval!
Everybody knows the Terrorist Brenton Tarrant was not even a New Zealander!
Had the SIS been spying like Hawks 24/7 on the handful of actual Neo-Nazis who vagrant New Zealand this would not have prevented the atrocity from happening!
This is a simple fact.
And just to trigger Marc Daalder further still a good argument can be made that Tarrant was in fact a far Left Environmentalist Extremist… not Right wing at all!
New Zealanders have been treated like untrustworthy children with respect to being able to openly discuss what actually happened that frightful day in March 2019, or to really come to grips with what Tarrant really represented as his manifesto 'The Great Replacement' was speedily outlawed.
The reasons for doing so are pathetic… Bogus… given how important it is for our nation to fully come to terms with what happened and our right to know the facts!
My Goodness… the bullshit sandwiches we get fed by the Ardern regime!
The Royal Commission of inquiry into the Christchurch mass shooting was also farcical and much of it suppressed for 30 years!
The Christchurch Atrocity was a random act of madness of a foreign Extremist.
A lone psychopath, and does not reflect anything about the nature of New Zealanders!
He was not radicalised by any dangerous New Zealand far right ideologues.
None exist here, and that this is a fact is why our own intelligence services ranked the level of risk New Zealanders face from Far Right Terrorism to be very low.
The day Newsroom wakes up to the fact that there is virtually zero far right extremism in New Zealand Marc Daalder could potentially find his services as being 'Surplus to requirements'. Daalder could find himself on the Unemployment benefit!
Oh dear how sad!
Would not that be poetic justice given his part as ideological prophet advocating fordeplatforming of Independent voices like Lee Williams who in the process was targeted by Daalders own social media followers and ended up losing his job!
These are Marc's 'people'.
Marc Daalders blatant political bias destroys the objective trustworthiness in what he writes.
New Zealanders need to understand his nefarious Game!
Daalder is not a reporter of facts, but a blatant prejudiced Propagandist and Spin doctor for the very partisan powers and interests.
He's a dangerous extremist.
The Irony is Daalder spends so much time extolling how dangerous an influence people like Lee William's YouTube channel 'Cross the Rubicon' represented to fostering violent rightwing extremism, never contemplating how easily his own philosophy can be far more reasonably applied *to his own rabid Far Left extremism* and the dangers that represents in fostering violent Left wing extremism!
Daalder himself 'Dog whistles' to dangerous Far Left extremists all the Ding dong day!
In truth all the toxic Leftist doctrines about 'Pakeha Oppression' and 'Colonial injustices' not only ferments real race hate from many Maori towards Pakeha, it also prevents Maori from taking ownership of their own plight that they themselves are responsible for the high crime rates, incarcerations, poor health, etc which is the first vital step towards escaping their shocking social statistics.
This will have to suffice for part 1 of 2 posts on 'The Great Deplatforming of Matariki 2021'.
So much more could be said about Daalders warped political perspectives.
Part 2 will expose several of the truly malicious and disturbed Leftist radicals who extorted Synlait Dairy company, costing Lee Williams his Job, and much more.
Hopefully by the end of it just how despicable the practice of deplatforming is will be apparent to all.
I believe this business demonstrates the need for Anti-discrimination protections to render this sort of deplatforming operation and extortion racket Illegal.
It is so dangerous to the right to free speech.
I'd be interested in hearing opinions on this.
Having written this blogpost, I know I will become the focus of these nasty radicals… because that is how they roll.
This is not a task I take any pleasure in.
They will probably start plotting my downfall.
I hope this article puts them on notice that their evil doings shall be their own undoing.
They cannot play the victim… they are the offenders… the haters.
I in fact only feel pity for their sorry condition having allowed themselves to duped by toxic ideas, and filled with malice.
This is for justice for Lee Williams and for the sake of free speech in New Zealand.
To borrow from Project Veritas… Be brave. Do something.
Tim Wikiriwhi.
Christian Libertarian.
Read Part 2…. ANNA MCALLISTER: PORTRAIT OF A MAORI SUPREMACIST, AND SERIAL SOCIAL MEDIA EXTORTIONIST. 'THE GREAT DEPLATFORMING OF MATARIKI 2021'.PART 2.
Read more from Tim..
WHERE IS THE ACT PARTY? WHERE IS THE NZ FREE SPEECH UNION? THE DEPLATFORMING AND VICIOUS PERSECUTION OF YOU TUBER LEE WILLIAMS BY THE MAORI PARTY.
CROSS THE RUBICON. ANTIRACIST YOUTUBER ACTIVIST LEE WILLIAMS LIFE IS IN CRISIS… DESTROYED BY THE EVIL RACISTS OF THE MAORI PARTY.
OPEN LETTER TO SYNLAIT DAIRY COMPANY DEFENDING YOU TUBER LEE WILLIAMS DEMOCRATIC RIGHT TO CRITISISE THE POLITICAL POLICIES OF THE MAORI PARTY.
ACT PARTY FREE SPEECH NATIONAL TOUR OF NEW ZEALAND. HAMILTON MEETING 7-5-21
ONELAW4ALL PAMPHLET DOES NOT CAUSE ME ANY OFFENCE: BUGGER THE ADVERTISING STANDARDS AUTHORITY! BY LIBERTARIAN MAORI TIM WIKIRIWHI.
TIM WIKIRIWHI'S ORAL SUBMISSION OPPOSING THE FILMS, VIDEOS, AND PUBLICATIONS CLASSIFICATION (URGENT INTERIM CLASSIFICATION OF PUBLICATIONS AND PREVENTION OF ONLINE HARM) AMENDMENT BILL. 5-5-21.
'FREE SPEECH AND THE FATE OF SOCRATES', BY TIM WIKIRIWHI. FROM 'FREE SPEECH UNDER ATTACK'. TROSS PUBLISHING 2019.
EPIC DEFENSE OF FREE SPEECH: ANN WIDDECOMBE | WE SHOULD NOT SUPPORT NO PLATFORMING (8/8) | OXFORD UNION. YOUTUBE
BYE BYE MY FACEBOOK PEOPLE. IT'S TIME TO GO.
GAB, MEWE. LIFE ON THE FRONTIER. MY POST-FACEBOOK EXPERIENCE IN ALTERNATIVE SOCIAL MEDIA SITES.
FREEDOM IS BEING SNUFFED OUT AS GLOBALISTS TIGHTEN THE SCREWS ON THEIR POLITICAL ENEMIES… ANYONE WHO VOCALLY DISAGREES WITH THEM.
LIBERTARIAN OPPOSITION TO THE GLOBALIST AGENDA OF MASS IMMIGRATION.
TROJAN HORSE: THE UN SEPARATIST DECLARATION OF INDIGENOUS RIGHTS.
ONELAW4ALL PAMPHLET DOES NOT CAUSE ME ANY OFFENCE: BUGGER THE ADVERTISING STANDARDS AUTHORITY! BY LIBERTARIAN MAORI TIM WIKIRIWHI.
UNIVERSAL PRIDE IN WASHINGTON, SEPARATIST SHAME IN WELLINGTON.
ARDERN GOVERNMENT WILL USE 'HISTORY CURRICULUM' TO INDOCTRINATE OUR CHILDREN WITH RACIST FALSEHOODS. TIM WIKIRIWHI'S SUBMISSION FOR ' AOTEAROA NEW ZEALAND'S HISTORIES IN THE NEW ZEALAND CURRICULUM '.
WAR IN THE WAIKATO. REBUTTAL OF THE O'MALLEY REPORT FOR HAMILTON CITY COUNCIL WITH REGARDS TO THE PROPOSAL TO CHANGE THE NAME OF OUR CITY TO KIRIKIRIROA.
BIG SISTER IS WATCHING. TIM WIKIRIWHI'S SUBMISSION TO THE FILMS, VIDEOS, AND PUBLICATIONS CLASSIFICATION (URGENT INTERIM CLASSIFICATION OF PUBLICATIONS AND PREVENTION OF ONLINE HARM) AMENDMENT BILL
CRAFTY ANDREW LITTLE AWAITS 'RIGHT MOMENT' TO SNATCH AWAY FREE SPEECH IN NEW ZEALAND. LETS BE READY TO DEFEND OUR NATION FROM THESE DESTROYERS!
STOP WITH THE LIES AND BLAME! MAORI NEED TO TAKE RESPONSIBILITY FOR THEIR OWN SHOCKING CRIME STATISTICS.
GUILTY PLEA BY NEW ZEALANDER WHO SHARED THE BANNED LIVE FACEBOOK FEED OF THE CHRISTCHURCH ATTACK IS A VICTORY FOR TYRANNY AND A DEFEAT FOR LIBERTY
WELCOME TO THE MACHINE! I GUESS IT WONT BE LONG BEFORE I AM PUT IN JAIL FOR BREAKING NEW ZEALAND 'HATE SPEECH' LEGISLATION.
WORLD WAR 3 ON THE WORLD WIDE WEB. THE CRUSHING OF FREE SPEECH IN NEW ZEALAND.
THROWN UNDER THE CAMPAIGN BUS… THE RIDE TO HELL WITH WINSTON PETERS. 2017
THE VERDICT IS IN… AS PREDICTED… 'CLOSING THE GAPS' SOCIALISM HAS BEEN A DISASTER FOR MAORI AND NEW ZEALAND AS A WHOLE.
BAD PERSONAL CHOICES AND SOCIALISM TO BLAME FOR MAORI PREDICAMENTS, NOT COLONISATION. LETS TALK ABOUT FACIAL TATTOOS.
STOP WITH THE LIES AND BLAME! MAORI NEED TO TAKE RESPONSIBILITY FOR THEIR OWN SHOCKING CRIME STATISTICS.
LOOKING FORWARD, NOT BACKWARDS: DYNAMIC CULTURE VS STAGNATION. WHY BRITISH COLONISATION WAS GOOD FOR MAORI.
THE SHAME OF MAORI RADICALISM. HATE AND VIOLENCE.
MAORI RENAISSANCE… *EPIC FAIL!*
ARDERN GOVERNMENT WILL USE 'HISTORY CURRICULUM' TO INDOCTRINATE OUR CHILDREN WITH RACIST FALSEHOODS. TIM WIKIRIWHI'S SUBMISSION FOR ' AOTEAROA NEW ZEALAND'S HISTORIES IN THE NEW ZEALAND CURRICULUM '.
PLOTTING IHUMATAO : UNSCRUPULOUS PROTESTERS SEEK TO MANIPULATE THE POLICE AND CREATE ANOTHER 'BASTION POINT' TYPE FLASH POINT.
FLETCHER BUILDING'S SCHEME AT IHUMATAO MIRRORS THE BENEFICENCE OF WAKEFIELD'S ENLIGHTENED BLUEPRINT FOR THE COLONISATION OF NEW ZEALAND.