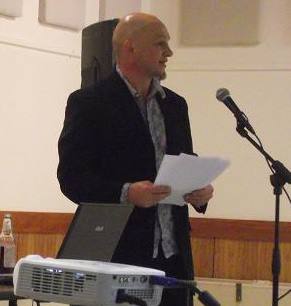 Today I delivered a public oral submission in opposition to The Films, Videos, and Publications Classification (Urgent Interim Classification Of Publications And Prevention of Online Harm) Amendment Bill.
I found a video link here.
My contribution starts about 1:21 hour/minutes into this video.
This Oral submission was in addition to the written submission I submitted back in March… That can be found here.
As I could not make it down to Wellington to deliver my submission in person, I delivered it via the 'Zoom' Online messenger App, which I found surprisingly user friendly.
I must confess my performance was sub par and I am disappointed with myself.
I struggled to get a draft written right up until midnight last night leaving myself no time to shorten it to length, polish, and practice delivery.
I probably would have been better off not reading my script and simply speaking from my heart.
Anyway it is done now.
Below is the text I wrote for this submission.
I however only got through about 30% before my allotted time was expired, and the Committee did not ask me any questions at the end.
I don't expect my submission will have impacted upon their thinking one Iota.
The Woke Juggernaut will keep rolling forward without hinderance.
A funny thing is in a case of mistaken Identity it looked to me like todays Hearing was being chaired by Radical Leftist Sue Bradford!
I was sure of it… wondering if SB has a Doppelganger in parliament.
With people like her involved in this process, I feared for the worst.
Turned out not to be Sue Bradford but National's Barbara Kuriger!
My Bad. 🙂
No offence meant.
I must restrain my negativity when I decide to make submissions to Government bills and inquiries, subjugating my cynical inclination to see the public submission process as farcical… merely a formality these day's… rather than a genuine desire by parliament to know the will of the people, or out of any genuine reverence for the ideals and principles of Freedom and democracy.
They are feigning due process all the while fully intending to pass such Bills into law… granting themselves greater powers, and conversely eroding the rights of we.. the people.
A draft of my submission follows below.
Tim Wikiriwhi.
Christian Libertarian.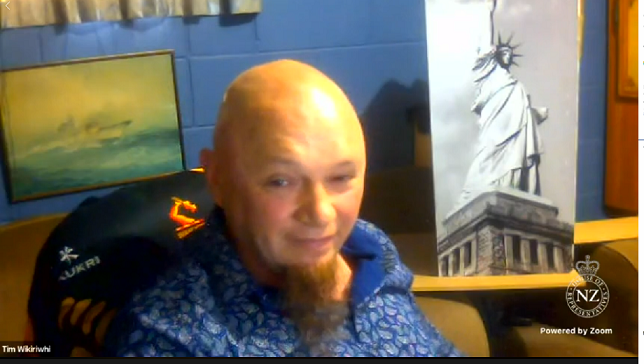 Tim Wikiriwhi's Oral submission opposing The Films, Videos, and Publications Classification (Urgent Interim Classification Of Publications And Prevention of Online Harm) Amendment Bill.
5-5-21.
Hello Ladies and Gentlemen,
I brief explanation of who I am.
I am a New Zealand Citizen living in the Waikato.
I have been actively involved in both local body and National Politics for over 20 years.
I represented the Libertarianz Party as a spokesperson for 10 years.
I have stood for Election both for Hamilton City Council, and for the Hamilton West Ward for several general elections.
Over the past 2 decades I have made many submissions on a variety of Bills and Government inquiries.
I am a contributor to the Blog 'Eternal Vigilance'.
I also contributed several chapters to a Book on Free speech called 'Free Speech under attack' released by 'Tross Publishing'.
It came out late 2019 and can be purchased on line.
I recommend that Book to the committee as it is very pertinent to this business at hand, and in fact it predicted Bills like this one would be forthcoming and tried to warn the public about the real dangers involved in allowing politicians to erode our rights to Free speech.
I also have an 11 year old son in his last year at primary school, and 2 grandchildren also in primary school.
I am speaking up for their futures sake.
So that gives you a bit of my background, and will help you to appreciate that this subject is something I am both informed and passionate about.
Why is it that speaking truth takes courage and high character?
"In Times of universal deceit, telling the Truth is a revolutionary act" George Orwell.
"It is dangerous to be right when the Government is wrong"…. Voltaire
"He who dares not to offend cannot be honest". United States Founding Father Thomas Payne.
Words are not violence and it is a moral abomination to conflate the two.
Before passing her oppressive new firearm prohibitions New Zealand Prime minister Jacinda Ardern said "Gun ownership' is not a right, but a privilege"
Now it appears she is at it again… she obviously is of the opinion, that Free speech is not a right… but a privilege too… which she intends to take away.
She wants to decide what it is lawful for New Zealanders to express…
To the average disinterested citizen, and to those with only shallow understanding of politics This bill appears almost 'benign'.
They will assume from what little the media has said about the proposals as simply the government trying to be nice to the less fortunate, to those they say are getting picked on and bullied… nobody likes bullies!
Many will assume this because this is how this bill has been sold to the public.
WE are supposed to believe this bill is making it illegal for nasty people to bully the weak and vulnerable on line or in print… and if that so… most fools will think that's just fine!
So it appears. This is the rationale that is being used to get this bill passed into law so that the government and police have the legal authority to take down what they deem to be 'Harmful or Offensive' … and to grant themselves… the officials wielding these new powers legal indemnity should it be discovered that their censorship, or punishment's was wrong and caused distress and harm to citizens.
Those of us who pay more attention to politics and have a far greater understanding of the importance of the right of Free Speech know with certainty that this Bill is in fact a component of a far larger political agenda, and that this bill if it passes will allow Radical Political ideologues to begin attacking the fundamental rights of their political opponents and critics.
And when this is understood it becomes clear that this bill is extremely dangerous to the well being of Freedom in this country, and to our democratic processes.
This is the first point I wish to make in my submission… That far from being just a nice 'feel good' piece of legislation that will only negatively effect nasty bullies and bigots, this bill is in fact a piece of subversive power grabbing by politicians with evil intentions cloaked under a guise of 'caring for the vulnerable'.
Now I mentioned Political Ideologues… what/ who am I talking about?
A chief example, but far from being alone is our current Labour Party Prime minister Jacinda Ardern, and she may be described to be a Radical leftist Socialist who peddles the Woke, Globalist, Politically Correct Agenda and narrative.
Most people listening to my submission will understand those terms… Leftist, Socialist, Globalist, Woke, Politically Correct, and I will add the final term 'Social Justice Warrior'
These terms embody what I described above as the 'Radical Political Ideology' that is already being systematically indoctrinated into our society, yet will be accelerated and intensified once this Bill becomes Law…. because once this law is passed, It will make it virtually impossible to criticise this process of indoctrination.
And this is at the heart of the scheme to make this law.
Now can I justify my use of the term 'Radical' in describing the political ideology Jacinda Ardern and comrades advocate and intend using every portion of Government power at their disposal to socially engineer and impress upon our Nation?
Yes I can. And the reason I can call her political ambitions 'Radical' is because they are at enmity with what we can describe as New Zealand's traditional values upon which our nation was built, and which still hold sway… despite massive indoctrination campaigns via our education systems and the media.
This Governmental indoctrination is also being heavily assisted by the so-called 'Community standards' of Woke Dominated Social media companies which suppress the vast percentage of dissention opinions.
Social media Giants Like Facebook, Twitter, Youtube have their own version of this Bill already in operation on their platforms and it is resulting in Censorship of Anti-woke Dissenting opinions on a monumental scale… Enough to cause alarm to the degree that this partisan censorship is affecting elections.
Why may describe the Political Ideology of Woke as being radical?
Because Leftist Political Operatives around the Globe despise the prevailing values and beliefs of Western societies, they are attempting to execute an ideological revolution to overthrow the current ethos, and replace it with their own political ideals… and they intend using the force legislation like this Bill to achieve it, rather than via the only legitimate means congruent with a free society…. Free speech and persuasion in an open Public forum or equal rights.
And these are the second and third points I wish to make clear in todays submission.
This bill is a precursor to the imposition of political ideals and values by force that are highly controversial, that are at variance with the values and ideals of significant portions of our population, and that if this bill passes it will effectively remove New Zealand citizens rights to critisise the governments intended Indoctrination, in Schools, On Line, and in the media… because it is *on line* where today the majority of Pubic dialogue, Political debate, and commentary is carried on.
The internet is the new public domain, and an independent person can garner a considerable influence online… via the voluntary nature by which the public can freely access Websites, Blogs, Youtube videos, etc… and it is on these internet platforms that New Zealanders of all varieties can rightfully and democratically express their political opinions publicly… and a vast percentage of these opinions are scathing of what Radical Ideologues like Jacinda Arden are attempting to impose upon our Nation. The Ideologues pushing this bill intend to suppress and control this public backlash they know is inevitable when they crank up their Woke indoctrination esp in schools. They are prepared to use the force of the Law to 'Take down' content from the net they don't like because it may generate greater public resistance to their Woke agenda.
Getting these censorship laws passed will criminalise dissenting opinions so that Parents, Radio show hosts, Journalists, and activists will fear being prosecuted should they dare to challenge the Radical left indoctrination that Woke ideologues intend using the Education system and media to propagate… against the will of Parents and citizens.
This Bill may therefore rightfully be deemed to be subversive to our Democracy.. because it attacks free speech, and will result in partisan censorship of the type that would impress Joseph Goebbels.
It is proper that I highlight the fundamentals of how a healthy Democracy functions in a free society.
The vital elements that must be maintained for Citizens to be able to make informed votes in choosing the candidates they wish to have representing their interests in parliament.
This is important, because when we look at these fundamentals, we see how it is the the Political ambitions of the Woke Radicals opposes itself to these fundamentals… which is why they desire to throttle free speech via this Bill.
The general tenor and dominating ethos of a free society is nothing more than the sum of the Beliefs and values freely held individually by the citizenry.
For example New Zealand has been described as holding very strong Judeo-Christian values and ideals, which is an inheritance from our ancestors. There are obviously many other influences that have shaped our National character yet this example serves the purpose of this discussion.
The History of Christianity's influence on the political history of the world is a monumental topic. There have in darker times been Eras in which Christian Nations have harbored strong bigotries and practiced barbarous injustices, and yet there also grew in 'Christiandom' the ideals of the Equality of Human beings, and their inalienable God given rights and liberties… and it has been from these foundations that step by step Western nations became freer and more just, and along with this progressive march so too did standards of living rise and rise and rise.
Slavery was abolished, The persecution of Witches and Homosexuals was brought to an end. Woman gained the voting franchise. The rights of people to peacefully practice religions other than Christianity became so accepted and tolerated as to make it a struggle even to imagine living in those darker times when things were very different.
I massive reason why this progress occurred was because of the growth of the recognition of Free Speech… and the growth of other fundamentals to expanded and strengthened democracy.
With the process of Time even in New Zealand's relatively short history as a nation modeled on English Law and Order we can see the National character has morphed so that Christian Ideals do not hold as great a sway as they once did… and yet the basic values are still there… and the Enlightenment principles of individual rights, and tolerance … though fading… have not yet been totally forgotten…
Thus these ideals still are freely held by a large portion of our Countrymen and they still determine the values they hold dear.
The Radical Woke Politicians despise these values and want to overthrow them… not via the legitimate means of propagating their alternative Woke beliefs via argument and persuasion in an open forum, in competition with other views, but instead by circumventing this just means of achieving their goal… ie by allowing the people to voluntarily embrace their new values and beliefs.
The problem they have is that far too many New Zealanders don't want what they are selling!
And the radicals don't care because deep down these leftist don't believe in Rights and liberties… they believe in the all powerful Totalitarian State.
Hijacking the government, and using the powers of the law, and the engines of State to impose their alternative values… into the minds of the youth… against their parents will… by making it illegal for anyone to critisise what they are doing!
This has always been a part of Socialist political science.
These woke socialists are in fact taking western societies *Backwards* into less free more oppressive times… employing means that have historically proven to be the modus opperandi of tyrants and dictatorships… and they don't care… as long as they have the power and it is those who oppose them who suffer.
These are the ugly truths that are kept out of sight… out of mind… while this bill works its way into Law.
I implore the committee to listen to the warnings of Citizens like myself.
I am confident that majority of submissions you have received from the public and those most well reasoned ask you to reject this Bill.
It is therefore your duty to report this back to parliament and do not recommend it passing into law.
Do not be party to this subversion of our Democracy and our rights to criticize the Woke Globalist agenda.
The Woke ideology is evil. Fools are free to believe it, yet it must never be allowed to usurp our Government and turn it against those citizens who oppose it.
Science in under threat.
History is under threat.
Free society is under threat.
Any members of the Committee here today who are unfamiliar with my written submission, I would ask you to read it.
I thank you for hearing my submission today. I appreciate the fact that some of you may not have liked what I said, I would only say that in itself is why Free speech is so important to a democracy.
A true Democracy allows unpopular opinions and criticisms of the powers that be to be herd in the public sphere.
Only then are the voting public able to freely weigh up all sides of any issue… and vote accordingly.
Fully informed, not merely being uncritically force fed the propaganda of those in power who desire to limit the peoples access to hearing alternative views.
'Free Speech Under Attack'.
May be purchased from Tross Publishing Here.
Or Whitcoulls here
or directly from Tross publishing here