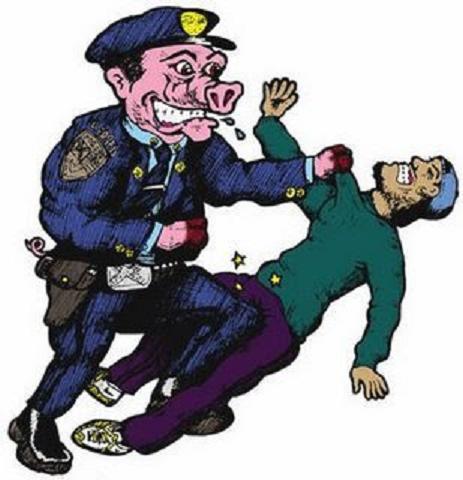 The following story was posted on Facebook… It rings true.
This has been happening for years…. every day… yet most people cant believe it…. untill it happens to them.
The Police are just a big Gang of thugs!
They actually generate crime because their thuggery causes many to loose faith in justice and society!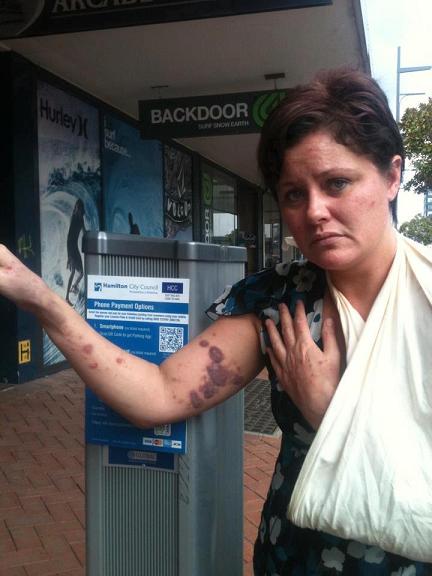 POLICE BRUTALITY IN HAMILTON ON A YOUNG MOTHER WHOM IS IN HER LAST YEAR OF TEACHERS TRAINING.
THIS… IS HER STORY
In the mass of coments postings my statement can't be found , I'm being asked what's happened…..
Corina Tairua's Statement
Time and date of incident:Arresting Officer: D Ward
Approx 3am 17/3/13QID Number: TWZ644
Email cc: sam.kelway@tvnz.co.nz
My name is Corina Tairua. I am a mother of 7 children. Ages, 17, 16, 15, 13, 12 and 18 months. I am four papers off graduating to receive my teachin…g degree as a primary school teacher. I have never been in trouble with the police or law in my life. As I write this I am deeply traumatised by what has happened to me at the hands of the people I had always believed in and had great respect for, our police, our New Zealand police. My cousin, Sergeant Justin Tairua is a police sergeant in South Auckland police and I am extremely proud of him as is my 13 year old son who aspires to follow in his uncles steps. I've heard of things like this happening but somewhere in my mind I always believed that the person must have done something very wrong to suffer at the hands of police brutality. I know have a completely different point of view and am placing my heart and trust in your agency to deal with this in a manner that may restore some belief in our legal system in New Zealand.
On the 16th of March 2013 at 11pm I left my home to attend a legalised love fundraiser at Shine night club with my sober driver, Wiremu Butler (who only dropped us off), and four other friends, Logie Turner, Ethel, Piripi and Dane. We had an amazing night. During my night I consumed 4 glasses of Savion Blanc and 1 Waikato Beer. We stayed until the night ended.
At Approx 3am of the 17th of the 3rd 2013. My son in law arrived to pick us up and we were picked up at the door of Shine night club, the vehicle being double parked while we got in. When I opened my door a police woman was walking past and saw an UNOPENED can of alcoholic beverage on my carpeted floor in my vehicle. She pointed to the alcoholic beverage and said very firmly and assertively, "Tip it out! Liquor ban on this street." I was shocked at the force in her voice so I got out of the vehicle and tipped them out immediately, without any hesitation I opened the alcoholic beverage and tipped it out. It was at this stage my friend, Piripi, got into his chair and knocked over the remaining four cans of unopened alcohol in his box which rolled across my floor onto my carpet.
The arresting officer then yelled out that we were trying to hide alcohol from the police and we were to tip them out. At this moment a different officer, sheaporded my body into the vehicle and closed the door on me saying to the driver, Wiremu Butler, "Move the vehicle or you can be up for an arrest." The arresting officer opened the door and said, "No. I want this vehicle searched," and pulled the door open. I got out of the vehicle and said, "Please, can you tell me am I not aloud unopened alcohol in my vehicle on this street?" My reply was, "This is an alcohol ban area!" which was yelled in my face. I did not appreciate the way I was spoken too and said, "I am only asking a question. Please can you answer me? Am I not aloud unopened alcohol in my vehicle?" To which she replied, "Open it and tip it out." I said, "I would like my question answered thank you. Am I not aloud unopened alcohol in my vehicle?" To which she yelled, "Arrest her!" The swiftness of this arrest was unbelievable and everybody on the street started yelling, "WHY?" My friends asked, "Why are you arresting her?" To which they replied, "Breach of liquor ban." To which I asked again, "Have I breached the liquor ban by having unopened alcohol in my vehicle?" I was then told if I don't stop it I am resisting arrest. However, not once did I struggle, not once did I resist as hand cuffs were being placed on my wrist behind my back. The handcuffs were placed on my arms very tightly and really hurt me. I said, "Am I being arrested?" I was told, "Yes." I said, "Please tell me what my rights are?" A Maori police officer looked at the arresting officer and she shook her head gesturing the word no. She then begun to shove, push me across the street on the pedestrian crossing holding my arms up behind my back, above my head so that it made me bend over forward. I got to the other side of the pedestrian crossing, the pain became too much. I begged the other three officers around me to take me out of her hands as she was brutally hurting me. There were two European officers. One looked at the other, (I believe his name is Robyn, the acting police sergeant of the night) and rolled his eyes to the sky gesturing that I was nothing to be listened too. I kept begging them and begging them. I then turned to the Maaori officer and said, "Please. Please don't leave me with her. Take me off her hands." And he tried. The arresting officer turned to him and yelled at him, "This is my arrest" while she continued to hurt my arms. At this stage the force of her grip and the pushing up of my arms at my back became too much and my legs gave way. I fell to the ground weeping and crying and begging for someone to help me. I was then dragged by my handcuffs which felt like forever. I started to scream they kept yelling at me to get up and walk, get up and walk but my feet wouldn't work. I was lying in the foetal position on the sidewalk on my side while she continued to drag me by my handcuffs I continued to weep hysterically for someone to help me, "please help me." They told me to get up. I screamed, "I have social anxiety. Please stop. My bodies gone into shock!" I repeated this again, and again, and again which was ignored. They dragged me till I could be dragged no longer. I lay on the sidewalk when the Maaori officer came to say, "Let's stand up." So I struggled to my feet with my hands still being pushed up my back and once again begged that the arresting officer could be taken away because she was too angry with me and was taking it out by hurting me. The Maaori officer said, "Don't struggle it will hurt more if you do." I didn't want to hurt anymore so I went into silence until I got into the vehicle and realised they were going to put me in the back with her, the arresting officer, at which stage I went into hysterics again begging not to be put into the back with the arresting officer. I kept telling them I was scared of her again and again and again. Once again it was suggested by the Maaori officer, he would get in the back with me to whom she said, "She's my arrest!" quite loudly. I was then shoved in the car. She immediately got in and I knew I was in trouble. She pulled my hands back behind my head and shoved my head into the street to pin me down she just kept shoving her fingers into my arms. I said to her, "I'm sorry for whoever has hurt you in life but please stop hurting me. I suffer from depression and right now I'm a mess and I just want to die. I don't understand why you are doing this to me. I just asked a question." She just continued to squeeze my arm trying to hurt me into submission. Finally after what felt like forever we arrived at the police station. I got out of the vehicle then shoved along still heavy handed not understanding because I had not resisted once. I practically ran into the police station wanting to get away from her. The processing officer then received me. I said to her, "Please can you take me away from this lady? I'm scared of her." She said, "She's not dealing with you anymore and took me." Behind me I heard the officers get into a disagreement. One of them was yelling, "She's a teacher! She's a teacher!"
I was taken into a cell and placed there by a processing officer who told me that I would be left there for an hour to calm down. I said to her, "All I did was ask a question. This is not right." I was left in the cell and I was so scared and couldn't sit down. It was at this stage I looked down at my arms and the bruising that had taken place just made me burst into tears. I just stood there wailing. It was not long after this the processing officer came in and took my statement, took my mug shot, my finger prints and handprints on the computer. I was very compliant, very polite but just couldn't stop the tears which I kept apologising for. She turned to me and said, "You do not need to apologise to me anymore. It's okay."
During my statement I told her how much I drank throughout the night. I also said, "You can breathalyse me if you want." She said, "That's not necessary." I then said to her, "Please may I ask you a question?" She said, "You can ask as many questions as you would like." I asked her, "Are you not aloud unopened alcoholic drinks in your car where there is a liquor ban?" She said, "You are not allowed OPEN alcoholic beverages in your vehicle where there is a liquor ban." I said, "Does that mean they're allowed to be closed?" She once again said, "You are not allowed OPEN bottles of alcoholic beverages in your vehicle where there is a liquor ban." I said, "But mine were closed." She looked at me and said, "You have been arrested for breach of liquor ban" which left me completely confused. I was taken through to a desk where I was given my stuff along with the number of the arresting officer. They said you are now free to go. I said to the processing officer, "Can I please make an assault charge and can you please take photos of my arms?" She turned around, asked her colleagues, "She would like to lay charges of assault and take photos of her arms, where does she go for this?" She went and talked to them and came back. She said, "I'm sorry but you cannot lay charges against the police or get your photos taken here as it is the police you are laying the assault charge against. So it would be seen to being a conflict of interest for the police." I said, "Ok thank you very much." I was allowed to go home.
About 10mins after arriving home the processing officer turned up at the door with a letter for me to sign. She said to me, "The letter says you had not been arrested, and the letter is a verbal warning. If you sign the letter you would not have any criminal convictions against your name." This sounded excellent to me although I still did not understand what I had done wrong but I did not want a criminal conviction either so I signed it thinking to myself how lovely the processing officer was to come back, bring the letter and speak so kindly to me, so I thanked her.
During that day I awoke and couldn't move my body. I couldn't hold the youngest of my 6 children, which is 18 months old, I couldn't change her nappy. I was in excruciating pain throughout my whole back. My 12 year old daughter nursed me. I was placed in a hot bath but the pain was unbelievable so I took pain killers and asked my son-in-law-to-be to drive me to the hospital. I stayed there between 5-6 hours and had my injuries seen to and was recommended to have pain killers and a follow up visit to the G.P the following week.
Afterwards we went to the police station at approximately 2130 to try once more to lay charges of assault against the arresting officer. I was seen by Robyn, the acting police sergeant of the incident. I found him to be very unhelpful and told me I had not been assaulted at all. I showed him my bruises which he did not want to see, stating, "No. I do not want to see those," but I showed him anyway. He said again, "That was absolutely not an assault. We are within our rights to use reasonable force." My eldest daughter who had accompanied me to the police station asked, "Do you feel it was reasonable?" To which he replied, "Absolutely. Especially with the way you had carried on." At this time I received a call from my legal advice. I told my legal advisor that the policemen said I had not been assaulted at all. He retracted his words saying, "That is not what I said. I said we can use reasonable force." I told him he did say that and that this whole conversation has actually been recorded on my phone. To which he then said, "Oh. That's fine. That was not assault. I see that as reasonable force." (Note to reader: This recording is available should you need it.) I said, "I see this as assault when I fell to the ground and called out to you that I had depression and social anxiety please do not leave me with this woman." To which he rolled his eyes at like that morning. I said, "You can roll your eyes, you are not a doctor and know nothing about my history." He said, "That's right. I'm a Policeman." To which I replied, "Yes. Not a medical practitioner but you were made aware." He said I was 100% resisting arrest and that I had kicked his officer yet I find this very hard to believe as I was lying on the side being dragged by my handcuffs which is at the opposite end of my body. I felt I did not resist the arrest and have witnesses stating this however, my body did fail me and shock uncontrollably which he may have seen as resisting although I made him aware of my medical history. I was then advised by my legal advisor to leave the station and not give a statement without a lawyer in the room as it sounded like he was not going to help me there. I got off the phone and he then begun to be compliant. He then begun to say I needed to get photos of my bruising and make a statement to the independent police inquiry board but I need to make a statement to him now. I said, "No Thank you." He then said, "That's fine but YOU NEED TO make a formal complaint and we can do that now." I said, "No thank you. I will make it online. Thank you for your time." I then left the building.
The following day I made my formal complaint to the independent police in verbal form as well as emailing from the MP's office under Nanaia Mahuta's P.A, Ryan Te Wara. Once this was done I requested an interview with Waikato Times so that the people of Hamilton knows that it is not right to be treated the way I was when dealing with police. I informed Waikato Times of the incident. I also showed them my hospital release form. During this they took photos of my bruises.
Your immediate attention in this matter would be appreciated.
***********************************************************************************************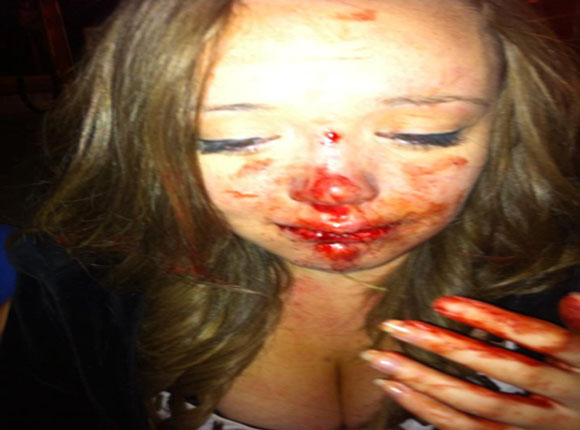 Two more recent Stories come to mind of young girls assaulted by Jackbooted thugs in Police uniforms. One in Auckland. One in the Waikato when girls whom were obeying police orders to vacate parties they were attending suffered serious injuries because the police did not think they were moving quickly enough.
Read about it here:
Cops storm onto private property and knock out 15 year old girls teeth. here:
And this is what happened to Danielle King…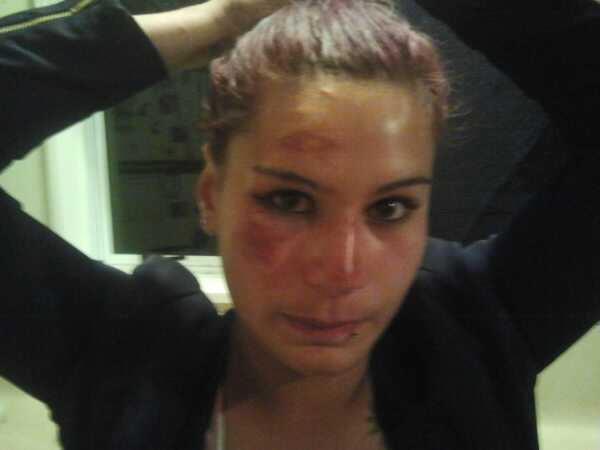 Read about her Horror story here:
Meanwhile… all this is going on the police are caugt wearing fake badges into protests so as to hide their identities… so they can commit acts of voilence without being identified… and yet get away with it Scott free!
Read about that here:
It is in the light of these sorts of despicable/ criminal/ brutal acts of violence against New Zealanders that we ought to be grateful that Kim DotCom is in a better position than most to expose this Culture of Criminality which is now endemic within the New Zealand Police.
It is also despicable to hear so many people turn a blind eye to this kind of brutanity, and excuse it… suggesting these little girls somehow 'deserved' the bash!
Talk about double standards!
Talk about reminiscent of Nazi Germany!
My blogpost on Dotcom raid Here… Filthy Bastards 'It was an accident'