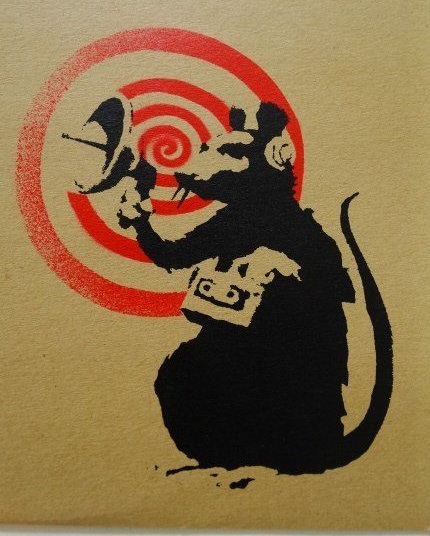 Banksy's Radar Rat.
Maybe I should not write the following post because it will smack of Alex Jones/ David Ike type overtones… but then again how often have their outrageous claims proven to be on the money?
Far more often than people are willing to admit.
Maybe suggesting Reptiloids have taken control is far fetched, and yet there is something very strange going on with my social media platforms.
I suspect something diabolical.
And I have my reasons.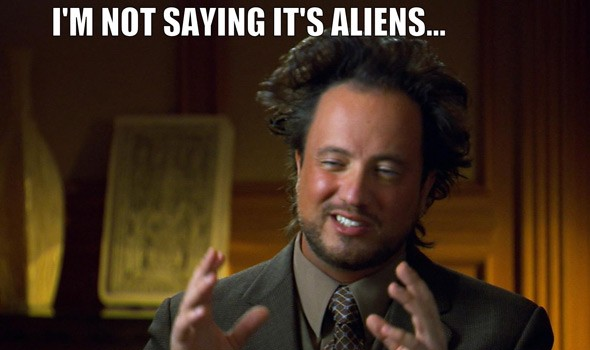 I am getting virtually zero responses over the past month… I suspect the powers that be have figured out how to throttle my activity so that it reaches nobody.
The similarity to what happened to my Facebook account is stark.
I have been asking people if they are receiving my posts… and get zero responses… for days on end.
Just a month ago I wrote a blogpost extolling how positive things were looking on these alternative Social media sites… there was *growth*, yet almost within the space of a few days… something weird happened…. like someone threw a switch… and my Social media 'died.'
And I have the numbers… because back in April I reported I was getting on average a new 'follower' on gab for every 5 posts (900/186= 4,84).
Today the math is 1300 posts/ 214 followers= 6.07= over a 20% drop!
Things should in theory be getting better… not significantly worse.
And though I don't have the numbers… things are far worse on Mewe.
I go for days without any interactions, weeks without any contact requests.
What is going on?
I believe there is some sort of 'filtering' going on targeting Gab and Mewe.
Have they been 'flagged' by our Woke Government as Right wing extremist sites?
Have I personally been flagged for suppression because of my outspoken views and criticism of the Woke agenda?
Do the Tech Spies of Woke governments about the Globe Taylor make strategies to attack independent voices?
Highly likely given the Machiavellian bents of the Ardern regime.
They now have both the Tech and the will to do this.
I'm not a tech head so I don't have a clue how such things might be achieved… a mysterious algorithm pinned to my IP?
Way above my pay grade.

Anyone who does not live under a rock knows that governments about the globe have been working night and day to control all information on the net.
They are busy legislating themselves power not only to censor people, but also power to punish, and jail citizens who don't conform to their dictates and they have been setting up systems and deploying government operatives to create 'Cyber Security Hubs' to monitor and control the internet… virtually putting an end to the private exchange of information between 'Users'.
New Zealand under Ardern has in fact been accelerating the governments powers in this domain using the Christchurch Terror attack as justification for the expansion of their Police State which is fundamentally a Surveillance State… The all seeing eye.
These are facts… not paranoid delusions.
Even before that horrific event, specific legislation already existed which allows Spies like the GCSB to target 'individuals of interest'.
What criteria they employ in making a decision to put a person on their watch list?
The tendency for abuse of power means we should not be surprised if twisting the truth becomes routine… to allow them to deploy against *vocal political opponents and dissenters* rather than real dangerous fanatics.. simply by labeling activists and dissidents as 'Extremists', 'Hateful', etc.
We know that Obama spied on the Trump campaign… do you seriously believe New Zealand politicians walk a higher path than their American counterparts?
History proves otherwise.
Read OSCULUM INFAME…. JOHN KEY'S SMARMY SMILE AND THE REAL REASON FOR THE GCSB BILL…. THE DAILY BLOG.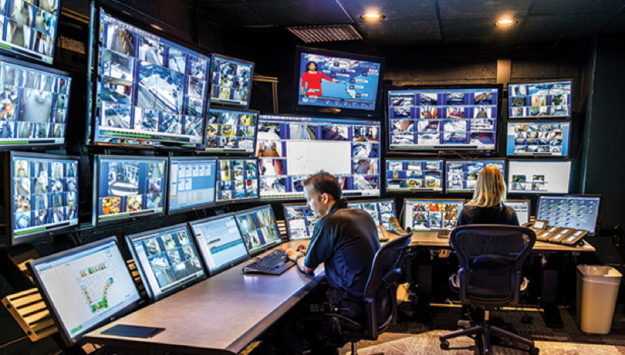 Now when I was a facebook addict and was getting censored and thrown in Facebook jail for Politically incorrect wrong think, there was no need to suspect that Ardern Spooks were at work because we were all well aware that Facebook itself was heavily prejudiced in favour of Globalist socialism and were explicit in their declarations about censorship and deplatforming the most vocal dissenters who attacked the Woke agenda.
Yet it was there first that I began to notice a completely new way in which activists like myself were being censored… not by overt means… instead by secret 'suffocation'… our posts simply were not reaching any of our friends or contacts…. we were speaking to the void.
After Facebook was party to the US election fraud that helped install the corrupt Joe Biden, I could no longer justify my ongoing presence on such a vile and corrupt platform and so I left and joined Mewe and Gab.
Read: BYE BYE MY FACEBOOK PEOPLE. IT'S TIME TO GO
Read: GAB, MEWE. LIFE ON THE FRONTIER. MY POST-FACEBOOK EXPERIENCE IN ALTERNATIVE SOCIAL MEDIA SITES.
Things started off very well… these platforms though smaller were starting to hum.
But recently I have noticed it's like some invisible hand has put the breaks on my Social media activity.
It is deja vu.
I have seen this 'suffocation' of my Social media reach before… yet this time I suspect it is not the platforms themselves doing this.
In fact I believe these alternative non-woke platforms are themselves coming under attack by powers that seek their destruction.
Have they come under duress to implement woke agenda censorship without informing their customers?
I believe I am witnessing some sort of intensification of Government intervention of the flow of information.
They have been investing millions… probably hundreds of millions on new tech hardware and software.
Bringing all this cyber weaponry online I suspect they can now not only covertly eavesdrop on private activity, but also suppress voices who say things the government wants to suppress.
The government under John Key already got caught abusing their powers with respect to spying with the 'Dotcom Saga', and it is my opinion that Jacinda Ardern has far more tyrannical inclinations and ambitions than John Key ever did.
Jacinda Ardern is in my opinion New Zealand's worst, and most dangerous Prime minister in our nations history.
I believe she is a specially groomed and hand picked Globalist.
Propaganda is her specialty, and she has virtually our entire parliament eating out of her hand… giving her the power to destroy the freedom ,prosperity, and undermine the values that made our country spectacular.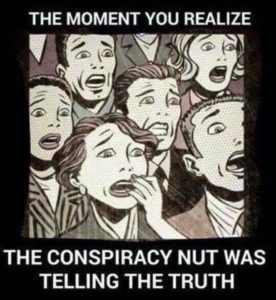 The subject matter of this Blogpost is of the type of thinking the Government does not want the Sheeple to contemplate or discuss.
I freely admit that I have no proof, and only my own intuition that my internet is being restricted by the government.
How does an ordinary person investigate or 'get proof' of such cloak and dagger type intrigues?
It was only by chance that Tech Guru Kim Dotcom became suspicious that there was 'funny business' going on with his internet because he played online games at world class levels and noticed his internet speed were lagging for some 'odd' reason. He discovered the government were in fact involved in devious and illegal tampering with his internet, which when it all came out in the wash John Key was forced to 'Deny any knowledge' of what the Spy department under his direct control was doing, and to offer a public apology to Dotcom.
Such apologies are worthless, esp when we see the result was not to slap greater controls on the GCSB but reward them with greater power!
The Government decided to pseudo-legitimise future devious GCSB activities and violations our privacy by writing new amendments that grant them license to do it.
Read: New Zealand Spying Law Passes Allowing Surveillance Of Citizens.
Speaking of the new powers government granted unto itself DotCom said "This will be the birth of a surveillance state in New Zealand,"
Has my name been added to some sort of spy 'watch list' for dangerous extremists?
Are the government really using their powerful cyber weaponry to suffocate my political activist outreach?
I have only my suspicions to go on.
I am here 'Thinking out loud', seeking to raise these questions for my people to consider with me.
I personally do not have the time or resources to 'investigate' what is going on with my Social media, and so I can only speculate.
The Dotcom saga does serve as an eye opener and precedent about New Zealand Governments penchant to abuse their powers.
Now with increased powers, under Comrade Ardern… in the Post-Christchurch atrocity era the political impetus to spy, censor, suppress, criminalise, punish activists and individuals who oppose themselves to the powers that be has been multiplied exponentially… and by it's insidious nature… spying is purposefully secretive and hidden… and devious.
The justification is always claimed such activities are for the greater public good.
What is interesting to note is that even with these greater powers Brenton Tarrant still slipped past the GCSB, fooled the Police, and manage to commit his heinous crime.
So in reality none of this stuff works to make our country safer from real terrorist treats, it only serves to empower the State to trample underfoot the rights of New Zealand citizens.
Post Christchurch attack Comrade Ardern has publicly spoken at International Committees on 'Internet Safety' about gaining the power to detect and shut down live feeds that have characteristics they want to censor.
This 'initiative' goes by the name of 'The Christchurch call' and makes political capital from the public horror of the event to massively expand government powers over the internet.
Read NZ government Christchurch Call makes significant progress
I speculate that Government Tech Hubs now have formidable tech at their fingertips, with minimal oversite.
They will employ politically vetted operators not merely able to spy, but also to isolate individual internet users.
I suspect they now have the power to effectively put 'targets' in 'virtual jail' without them even being aware of it… that is until you figure out you have been isolated from your contacts and groups.
By doing this they are effectively rendering my online activism dead in the water…. and when you appreciate that I am very much a dissident against the current regime, critical of it's legitimacy (Election fraud), critical of its determination to destroy free speech, and pretty much critical of all of the Governments key pillars for their overall agenda, this causes me to think that the Governments Internet spies have put me on their watch list and have somehow 'taken over' my internet… rerouting my activity through their systems and using some sort of system to silence me. .. you monitor me…. to look for any sort of comments or posts that might be useful to building a case against me to cease all my work, shut down my Blog, and put me in *Actual jail.*
This is where socialism leads… it does not tolerate political opposition, but creates the crime of 'Enemy of the State*… because of *wrong think*.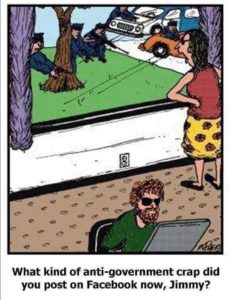 Read WELCOME TO THE MACHINE! I GUESS IT WONT BE LONG BEFORE I AM PUT IN JAIL FOR BREAKING NEW ZEALAND 'HATE SPEECH' LEGISLATION.
Note: Sean Plunket has since been 'Deplatformed' from Radio due to attacks by the Woke.
Some people may think that this is just silly paranoia…. I personally think it is naïve not to understand what the State is up to with respect to Internet surveillance and fanatical zeal to control the flow of information under the guise of gaining 'intel' on 'possible extremism'… which is simply their convenient excuse to violate personal privacy and spy on dissidents like myself.
And how else do you explain that all of a sudden your growing Social media activity dies?
As I am not a Tech head, I am personally at a loss as to how We the people might work to get back our internet freedom and privacy… despite the implementation of tyrannical laws, there still could be legal avenues… this blog post is simply about raising the alarm.
Getting people to think about the loss of liberty and privacy… and ask themselves what is the government really up to?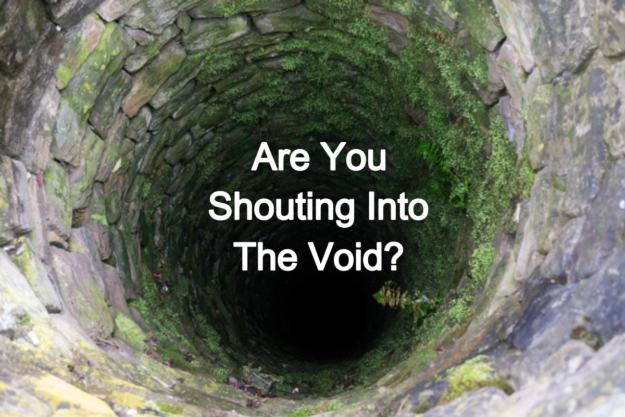 Covid 19 has also been another gigantic excuse for governments to rob populations of their rights and expand their Police States.
Protests against lockdowns, collapsing economies, fears about untested experimental vaccines has also been a monumental impetus for tyrannical leaders to try and censor dissident information reaching the general public. In many nations public protests have been banned. Big Sister Jacinda Ardern has also banked heavily upon the New Zealand Public submitting to mass vaccination and with that in mind suppressing contrary opinions about the safety of the vaccines… or the wisdom of her lockdown policies is without doubt high on her priority list.
You can add these 'thought crimes' to the list of reasons why I suspect that I… as one of New Zealand's most vocal Libertarians probably am under the gaze of the Evil Eye.
'Most caring and transparent government eva? YEAH RIGHT!
People whop seldom engage in critisism of the Woke agenda will no doubt be left to their sheepish activities, yet I would not be surprised to find out that other outspoken activists have also noticed something fishy is going on with respect to their internet outreach… viewership way down of videos, etc.
Please share my Blogposts so that they actually reach the public.
Thankyou.
Tim Wikiriwhi.
Christian Libertarian.
More from Tim….
TIM WIKIRIWHI'S SUBMISSION TO THE FILMS, VIDEOS, AND PUBLICATIONS CLASSIFICATION (URGENT INTERIM CLASSIFICATION OF PUBLICATIONS AND PREVENTION OF ONLINE HARM) AMENDMENT BILL
'FREE SPEECH AND THE FATE OF SOCRATES', BY TIM WIKIRIWHI. FROM 'FREE SPEECH UNDER ATTACK'. TROSS PUBLISHING 2019.
BYE BYE MY FACEBOOK PEOPLE. IT'S TIME TO GO.
EPIC DEFENSE OF FREE SPEECH: ANN WIDDECOMBE | WE SHOULD NOT SUPPORT NO PLATFORMING (8/8) | OXFORD UNION. YOUTUBE
WELCOME TO THE MACHINE! I GUESS IT WONT BE LONG BEFORE I AM PUT IN JAIL FOR BREAKING NEW ZEALAND 'HATE SPEECH' LEGISLATION.
THE MATRIX : FACEBOOK, AND THE END OF FREE SPEECH AND DEMOCRACY IN NEW ZEALAND.
CRAFTY ANDREW LITTLE AWAITS 'RIGHT MOMENT' TO SNATCH AWAY FREE SPEECH IN NEW ZEALAND. LETS BE READY TO DEFEND OUR NATION FROM THESE DESTROYERS!
JACINDA ARDERN IS MORE DANGEROUS THAN COVID-19: CENSORSHIP AND CONTROL OF THE PRESS.
ONELAW4ALL PAMPHLET DOES NOT CAUSE ME ANY OFFENCE: BUGGER THE ADVERTISING STANDARDS AUTHORITY! BY LIBERTARIAN MAORI TIM WIKIRIWHI
KNOCK! KNOCK! IT'S THE NEW ZEALAND POLICE AND WE WOULD LIKE TO HAVE A FRIENDLY CHAT WITH YOU ABOUT YOUR OPINIONS SHARED ON SOCIAL MEDIA: VJM PUBLISHING 19-7-19
LOST PLOT. WORLD PRESS FREEDOM DAY.
WORLD WAR 3 ON THE WORLD WIDE WEB. THE CRUSHING OF FREE SPEECH IN NEW ZEALAND.