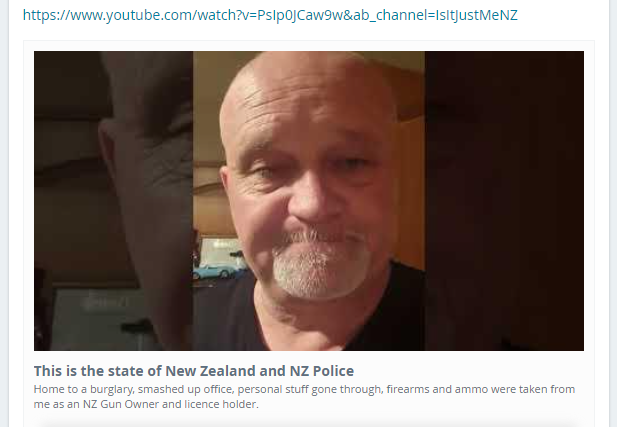 Please watch this video below.
This is an outrage… This is Political oppression of those of us who do not bow down to our 'Great leader'.
This is how Socialist Tyranny begins and is what happened in Venezuela to those who dared voice opposition to Chavez and Maduro.
Standard practice: Gun bans, and confiscations from critics of the Regime.
New Zealand is now headed down that road.
We can no longer be considered a free democratic Western Nation.
For the thought crime of speaking out against the Police State of Jacinda Ardern…..
Conservative Christian Pastor Carl Bromley has come under the Evil Eye several times over the past year.
He received visits from the NZ Police with regards to maintaining his religious right to hold small worship services in the face of a Covid Lockdown despite no cases of Covid being detected in the entire South Island.
This proved the lockdowns have little to do with medical science/ public health and everything to do with power and control… forcing mindless obedience and compliance… and breaking Christian resistance to tyranny.
Watch/Read a derogitory mainstream media post Newshub here….
COVID-19: Christchurch pastor Carl Bromley rants at police, says Govt 'seeking to rape me of right to worship' after church gathering targeted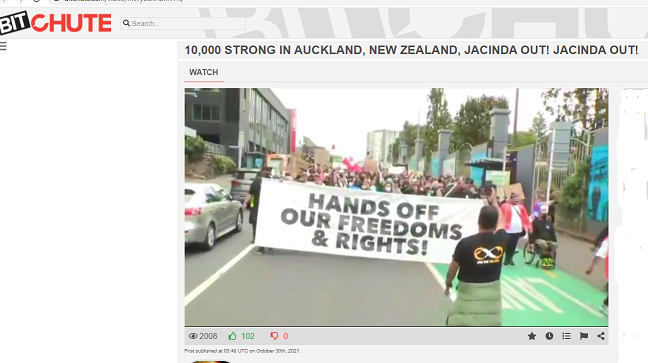 It has been in response to such overt tyranny and rights violations that has alarmed many ordinary New Zealanders… how Draconian our nation has become under Comrade Ardern's heavy hand.
Many are joining the growing peaceful protest movement against compulsory vaccinations, mask mandates, and lockdowns.
Some of the biggest demonstrations in the history of our nation have been going on in recent months all across the country and outside the Beehive, largely ignored by the compromised Mainstream media who are failing in their moral duty to keep NZ Citizens informed about real News that affects them. Whenever such protests are mentioned it is always in derogatory terms and purposeful falsehoods about the numbers of protesters in attendance.
All part of a concerted effort to Keep New Zealanders scared, Isolated, and in the dark about the scale of Democratic resistance to Ardern's Globalist Tyranny.
The plan is to keep the sheeple thinking resistance is futile.
Carl Bromley is no sheep!
He is one such conservative New Zealander and Christian who has become alarmed at what has been going on under Ardern and has been actively doing his part to defend the Kiwi dream.
True to his Christian values and deep sense of community, He has been doing so in a completely peaceful manor motivated by high ideals and charity.
This is the sort of man he is… and yet the evil political powers of our day have an agenda they seek to Ram trough which is at sharp variance with New Zealand's freedom loving, self reliant, and independent ways, and it is good people like Carl who stand in their way.
He and his ilk must therefore be stomped into submission and silenced.
Voice your disapproval of the Powers that be?… Lose your firearms license!
That's how the system works now in NZ…esp if you are poor and cannot afford expensive lawyers.
By taking the side of freedom this peaceful Good man has found himself exposed to the hate and violence of Far left Radicals, and under the spotlight of a newly politicised Police State.
Peacefully fulfilling his moral duty as a concerned citizen and member of a Democratic society, Carl attends public rallies and protests.
These rallies are usually openly advertised… time and place on Social media sites… and this makes it possible for Radical Far Left Purple haired Gender confused supporters of Ardern's tyranny to turn up and create trouble.
They have zero respect for Free speech and live to create chaos.
It was while attending such a rally that Carl was assaulted by a Far left Radical, and having also been slandered on-line Carl lodged a complaint with the Police.
They chose to ignore it.
Read about this here… Christchurch Pastor's Home Raided by New Zealand Police on NYE: Daily Examiner.
Such is the state of our Nation… White Male Christian freedom advocates can be slandered and assaulted with Official impunity… esp when they have been flagged as being 'Anti-government racist radicals'.
Like so many Vocal defenders of Kiwi Freedom and rights Carl has no doubt been put on the Police Shit list…(they have these now for political dissenters, bloggers, etc) while the real dangerous malicious radicals of the Far left operate openly… virtually with official sanction… as they share much in common with our Socialist PM.
Read: Police Admit to Surveilling The BFD
Being flagged as a possible dangerous Extremist not only will make it harder for people like Carl to get the police to act on any complaints they make, it opens them up to being the target of Police intimidation and injustice.
This is happening now in New Zealand.
New Laws expose New Zealanders to heavy Police intrusions on the smallest of pretext.
Under such a climate all it takes to trigger a heavy handed response from the NZ Police is for some petty minded and malicious person who has a grudge against someone like Carl to make a false complaint.
And there is now a gang of Nasty Left wing Antifa types operating in New Zealand doing precisely this.
And they have been destroying peoples lives.
Please bear with me as I stitch together how what has happened to Carl fits into the big picture.
His is not an isolated case.
One high profile example of the activities of this malicious Far left Deplatform Gang's was the sacking of Independent You Tuber and political commentator Lee Williams.
Lee, via his 'Cross the Rubicon' You Tube channel was very critical of Jacinda Ardern's globalist politics, and was also locked into an online ideological war with several members of the Radical Far left Deplatform Gang.
Jealous of Lee Williams growing You tube following These nasty underhanded radicals used slanderous lies to blackmail Lee's then Employers Synlait Dairy company with 'Employing White Supremacist's'. Synlait caved into this extortion and sacked Lee for the sake of avoiding damage to their companies reputation.
Lee is not a White Supremacist!
Lee in fact challenged systemic racism embedded in the New Zealand system in favour of racial quality before the law!
That was Lee's crime… pointing out the corrupt racism inherent in our system.
Yet the Liars prevailed and Lee's life was destroyed.
To escape the persecution he was facing Lee left New Zealand.
All this made the national news (except the truth about this being a Far left extremist extortion Con job).
Lee's struggles were better covered by independent media sites like The BFD, and Blogs like 'Eternal vigilance', and others.
Lee got zero justice from the New Zealand Police for what he endured… The fraudulent slander and extortion that led to his unfair dismissal.
Why?
Because Lee in their book was flagged as a 'troublemaker' who does not deserve fair treatment.
So Like Carl's complaint to the Police about being assaulted… Lee's injustice also was not investigated.
The deplatforming gang faced zero legal consequences for their extortion racket, which will have only served to embolden them to continue.
Lee's condemnation of Ardern's Apartheid ambitions centered around her secreting of the He Pua Pua report that is a blueprint for handing over vast resources and powers to Maori Tribal Elites reached the halls of Power in particular Ardern's Collaborators in the Maori Party.
These MPs joined in on the extortion of Synlait Dairy company, and persecution of Lee… some even calling for his residency to be revoked and for him to be deported.
All this because Lee spoke his personal political views on a small Youtube channel!
With this sort of persecution going on for anyone voicing dissenting opinions, you can easily imagine the dampening effect this has had on open political discourse in New Zealand.
You can be sure New Zealand Intelligence services opened up a Dossier on Williams and began collating who his associate were, etc, with a view of painting them as 'Potential Domestic Terrorists'.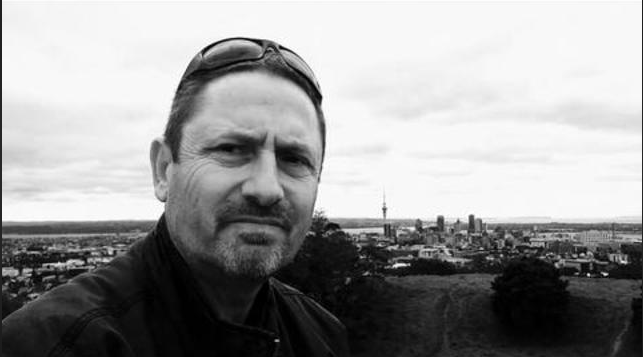 Picture: 'Cross the Rubicon' Youtuber Lee Williams.
It is public knowledge that Carl Bromely is a close friend of Lee Williams.
Carl is a man who stood up in defense of Lee when he was undergoing his ordeal.
This activity puts yet another X against his name in Police files.
Even if we put aside Carl's own defiance regarding his right to worship, his mere association with Lee Williams is reason alone for us to suspect the New Zealand Police have a low opinion of Carl and care little about what injustices he suffers at the hands of Far Left extremists.
To the far Left, virtually everybody else on the political spectrum is considered 'far right'.
From his bold defense of Lee Williams Carl will have drawn upon himself the malevolent attention of the Deplatforming Gang who destroyed his friends life.
You don't need to be Sherlock Holmes to suspect that Carl Bromley is most likely the latest target of this well known Far Left Deplatforming Gang.
The police ought to have been aware of the high probability the complaint questioning Carl's fitness to hold a firearms license was a malicious lie.
If this proves to be true it makes what the Police did to Carl Bromely not simply an act of gross incompetence… but a serious pre-meditated injustice.
Either the Police were easily fooled into committing violence against an innocent man, or they knew the complaint was fraudulent yet moved to take Carl's gun anyway!
That's blatant corruption!
Carl called the complaint 'Bogus' and we can be certain that it was Bogus because of Carl's impeccable character.
Carl has Zero Police record, yet given how the Gun Laws work and Police powers and discretion, it is very difficult *for anyone* to srutinise whether or not the Police are acting upon accurate information because the whole process is cloaked in secrecy… so basically… unless you can raise a ton of cash for Lawyers etc… The Police can do whatever they please… and fabricate bogus arguments that arbitrarily call *anyone's character or mental fitness* into question to quazi-justify their Draconian activities.
Where is the impartial oversight in how such cases are executed whereby abuses can be called out?
This must be investigated.
The veracity of the complaint that was used to raid Carls home must be scrutised.
At a minimum this raid shows that there is a lack of safeguards protecting citizens from suffering such an arbitrary home invasion by the police and confiscation of legitimately held firearms.
The Far Left Deplatforming gang must broken up, and face criminal charges.
These things must be done and yet the political corruption of our democracy is far more serious than the activities of a malicious gang of Far left Nut jobs.
The Police need to own up to their grievous error and return Carl's lawful property.
They need to compensate him for the damages they caused and the torment they inflicted on his wife.
And most importantly they must expunge from his records any hint of wrongdoing that might stain his reputation in the future.
There is the serious matter of the attitude of the Police towards a Good Kiwi Citizen who had done nothing wrong, but simply expressed his vocal critisism of the government of the day.
I want you my reader to understand how the Ardern Regime has politisised the Police and turned them into an instrument for attacking the democratic rights of New Zealanders who want to see Ardern thrown out of office… via the democratic process… which includes the rights to free speech, to assemble, and to protest.
These are absolutely essential for the just functionality of a democratic system of governance whereby those in power only hold office by the ongoing consent of the governed.
What must be understood is that not only did Ardern shamelessly capitalise on the Christchurch Terror attack to confiscate New Zealand citizens guns, She also used this atrocity as a justification for weaponising the Police against her political opponents.
Lets look at the Governments own Website…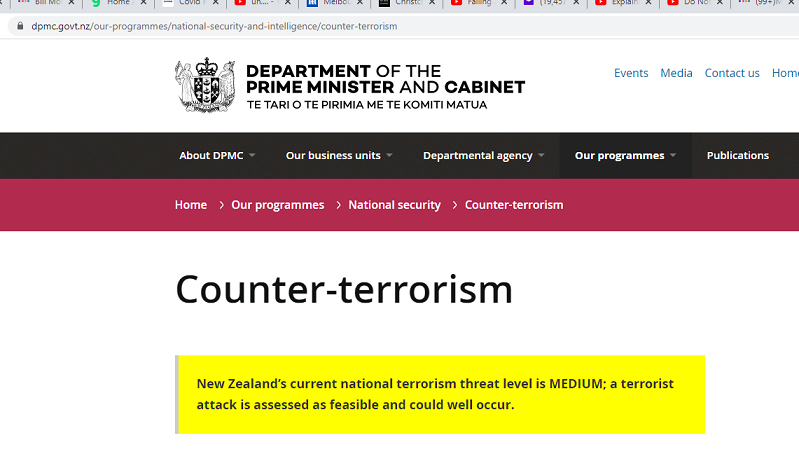 From here.


Notice how holding religious views, or political opinions outside the mainstream is viewed as Potential Terrorist traits.
And the assertion that our 'Open internet' makes us vulnerable to terrorist attacks!
Hmmmm so the government should take control of the internet… 'to keep us safe from terrorism'… yeah right!
That way they could block Youtube channels Like Lee's and Carl's that critisise Ardern's genius!
Yes! that will make New Zealand 'Safer from terrorism'.
(I'm joking.)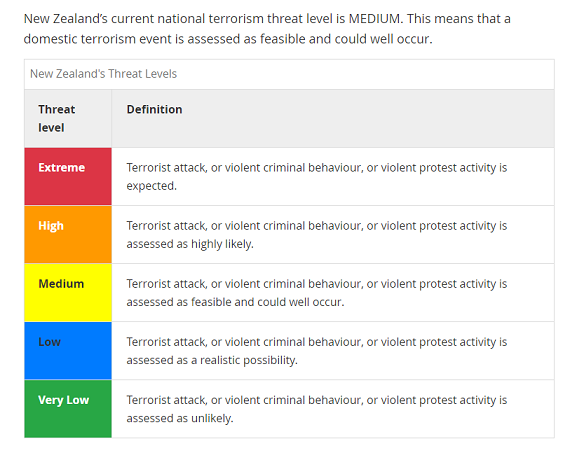 Notice how the democratic right to protest has been lumped next to terrorism by the simple addition of the word 'Violent'. So in the mindset of the Police, anyone who attends a protest could be a potential Terrorist.
Is that really a fair and just… or sane way for the Police to look at Citizens exercising their Democratic rights?
Is the likelihood of New Zealand suffering a serious Terrorist attack really 'Medium' or Low?
It serves Ardern's Political purposes to say the likelihood of terrorist attack is "Medium, feasible, and could well occur" because this allows her to put the Police and army in a state of Active preparation.
"Get out there and find those Anti-government Far Right White supremacist religious Extremist Domestic terrorists!!!! Start by snooping about on You Tube! Anyone who does not like Jacinda Ardern is probably a terrorist!"
The government's own counter terrorist web page states…

"Our strongest defence against terrorism is a cohesive, resilient society."
With this in mind it must be pointed out that heavy handed Police raids etc *has the very opposite effect!*
Such draconian behaviour is not conducive to harmonious social order but fosters resentment and outrage… and rightly so!
If the Police wanted to promote a cohesive resilient society they would respect the rights of the people to hold their own views.
They should respect liberty and enforce the law fairly and without political prejudice.
And yet we see at so many points Arderns 'Inclusive Society' excludes anyone who disagrees with her personal Political ideology.
Ardern demands obedience and submission by all.
We are expected to allow her to do what ever she pleases without murmur.
That is not how a Free society functions.
That is how a Dictatorship functions.
By becoming heavy handed the Police themselves are creating civil unrest.
Wake up!
While I personally believe the threat of Terrorism is extremely low, given how belligerent Ardern has been towards the rights of the New Zealand people, and mobilising the Police against her detractors… the threat of Anti-Ardern Protests turning ugly is inevitably on the rise.
Ardern seeks to use the Police as a shield while she continues to radically alter our Nation with absolute contempt for due process and the safeguards that would normally prevent such Autocratic behavior.
She has seen the growing protests. She knows she no longer enjoys the support of the people.
This is why under Ardern protests are being viewed by Police as potential Terrorist activities.
Democracy is fundamentally about the peaceful transfer of power based upon the will of the people, yet socialist dictators once in power have a long history of subverting democracy for the sake of retaining power… at any price.
Peaceful, good natured, freedom loving Carl Bromley, as a religious person who holds strong resentment for what Comrade Ardern is doing tick's a heck of a lot of her government's 'Counter-Terrorism ' Boxes', and we can be sure that they wanted to take away his guns ( make no mistake… they would like to take away everyone's guns!).
Getting a fake complaint was what they were waiting for… and all they needed to do precisely that.
This fixation on 'Domestic terrorism' is a psychological contagion that has poisoned the New Zealand Polices outlook towards the people they serve.
It has turned them into Ardern's Goon Squad.
Keeping the people in line and under her subjection.
So the New Zealand Police have been diverted from busting burglars and rapists and turned into policing political opinions.
I fear the Police are being prepped for war against the citizens of our country.
The Political elites know their Covid Bullshit is hurting a lot of people and making them very pissed off.
They realise that growing Public outrage to what the Ardern regime is hell bent on doing is highly likely to escalate into serious civil unrest.
The mask of 'Kindness' has fallen.
As our Cold hearted Great Leader shows Iron resolve to push through her revolutionary agenda at any price, She has implemented a heavy handed strategy to keep the people in check.
This is what Anti-democratic tyranny looks like!
No Joke. I believe the Police are in full preparation to put down a popular uprising against the State.
All the signs are there to see.
This puts the Police in opposition to the will of the people, propping up the unpopular dictatorial power.
This Police State makes the democratic peaceful transfer of power impossible and creates the conditions for serious civil unrest.
What Globalist influences have been at work indoctrinating our Police to prevent the New Zealand people defending our National Autonomy?
Have they been warned about the coming Global economic collapse?
Have they been warned about the Great Reset and move towards a Global cashless society?
It is only these sorts of scenario that makes what they have been doing lately explicable.
All their activities are flagrant attempts to forcefully suppress voices of opposition to Ardern's Rule.
This same scenario is being played out in democracies all across the globe. Many nations have their own 'Globalist Ideologues' at the helm whose actions clearly demonstrate their loyalty is to the New World Order, not their own peoples independence. And people in these nations can see they are being taken for a ride to a destination they don't want to be.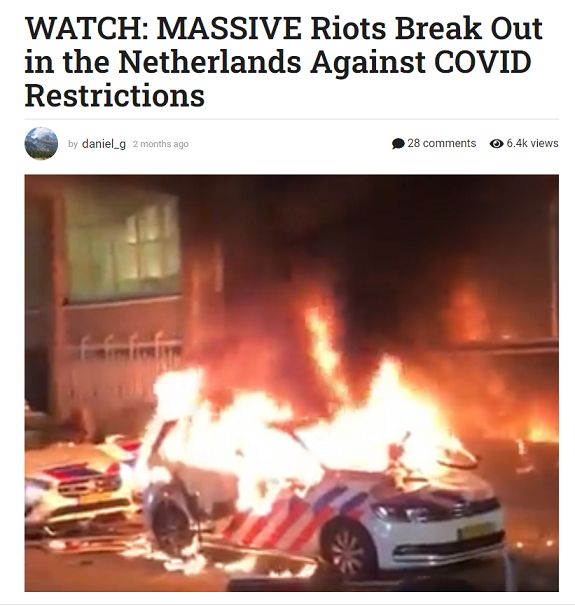 We have just seen peaceful Anti Vax Mandates/ Anti-lockdown protests in the Netherlands explode into all out riots.
Even though All Protests in New Zealand have been absolutely peaceful, it would be foolish for us not to appreciate that the New Zealand government is watching such overseas events with trepidation and that as such are unjustly transferring their fears that similar things could happen here. The Globalists seeking to subjugate the planet have also calculated how to prevent popular uprisings from thwarting their ultimate goals, and it is with this in mind that their minions in every Nation have been politicising and conditioning the Police and military to be prepared to use their arms against their own Citizens… as enemies of the State.
History is irrefutable that this is how Socialist Systems operate and maintain themselves… by keeping the people down. Under Jacinda Ardern our Nation is sinking fast!
We have now reached a point where to protest against what she is doing is to risk being labeled a danger to the State and losing your firearms license!
Only subservient supporters of the Regime get to enjoy such privilege!
Where does the loyalty of the average Policeman stand?
Any Police reading this need to ask themselves this important moral question.
Is it the duty and purpose of the Police to stand With the People and defend their rights… or do they consider it their job to be the Mindless enforcers of the Party Politicians who have managed to get hold of the levers of Power?
If Americans ever wondered what it would be like if Alexandria Ocasio-Cortez was running the USA they need look no further than how Jacinda Ardern has behaved while she has been at the helm in New Zealand.
Like AOC Ardern is a far Left Extremist. Like AOC Ardern has zero grip on the real world, or the catastrophe far left political ideology represents.
Ardern clearly shows she is prepared to lie, deceive, bankrupt our nation, and create a police state to impose her globalist delusions upon the people of New Zealand.
She has been the Perfect Storm.
Take a look at what happened in Venezuela when the shit hit the fan and the tyrannical Socialist government bankrupted the Nation and started killing it's own citizens who dared protest.
Today Venezuela is in ruins and its people are starving… where would you stand if you were a member of the Police in such a crisis?
Where ought your loyalties lie?
"LIBERTY. ARTICLE 350"…. VENEZUELAN POLICE PILOT SHOWS THE WORLD WHAT A CONSTITUTION IS ALL ABOUT!
It could very well be that with the ever increasing stranglehold this government places on the throats of the New Zealand public, that unless peaceful protests prevail in reversing our nations freefall into Totalitarianism… The struggle could turn very ugly… Peaceful means having failed it could come to civil war… The People vs the Corrupt State.
Unless they are prepared to disobey unjust orders, The New Zealand Police could quickly become like so many Jackbooted thugs in Communist Nations used to crush, Murder, and imprison Good brave Citizens who have been compelled to turn to Force to oust the tyrants who have sort to destroy and oppress their Nations.
In such cases the Criminals are the ones in power.
Far be it from me to ever advocate for such a situation!
Though the right of revolution to overthrow tyrannical government is a fundamental right of the people, it is for me too terrible to be contemplated.
If attempted it would also be highly likely to fail, and result in greater atrocities and injustices.
Unless the Military and the Police were on the side of the people.
We should watch what happens now in the Netherlands very carefully.
Will the Netherlands government capitulate in the face of such Violent protests or will they double down on their tyranny?
What will happen is depended upon how far the Socialist globalists in power there are prepared to go to retain their grip on power.
I believe the greatest hope Freedom advocates everywhere have of winning Freedom back is to shun all acts of Violence, Vandalism, Rioting, and destruction, and instead maintain our peaceful stand… even in the face of such injustices as have been dished out to Carl Bromely.
We should rally around such people.
We must protest against what was done, and yet we ought to remain civil at all times… This makes it very difficult for the tyrants to deploy the Jackboots against us with Full fury… because More people see what they are doing… see how unjust the régime is… and their ability to govern evaporates.
With the passing of time more and more people join the ranks of Resistance.
Despite such atrocities as Tiananmen Square in 1989
Peaceful resistance can break the resolve of all but the most brutal of tyrannies.
History proves that Peaceful people movements can defeat vastly stronger Political interests.
Two noteworthy examples are the Peaceful protest movements of Mahatma Ghandi and Martin Luther King Junior.
The essential thing is for the People to stand in protest *before* such Absolute tyranny gains a strong grasp.
Given that the New Zealand people have zero stomach for Bloody Revolution and little means by which such measures might be achieved, Peaceful resistance offers the best prospects of success by far.
So I assert that Peaceful resistance is not only the Higher moral path, but also is the most pragmatic reason for hope that we shall prevail in keeping our Nation Independent and Free from the Globalist Tyranny.
But to achieve this we must Bravely stand together!
We cannot allow such things as happened to Our Boy Carl Bromley to go unchallenged, without voicing strong displeasure and a demand for justice.
The Police need to be censured and know New Zealanders will not respect them unless they respect our rights!
What happened to Carl ought to stimulate us to stand even more resolved for our Free Nation!
We cannot allow such vile police State antics to become the norm.
Nor should we tolerate the Police's Anti-private Firearm ownership attitude.
This in itself shows the Police have become arrogant and forget their place… that is as our servants.
Citizens have strong gun Rights… Slaves do not.
The Freedom movement must also be on the watch for Subversive 'Wolves in sheeps clothing' entering in among us seeking to corrupt our movement from within.
Beware any so-called freedom activists who start to promote Hatred, violence, or Riotous behavior.
It is only by walking the righteous path that we can avoid being legitimately labeled a danger to civil order.
Any Civil disobedience must be 100% peaceful. The evil powers that be would love to see the freedom movement collapse into Mayhem, for that would be their opportunity to send in the jackboots.
As long as we adhere to Peaceful Protest we have the upper hand and occupy the Moral high ground.
Peacefully Protest. Peacefully Resist. Peacefully refuse to Comply.
I speak with certainty that Carl Bromley will whole heartedly agree with those sentiments.
I will also say We must never surrender our rights. We will not show our papers. We will not accept a cashless system. We will not surrender our National independence to any Global overlords.
Carl Bromley is a man of Peace, Freedom, and Justice.
Tim Wikirwhi.
Christian Libertarian.
Watch (below) what Carl had to say only a few weeks ago… and what probably triggered some Radical leftist or some Ardern Minion in Government to target him and conspire to get the New Zealand Police to oppress him.
More By Tim….
MAKING ARDERN GO AWAY! 30-10-21. LARGE ANTI-LOCKDOWN/VAX MANDATES PROTEST IN HAMILTON (AND ELSEWHERE). NEW ZEALANDERS HAVE HAD ENOUGH AND DEMAND THEIR FREEDOM AND RIGHTS BACK!
MARC DAALDER PROPAGANDIST FOR FAR LEFT EXTREMISM. HIS ROLL IN 'THE GREAT DEPLATFORMING OF MATARIKI 2021.' (PART 1)
ANNA MCALLISTER: PORTRAIT OF A MAORI SUPREMACIST, AND SERIAL SOCIAL MEDIA EXTORTIONIST. 'THE GREAT DEPLATFORMING OF MATARIKI 2021'.PART 2.
WHERE IS THE ACT PARTY? WHERE IS THE NZ FREE SPEECH UNION? THE DEPLATFORMING AND VICIOUS PERSECUTION OF YOU TUBER LEE WILLIAMS BY THE MAORI PARTY.
CROSS THE RUBICON. ANTIRACIST YOUTUBER ACTIVIST LEE WILLIAMS LIFE IS IN CRISIS… DESTROYED BY THE EVIL RACISTS OF THE MAORI PARTY.
OPEN LETTER TO SYNLAIT DAIRY COMPANY DEFENDING YOU TUBER LEE WILLIAMS DEMOCRATIC RIGHT TO CRITISISE THE POLITICAL POLICIES OF THE MAORI PARTY.
NEW ZEALAND PREPS FOR THE GREAT RESET: DIGITAL IDENTITY SERVICES TRUST FRAMEWORK BILL. SUBMISSION BY TIM WIKIRIWHI, CHRISTIAN LIBERTARIAN.
JACINDA ARDERN'S CONTEMPT FOR NEW ZEALANDERS WHO WILL NOT SUBMIT. ARDERN'S ECONOMIC DESTRUCTION OF OUR NATION, AND THE RISING OF RESISTANCE AGAINST HER..
RISKY FREEDOM, VS TOTAL SLAVERY TO MAMMON. IS FREEDOM WORTH DYING FOR?
JACINDA ARDERN IS MORE DANGEROUS THAN COVID-19: CENSORSHIP AND CONTROL OF THE PRESS.
MY SUBMISSION ON THE INQUIRY INTO THE GOVERNMENT'S RESPONSE TO COVID 19.
THE UN AND THE GRAND CENTRALIZATION OF POWER.
THE STORY OF COVID 19 IN NEW ZEALAND, BY TIM WIKIRIWHI 2021.
HOW MANUFACTURED FEAR TURNS SOCIETY AGAINST MINORITIES AND INDIVIDUALS. THE JACKBOOTS OF JACINDA ARDERN.
THE TRUTH IS IN RETREAT. THE GLOBAL KINGDOM OF THE ANTICHRIST IS AT HAND . IS THE AGE OF GRACE COMING TO A CLOSE?
TOTAL CONTROL OVER YOU. 'GOOD CITIZEN SESAME CREDITS.'
TIM WIKIRIWHI'S SUBMISSION TO THE NEW ZEALAND GOVERNMENT'S CONSTITUTIONAL REVIEW. 2013