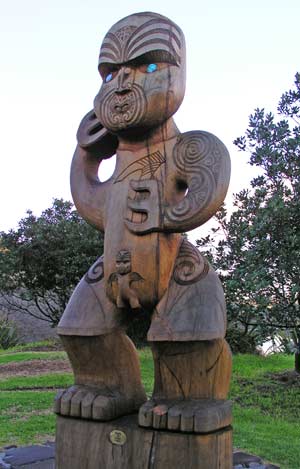 Kōwhatu ki te Uru is an important Te Kawerau-a-Maki ancestor. This carving of him at Karekare is by Sunnah Thompson, a Te Kawerau-a-Maki artist. Kōwhatu ki te Uru built the pā Te Kākāwhakaara… from here
Having a good grasp of world history is essential for any New Zealander, if they are to have any hope in grasping just how different the British colonisation of New Zealand was compaired to the colonisation of other countries like America, and Australia.
The revisionist Narrative that has been foisted upon our nation by successive governments control of the Media and education system *relies on the ignorance* of the New Zealand population.
To understand the colonisation of New Zealand correctly a person must understand all the great milestones in the Development of the British Empire, including the Reformation, The revolutions, the colonization of America, The enlightenment, the American Declaration of independence, the Abolition of Slavery in the British empire, and esp the political scene in Britain before 1840.
Most importantly people need to appreciate the Character of the main players involved in the colonisation of New Zealand… their motives… and the great pains they went through to ensure the well being of the indigenous population… the injunctions to guard against rapine… the legal safeguards employed that show the benevolent concern for the Maori people.
Its all there in the history books for anyone to go read for themselves… yet that is precisely the history Our socialist government and the Radicals *dont want you to understand* because it blows gigantic holes in their revisionist narrative that paints the colonisation of New Zealand as a racist invasion.
So it is that an appreciation of the big picture is essential as such understanding sets the proper historical context for how the colonisation of New Zealand actually happened.
Without turning this post into a book length exposition I will focus on just one aspect of this story of New Zealand's British Colonisation that has inadvertently been made very relevant by current events… of the private company Fletcher Buildings housing developments at Ihumatao.
I want to talk about the political septic swamp that has been highlighted at Ihunatao that is typical of the whole treaty grievance industry… esp the corrupt Political opportunism and modus opperandi of the likes of NZ PM Jacinda Ardern and the Greens.
I would like to point out an extreme irony taking place!
How ironic it is that Green Party MPs and radical activists and protesters are attempting to smear the Fletcher housing development in an evil light claiming that their Housing scheme at Ihumatao as being 'Colonisation in action'!
Yes they want to make out this is another case of Pakeha greed and oppression of 'poor Maori'!
Unfortunately many people who are rightly affronted by these radical claims will still themselves be of the opinion that the British colonisation of New Zealand was driven by Greed and racism… as that is the narrative they have been spoon fed by our government… none the less these people will deny that what Flectcher Building is doing can be so construed to be 'Colonisation in action'.
It is rather simply Land development in a modern society, building much needed housing for a city in dire need.
I agree with such an evaluation… yet still let me now point out that how Fletchers have behaved in this affair *is in a very positive way* comparative to how a very historic Colonial Company envisioned that colonisation and development ought to take place… following a code of high ethics and high moral values, and Good will towards Maori.
I am referring to Edward Gibbon Wakefield, and his New Zealand company.
In modern times both Wakefield and The New Zealand Company have suffered extreme post-humus character assignations by those with malevolent political agendas, determined to bury the enlightened truth about the colonisation of New Zealand, and supplant it with a Bastardisation of history… rewriting colonisation as a Racist scheme of systematic oppression and greed!
Yet as I have already said… such Modern revisionist propaganda relies upon ignorant and unlearned ears.
So let me now explain why I actually accept the argument that Fletchers development in many ways can be seen as 'Colonisation in action'.
I say it's actually 100% true… but not in the negative sense that these haters and nutbar Green party Mps suggest… but in a very positive way Fletchers is demonstrating a principle that was first enunciated by Edward Gibbon Wakefield and later published in his great work 'the Art of colonisation 1849 ' which proves the very opposite *motivation* was at the heat of British colonistaion of New Zealand.
Not only was Wakfields motivation the relief of overcrowding and poverty in Britain, but also the welfare and betterment of the 'native' population of New Zealand.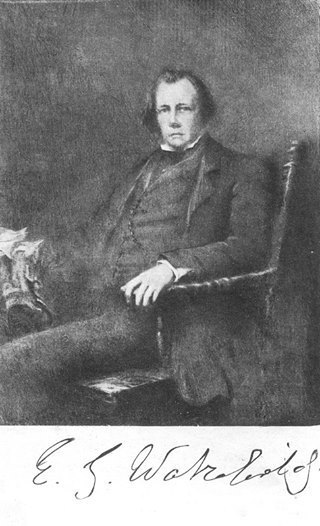 Early 19th century 'Aotearoa' (NZ) was Stone Age and barbarous.
Cannibalism and tribal warfare were the norm.
European whalers were working the Seas and had established Drinking and whoredom at Russell… then known as the 'black hole of the Pacific'… and as such tensions began to mount between thes lawless Riffraf and the Maori People…
The level of poverty here is best described as third world… yet it was out of a Protestant Christian belief in spreading the light of the Gospel into the darkest regions of the earth in obedience to their divine calling that 'Mechanic Missionaries' first arrived here from the Church missionary society… bringing with them the arts of the Modern world… and preaching the brotherhood of mankind.
It was the Missionaries along with NZ Resident James Bugsby whose council led the Coalition of Maori Chiefs tp petition the English Crown to bring New Zealand under their imperial wing and establish the rule of Law.
New Zealand was the last nation on Earth to be colonsied by Britain, and as such Britain (esp Wakefield) had learned a great deal from their past endeavors… esp the painful lessons of the American revolution and declaration of Independence.
Before 1840, England at the very time of Wakefield was writing 'The Art of Colonisation' had already abolished slavery, and was experiencing a wave of Humanitarian ideals esp with regard to the Equality of all human beings.
It is a matter of public record that Hobson's instructions (which he did with Bugsby's aid) was to treat with the Indigenous people of New Zealand for their voluntary session of sovereignty over the country to the British Crown in exchange for their establishment of Law and Order… and their Protection from France.
Though the Expanse of British Empire was at it Zenith in power and domination, still she was very reluctant in accepting responsibility for New Zealand.
Not only was it on the opposite side of the world, Britain had sustained heavy financial burdens and troubles from it's colonies and was in no mood for more of the same.
The Treaty of Waitangi is a testament to the beneficent attitude of Britain towards the Maori People, and their concerns for them that they be fairly treated during the inevitable colonisation of New Zealand that was already in process.
The 2nd clause of the Treaty that allows for Maori to sell any lands they were willing to part with directly to the British Crown, not only was it a safeguard against Land Sharks swindling them. but also reflects a fundamental principle of Wakefield's 'Art of Colinisation' whereby Land is acquired *and Pooled* by the government, surveyed, given title, and systematically on sold to Colonists at a rate that would prevent a Glut of available land being on the market and thus by this means maintain property values.
This is an economic lesson he learned by appreciating the disasters that unfolded during the un-systemaic colonisation of other countries like Australia.
By controlling the Land supply to the market, Wakefield argued that the colonial government will be able to get better prices… and use the money for infrastructure, Public works, and cover the expenses of Government administration (sparing British taxpayers of an extra burden).
Wakefield's 'Art' of colonisation and development was *self funding* and designed to insure the indigenous population were fairly treated .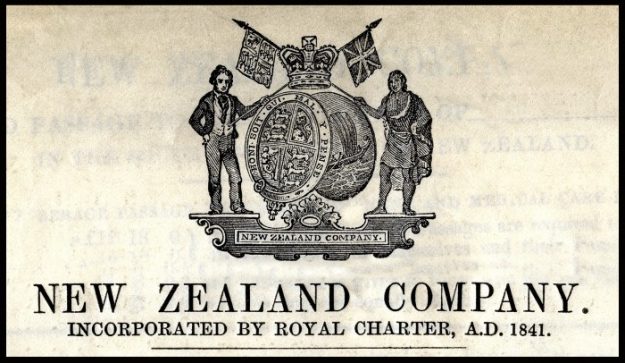 Furthermore… not only was Wakfield's enlightened principles embodied in the Treaty of Waitangi… a treaty designed for the welfare of the Maori people, making them equal Brittish subjects with their Pakeha neighbours… enjoying all the same rights… and having the same protections of the Law… Wakefield's 'New Zealand Company' planned to bring a controlled and steady flow of Migrants from England (bringing relief from the squalor and overcrowding of British cities that had resulted from the industrial revolution and subsequent urbanization)… Migrants of the Best moral character and enterprise (unlike the convicts who were shipped to Australia), and to purchase land to create settlements… towns… and his plans for such settlements not only called for respect of the indigenous population, but also included allotments for them *within the settlements*!
not only does this display an inclusive disposition towards Maori-pakeha co-existence and mutual assimilation, and association, Wakfield also had a grasp of economic realities and benefits that are derived when wilderness is converted into a hub of human activity.
Property goes from being of small value, into being highly valued when it is a part of a thriving community, via the law of supply and demand!
Wakefied knew that the allotments given to the indigenous folk living within the community would increase exponentially in value, comparative to when the land lay as unoccupied waste.
And Wakfield was keen to see the indigenous population enjoy their portion of such gains that come from colonisation!
Likewise when we jump forward almost 2 centuries we see from the deal reportedly done between themselves and Te Kawerau a Maki that Fletcher Building has acted in both a generous and inclusive manor and insured that the tribes people will also benefit from the development!
And it is my contention that in truth this reflects the true spirit by which the historic collonisation of New Zealand!
This is why both Maori and Pakeha cultures have assimilated each other to the degree that via intermarriage we have become *one people*… New Zealanders!
And this truth is 100% at variance with the filthy and slanderous lies being peddled by the hate-filled and greed driven racist radicals who profit from Treaty separatism!
We are seeing here with Fletcher's voluntarily reaching an accord with the Tribal hierarchy Te Kawerau a Maki… taking pains to respect the tribes sacred places, and providing them with allotments within the new 'settlement' mirrors very well with the intents of Wakefields 'Art of colonisation'… and as the development will enhance the value of land in the area, so too will the tribe benefit from the capital gains that will accrue upon the properties they have.
There is of course one difficulty with 'Tribalism' when it comes to Property that tends to devalue land and restrict development… when Land titles are locked into some sort of Tribal commons as this can inhibit the 'fungibility' of the title… hindering investment… making it harder to leverage mortgages, etc… yet all these types of problems are not the fault of 'Evil Colonial oppression', but of how collective tribal land titles are not conducive to Free enterprise.
This is a whole story in itself that is not within the scope of this post… the important point is however how Fletcher Building have demonstrated a very respectful and beneficial attitude towards the Tribe…which is in fact well in keeping with the whole colonisation process of New Zealand… yet and these facts are at variance with the malicious claims being made by Protesting Radicals!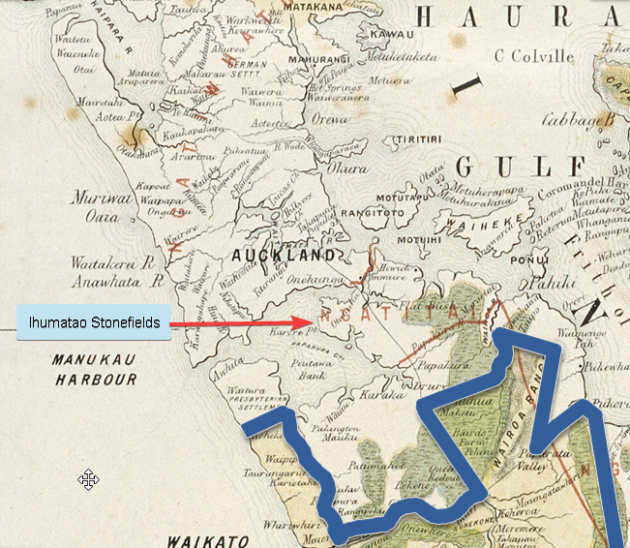 From here
So lets list some Ihumatao facts.
1. The claim that the Ihumatao land was forcefully taken from the tribe during the Land confiscations after the wars of the 1860s *is False*!
There are maps available that clearly show the pastel of land is well outside the demarcation of confiscated land.
2. The Tribe signed a full and final Treaty settlement with Treaty negotiations Minister Chris Finlayson in 22 feb 2014
3. The Green and Labour party Ministers voted in support of this settlement in parliament.
4. Fletchers has set about to achieve their Building scheme fully compliant with the law… gaining all the necessary consents, and even went the extra mile in gaining the Blessing of the Tribal hierarchy… voluntarily Gifting Te Kawerau a Maki back an area that was of cultural significance to them, plus allotments within the development in which their people will be able to live!
Read/watch more here
All these things clearly establish the fact that Fletcher's are fully lawful in their development ambitions on land for which they have indisputable legal title and thus proves that the claims being made by the Protesters are without any just foundation… and their actions are illegal trespass and occupation, and the New Zealand Police should evict them, and even prosecute those who refuse to respect Fletcher Building's property rights.
The protesters are acting against their own Kaumatua! Read…. "..local kaumātua Te Warena Taua from Te Kawerau a Maki, who gave his blessing for the housing development to go forward, said Ms Newton and her cousins were disrespecting their elders by not moving on from the site."
We have come to expect the Nut-bar and ignoramus Green party to be completely devoid of reason and so it is no surprise to see their MPs standing among the trespassing and deluded protesters. yet by failing to maintain her distance Jacinda Ardern has acted in an extremely foolish, dangerous, and illegal manor by putting her foot into this swap… suggesting that her government supports the protesters and that Flecthers must halt their development and sit across the table with these protesters whom have *zero factual or Legal basis* for claims upon that land and its use!
Act party's David Seymour has publicly stated that Jacinda Ardern is encouraging illegal behaviour (here)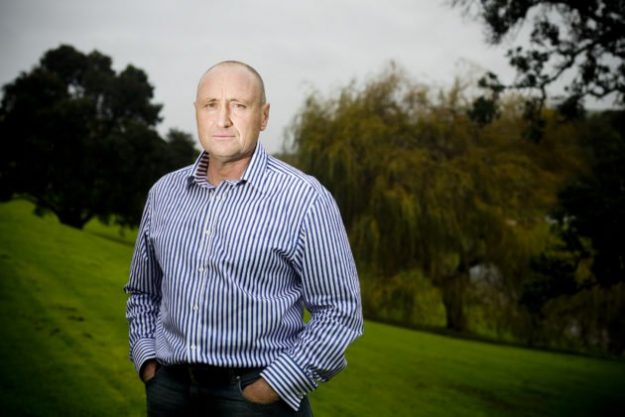 And Tribal leader David Rankin say he is going to lay a complaint against Ardern with the Police for overstepping her Executive authority as PM and interfering in a legal agreement…
"A senior member of the iwi, Mr Rankin said he would lodge a complaint with police that the Prime Minister used her position to interfere in a legal transaction and as a consequence would deprive the iwi of dozens of homes which Fletchers had contracted to provide to the mana whenua."… read more here
She has even tried to prevent media asking about Ihumātao read here
The sane portions of the New Zealand population have had a guts full of the Treaty grievance Radicals and witnessing the fact that these radicals show contempt even for treaty settlements upon which the ink has barely dried… and that Jacinda Ardern herself thinks she can arbitrarily trample underfoot legal contracts show that she has little compunction against abusing her powers as PM.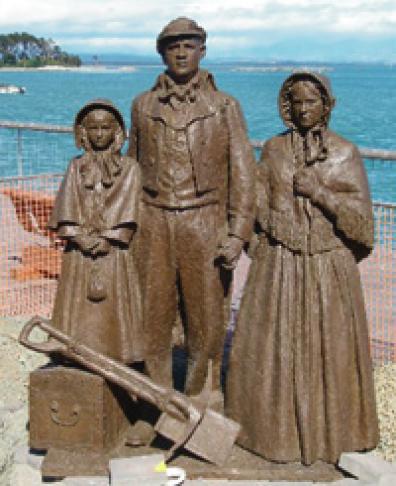 Now I have little doubt that my blog post will have caused some people to reading this to wish a pox upon my house… those whom have been thoroughly brainwashed into the belief that the colonisation of New Zealand by the British was one sort of 'mega Crime against humanity', none the less it is my testimony that to believe such a thing is a vile injustice upon the many great and noble characters who are a part of New Zealand's British heritage, whom are routinely defamed and vilanized.
I make no apology for standing up in their defense… and in fact calling for an end to this slander, and for New Zealanders to give these great pioneers the admiration and respect they deserve!
Current affairs at Ihumatao also demonstrate the historic fact that even when the best of intentions to make fair Land deals with tribes, that often troublemakers will still make counter-claims of injustice against people who have acted with honest intent and within the law. Historically speaking Many of the notable disputes over land can be understood by the fact that prior to the establishment of British law, surveying, and land titles, in Pre-colonial New Zealand 'ownership of land' was virtually only by 'occupation' and secured only by force of arms… and constantly violently contested in tribal wars.
It was Christianity and British Rule that eventually brought an end to this Brutal and endless struggle and established peace between the tribes.
Wakefield's grave in Wellington should be a national monument!
Every school child should learn about the Military exploits of Gustavus Von Tempsky!
And yet we live in such times in which Celebrating our British heritage is almost illegal.
Just look at all the lies being told about Captain James Cook!
Look how the hate-filled racist radicals want to remove his monuments!
The Colonial history of New Zealand is fabulous!
Full of heroism, and toil, and enterprise that was the foundation for the world famous New Zealand character!
It was via breaking in this wilderness and transforming it into a modern enlightened society that our Mettle was forged!
This is the source of why our Tiny nation has always produced the greatest Troupes, and athletes… and world leaders in Civil reforms!
I was no accident that Everest was conquered by a New Zealander!
Yet I fear that our best is now behind us!
Our nation has been taken over by a bunch of whinging and emasculated and self immolating SJWs who have been taught to hate their own skins.
Why do you New Zealanders tolerate the historic vandalism of these ingrates… these dangerous and divisive radicals?
You are flushing both your Epic Historic cultural inheritance, and the Future well being of your descendants down the toilet!
Shame on you!
Sign this Petition!
Government must uphold Treaty settlement, police must evict Ihumatao protesters
Tim Wikiriwhi
Christian Libertarian.
Update:
Joint statement from Fletcher Building and Te Kawerau Iwi Tribal Authority & Settlement Trust.
With regards to the weekend's 'Reclamation Festival' at Ihumatao, Fletcher Residential Limited, the Makaurau Marae Maori Trust Board and The Te Kawerau Iwi Settlement Trust & Tribal Authority, collectively the land owner of the Oruarangi Road SHA site and mana whenua of Ihumatao feel it is appropriate to remind the media that:
– The land at Oruarangi Road is a designated Special Housing Area, on privately-owned land that has been farmed extensively for the last 150 years. It is located between the existing village of Ihumatao, the edge of the Auckland Airport business precinct and the Otuataua Stonefields Reserve.
– Plans for the site have been developed in partnership with mana whenua in such a way that supports their sustainable kaitiakitanga of the surrounding area. This includes devoting a quarter of the site along the boundary of the Stonefields Reserve to protect and enhance connectivity, especially from the village. This piece of land within the development area will be the first time since the land confiscations of 1863 that land will be returned to mana whenua. The agreement to have this land returned to mana whenua was negotiated between Fletchers, Makaurau Marae Maori Trust and Te Kawerau Iwi Tribal Authority. Auckland City Council was consulted during this process.
– The protest group SOUL does not represent mana whenua of Ihumatao.
– Members of the United Confederation of Tribes along with members of the so called, "Kaitiaki village" do not represent mana whenua of Ihumatao.
– Pania Newton who previously led the SOUL protest group is not mana whenua nor has she been mandated to represent mana whenua of Ihumatao. Pania has wilfully misled SOUL followers and the general public regarding 'land issues' at Ihumatao.
– Pania, her supporters and SOUL followers continue to unlawfully occupy the privately owned site preventing the development of much needed new housing, which through the partnership between Fletcher and mandated mana whenua representation, will provide housing opportunities for descendants with whakapapa and strong cultural connections to return to the area.
Steve Evans, Chief Executive – Residential and Development, Fletcher Building Limited
Te Warena Taua N.Z.O.M., Executive Chair, Te Kawerau Iwi Tribal Authority & Settlement Trust
From here