Read Part 1… MARC DAALDER PROPAGANDIST FOR FAR LEFT EXTREMISM. HIS ROLL IN 'THE GREAT DEPLATFORMING OF MATARIKI 2021.' (PART 1)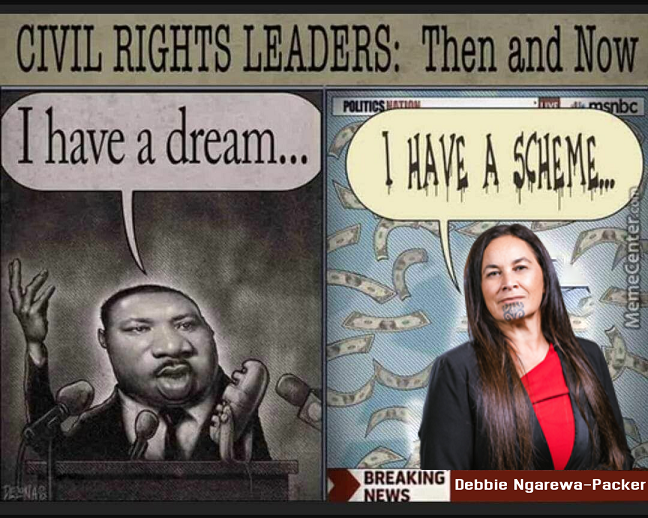 The contrast could not be more stark between Martin Luther Kings dream and the ambitions of co-leader of the far left racist radical Maori Party… Debbie Ngarewa Packer.
Packer recently endorsed and promoted a malicious public petition that extorted Synlait Dairy Company into wrongfully sacking their then employee Lee Williams because he critisised the He Puapua report and the Maori Party on his Youtube channel 'Cross the Rubicon'.
Read more about what happened here: OPEN LETTER TO SYNLAIT DAIRY COMPANY DEFENDING YOU TUBER LEE WILLIAMS DEMOCRATIC RIGHT TO CRITISISE THE POLITICAL POLICIES OF THE MAORI PARTY.
Lee Williams has now filed a personal grievance case against Synlait for wrongful dismissal, Packer however is yet to face any censure for her abuse of Office from her colleagues in parliament in regards to her involvement in such an illegal activity that bodes ill for workers rights to Free Speech in New Zealand.
This failure on the part of New Zealand's parliament and the police to bring Packer and those involved to justice speaks volumes about corruption and cowardice in high places.
She is getting away with behavior that goes far beyond mere bullying to the extortion of a business and the destruction of a man's life simply because she did not approve of him publicly expressing his personal beliefs.
Members of Parliament have to accept that some citizens will disagree and critisise them!
That is part of a Free Society… They have the right to do so.
That she instead decided to support his ruin speaks volumes about her respect for freedom and democracy!
She expects to enjoy immunity from critisism!
She is getting away Scot free because parliament today is peopled with spineless unprincipled weasels more interested in their own comforts than in standing up against a nasty Racist Radical in their very midst!
Had a Pakeha MP been involved in such activities against a Maori citizen exercising their rights to free speech all hell would have broken loose!
Yet because the perpetrator of this blatantly bigoted abuse of power is a member of the favoured race against whom it is virtually a crime to criticize… and that the victim of her abuse is a loud mouth White man 'who does not know his place'… Parliament sits in silence!
The systemic racism that demonizes anyone who talks about the systemic Racism as being racist is why this Evil has been allowed to flourish and take over the levers of power.
We see this in what has happened to Lee Williams being labeled 'a white supremacist' and We see this in how the Far left radicals slander Judith Collins and David Seymour.
I have to ask why these two Party Leaders have not called Packer to account in parliament?
We already know that Seymour has a personal dislike for Lee Williams that he is allowing to corrupt his getting involved on his behalf.
Read more about this here: WILL DAVID SEYMOUR ABDICATE THE FIGHT FOR FREE SPEECH TO JUDITH COLLINS? A CONFRONTATION WITH LEE WILLIAMS.
Some may wonder where were Ardern's 'Hate Police'?… you know… paying visits to the hateful radicals and racists, questioning those involved in the Deplatforming of Lee Williams?
No. The Police have only a brief to harass 'White Politically incorrect Extremists'…individuals who dare to run their own you tube channels keeping within Lawful bounds.
Hate on the Far left gets a free pass.
Interestingly Lee Williams, Vinny Eastwood and Co who suffered deplatforming were not obsessed … in fact not even interested about getting anyone deplatformed.
They didn't rally people to harass, and extort, and to cancel others.
For Haters they sure were amateur's!
That's what the Real Racist hateful radicals in New Zealand do all day long, yet as they are all on the far Left they have enjoyed political immunity… just as Black Lives Matter and Antifa do in the US.
The duplicity in all this is rank!
This is the sorry state… the gross inequity of how the powers that be function in New Zealand!
Martin Luther King fought for unity and racal equality before the law, The Maori Party and co fights for separatism and racial inequality before the Law aided and abetted by Far Left Radicals like Jacinda Ardern and the Greens.
Today's post will highlight the sort of radicalism and hate these politicians propagate in the cotton-wool minds of ignorant youths and others… the Useful idiots and foot-soldiers doing much of the dirty work who look up to these contemptible Charlitans as exemplars.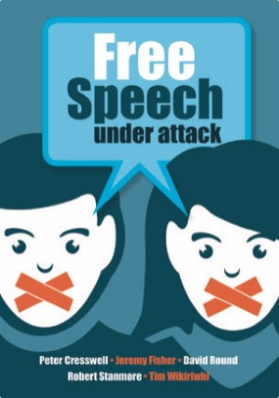 'Free Speech Under Attack' 2019 Tross publishing. This book discusses the many way's free Speech in New Zealand is under bombardment. I contributed several chapters.
For more details go here.
As a Libertarian free speech is something I feel very strongly about.
In being moved by my conscience into writing about the string of Kiwi Youtubers and radio show hosts who have been deplatformed this year I must say has been very unpleasant and I would prefer to have nothing to do with it.
Unfortunately that is not possible given the people I am going to write about today have been involved in malicious and hateful activities, attacking and undermining New Zealand citizens lawful and rightful free speech, and destroying peoples lives.
This must be stopped, and these people need to be exposed, and held to account.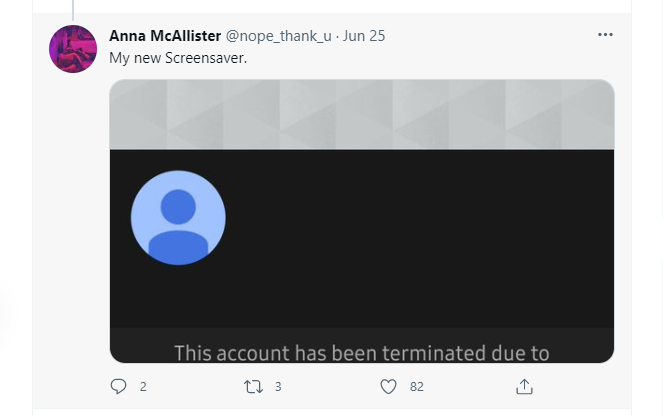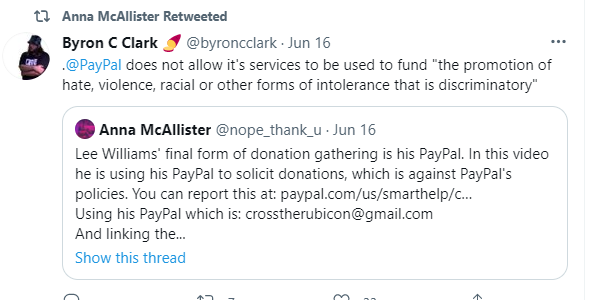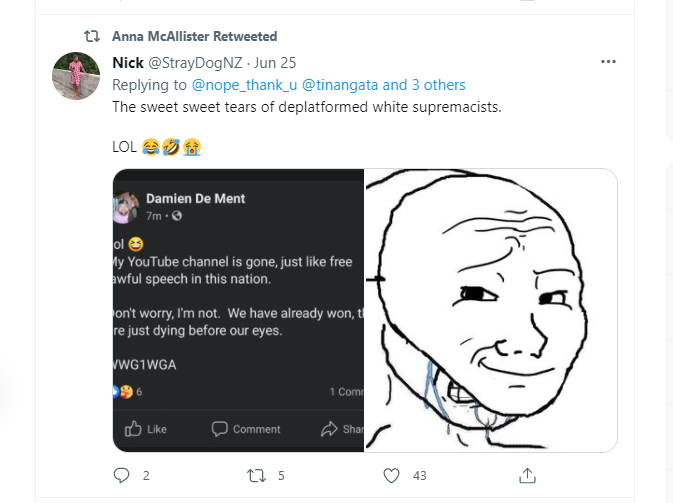 The Twitter screenshots above are a tiny fraction of evidence that could be presented exposing a dozen or more Leftist activists involved in prolific and ongoing deplatorming attacks against the free speech of other New Zealanders.
The actual scale of the problem is undoubtedly far wider than that!
The seriousness of this with respect to Free discourse and it's implication for New Zealand democracy should it continue unchecked is difficult to exaggerate.
Something must be done about it.
It would be relatively easy for some counter revolutionary group not constrained by morality to simply serve this nasty gang with 'Utu'… Reciprocity… ie render unto them in kind as they have been doing unto others… and boasting about it.
These haters are as exposed as their victims were and vulnerable to being doxed, having their employers harassed and extorted for the sake of getting them fired, Public Petitions could be run calling them Hateful Racists, Far Left Extremists, etc.
Their YouTube channels could be systematically trawled for any 'vulnerabilities'… statements that might be construed as being Racist, threatening, hateful, etc and then attacked via mass 'reporting' to Youtube via their automated Moderation systems.
Their Paypal accounts which they have published online soliciting donations could also be shut down by complaints to Paypal, etc esp given they are using their accounts to promote hate, racial intolerance, etc.
All these things and more could be done… justifiably so…. by anyone who was prepared to stoop to such methods… as these are the things these Far Left extremists and racist Radicals have been doing to many people over the last several months… and longer.
These nasty haters actually endorse this vile behaviour as legitimate political activity… they exclaim 'Deplatforming Works'… and revel in cancelling others.
All these things being so, should they themselves become targets for deplatforming these people would have absolutely no right to complain about it… and yet they would howl like stuck pigs!
Having received a small measure of 'Backlash' for what they have been doing they have already began to cry about suffering 'Hate' from 'The Far Right', never admitting to themselves that they are only reaping a tiny fraction of what they themselves have sown!
They attacked first.
It never occurs to them that what they have been doing is evidence of their own hateful Racism and extremism!
They could never contemplate such a possibility.
Not only are they consumed with malice, these people are professional grievers.
Just as in their deluded minds Maori are over represented in prisons because of 'institutionalised racism' and 'Police profiling' rather than the because Maori themselves commit more crimes than any other demographic… by a country mile… so too when ever they receive 'push back' for their malicious extortion, slander, and deplatforming operation they make out they are suffering 'Far right abuse' rather than reaping Karma for their own flagrant misdeeds.

This is how these deranged racists operate.
Falsely claiming to be the perpetual victims of injustice and race hate is how they justify their own hateful deeds against Pakeha.
Everything about their politics and methods are repugnant to me.
I myself would never stoop so low as to mimic these haters!
Their actions and racist mindset brings shame upon Maoridom.
Politics is a branch of ethics, and how individuals, activists, and politicians carry themselves in stormy times is a reflection of their own character, psyche, values, and ideals.
Socialist Ideology is full of toxic ideas that corrupt the soul.
They practice the belief that 'the end justifies the means' and as they have no higher scruples to restrain them, literally nothing is unconscionable or beyond the pale for socialist radicals seeking to achieve their selfish goals.
They leave pain, chaos, and destruction in their wake.
They seek to reverse social progress… the march towards more Freedom and Self Reliance, and regress backwards into Tyranny and Tribal slavery.
They are the very embodiment of hypocrisy… as they pretend they are noble and selfless, and yet they are driven by the most base of selfish human emotions.
They are motivated by vanity.
They seek to destroy those they envy.
A big part of why the likes of Marc Daalder and Byron C Clark attacked Lee Williams and Vinny Eastwood's you tube channels is because they enjoyed far bigger followings than they do themselves!
And being incapable of beating these Youtubers by dint of their own content, they resort to dirty deeds to destroy them.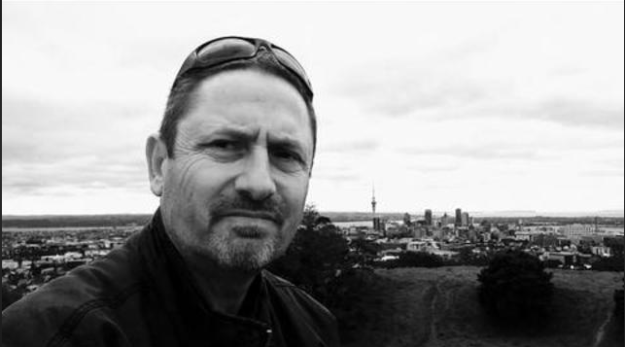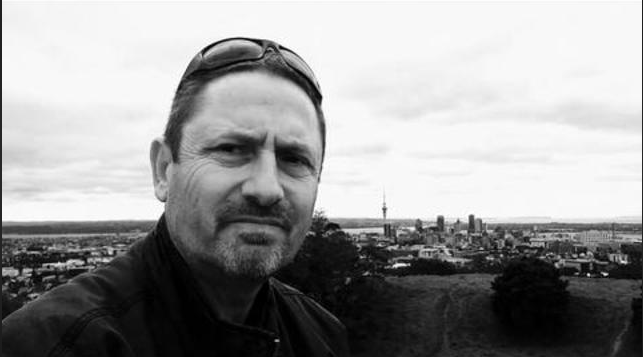 Kiwi Independent You Tuber 'Cross the Rubicon' Lee Williams.
These Leftists are pathetic.
If they were respectful of Free Speech, I would simply ignore their existence, yet because they are so consumed with hate that they now engage in anti-freedom,, anti-democratic practices, they must be stopped.
And yet this cannot be achieved by employing the same disgusting tactics they employ.
I choose to walk the higher path.
I shall fight them via more honorable and civilised means… via free speech.
I will expose them with the truth of their own actions, and having been exposed I hope that people in a position to do something about it… members of parliament, or lawyers, or journalists, using whatever legitimate means are available will stop this extortion racket that is attacking Free Speech in New Zealand, and serve up some justice!
This vile practice of deplatforming and extortion must be put down.
Perhaps some sort of legislation needs to be forthcoming to protect Free speech on line from the sort of hateful collusion these people have been engaging in that abuses Internet moderation systems to silence lawful legitimate free speech.
What I am suggesting is the very opposite thing that is being proposed and implemented by the Arden Regime with respect to laws governing the internet.
Comrade Ardern seeks to use the Law to restrict rights, and curtail Free Speech.
What I am suggesting is using the Law to uphold legitimate rights, and protect free speech.
A few years ago I wrote a Blogpost about a very unpleasant character,, PHIL ARPS: A PORTRAIT OF A REAL ALT RIGHT NATIONALIST WHITE SUPREMACIST: COMBATING MALICIOUS LEFT WING PROPAGANDA.
Today I am about to talk about Phil's equally unpleasant opposite… a far left extremist racist… one Anna McAllister.
She is as equally disturbed As Phil Arps, and just as committed to racism and bigotry and hate as he.
She is a hater of White people… Pakeha… and she harbors a deep malevolence towards them which she was spoon fed at University. She was taught to hate by being indoctrinated in Anti-colonisation propaganda and radical historic revisionism.
It is no exaggeration to say that her hatred manifests itself in Satanic cruel ways.
She enjoys destroying peoples lives and revels in their pain.
Truly Savage.
All the information I am sharing today about Anna McAlister and associates is in the public domain, publicly shared by these Radicals themselves, and others so no nefarious means were used in obtaining this material, the primary sources being social media.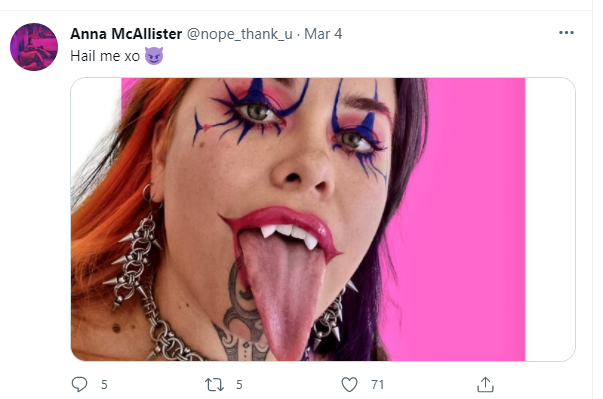 Racist Radical Deplatformer, Maori Supremacist, Satanist, and Artist. Anna McAllister.
Anna is one very nasty piece of work. She takes pleasure in the pain of others… specifically in the pain of Pakeha… white people.
I had the misfortune of entering 'Anna's World' having been encouraged to "Go take a look for yourself on Twitter at how Anna and her posse of far left deplatformers were gloating about what they had done to Lee Williams"… taking perverse pleasure in the misery and destruction they were instrumental in bringing upon him.
What I found on Anna's Twitter stream was almost unbelievable if I were not seeing it with my own eyes.
Her Twitter page is a mad house, and literally seethes with malice towards White people.
It also displays many other traits of a psychologically unbalanced mind.
I shall do my best to refrain from discussing much of her personal revelations that I find alarming because it has no relevance to the business at hand, It behooves me to mention a couple of distasteful things I would prefer to avoid except that they are relevant to this conversation and understanding how her mind ticks.
Lets inquire into how Far Left Racist Maori radicals like Anna have proliferated in New Zealand.
Anna serves as an exemplar and an education into Far Left Maori Radicalism.
It's impossible to cover every attribute Anna embodies of Maori radicalism, yet hopefully by the time I have finished this post it will be clear as to why writing this was unpleasant for me, and why it is that I pity rather than hate Anna for what she has become, and what she has been doing.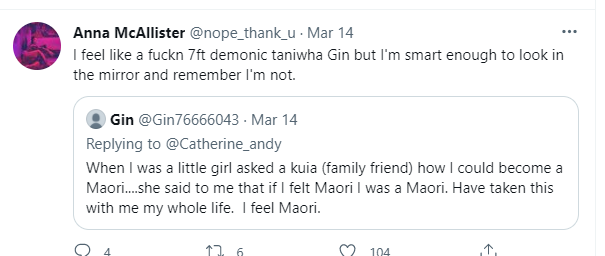 Back in 2013 I wrote a Blogpost called 'WHERE HATERS COME FROM.'
In this post I talked about how some children grow up to become hateful and dangerous radicals from their home environment… taught to hate by their hateful elders… this is an inter-generational perpetuation of hateful ideas and prejudices.
I focused on some examples of Islamic Extremist Terrorism, and show that the same process involved in raising an Islamic Terrorist is often involved in raising Hateful Racist Maori Radicals like Hone Harawera.
Hone sat at the feet of his infamous Maori Radical and activist mother Titewhai Harawera, and imbibed her undiluted racist contempt for Pakeha straight from the spring.
How then can anyone be surprised that she raised a little racist radical whose mind she filled with her own twisted thoughts and emotions?
Hate breeds hate, and by sowing hate into the hearts of their children, these parents perpetuate hate into the future, and poison the minds of their own children, turning them into hateful bigots…little carbon copies of themselves.
Hone had not experienced any oppression at the hands of 'evil Pakeha'.
He therefore had to be trained to hate.
Did Anna McAllister have a similar upbringing as Hone?
I don't know… it is possible… and yet in New Zealand today it not necessary to have had such an upbringing to explain how young people like Anna can become radicalised.
It is sufficient to explain her hateful racism by looking at how prolific and accepted the toxic ideas that underpin Maori radicalism have become over the past 50 years, and how they have been assimilated into the National education system, and official narratives underpinning the Treaty Settlement racket, and modern fabrication of 'Treaty partnership'.
"He who controls the past, controls the future". George Orwell.
Many people today have been fooled into thinking the Maori Separatist movement grew up from long remembered injustices committed by 'Greedy invading White people', and therefore represents a legitimate struggle for restitution.
That is pure 'Fake news'… old school style communist propaganda.
The modern 'Maori Sovereignty movement' sprung up via Far Left Communist subversion founded upon 'Anti British Imperialist's' doctrines designed to 'Divide and conquer' nations all over the globe for Communism.
Communists looking to spread their ideology were well versed in which demographics were most easily converted to their way of thinking.
Contentious events in New Zealand's past were 'Taylor made' for sowing racial discord, and creating social unrest… vital ingredients for a Communist takeover.
Maori became the targets for this Leftist subversion which first required them to be radicalised into militant activists.
They needed to be taught to hate and claim to be the victims of British imperialism.
The Left have utilised this basic strategy ever since.
It has served them well.
They have almost brought our Nation to it's knees, and nothing symbolises this more succinctly that having Far Left Tyrant Jacinda Adern at the helm.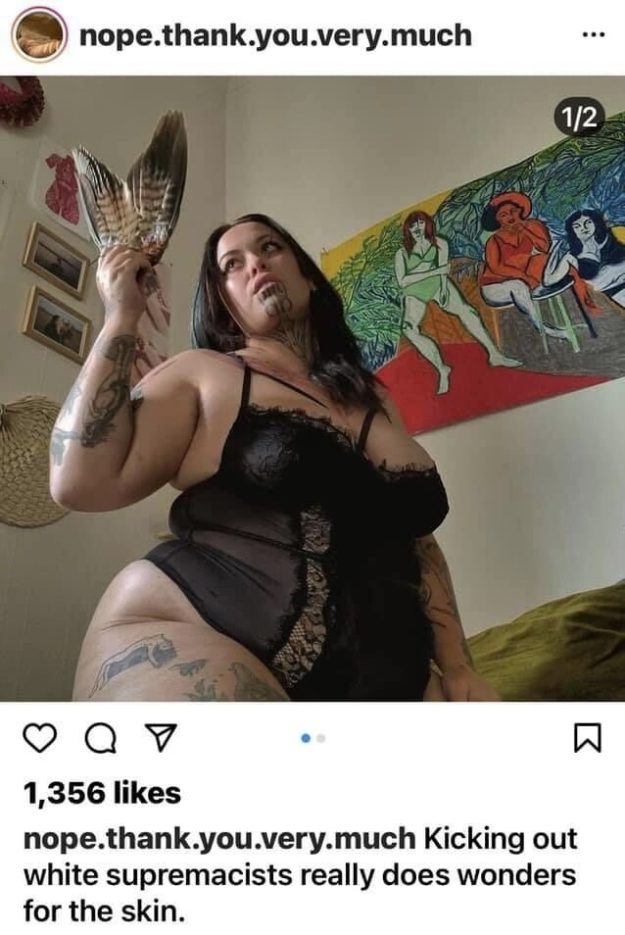 Further research has vindicated my suspicions…
Anna says she spent 6 years at University … "The time I spent studying was vital in my hīkoi of reclaiming Māori knowledge, lost through intergenerational colonisation. For many Māori, university can be the first opportunity they're given to deeply and critically understand this country and its troubled history. It is a shameful fact that most of us finish our public education with little to no awareness of the history of colonisation in Aotearoa and the impact it continues to have on Māori." from here

Gap.
The angry brown woman: My issue with art schools
Anna McAlister's Radicalisation and hatred towards Pakeha was manufactured in State University!
Though her pathway to Radical race hatred differed slightly from that of Hone Harawerea, fundamentally it was the same.
Like Hone, Anna has not personally experienced any Real oppression at the hands of 'evil Pakeha'.
She too had to be trained to hate via mythical tales of the past…. fabrications of the Far left.
The only difference being Hone learned to hate Pakeha from his mother while Anna was radicalised at State University.
She is representative of the vile lies and indoctrination going on there!
Our Universities are factories for the mass production of Leftist radicals!
This has been known for a long time and yet is hardly ever talked about.
This is why Treaty separatism has become an overwhelming scourge in our land.
One of the most dangerous powers that foolish nations grant to their governments is control of the education of their children.
This is a standard practice in Totalitarian States whereby the youth are conditioned to think the way those in power want them to think.
The late great Herbert Spencer warned what would happen should free nations allow their governments to usurp control of Education.
What is really bonkers is that so many New Zealanders don't appreciate how politically corrupt our own education system has become.
Read: SPIEL ON BRAIN WASHING, AND SOCIALIST ENGINES OF CONFOMITY. STATE EDUCATION.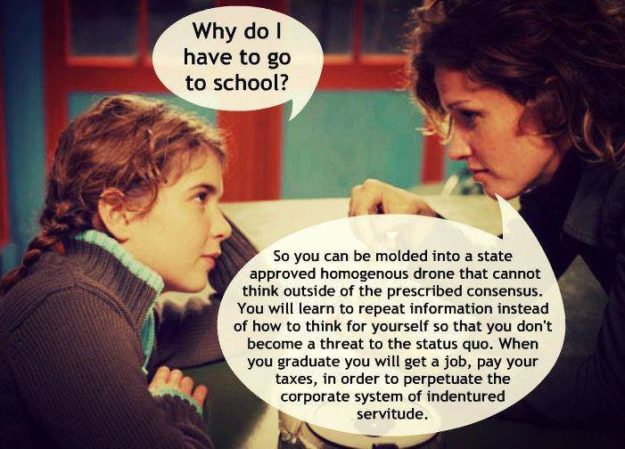 And WHY MANDATORY STATE EDUCATION?
That Anna studied at Massey University should also give those in the know an 'ahhhh' moment!
Massey is the epicenter of Far left Woke radicalism in New Zealand academia!
I have mentioned this in previous blogposts… parents be warned… send your children there at their peril!
They are highly likely to return unto you politically Radicalised and mentally lobomised.
Leftist Racist State radicalisation, political indoctrination and the race-hatred it fosters within Maori towards Pakeha is demonstrated in the 'Educated' character of Anna McAllister and others just like her.
It has it's parallels in Nazi Germany when the German state propagandised that the Jews were also greedy foreign invaders that were responsible for 'indigenous Germans' poverty and woe.
None of these facts are openly discussed these days in respect to far left radicalisation.
These are the dirty secrets that underpin the Politics of Jacinda Ardern, The Greens, and The Maori Party.
I could write a book on this subject and still not do full justice to the truthfulness of what I have here declared. We don't have time, or space for that. I must however point out just one more characteristics Anna displays that betrays the toxic falsehoods she has been taught to harbour in her heart.
I must address her affinity to Satanism.

Anna's musings about Satanism has relevance to her ideas that underpin her hatred towards Pakeha.
Her Satanic attitude towards Christianity may be understood as a facet of her indoctrinated Racism and skewed views about New Zealand's Colonial past.
She see's Christianity as an Evil Ideology that lulled Maori into a stupor that rendered them passive and prepared the way for the take over of their land.
This is a complete fabrication and outrageous slander against some of the greatest human beings every to grace these shores.
The Church Missionary Society was instrumental in the abolition of Slavery in the British Empire and it was this very same Humanitarian Society that sent missionaries to New Zealand to bring the light of the Gospel to Maori.
They left the comforts of Civilisation at the hazard of their own lives to teach Maori about Jesus Christ so that they might be saved from the darkness of Superstition, Cannibalism, Endless Tribal warfare and subsistence living.
These are irrefutable recorded facts!
The mana of many missionaries was unquestionable in the eyes of Contemporary Chiefs of the highest rank!
Anna's Education would mention none of this.
Leftist Subversives seeking to turn Maori into thorns in the side of Capitalist New Zealand has no use for such truths!
They must twist and deform everything to render their subject absolutely and fanatically committed to the Far Left Revolution.
It must be understood that the Far left is fundamentally Anti-Christian.
Marx claimed his Politics were foundered upon 'Scientific Materialism'… Atheism, and that 'Religion is the opiate of the Masses'.
The implementation of his ideas have resulted in mass genocides in the 20th century on never before seen scales where Far Left communists attempted to stamp out Religion.
This is still going on in Communist Nations today such as China and North Korea.
Communism cannot tolerate belief systems that teach the plebs there exists higher authority than the State.
This murderous hatred for Religion and for 'British Imperialism' has been deployed to paint the Missionaries who came to New Zealand as Deceivers and Devils, who via cunning softened up the Naïve Maori population into allowing Colonisation to take place.
This is nothing short of a Satanic Lie!
This vile mischaracterisation of the heroic humanitarian missionaries can only be entertained by extreme ignorance.
Anna's Satanism is a hallmark of a person who has had their minds poisoned towards Christianity to turn her into what she has now become… a Racist Far left radical.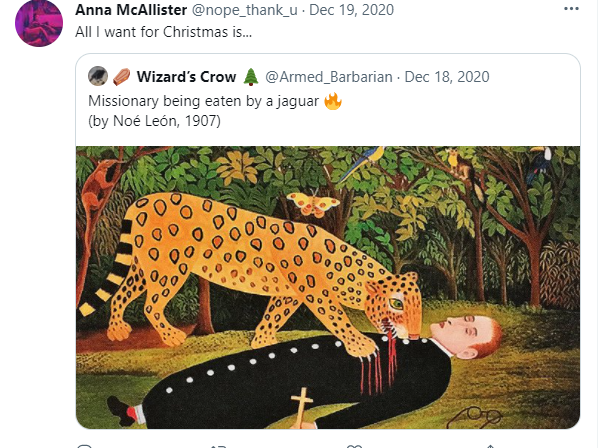 When considering how a young Maori girl has become so radicalised and filled with such hatred as is on open display with Anna McAllister we might ask from where does she take her political cues?
Who are her mentors?
This is important.
We do not have to look any further than the Racist hate filled radicals of the Far left Maori Party.
These racist radicals not only preach race hate against Pakeha for imagined wrongs committed 150 years ago, they virtually endorse every single Far Left Radical idea such as Global Warming, Transgender indoctrination, Support for Hamas Terrorism against Israel,etc.
Virtually all of the supposed racist crimes of colonisation that such separatists framed as 'breaches of the treaty' are pure fictions, and again only hold currency in an environment of ignorance about the true history of the colonisation of New Zealand.
Yet even if they were true that cannot justify the Race-hatred harboured by the likes of Maori Party MP and Co-leader Debbie Ngarewa-Packer against Pakeha living today who had nothing to do with colonisation and they themselves are as 'Tangatawhenua' as any Maori… ie People of the land… Born here… and their ancestors are buried here, and they have even intermarried and become genetically entwined with Maori themselves!
These are Facts.
There is not a single Maori radical today who does not share some of the colonizer genes… including Anna McAllister and Debbie Packer!
That is how big a scam this whole 'Treaty separatism' is because physically there is no legitimate racial division!
Reality exposes the political lie.
While the gullible, and Naeve, and indoctrinated radicals like Anna McAlister look up to the Maori Party Bigots, hapily many many more Maori refuse to associate themselves with the racist Radicals of the Separatist movement.
The Maori Population is estimated at 850,500 or 16% of all New Zealanders.
In 2020 the Maori party gained less than 2% of the party vote which demonstrates that The Maori Party in no way can be construed to represent Maori.
A little bit of research also shows that despite 5 decades on intense Left wing propaganda almost half of all Maori still chose not to even be on the Maori Electoral roll!
That is a testament of courageous moral fortitude and common sence!
Instead… turning their backs on Racist separatism they are registered on the General Roll standing side by side as equals with the rest of New Zealand.
Ask yourselves why is it that *this truth* is not being taught by the State to Maori?
It's like the State wants to maintain the lie that to be a Maori, you must support political apartheid.
When you appreciate just how small a support base the Maori Party has it just goes to show how much bluster and grand standing they are engaged in falsely portraying themselves as the Voice of Maoridom.
Esp in this they are provable Frauds.
And this brings me to my final point… the absolute hypocrisy of Anna in what she has been doing.
Read this Tweet….

Here we see Anna being extremely angry that a Herald reporter tried to contact her at work.
She exclaims how most of her work colleagues don't know 'the full extent' of her activism.
And tries to say that her political activities have *nothing to do with her day job*!!!!
She said that simply by asking to speak with her at her place of work *was a huge breach of her privacy*!!!!!
Now think about this in respect to what she and her gang of leftists did to Lee Williams and his day job!
They created a Public Petition that threatened his employers Synlait Dairy Company's reputation by insinuating they support White supremacy!
Now considering what Anna tweeted about her own privacy and separation between her own activism from her employment… where were her considerations for Lee Williams on these accounts?
Simply put… she does not give a shit about them!
Her admission here does reveal she is fully cognizant that her own actions in attacking peoples jobs and livelihoods are immoral and yet she not only is a serial offender, she openly celebrates the misery she causes!
This group of hateful abusers of Free Speech must be stopped.
Blackmail and extortion are crimes, It is my hope that some legal expert can see what is going on here and bring charges against these people for their malicious activities.
For the sake of Free Speech New Zealanders must Rally and demand justice for Lee Williams.
I am appalled by the malicious attacks Anna McAllister and co have perpetrated against other New Zealanders, esp how far they have gone to destroy Lee Williams life.
Their absolute disregard for Democratic principles, esp Free Speech caused me to stand up in defense of Lee Williams and commit myself to seeing these haters brought to heel.
Their activities and behavior cannot be tolerated in a Free Society.
They are tramping upon the rights of others.
I can appreciate that people like Lee Williams have just reason enough to hate them… and yet I cannot bring myself to hate them.
Because of all the monumental lies that abound today I can only I pity them having become ensnared in the grand delusions and lies of Far Left wing Propaganda.
In truth my heart is filled with sadness that part-Maori like Anna have been taught to habour racism in their hearts, and taught to hate Christianity.
I have no doubt that Anna will consider me her enemy… if only she could know my love for the Maori People and for All New Zealanders, and that like the Missionaries of old… I want to use my life to bring light and liberty to those in darkness.
Jesus Himself said "And ye shall know the Truth, and the Truth shall make you Free".
Tim Wikirwhi.
Christian Libertarian.
More from Tim
MARC DAALDER PROPAGANDIST FOR FAR LEFT EXTREMISM. HIS ROLL IN 'THE GREAT DEPLATFORMING OF MATARIKI 2021.' (PART 1)
WHERE IS THE ACT PARTY? WHERE IS THE NZ FREE SPEECH UNION? THE DEPLATFORMING AND VICIOUS PERSECUTION OF YOU TUBER LEE WILLIAMS BY THE MAORI PARTY.
CROSS THE RUBICON. ANTIRACIST YOUTUBER ACTIVIST LEE WILLIAMS LIFE IS IN CRISIS… DESTROYED BY THE EVIL RACISTS OF THE MAORI PARTY.
ONELAW4ALL PAMPHLET DOES NOT CAUSE ME ANY OFFENCE: BUGGER THE ADVERTISING STANDARDS AUTHORITY! BY LIBERTARIAN MAORI TIM WIKIRIWHI.
THE LIGHT OF THE GOSPEL REACHES THE UTMOST PARTS OF THE EARTH. BI-CENTENNIAL OF SAMUEL MARSDEN'S CHRISTMAS MESSAGE. BAY OF ISLANDS. 1814.
LOOKING FORWARD, NOT BACKWARDS: DYNAMIC CULTURE VS STAGNATION. WHY BRITISH COLONISATION WAS GOOD FOR MAORI.