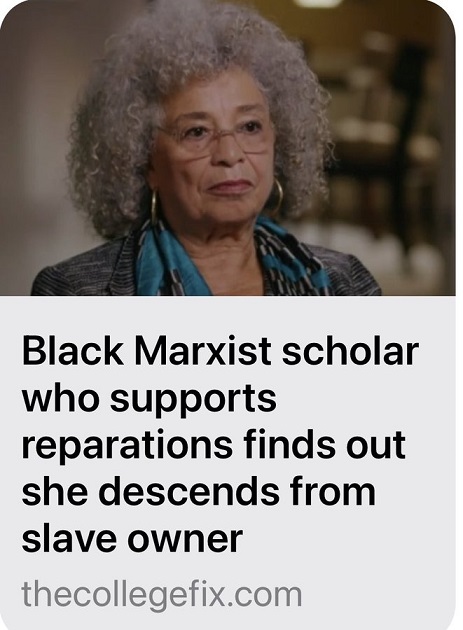 From here.
How hilarious!
Woke radical Academic realises they are their own worst enemy!
She was advocating for a payday at other peoples expense… holding other people as guilty for the so-called sins of their ancestors… only to find out that by her own reckoning… she is a privileged oppressor herself!
EPIC!
I wonder if this fact makes her reconsider her own lunatic racist collectivist idiot reasoning?
Tim Wikiriwhi
Christian Libertarian.
Article:
'No, No, No, No': Radical Black Activist Learns She Is Descended from a Mayflower Passenger
Radical black activist Angela Davis was visibly shocked when she learned that she was a descendant of the pilgrims on the Mayflower.
The self-avowed Marxist feminist and former black power activist in the 1970s appeared as a guest on the PBS series "Finding Your Roots" Tuesday. During her interview, host Henry Louis Gates, Jr. revealed that she is a descendant of one of the original passengers on the Mayflower, William Brewster.
Davis is in complete astonishment. "No, I can't believe this," she says, laughing and throwing her hands up. "No, my ancestors did not come here on the Mayflower," she laughs again.
"Your ancestors came here on the Mayflower," Gates repeats. "You are descended from one of the 101 people who sailed on the Mayflower."
"No. No, no, no, no," she responds, still laughing in disbelief. Finally, she collects herself. "Oof. That's a little bit too much to deal with right now," she says….
Read more here.