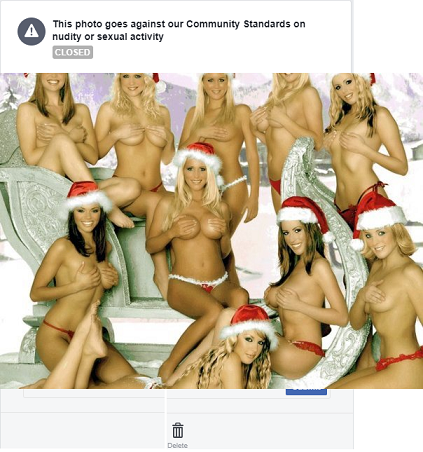 This Photo I shared in my own 'Xmas' photo Album was picked up by Facebook AI and flagged as against Community Standards.
I requested a review and it was restored as not being a breach, and Facebook then asked me what my 'experience' of this 'event' was like and so I have copied my response…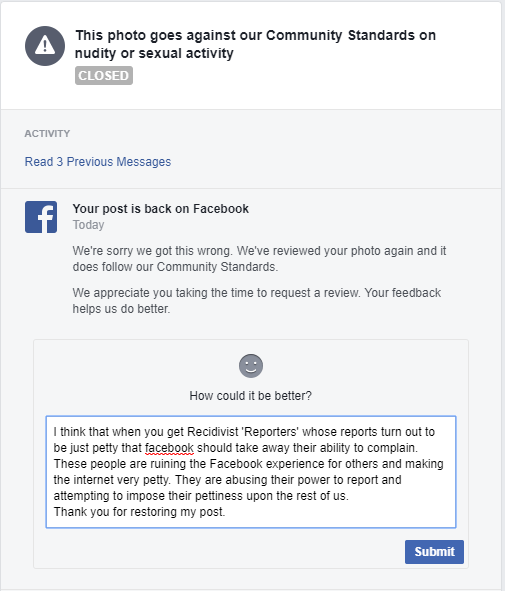 I posted this story to my own page 'Fascist Free Zone' and even though the picture now has Facebooks own flag on the top saying 'closed', their AI still immediately picked it up and told me i was in violation of Community standards *AGAIN!*
So now on my 'personal facebook file' inside the beast I have collected two false negative xx's against my reputation (social credits) all because their Artificial intelligence is running amok and not consistent with their own community standards!
This picture did not get flagged as a breach by itself… or did it?
I think some petty small minded feminists have reported/ complained about this picture and some Facebook SJW feminist working for facebook has flagged it for supression… even though it falls within what is an acceptable degree of nudity given it does not show any of the 'forbidden nipple'.
I can easily see how some rouge SJW operatives within the facebook 'war room' have an agenda to bend the rules to attack facebook users they perceive as 'Misogynists'… part of the male 'Rape culture'… etc.
I can easily see how via these means people like myself who have not violated the community standards still get thrown in facebook jail simply because they dont comply with the *personal prejudices* of those who are given the power to censor users like myself.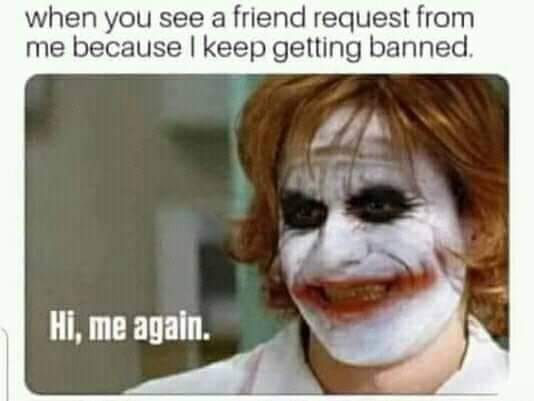 To say this is unfair is an understatement… in an age when social media will determine Elections and how Laws get passed etc etc this is frightening political/ religious/ irreligious bias.
Facebook has again reported back that They have made a mistake and that my post is not in violation of their community standards… so that is something.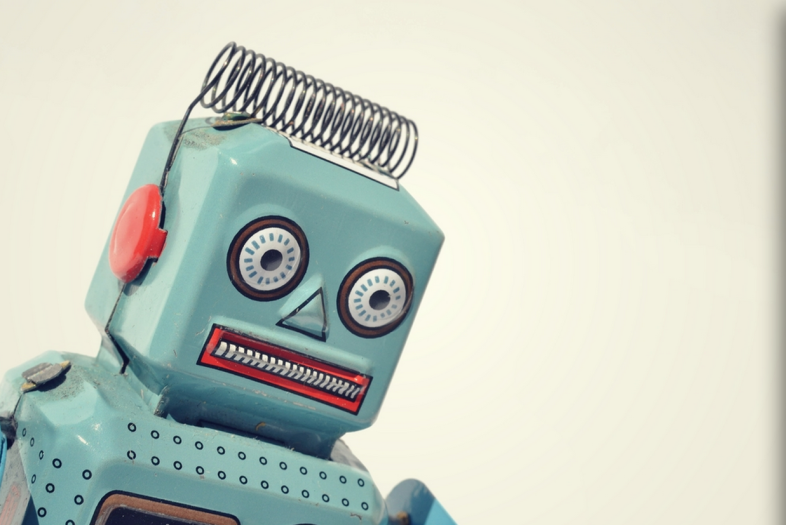 Or perhapse Facebook AI has done its own 'evaluation' on this image and deemed it to be inappropriate?
Harder to believe… yet still possible.
Robots are Dumb.
Even when they can mimic Human actions they are just fancy toasters… not thinking… not intelligent… and certainty not Moral agents… and yet we are fast moving into a world in which Robots will control our lives…. frightening much!
China is getting into AI in a Big way… coupled to social Media and Facial Recognition via the all seeing electronic eyes.
Even that sentence I have just written has probably been flagged in a Chinese spy system…
This is the world we are leaving to our Children….
Tim Wikiriwhi.
More from Tim.
MANKIND IS ON THE VERGE OF CREATING SENTIENT ARTIFICIAL INTELLIGENCE? BULLSHIT!
SCIENCE GOES GA GA! THE SPIRIT TEMPLE-MATERIAL INTERFACE. THE HUMAN BRAIN.
MONISM: EVOLUTIONARY PSYCHOLOGY AND THE DEATH OF MORALITY, REASON AND FREEWILL.
WE ARE NOT ROBOTS AYN RAND. WE ARE MORAL AGENTS.