Update: Read The BDF's The Jacinda Ardern Fan Club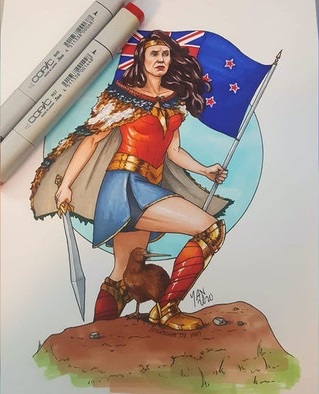 From here Wellington artist gains thousands of 'likes' for art featuring PM as Wonder Woman
Socialist 'Great Leader' Worship.
Comrade Ardern idealised and idolised as 'Wonder Woman'.
A very common attribute of Socialist Dictators is to be portrayed as Messianic Heroic Super-humans.
The Cult of Personality… One of the dangers of democracy is that it is susceptible to the misguided idolisation of Demagogues who are professional Snake oil salesmen (or Woman) rather than truly great and principled Leaders.
Jacinda Ardern's only academic credentials are a Bachelor of Communication Studies (BCS) in politics and public relations.
Ie she is a specialist in The dark arts of Propaganda, and Spin.
And she is taking full advantage of the Covid-19 hysteria and financial crisis… which she herself created… and especially capitialising on the Stockholm syndrome of the masses… the Ardern worship… to push through tyrannical laws, and tighten her grip on power.
Its like an enchantment that leads the gullible to their Doom… and as long as the significant portion of the population is under the spell… there is very little the rest of us can do about it.
She is able to get away with the most Brazen acts of Tyranny… and display a complete disregard for the principles and safeguards of a free society… because of the Naive and bedazzled foolishness of the Dumbfounded dipshits who stand in Awe.
"We can trust Wonder Woman!" …. "Our Great leader will save us"… all the while she is destroying our economy and trampling over our Privacy, Rights, and Liberties!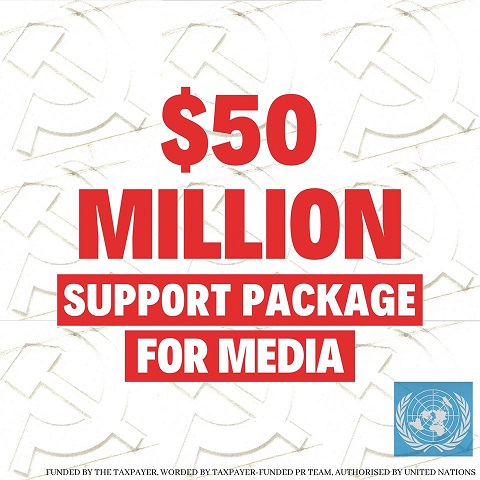 A perfect example of Jacinda's contempt for the Safeguards of a democracy from the abuse of government power is her latest Socialist scheme… 50 million dollar 'support package' to 'help the Media Industry'!
This is an Election year bribe!
Ardern has LITERALLY BOUGHT the entire New Zealand media industry.
The Free Press is supposed to be the vanguard of Democracy!
That our mainstream media is fully Infested with little State worshiping Minions and Zealots, what hope is there now for Bold Impartial criticism of her policies and ambitions?
Broadcasting minister Kris Faafoi said [here] the package was about freeing up cash in the short term to help the industry get through the immediate crisis.
Faafoi, a former press gallery journalist, said journalism was an important part of democracy.
"The function of journalism in this country is extremely important. We are a small country. We might think we're doing a great job, but being asked questions about what we're doing is extremely important."
He said the bosses of media companies welcomed the package this morning, but the industry was clearly facing ongoing challenges."
Now to the naive peasant all that sounds so wonderful… as if the government is actually trying to *protect the free press* for a disaster they themselves created, when in reality *any Media that is effectively sucking from the state tit… cannot be considered *independent*!
And it is *Its independence* and Liberty, and willingness to speak out against the government, their agenda, and their laws, that is *the essential quality* that makes the free press an Absolute necessity in a democracy of Free People.
These truths have been ignored in New Zealand for a very long time.
Isn't State education a wonderful thing?
Cultivation millions of indoctrinated compliant useful Idiots!
She can now have certainty that the Mainstream media of New Zealand will sit nicely in her pocket all the way up to the next election… Unless we freedom lovers expose her for what she really is.
She is no 'Great Leader' as she is being touted in the international Press!
She is in fact a bumbling Communist prescribing Communism and conformity to the UN Agenda!
Absolute Power!
Individual rights must be sacrificed to the greater collective good.
Free Cash for everyone!
No Tax relief!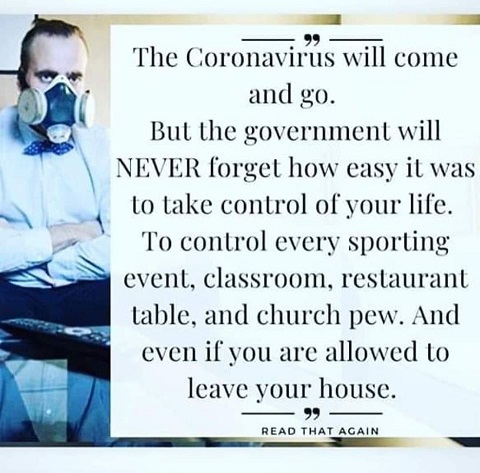 With the Mainstream media now bought and paid for by her Party Political bribery and tucked safely into in her back pocket, it is easy to see why Ardern and the system of state she runs wants to control the Internet, social media, and free speech!
The Press being no longer free, it has fallen to independent dissident voices using Soapboxes, letterbox drops, and social media to raise the alarm against the tyrannical deeds and agenda of our State, and attempt to inform the people of alternative perspectives and rally them to resist… esp at election time.
So for this reason alone you must appreciate the magnitude of what is at stake with Andrew Little's drive for heavy 'hate speech laws'… and the imposition of Ardern's and Macron's 'Christchurch call'… calling for heavy censorship of the internet suppressing views, opinions, and dissidents that oppose their Politically correct pseudo-values, and their UN globalist agenda.
It has been the voices of independent thinkers, and dissident experts who have stepped up to fill the void as the vanguard of liberty… the mainstream media having deserted their post!
And this is what has provoked Leviathan into seeking to absolutely suppress and outlaw Free speech.
The mainstream media is in full cahoots with the government in their desire to suppress independent voices and alternative media on the Net.
Worst still Sycophant Social media Giants owned and operated by Woke lefty Liberal Globalists are more than willing collaborators too!
They are already hard at work using AI to suppress independent voices.
It is essential that freedom lovers dont allow facebook and Youtube to hold a monopoly on your personal internet presence, but to have a second line of defence… Have a Mewe social media account.
Use Bitchute as much as possible instead of Youtube, and maybe use other browsers other than google… like duck Duck go, or Brave.
Watch Bitchute Video censored from Youtube DR. ERICKSON (KERN COUNTY, CA) COVID-19 BRIEFING PART 1 – DEBUNKS FAUCI & THE LOCKDOWNS | MIRRORED
YOUTUBE KISS MY BUTT!
A month ago we suffered a barrage of Mainstream media Fake news about an approaching Plague that was expected to devastate the world, and we all trembled in fear as the media spread all the false information, and so we prepared for the worst.
Still rather than immediately throwing our toys out of the cot chose instead to voluntarily comply with the new laws Ardern began to issue despite personally considering them unjust for the sake of solidarity and the fight against the coming menace.
At first it appeared she was going to take a bold minimalist approach for which I actually commended her, but then she jumped in Boots and all with a full blown Police State Lock down.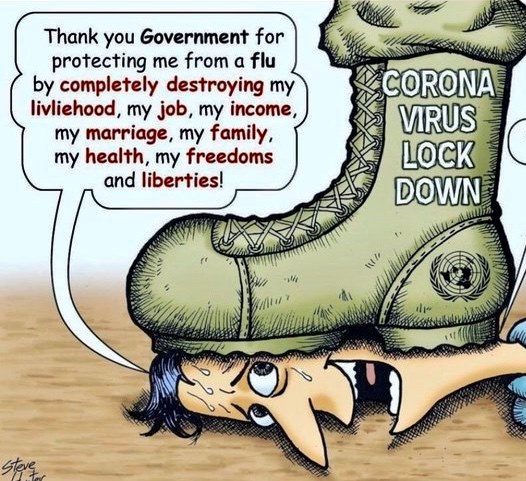 In the next few weeks into Lockdown with an increase in data, as we watched the statistics, it very soon became apparent Covid-19 was no where near as dangerous as we had been led to believe and that we had in fact been deceived.
Voices began to reveal how the original data we had been fed from Italy etc was seriously compromised with dubious processes and Copious quantities of Media sensationalism.
Read: Italian MP, Sgarbi denounces the Statistical Fraud on COVID-19
'Vittorio Sgarbi, denounces the closure of 60% of the businesses for 25,000 COVID-19 Deaths, of which the National Institute of Health says 96.3% died NOT of COVID-19 but of other pathologies. That means only 925 have died of the virus. 24,075 have died of other things…'
He says false statistics are being use to terrorize the citizens of Italy and establish a dictatorship.
I fully admit I myself watched such skewed new reports with Alarm and mobilised myself into action to prepare for the worst.
Still, at no time did I advocate or endorse any actions taken by Ardern that were a violation of Individual citizens rights.
I was involved in many discussion with others that identified and commented on her many violations, yet still I was willing to voluntarily comply with common sense practices like social distancing… yet this is in no way an endorsement of compulsion or tyrannical law and we reserved the right to protest at such a time as we could. First priorities being taking care of our families as the Pandemic landed on our shores.
Even at this early stage some of my smarter friends were already questioning this narrative and suggesting the economic consequences of what was being proposed was certainly something to be alarmed about.
The primary factor that scared the shit out of me about the Covid-19 threat was that it originated in Wuhan … where China's Bio-warfare lab is located.
The Problem is that there was no way to take China's claim that the virus was of natural origin as gospel because their Tyrannical regime cannot be trusted.
They were in fact implementing a pogrom to cover up the facts…. Whistle blowers were 'disappearing'.
The Chinese Regime is EVIL!
Over a period of weeks last month… before our lockdown… News reports were describing an escalating crisis in Italy of nearly 1000 deaths per day, and we also saw Social media flooded with pics of supermarket shelves being emptied… whole Cities were being quarantined,
Convoys of Trucks were sanitisng the Streets in China and reports of a full scale National emergency about to be announced and Lock down… for months…. It sure looked to me like China had accidentally leaked a Bio=weapons grade WMD… and that I had better prepare for the worst.
Despite claims that the virus came from the 'wet market' 25km away from the highest security Virus Laboratory in Asia, I could not bring myself to have any confidence in that as being a fact.
I am fully aware that Natural pandemics (such as the Spanish flu) can be absolutely Ravenous, yet I still believe that I would have been far less alarmed had the virus started in any other city than Wuhan.
I could not shake the fear that Covid-19 was a genetically modified… Potentised… weapon.
Empirical facts that eventuated show us our fears were unfounded, yet a healthy skepticism still questions the offical narrative about the origin and nature of Covid-19 as simply from Bats at a 'Wet Market'.
The Wet market provides a very convenient cover story… though it is statistically improbable that the Market is the true origin rather than the lab.
If you wanted to artificially create panic, having a Pandemic break out from the same neighborhood as a Viral Bio-weapons Lab will surely do the trick!
If you wanted to generate a global panic to allow the introduction of Compulsory Vaccination… this would be how you would do it.
Irrespective of whether or not your mind is as suspicious as mine, it remains clear that Western Governments like New Zealand (further fueling Pubic hysteria) Usurped oppressive Emergency powers and implemented lock downs from a complete lack of solid information about the virus (ignorance), and the perceived potential Plague level Carnage it was about to unleash (based upon seriously Skewed Bad Data).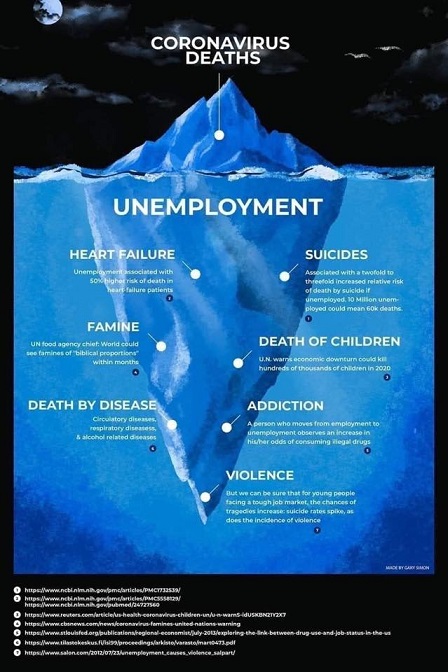 The True facts became clearer several weeks later.
Covid-19 is in reality no more dangerous then the common Flu.
The world had been fed false Data generating Panic, and as such the lockdowns were a massive and costly mistake.
A massive economic and social catastrophe is now unfolding as a direct result of Stupendous and gratuitous government over-reaction!
We should have been come out of lockdown at least 2 weeks ago.
There was truckloads of Data and expert opinion by then that made this clear and Ardern's failure to admit her mistake and immediately end the lockdown is a true testimony to her absolute lack of Good Leadership qualities.
Three facts of reality about Lockdown are.
1. It is an economic disaster,
2. The Lock down involves Tyrannical laws that violate our rights and Liberties and empower a Police State…. people getting arrested for Non-crimes.
3. It is ultimately a futile gesture because unless a nation stays perpetually in lockdown with closed boarders the Virus will ride back into the country via the boarder.
The only solution is to gain herd immunity… ie weather the storm in freedom as we do with the Flu and bear the cost… as we do with the Flu.
This does not mean *there are no actions* we can take to shield the most vulnerable… like Isolating Old folks homes, etc when these sorts of things appear, and plenty of other wise moves …. all that help… none that require making Ardern Absolute Ruler… the one painful lesson we must take away from all this is that the government must be prevented from usurping unjust powers and sabotaging our economy, and making criminals out of innocent people who refuse to surrender their rights!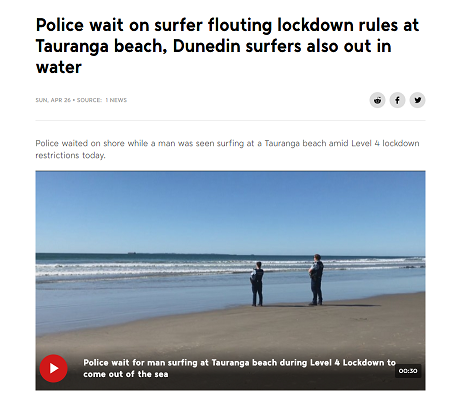 We must protect free speech at all costs so that we maintain the right to critisise the Government and the established vested interests of the medical cartel and defend the ability of Free thinkers and Renegade medical professionals to talk to the public so that we still get to hear their views.
Only that way can we make smart decisions about our own health and well being… having access to *all* the information and arguments… not just the arguments *The State* wants you to believe.
That is how a free country with free people functions… taking personal responsibility for your own lives.
The opposite is a Police State… and tyranny… the sort of people who prefer that are the scared sheep who dont want to carry the responsibility of thinking for themselves and instead *want to be told what they must do*… by an all powerful Nanny State.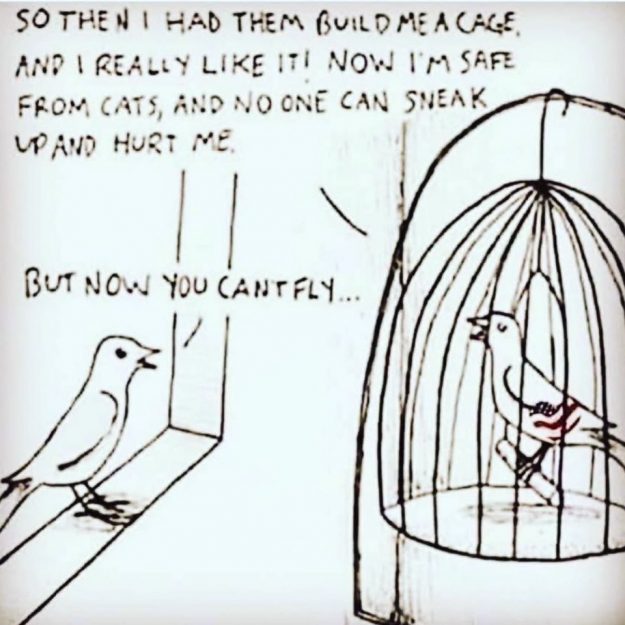 These are also the 'Collaborators' with the all powerful State who *hate seeing other people not living in fear like they are… and choosing instead of submission to exercise their legitimate rights… and in this situation it would have been businesses that would have stayed open, etc.
And the thing is that when you have a free society that keeps the government in check and keeps people responsible for their own health and well being, *those who want to practice extreme isolation* may do so… they simply cant force everyone else to do the same… yet they can still *persuade* others… and that is how a free society works… by reason… by persuasion… not but draconian laws…. not by compulsion…. not by silencing voices of dissent.
Ardern has not saved us… she has dealt us a horrific blow and has Fooled the gullible into worshiping her heavy hand.
She must go!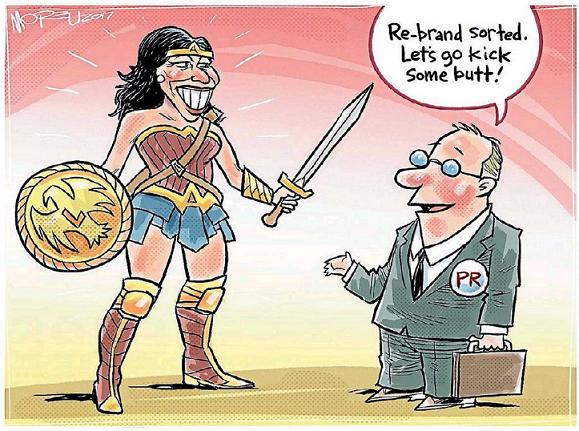 Ardern did not create this dysfunctional situation of Coercion, tt was purpose built for her from successions of Power Mad Demagogues (like Helen Clark) which the gullible sheeple have installed over themselves.
Ardern inherited it and is now exploiting it to the maximum for her own political ambitions.
Like all other Western nations New Zealanders have long forgotten what the bounds and legitimate duties of government are.
What is the most tragic is that in reality what Ardern did was not novel in kind … not revolutionary … but simply more of the usual Mutton fisted socialism ….in Spades.. and a huge portion of New Zealanders worship her for it!
That is the real tragedy!
The sheepish, spineless, slavish mentality of such a large portion of the population.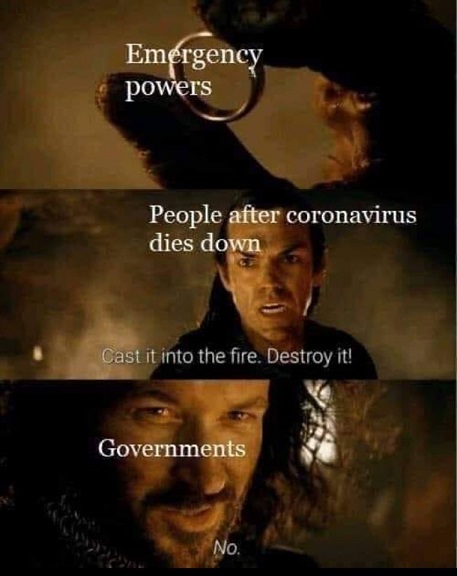 The question now is are we going to allow the Delusions of Arderns 'Statesmanship' go unchallenged or are we going to work tirelessly for the truth and for the restoration of our rights and liberties?
Will we work to get safeguards against Hate speech legislation?
Will we work to get safeguards against compulsory testing and vaccinations, against the all seeing eye of Tracking via Peter Thiel Spy technology?
Will we work to ensure no Prime minister or parliament has the authority to enact a Police State or ever contemplate deploying the army against the free citizens of New Zealand?
This can be done by the will of the people enacting a New Iron clad constitution that will for the first time since New Zealand became an independent nation instill *The True Rule of Law above the social arbitrary power of Parliament* .
This is something I have spent the last 20 plus years fighting for, and as recent events have shown, The need is even more urgent now than it was when I started my Libertarian Political activism.
The System is broke Yo!
We need to fix it!
It simply should not be constitutionally Lawful for Power mad socialists like Ardern to Usurp such tyrannical powers!
The Legislative powers of Parliament must be kept subordinate to a 'Higher Law'… A Supreme Bill of Rights that protects our Rights and liberties as individuals… inviolate!
In short we need to establish the true Rule of Law… principles of Justice…. over and above Social arbitrary law and the Whims of a Parliament of Fools.
Watch (Below) American hero Ammon Bundy serve a Cop for a violation of his oath to uphold the constitution after He Arrested a mother at a Park who was deemed to be in violation of Covid 19 lockdown.
This Video shows what a Freedom loving community does when faced with Police enforcing unjust unconstitutional laws!
The People have legal redress and this cop will have to explain himself in court.
He should have refused to enforce such an obviously Tyrannical law that was in complete violation of the constitutional rights and liberties of US Citizens.
In Fact this Policeman committed a crime against the Mother!
He will have to explain himself in court.
The Price of Liberty is eternal vigilance and unfortunately Americans have on a whole neglected to defend their constitutional rights from erosion, none the less Brave citizens like the Bundys have been fighting back!
Their fight has reached epic proportions to the degree of even being wrongfully imprisoned by the Government for their defense of their Property and constitutional rights.
Eventually Justice prevailed against extreme Government corruption and they were acquitted.
Not before one of their friends and fellow American Patriots had been assassinated by a government hit squad… the late Great Lavoy Finicum.
Let Us hope that victory in the fight to secure our rights as New Zealand citizens from Government abuses does not demand of us such monumental resolve, for who among us has such high character as the Bundys?
Few If any.
Still their story serves as a modern day example of how Ugly the struggle for Freedom against Modern democratic States can get.
Freedom is for the brave… everyone else is a slave.
And if you think we have it tough just think about the poor souls in China or Hong Kong!
That is how bad things can get when Full blown Tyranny takes hold.
The sooner Tyranny is confronted and defeated, the easier the victory.
This is not just about our own Freedom but about Future generations of Kiwis.
So my friends let us peacefully rally together and make a big noise against the Myth of Jacinda Ardern as Wonder woman!
And the System that has given her licence to to treat us like her surfs.
Let us expose her for the communist Fraud that she is.
Let us also expose the character of those who worship her …their slave mentality.
Let us not surrender our rights without Protest!
And most of All let us defend free speech!
Tim Wikiriwhi.
Libertarian Independent.
Visit Tim's Facebook page 'Cult of Ardern'.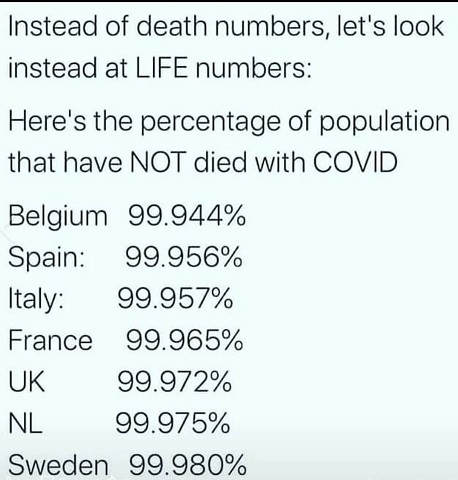 Postscript.
The Covid-19 hysteria and tyranny is a perfect example of why Free speech is so vital and also why Liberty in medical matter is also essential now that we are hearing calls for the state to pass legislation for compulsory vaccinations.
Just last year… well before Covid-19 was world news, I contributed to a book on the war on Free speech in New Zealand called 'Free Speech Under Attack' (Tross Publishing), in which I made commentary on how Free speech is vital on the subject of vaccinations as is our right to refuse vaccinations for our selves and our children if we deem the persevered advantages are outweighed by the risk… this portion follows below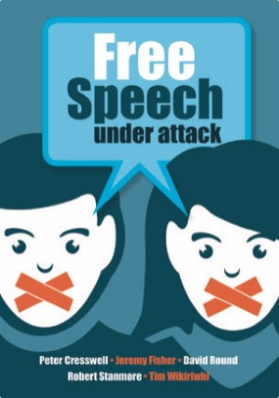 "The Anti-vax movement is another minority group whom have been singled out for censorship because they vocally resist the Socialist ambitions for compulsory vaccinations.
The biggest problem with regards to Vaccinations in New Zealand is that because we have a state health system, they don't take kindly to criticism of how they function, and are always covering up their medical misadventures.
As the saying goes you cant fool all of the people… all of the time, and so many people *rightly don't trust* politicians or the health system they run.
Personally I am not Anti-vaxx… but I am absolutely opposed to *Compulsory vaccinations* because I know there are definitely serious risks involved.
And here is where the issue becomes a matter of free speech and access *to the whole truth*… not just the governments side of the story.
It is a Parents Right to decide if they will risk vaccinating their kids and yet to exercise this parental responsibility they must be told the whole truth…. they must have all the facts and opinions so that they can make informed and prudent decisions.
Yet People like Ardern who want compulsory Vaccinations seek to downplay the risk and silence those who are morally inclined to raise the alarm and highlight the risks.
The concerns of these pesky 'anti-Vaxxers' that lobby against compulsory Vaccinations are dismissed as being fallacious, and they are castigated as being 'anti-science' … the equivalent of 'Flat Earthers'.
Parents need to know that there *is a risk* of serious reactions to vaccinations… not lied to about this… and esp not having their parental rights taken away by the state making it compulsory.
One of my wife's cousins had a catastrophic reaction to the Rubella shot and was crippled… and died young .
It has been proven that these adverse reactions can be a hereditary disposition thus Families are going to be far more aware of such propensities within their own kin than politicians who dont give a crap about such things and only care about their own tyrannical dictates… that they think are for the public good.
And most importantly via the right to free speech it is the right of those who believe vaccinations are dangerous to publicly make their case… and it is evil for the government to censor them."
Tim Wikiriwhi 'Free Speech Under Attack' pg 188-189
More from Tim….
CRAFTY ANDREW LITTLE AWAITS 'RIGHT MOMENT' TO SNATCH AWAY FREE SPEECH IN NEW ZEALAND. LETS BE READY TO DEFEND OUR NATION FROM THESE DESTROYERS!
FACEBOOK'S 'COMMUNITY STANDARDS' ARE A DESPICABLE FRAUD TO COVER THEIR POLITICAL SUPPRESSION OF CRITICISM OF THE LEFTIST GLOBALIST AGENDA
MY COVID-19 FACEBOOK PAGE. TYRANNY AND THE POST-FREE SPEECH ERA.
FACEBOOK IS WAGING A WAR ON INFORMATION.
FACEBOOKS COLLABORATION WITH LIBERAL TYRANNY. SHUTTING DOWN DISSENT AGAINST NEW ZEALAND PM'S NEW GUN BANS
FACEBOOK AI DOES NOT FOLLOW THEIR OWN COMMUNITY STANDARDS… BUT THEN WHO EXPECTS INTELLIGENCE FROM A STUPID ROBOT?
ITS TIME FOR THE FREEDOM MOVEMENT TO LIBERATE THEMSELVES FROM FACEBOOK… GET THE PARTY STARTED OVER ON ME WE!
TIM WIKIRIWHI'S SUBMISSION TO THE NEW ZEALAND GOVERNMENT'S CONSTITUTIONAL REVIEW. 2013
LOST PLOT. WORLD PRESS FREEDOM DAY.
WHEN VACCINATIONS GO BAD: WHEN TRUSTING AUTHORITY COSTS YOU EVERYTHING… THE TRAGIC CASE OF THE LAULU CHILDREN.
HIGH NOON AT THE BUNDY RANCH. "A TIANANMEN SQUARE MOMENT".
AMMON BUNDY SPEAKS FROM JAIL. APPEALS TO GOD, THE CONSTITUTION, AND THE AMERICAN DECLARATION OF INDEPENDENCE. "WHERE CHRIST IS… THERE IS LIBERTY".
More references
Ammon Bundy, 6 others acquitted in Oregon standoff trial.
Nevada judge stands by her dismissal of Cliven Bundy standoff case