UPDATE: 27-3-20 I HAVE TODAY BEEN BLOCKED BY FACEBOOK UNDER FALSE PRETENSES!
I cannot write any new posts… and have not been given any Time-frame for how long my Exile will last… and this serves to validate this blogpost I wrote 2 weeks ago and many others I have written over the years… and my chapter 'Free Speech and the fate of Socrates' in the book 'Free speech under Attack' published by Tross publishing.
Order your Copy!
And Stand up for free speech!
People can find me and chat on MeWe > here
My facebook page is still there.
My Covid-19 New Zealand page that my fellow Admin will keep updating Here.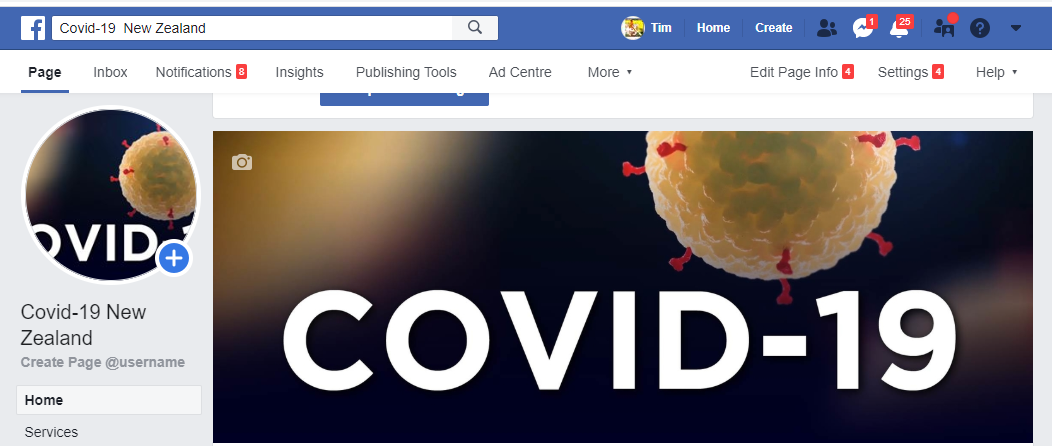 Despite the magnitude of what is going on the Great herd is becoming tired of having their News feeds filled with Corona virus stuff.
This page is a place to share discuss what is happening with others who want to talk about it.
It is Highly Probable that Facebook will have algorithms to suppress pages such as this one as they want to control the spread of information, So I do hope you check in regularly even if you dont get notifications, and please share articles and posts you think have important information for your friends and families, and also invite others to join.
We live in a Post-free speech era now thanks to the likes of Ardern, Little, and the Woke Globalist cabal in charge of Social media and so we must learn how to 'beat them at their own game… learn how to keep our pages alive and vibrant…
This will take a conscious effort.
At some point they will accuse these sorts of * renegade pages* as being spreaders of 'Fake News'… or 'Hateful' so that they can shut them down.
It may happen without notice.
People like me could suddenly 'disappear' off facebook completely… and worse… We could receive visits from the Thought Police… esp during times like this when 'The powers that be' decide that the Crisis justifies *very heavy handed suppression* of criticism of their policies and alternative views.
Look at this (video below) … A perfect example of Socialists trying to suppress the truth!
Look at the dates…
We now know the so-called 'False information' was in fact *TRUE* and that it was *The Government* that was lying… spreading *Fake News* from nefarious Political aims.
It is a fact that many who contract Covid-19 get Pneumonia … and that it is this pneumonia that is Fatal….
This is what happens when governments have the legal authority to impose their own narratives upon the Public.
Important note: It is not my intent to cause undue 'panic' or to pointlessly 'buck the system', for its own sake… I simply want to create a page where *all the information* is available for people to make up their own minds about what is going on.
In fact I encourage my fellow citizens to voluntarily comply with logical measures and desires of the Government when we can see good reason that such collective action will tend to the best outcome… up to a point.
I don't intend to 'Vet' stories and only publish things I agree with… that's not the point of this page… If you think a story going about *is bullshit* then you have the opportunity to say so and make your argument in the comments… and it is in that way that *even the Bullshit stories* serve a good purpose by presenting opportunities for people to rebut them.
Thereby demonstrating how Free speech is superior to censorship in how to combat bad Ideas and falsehoods.
Facebook has already *limited* the number of posts I can share here in a day 'under the pretense of fighting spam'… which is a farce …. how can I 'spam' my own page?
Again this is part of a 'control' .
So I will be relying on others to make contributions to insure this page is fully stocked and up to date.
Please post jokes too!
There is no need for this page to be sombre.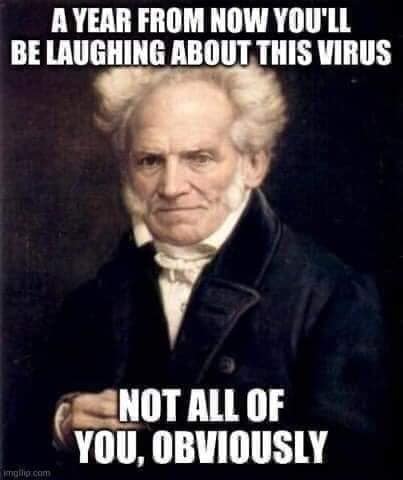 Let me ask you this…. Are you watching the internet or is the internet watching you?
Are you choosing what internet information you believe or is the Internet choosing and controlling what you believe?
The People of the globe need to wake up to just how diabolical the Usurpation of control of the internet really is and that it is fast becoming a tool for tyranny (only their Propaganda is streamed).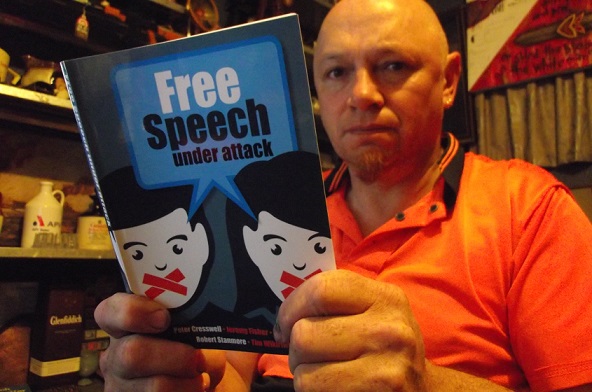 The people need to rise up and insure they have legal protections against such Political manipulations!
We need laws that *prohibit* the censorship and prohibitions that people like Arden and Little are busy imposing on our Nation.
Currently We are rushing backwards into Tyranny and the Thought Police.
We must organise and protest… and vote for Politicians and parties that will scrap the evil restrictions on Free speech that are so dangerous to our society.
We must have Legal protections that forbid politicians imposing controls and censorship… threats of shutting down the internet… during times of crisis… and that if they do so… they will face harsh real punishments as crimes against the people.
Thank you for joining my page and may you all *practice* wisdom in your conduct to keep yourselves and your loved ones safe during this crisis.
May the Lord be with you.
Tim Wikiriwhi.
Christian Libertarian.
Update: 18-3-20 I CALLED IT! We do live in the Post-free speech Era, and facebook has already started trying to shut my Covid-19 posts down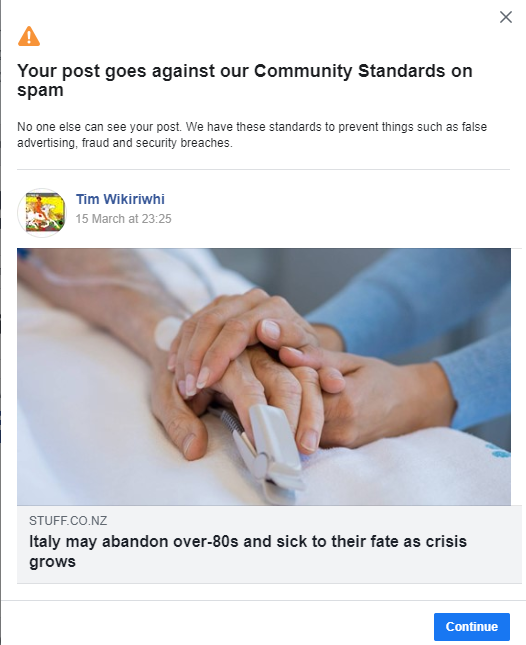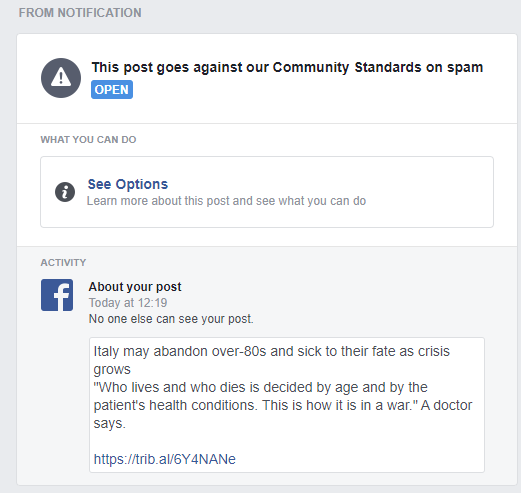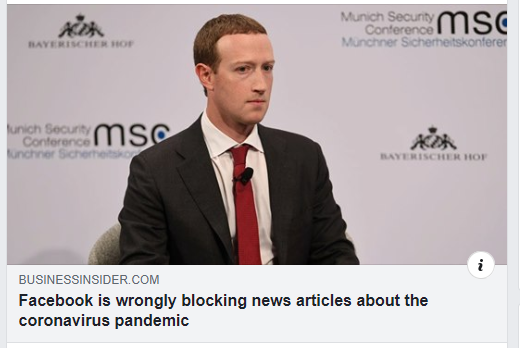 Update 19-3-20 "Youtube has been 'inscribing people' without notification"….
Update 21-3-20 Cases in NZ jump to 53 from 11 in just a few days.
Italy is reeling…. over 600 deaths in 24 hours.
More from Tim… COVID-19 IS LIKE THE SPANISH FLU THAT KILLED MILLIONS. TAKE THIS DEADLY PANDEMIC SERIOUSLY MY FRIENDS.