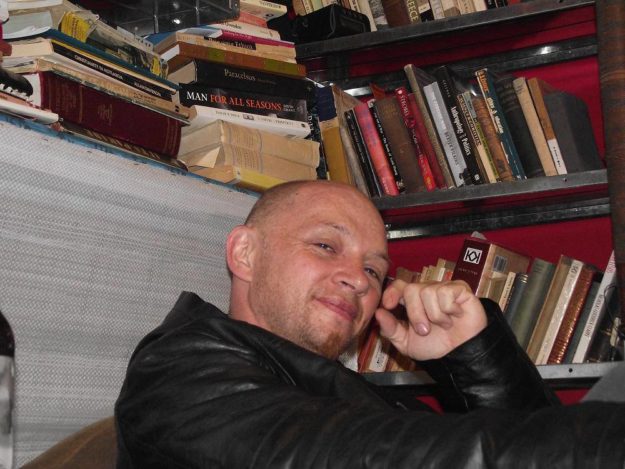 31-1-21.
Believe it or not this is one of the toughest decisions I have had to make in a long time.
Over the past decade Facebook has become such a big part of my life and freedom activism.
It is to a large degree the only communication I have with many Family and friends.
When I leave…. I will effectively loose touch with people I hold dear and groups I have enjoyed being a member.
This pains me to the degree that I despair doing this… yet I must go.
Why am I leaving?
Because Facebook is evil… Massively evil!.. a major player in the mind-control business for the grand Globalist agenda and the enslavement of the entire human race.
Facebook is Satanic… day by day feeding toxic ideas and lies directly into the minds of the masses while relentlessly suffocating the most important voices who raise the alarm and expose the absolute political corruption that is afoot.
In protest and disgust, and the only way I can dish out a tiny measure of 'Justice'… is for me to leave… and shake the very dust from my sandals.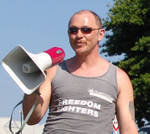 Who cares you say?
Facebook will still be fully operational without my puny voice, yet I am not alone in doing this…. an Exodus of Freedom loving Free thinkers has begun… and I'll be joining that caravan out of here in search of Freedom, and the more of us who leave… the more 'Justice' will be served.
We will look for alternative… more worthy platforms and providers who respect Free speech and deserve our custom.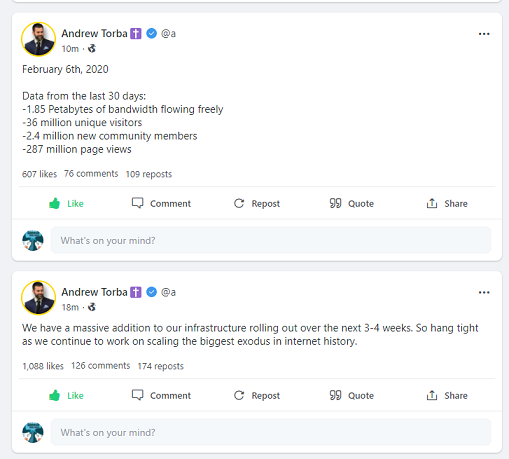 Update pic 6-2-21 GAB CEO talking about how rapidly Gab is growing in the wake of 'The greatest internet exodus' ,,,, YEAH PEOPLE!
Unfortunately the World is now in a crisis… and I'm not talking about Covid 19 or Climate change!
We are slipping into an age of Darkness, and Tyranny on an almost unimaginable scale.
Governments will pass more laws to silence Freedom Advocates…. sending around the Thought Police…. This is what is at stake… and I fear we are nearing a point whereby the life we have previously known of personal liberty to disagree with the State is coming to an abrupt end.
Thinkers like myself are… more and more… being labeled 'Dangerous'… and the sheeple have no clue to the fact they are being socially conditioned to accept the Globalist Police State rounding up 'Enemies of the State' like Nazi Germany, The Soviet Union, China, North Korea, Venezuela, etc etc.
Socialism coming to a town near you!
The Sheeple gullibly accept each and every incremental loss of freedom… every new compulsion… as if they are all necessary political expedients from Benevolent Dictators.
I believe we are watching the rise of the Global Antichrist.
The New World Order under which only the Politically Correct view of everything is permissible.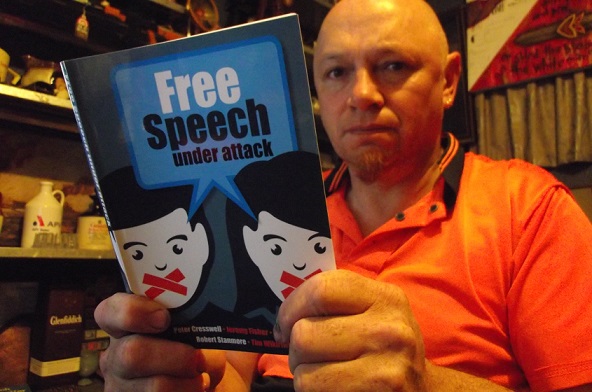 Mock me if you like… They mocked Noah too when he warned of the coming flood.
There is a definite deceiving spirit at work among Western civilisation.
Great lies believed by the 'billons of dumfounded dipshits'.. to quote a Tool song.
Evil Lizards like Mark Zuckerburg and his infernal Engine are at the forefront of this global deception.
It didn't have to be this way… Facebook could have been a tool for great good… yet like so many great things in the hands of the Wicked… Social Power corrupts.
We are witnessing the collapse of Democracy.
It simply cannot function when Evil political powers control the narrative and completely blot out the voices of opposition.
Sadly most of you will carry on as if there is nothing to be concerned about.. Eating, Drinking, getting married… not bothering to look up and see the Thunderclouds gathering overhead.
You'd better learn to swim.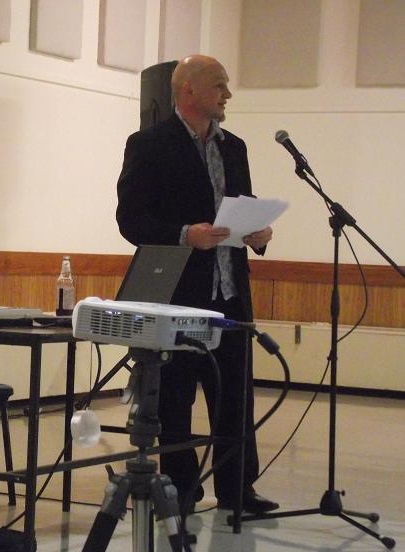 If only I could wake you people up!
I wish you all would join the Freedom Caravan too… yet I know most of you won't.
Leaving Facebook is like trying to quit smoking Crack!
Believe me when I say that I fully understand how difficult it is to even contemplate leaving… it really is one of the great tests of moral fiber in our time… as it involves great personal loss for the sake of doing the right thing…. it is a matter of values and integrity.
Believe me when I say that I am doing this because I Love you all… and I love Freedom… and so I must put my money where my mouth is… and act.
Only by example can I communicate to you all the seriousness of what is at stake, and what we all ought to be doing.
Zuckerburg needs to be kicked in the nut sack and knocked off his perch!
I will no longer prop him up.
Remain here at your peril.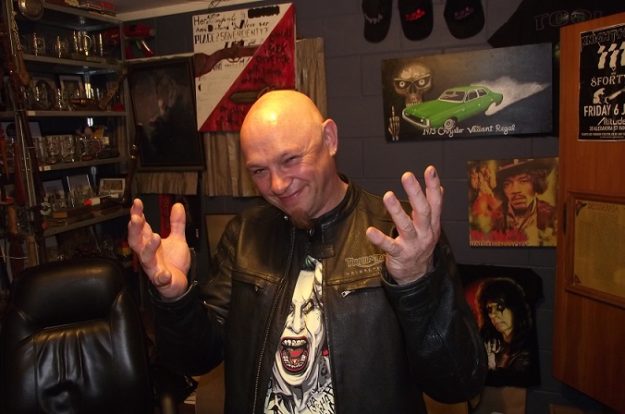 A person can make all sorts of excuses and reasons to compromise their principles… to avoid making a painful decision… to excuse their ongoing voluntary collusion with some evil.
Many will say that Freedom lovers are 'quitting' and that they ought instead to stay here and fight it out' yet that is what we have been doing for the past decade and it has not prevented the Rot setting in… it is a failed strategy because the Evil powers running this freak show have *guaranteed* the overwhelming political slant that the Sheeple are fed.
On top of outright deplatforming individuals and groups, via various means of AI facebook has long ceased to be an open forum where Freedom activism can be successfully carried on.
Any bold voices still here are targeted for suppression so that their posts simply reach nobody…. so you are effectively speaking to the void.
So in this sense by leaving, the Freedom Advocate is not hurting their effectiveness to any significant degree… in fact by staying there… you are choosing to muzzle yourself because you could be elsewhere on another platform growing a larger audience and reaching more people!
Don't kid yourselves that you are staying here for the sake of Freedom… you are choosing the low path… making the easy choice… because you are not prepared to count the cost.
The only real recourse we who love Freedom have is to leave… with our dignity… refusing to surrender our values and beliefs… and finding somewhere else to commune together.
I regret that our departure will accelerate the pace and intensity of Facebook's relentless indoctrination and Agenda Programming.
Voices like mine won't be here to buzz around your face… many will be glad to see us go.
Conversely there is a buzz starting on other platforms like Mewe and Rumble that will only get better the more freedom advocates get wise and make the leap of faith!
There is life after Facebook!
Me thinks it will turn out to be a much better life.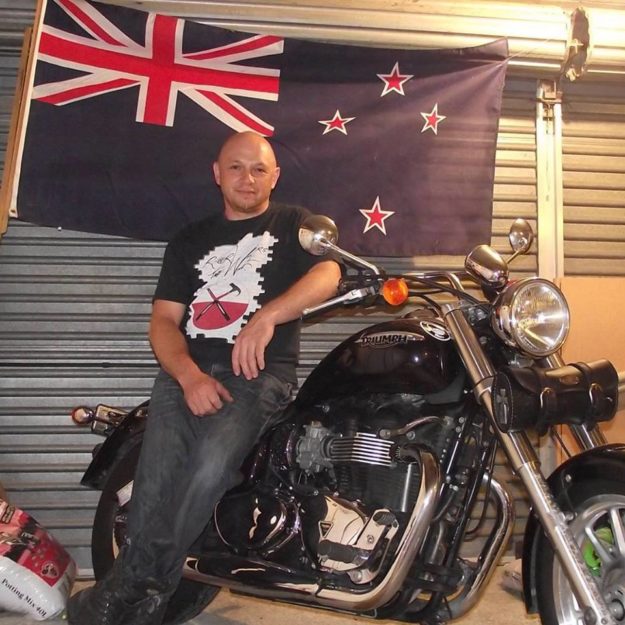 I fear for your Kids using these Brain washing machines run by the Woke Billionaire Globalists … just as I fear them going to Universities cram packed with PC Lunatic Leftist Nut jobs for Teachers and exemplars.
These machines churn out little twisted minions… Mindless Mad and unprincipled Social Justice Warriors… Zombies.
There is an ideological war raging… yet so many people just like to swim in the shallow end of the pool…. thinking is a drag… holding difficult opinions is tiresome… they prefer to turn their heads.
Ignorance is Bliss.
Satan laughing spreads his wings.
I will leave my page active for a week, and continue to post this 'Farewell' notice… and receive messages… I am not sure how many people actually get it as my posts and blogs are being suffocated by the Facebook/ Google algorithms… and then I shall close my account.
My Cell phone number is 0276630331
My email is twikiriwhi@yahoo.co.nz.
I am on Mewe, and Gab, and Parler.
And don't forget to visit my Blog Eternal Vigilance.
Rant over.
Time to sign out.
Good bye my Facebook people…. I will miss you… take care.
Trust in Jesus.
Peace Out.
Tim Wikiriwhi.
Christian Libertarian.
P.S Jim Grey sends his regards.
🙂
Update 9-2-21 (pic below) Yay! The Revolution is happening!
"The ad-free platform aims to compete against traditional social media models that use data collection for targeted ads. MeWe, launched by Mark Weinstein in 2016, also vouches not to censor their users for behavior that might violate the policies of other networks, including Facebook and Twitter.
"People all over the world are leaving Facebook and Twitter in droves because they are fed up with the relentless privacy violations, surveillance capitalism, political bias, targeting and newsfeed manipulation by these companies," MeWe's marketing director, David Westreich, told USA TODAY…"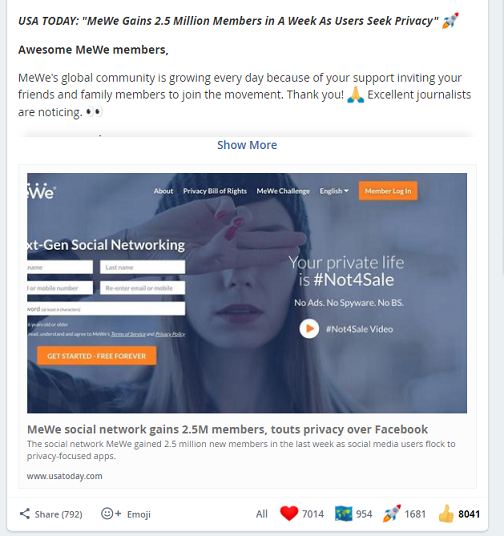 Read more here: Facebook rival MeWe gains 2.5M members in a week as users seek privacy
More from Tim….
Read my latest… FREEDOM IS BEING SNUFFED OUT AS GLOBALISTS TIGHTEN THE SCREWS ON THEIR POLITICAL ENEMIES… ANYONE WHO VOCALLY DISAGREES WITH THEM
PLAN B: PREPARING TO ABANDON FACEBOOK, GOOGLE, AND YOUTUBE. PROPAGANDA MACHINES FOR COMMUNIST NEW WORLD ORDER AND THE GREAT RESET.
THE TRUTH IS IN RETREAT. THE GLOBAL KINGDOM OF THE ANTICHRIST IS AT HAND . IS THE AGE OF GRACE COMING TO A CLOSE?
THE MATRIX : FACEBOOK, AND THE END OF FREE SPEECH AND DEMOCRACY IN NEW ZEALAND.
CRAFTY ANDREW LITTLE AWAITS 'RIGHT MOMENT' TO SNATCH AWAY FREE SPEECH IN NEW ZEALAND. LETS BE READY TO DEFEND OUR NATION FROM THESE DESTROYERS!
JACINDA ARDERN IS MORE DANGEROUS THAN COVID-19: CENSORSHIP AND CONTROL OF THE PRESS.
KNOCK! KNOCK! IT'S THE NEW ZEALAND POLICE AND WE WOULD LIKE TO HAVE A FRIENDLY CHAT WITH YOU ABOUT YOUR OPINIONS SHARED ON SOCIAL MEDIA: VJM PUBLISHING 19-7-19
WELCOME TO THE MACHINE! I GUESS IT WONT BE LONG BEFORE I AM PUT IN JAIL FOR BREAKING NEW ZEALAND 'HATE SPEECH' LEGISLATION.
FACEBOOK'S 'COMMUNITY STANDARDS' ARE A DESPICABLE FRAUD TO COVER THEIR POLITICAL SUPPRESSION OF CRITICISM OF THE LEFTIST GLOBALIST AGENDA
FACEBOOK IS WAGING A WAR ON INFORMATION.
MY COVID-19 FACEBOOK PAGE. TYRANNY AND THE POST-FREE SPEECH ERA.
FACEBOOKS COLLABORATION WITH LIBERAL TYRANNY. SHUTTING DOWN DISSENT AGAINST NEW ZEALAND PM'S NEW GUN BANS
FACEBOOK AI DOES NOT FOLLOW THEIR OWN COMMUNITY STANDARDS… BUT THEN WHO EXPECTS INTELLIGENCE FROM A STUPID ROBOT?
ITS TIME FOR THE FREEDOM MOVEMENT TO LIBERATE THEMSELVES FROM FACEBOOK… GET THE PARTY STARTED OVER ON MEWE!
FCAKEBOOK TRANSGENDER PREJUDICE NOT FUNNY.
IMO GREEN MP GOLRIZ GHAHRAMAN IS A MENACE TO FREEDOM. DAVID SEYMOUR SHOULD NEVER APOLOGISE FOR CALLING HER OUT.
WORLD WAR 3 ON THE WORLD WIDE WEB. THE CRUSHING OF FREE SPEECH IN NEW ZEALAND.
NIGHT OF THE LONG KNIVES: SJWS RUNNING THE INTERNET ARE SILENCING CRITICS AND SYSTEMATICALLY UNDERMINING FREE AND FAIR ELECTIONS ON A GLOBAL SCALE