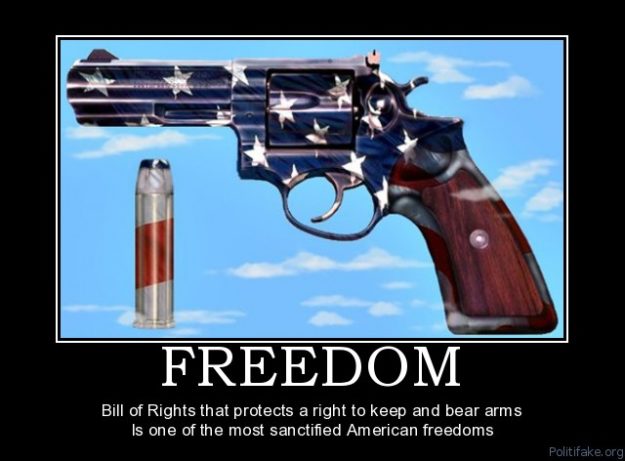 Among the many rabid and hysterical assaults on Individual rights and freedom by hellbent Socialists is the desire to disarm Western populations. At the same time these Socialist's are selling out their Nations to The New World Order and the Great Reset. You cant impose your Communist Tyranny upon a well armed population jealous to defend their own rights and freedom.
The Great Covid 19 Scamdemic has propelled the whole world towards this diabolical Socialist scheme with such velocity as to beggar belief!
The End Game is now in play and the Sun is setting on Western Freedom.
We face the dawning of The 'New Normal'… and the hordes of Leftist minions have reached a fanatical zeal to insure their Totalitarian Religion gains Dominion over the entire earth.
Satan Laughing spreads his wings.
This Blog post was inspired by a video recently shared to me by a friend who knows I am active in defending Gun Rights and Free Speech.
Watch this Video… (below) and realise that Printed Guns are a real thing and that there is no way Government prohibitions can keep our society safe from gun crime.
Criminals can get Guns anytime they want.
Will you face the Truth and realise the *only rational counter-measure* is for Citizens to 'Man up' and 'Tool up' and to once again extoll the virtues of being a Free and Armed Citizenry… then watch violent crime plummet!
Criminals do not like it when their intended victims can shoot back!
So Printed Firearms are a thing now and there are activists out there putting this information and know how on the internet for everyone to access.
Here We see one reason why The Powers that be think of Libertarian minded people as being 'Dangerous' because Governments are opposed to both the right to Bear Arms and to Free Speech whereas Libertarians believe they are essential inalienable rights.
The Sheeple of the West have been conditioned to think that Guns are evil.
For those of you who are terrified at the prospect of living among an armed population, and so believe Gun Control makes society safer let me ask this one question…. what sort of people obey Gun prohibitions? Who handed in their AR15s last years under Ardern's Confiscation? The answer is the only people who comply are the *fearful and law abiding*…. those who believe all laws must be obeyed… and those who fear the consequences of being caught in non-compliance.
*Criminals, and extremists, and Terrorist's will not comply!* and so your prohibitions and Gun 'Buy back schemes' do *Zero* to remove firearms from the dangerous criminal elements… and this has again been proved by rising gun crimes in New Zealand since the prohibition of Semi-automatics last year.
Criminals laugh at such laws and prosper in 'Gun free zones'.
Read:
ARDERN'S NEW GUN PROHIBITIONS FAIL TO REMOVE GUNS FROM THE HANDS OF CRIMINALS… WONT MAKE NEW ZEALAND SAFER…AND ONLY TARGETS THE LAW ABIDING.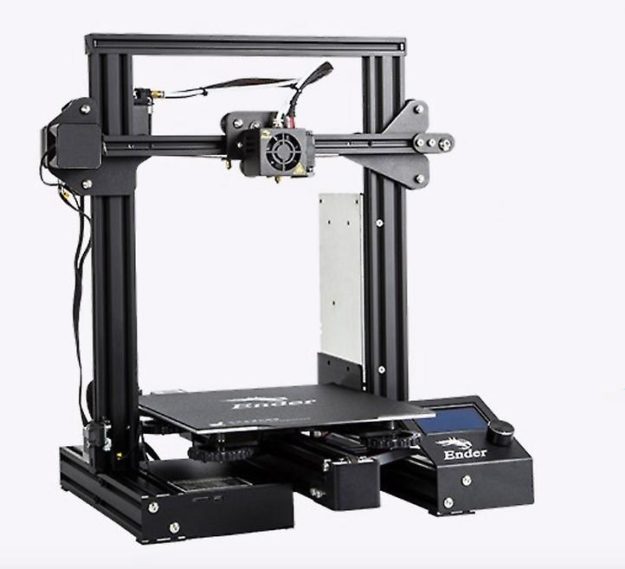 There is however another group of people who won't surrender their firearms under new prohibitions, and these people are those who *refuse to be rendered defenseless against Criminals and other threats to their lives and liberty… such as Tyrannical governments.
These people are not 'Criminals' in the sense that they have desires to commit evils upon others… they are in fact Conscientious Objectors… Peaceful protesters… practicing legitimate 'civil disobedience' to laws they believe are evil and unjust.
These are the the estimated 80% of Firearms owners who *did not comply* with Ardern's new Semi-Automatic Gun confiscation program last year, but chose to retain their property at the risk of prosecution.
These people know that firearm ownership is *a right not a privilege* … a corollary of their rights to life, liberty, and property… as firearms are *the means by which they can most effectively *defend their own life, liberty, and property* from the threats posed to them either by Criminals or Tyrannical Government.
Read:
Results are in, gun buy-back scheme a failureFriday, 20 December 2019, 12:32 pmPress Release: New Zealand National Party
And.
REPORT FROM NEW ZEALAND…. GUN BUY BACK SCHEME AND AMNESTY PERIOD FINISHED. OVER 100 000 GUNS NOT SURRENDERED. RAIDS EXPECTED.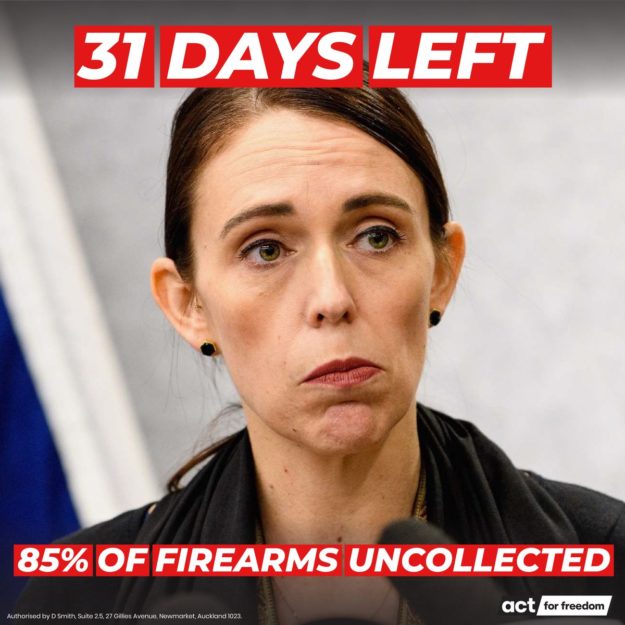 Despite what those in government and the media want you to believe the truths I am expounding here are not 'Radical' or 'extreme' but are the well understood truths and principles that have undergirded Free society in the West that were all mainstream and *Sacred* until mid 20th century as Totalitarian Socialist Ideologies started to gain a footing in Education and government… undermining the foundations of Individual Rights Self reliance, and Freedom.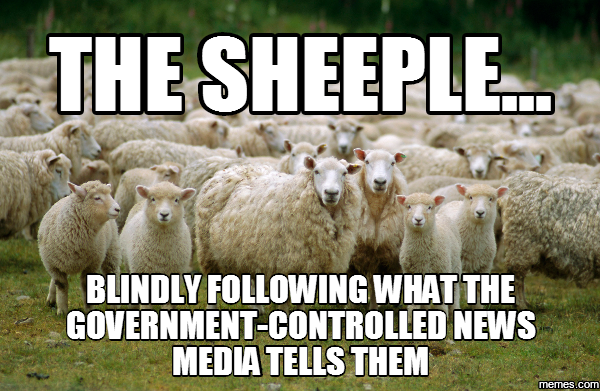 Freedom is founded upon the empowerment of Individuals over their own lives and entails a mistrust of state power, whereas Socialism is founded upon Individual subjection and dependence upon an All powerful State… and the Truths I am expounding to you here and now are the sorts of facts Socialist governments do not want to take hold again among the people they hold in subjugation. These are the sorts of discussions Socialist Governments want to shut down, censor, make illegal… send the goon squad around to arrest those who dare try and spread these ideas.
And to do this the Government decrees people who hpld such ideas… Libertarians… are 'dangerous radicals'… 'Far Right'… etc… all the types of Labels that paralyses the hapless Sheeple… the useful Idiots.. with fear, so that they applaud the Police when they swoop in and drag away such thinkers and activists in chains.
This is why Free Speech is under attack all across western nations… the seek to make any political activism and speech that is critical of their tyranny as 'Dangerous'. They don't want the sheeple thinking and weighing up such matters for themselves… The State will do your thinking for you!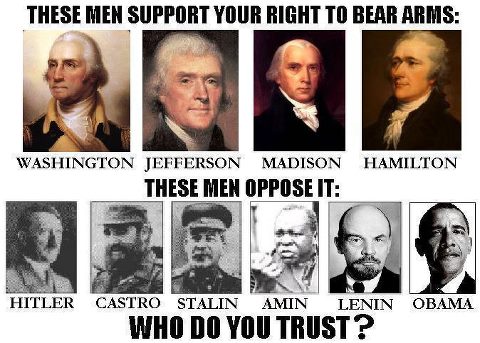 Read: "LIBERTY. ARTICLE 350"…. VENEZUELAN POLICE PILOT SHOWS THE WORLD WHAT A CONSTITUTION IS ALL ABOUT!
Now if you are alarmed what I am saying you need to go splash some cold water on your face and *Wake the Flock up!*
The truth is that if you find the facts I am discussing and actually desire them not to be discussed in the public square it is because you have been fed a brain worm that has turned you into a timid and fearful little slave of Big Government whom you worship and look to for security…. and that security is a complete illusion!
Get this… The Hundreds of millions of dollars spent on the prohibition of Semi-Automatics has not made our country Safer from the sort of Terrorist attacks that happened in Christchurch… that is a pure delusion!
We all are just as vulnerable… just as exposed… as we were the day before Tarrant struck. Almost everything the Police and government did since then has been completely futile. all they have managed to do is to turn our nation into a Police State and terrorize innocent people. Things could very quickly get worse…
Read: SECOND AMENDMENT LESSONS AND VENEZUELA'S COLLAPSE UNDER SOCIALIST TYRANNY.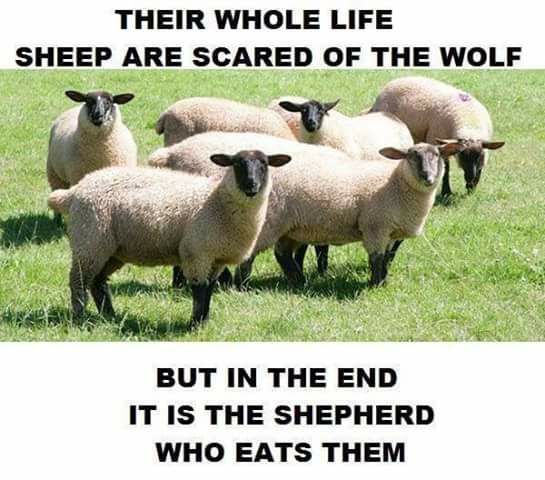 The 80% of the New Zealand Firearms community who chose to hide their semi-automatics at the back of the farm… good people who refused to comply with Laws they believe are unjust and dangerous *are the good guys*… and they are awaiting in hope a time when New Zealander wake up and elect a parliament that will restore their legal rights to own these firearms… yet will New Zealanders ever awaken from the Ardern worshipping stupor?
The National party are no longer a credible opposition… they have not been so for a long time now.
The only party in parliament today that to any degree seeks to roll back the Socialist power grabs are the Act Party.
Read: NEW ZEALAND GUN COMMUNITY ROAST NATIONAL PARTY MPS FOR SELLING THEM OUT ON ARDERN'S NEW GUN CONFISCATIONS.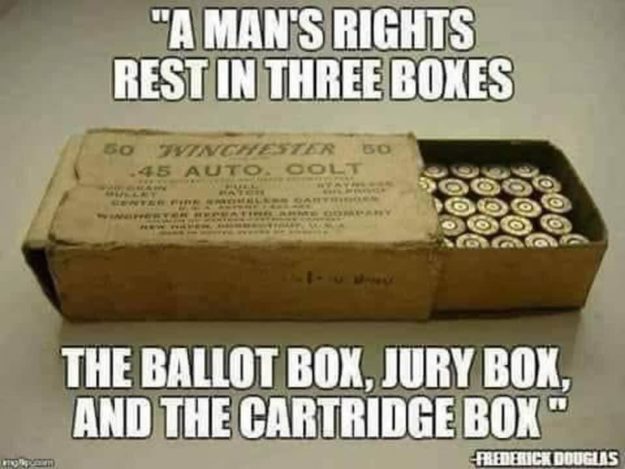 The New Conservative party is another party that seeks to repeal Arderns new Gun prohibitions, yet they are going through a period of self immolation since having a poor result at the last election… it appears few people are willing to consider the New Zealand election results were Hacked by some foreign power for the sake of keeping their NWO Socialist Puppet Jacinda Ardern in Power… in fact augmenting her power by giving her a majority.
This probability has been given more credence by the fact that the US elections were also hacked and defrauded by the the very same party who share the same beliefs and have the same extremist leftwing agenda as Jacinda ardern.
There were obvious Statistical anomalies about our elections and yet nobody in the media… nobody with any Public standing is willing to voice this and demand a transparent public inquiry.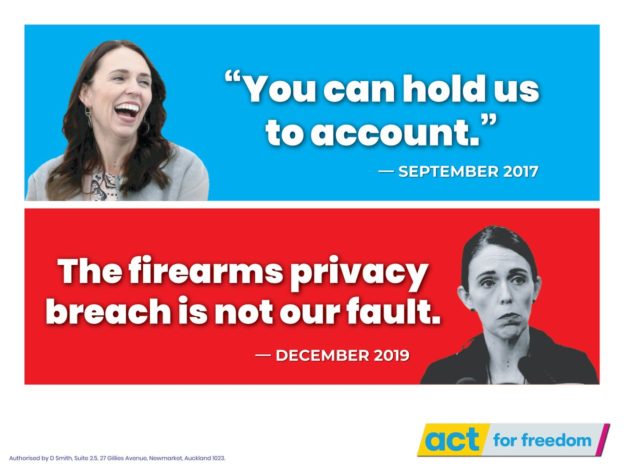 Finally on the matter of printed firearms, and the expressed ambitions of this group 'Deterrence Dispensed' is to highlight the fact that Arms prohibitions cannot work.
*Anyone* can print themselves a gun today, and the truth is Gun prohibitions *have never worked*… so it is a complete delusion for a sheeple to believe 'Big Brother Government Keeps them safe'… Big Brother is not your defender… they are your Jailers!
You do not live in a free society… you live in a Socialist pen.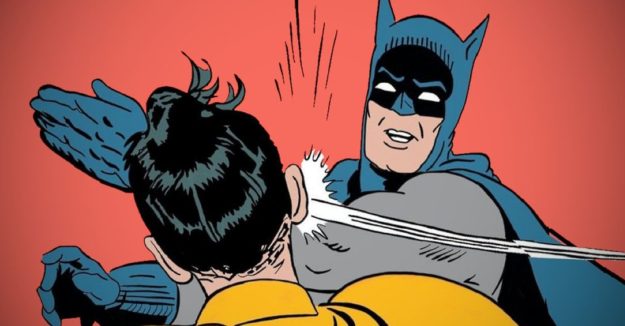 Snap out of it For Goodness sake!
Splash that cold water on your face again and realise the powerful delusions you have been sold that have conned you into surrendering your freedoms to Oppressive jackbooted government dictatorship!
Gun Control cannot keep us safe… We need to restore our right to bear arms in self defense… putting the power *back in your own hands* to protect yourself… not only from dangerous criminals who might invade you home, but also from Tyrannical government that seeks to dis-empower you and control you and force you to comply to their own aims… like slaves.
Read: TRIBUTE: HERO CHRISTIAN BIKER WITH AR 15 SHOOTS IT OUT WITH TACTICALLY PREPARED CHURCH PSYCHO-KILLER .
And.
TIME TO CHOOSE…. STORM CLOUDS GATHERING. GOD GIVEN RIGHTS VS TYRANNY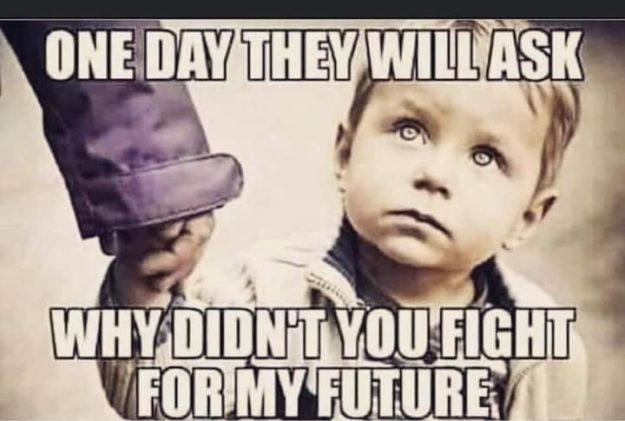 Creeping Creeping Step by step you are losing your rights… losing your freedom… and like morons you swallow their lies that all this growing government power is for your own good.
Instead of Loving Liberty and having a desire to take care of your own affairs… they have you thinking like children and maintaining Blind trust and obedience.
Will you ever wake up?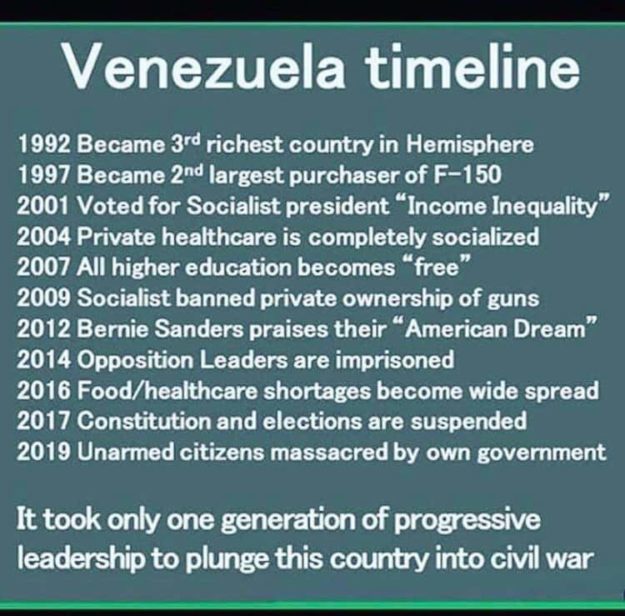 This meme (above)is very informative… the speed with which Tyranny can devastate a Prosperous Nation.
Now We can see how the NWO Globalist Socialist Antichrist system will literally destroy the world in 7 years.
Tim Wikirwihi
Christian Libertarian.
More from Tim….
THE TRUTH IS IN RETREAT. THE GLOBAL KINGDOM OF THE ANTICHRIST IS AT HAND . IS THE AGE OF GRACE COMING TO A CLOSE?
WELCOME TO THE MACHINE! I GUESS IT WONT BE LONG BEFORE I AM PUT IN JAIL FOR BREAKING NEW ZEALAND 'HATE SPEECH' LEGISLATION.
FACEBOOK IS WAGING A WAR ON INFORMATION.
GUILTY PLEA BY NEW ZEALANDER WHO SHARED THE BANNED LIVE FACEBOOK FEED OF THE CHRISTCHURCH ATTACK IS A VICTORY FOR TYRANNY AND A DEFEAT FOR LIBERTY
TIM WIKIRIWHI. THE RIGHT TO SELF DEFENSE: MY (UNDELIVERED) ORAL SUBMISSION TO THE NEW ZEALAND COMMITTEE OF THE ARMS (PROHIBITED FIREARMS, MAGAZINES, AND PARTS) AMENDMENT BILL APRIL 2019
MY SUBMISSION ON THE ARMS (PROHIBITED FIREARMS, MAGAZINES, AND PARTS) AMENDMENT BILL
WORLD WAR 3 ON THE WORLD WIDE WEB. THE CRUSHING OF FREE SPEECH IN NEW ZEALAND.
A BLOGPOST TO EXPLAIN WHY I HAVE NOT REDACTED EXCERPTS FROM THE TERRORIST MANIFESTO 'THE GREAT REPLACEMENT' FROM MY OTHER BLOG POSTS WRITTEN BEFORE THE CHIEF CENSOR BANNED IT.
FACEBOOKS COLLABORATION WITH LIBERAL TYRANNY. SHUTTING DOWN DISSENT AGAINST NEW ZEALAND PM'S NEW GUN BANS
THE CHRISTCHURCH TERRORIST ATTACK, PM ARDERN'S DESIRE TO BAN SEMI-AUTOMATIC RIFLES, AND THE DELUSION THAT WILL MAKE NEW ZEALANDERS SAFER.
THE CHRISTCHURCH TERRORIST ATTACK, PM ARDERN'S DESIRE TO BAN SEMI-AUTOMATIC RIFLES, AND THE DELUSION THAT WILL MAKE NEW ZEALANDERS SAFER.
THE HIGH CAPACITY AR 15 BUSHMASTER SEMI AUTOMATIC… THE RIFLE OF CHOICE TO KEEP OUR NATION SAFE. WE NEED THEM!
DO THE MATH…OBAMA IS WAGING A COVERT WAR ON THE AMERICAN PEOPLE.
MY SUBMISSION ON THE INQUIRY INTO THE GOVERNMENT'S RESPONSE TO COVID 19.
JACINDA ARDERN IS MORE DANGEROUS THAN COVID-19: CENSORSHIP AND CONTROL OF THE PRESS.
Update…. NEW ZEALAND'S GUN CONTROL HASN'T REDUCED VIOLENCEWELL, DUH!
WRITTEN BY DAVE WORKMAN