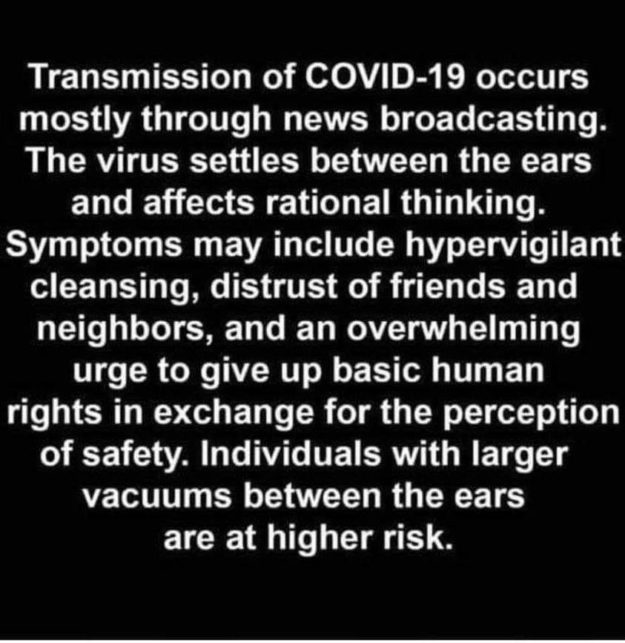 People have reached 'Peak Covid'… and are by and large 'sick to death' of this subject and so many people will roll their eyes when they see this blogpost.
I don't blame them.
I have written this post 'for the record', yet still I believe it contains many important truths that the people of New Zealand have become apathetic about to their own peril.
I would hope this post would be a wake up call… and yet how do you wake up a population wallowing in boredom and indifference?
They cant even be bothered spending 30 minutes reading an article of great importance.
Oh well… let he that still hath an ear to hear… let him hear!
*******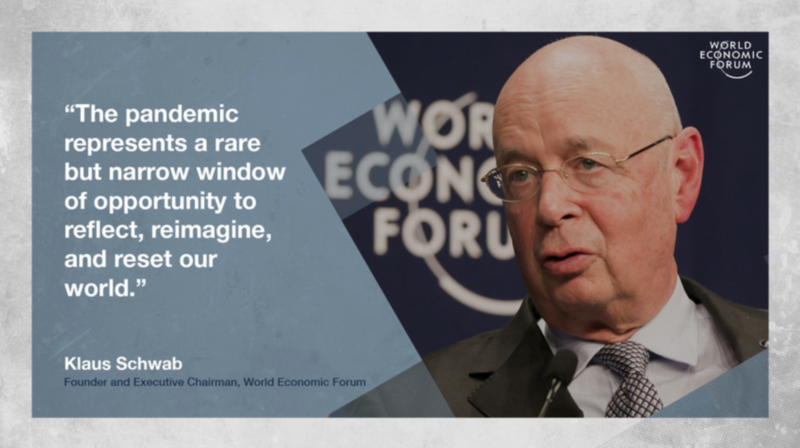 I was one of the earliest people I know who became alarmed at the reports of the outbreak of a deadly virus well before the general panic and lockdowns ensued… early2020, and I began to blog about it way back then, and my concerns were that it was an escaped Germ Warfare / Bio-weapon from the Wuhan Lab.
Read: COVID-19 IS LIKE THE SPANISH FLU THAT KILLED MILLIONS. TAKE THIS DEADLY PANDEMIC SERIOUSLY MY FRIENDS.
What I appreciate now but did not know back then was that I was being influenced by what I can only describe as a well orchestrated propaganda campaign.
I saw 'Tick tock' videos of people dropping dead on the streets of China, footage of the draconian way in which the CCP was attempting to contain the outbreak… welding Chinese citizens into their apartment blocks, etc, and also this is when the false counting of Covid 19 deaths began is such places as Italy.
China in fact was releasing statistics that portrayed the outbreak as less than valid reasons for panic, and yet the general response in the West was that the CCP could not be trusted to tell the truth.
I was the first people I know to develop an extreme anxiety about it's spread and at that time feared it would rampage through New Zealand like a Biblical plague!
Before the general alarm went out I was the first person I know who started preparing for the worst and bought up on Food supplies, and other essentials, and when I went to buy PPE like face masks I discovered that bus loads of Chinese people had already been and bought out all the stock in the city!
I ended up purchasing 3 high grade masks at considerable expense just before the government slapped a prohibition on the plebs being able to buy such items for their own protection.
Supplies were so low that the Government wanted to get their hands on all such PPE for their own front line workers.
And then the Lockdowns began… and the destruction of the Economies of the West… and all the legislations that robbed us of our rights, etc,etc.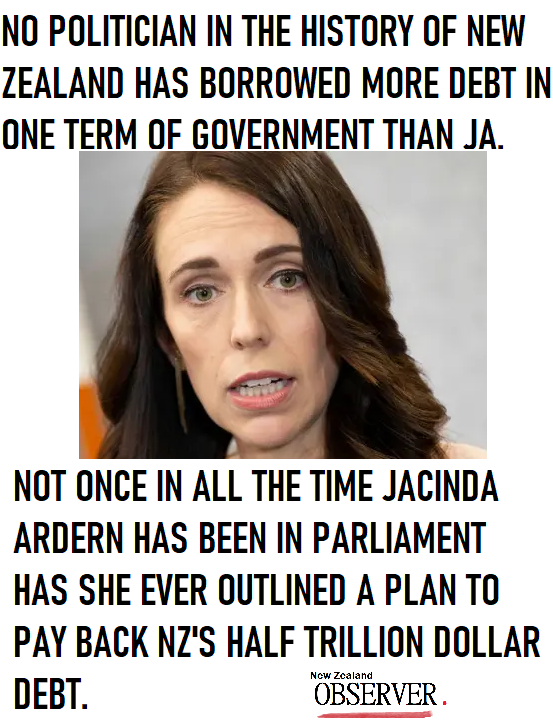 It turned out the Covid 19 Mass hysteria was the perfect means by which Socialists could empower themselves, to standardise their systems on a globalist basis, destroy our entire way of life, and impose their 'New Normal'.
What I think is important to note about my personal experience and why I am taking the trouble to blog it is that I can show a process of reason whereby I have moved my position from that of Fearful concern and belief in the extreme danger Covid 19 as it was purported to be in the press, to the new position I hold now of Activist against the lockdowns.
Early on I had a few Libertarian friends in medicine who via social media expressed their skepticism at what was being reported, and questioned whether or not the Governments response to this supposed pandemic might turn out to be more destructive than the disease itself.
At that time listening to their position, I could not see how it would be possible to 'Fake' such things as were being reported in Italy… headlines like '1000 dead overnight' seemed to justify other headlines such as 'Italy locks down entire cities'.
It was only after whistleblowers started to report how Covid 19 deaths were being grossly overstated for political reasons to amp up public hysteria to justify ongoing lockdowns and more and more legislation giving the police intrusive and oppressive powers, taking away the peoples rights that I began to question what the hell was really going on.
I learned that US Hospitals profited from inflating numbers of Covid deaths because every death recorded as being Covid 19 they received lump sum payments of thousands of dollars… hence a motive to exaggerate and falsify the pathogenic potency of Covid 19… hyping up the perceived danger in the minds of the masses.
This is when it dawned on me how in fact such massive deception and lies *could be* generated and spread as propaganda via the socialist infested and brain dead mainstream media.
I was beginning to understand Covid 19 was being manipulated by vested interests for their own ends.
The pandemic was more political than biological.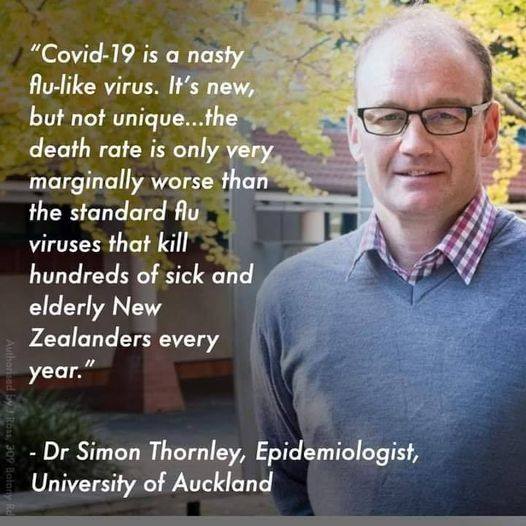 As more and more information came into my possession I began to modify my own thoughts and feelings about what was going on.
Like myself, more and more intelligent people were starting to question the official narrative.
This is when the censorship, deplatforming, and rage against dissenters started to happen.
Doctors found themselves under reputational assault should they dare criticise the lockdowns, and how Covid 19 was being portrayed to the public.
I witnessed the Trump Derangement syndrome in action when he promoted Hydroxychloroquine as a viable treatment for Covid 19.
IF Trump promoted it… it *had* to be false… according to Rabid Liberal Press.
Watch SLANTED JOURNALISM AND THE 2020 ELECTION | SHARYL ATTKISSON
I witnessed Facebook, etc starting to ban and deplatform people who claimed that vitamins played a significant roll in the severity of cases, and that those most likely to suffer were people whom were vitamin D deficient.
I witnessed the confusion sown whereby Masks were early on not recommended by the Health authorities, only later to become compulsory… despite evidence they were virtually useless, and even detrimental… and that being outside in the open air and sunshine was in fact the best place to be!
So the Government lockdowns were not only pointlessly destroying our economy… not only robbing us of our rights, but were in fact the worse possible response medically speaking.
Ironically only a few months before Covid 19 kicked off I had contributed to a Book called 'Free Speech Under attack' where in one of the chapters I wrote I spoke about the importance of Free Speech with respect to people making informed choices when it comes to whether or not they will take vaccines.
This is a right of supreme importance as it defines the defense between a free individual, and a slave.
Individual sovereignty over one's own Body, and it also extends to Parental rights as the custodians of their Children's rights.
Thus it would be dishonest for anyone to accuse me of being Anti-Vax… I am no such thing.
I am anti-compulsion, Pro-Freedom, and pro- Consent.
Read: 'FREE SPEECH AND THE FATE OF SOCRATES', BY TIM WIKIRIWHI. FROM 'FREE SPEECH UNDER ATTACK'. TROSS PUBLISHING 2019.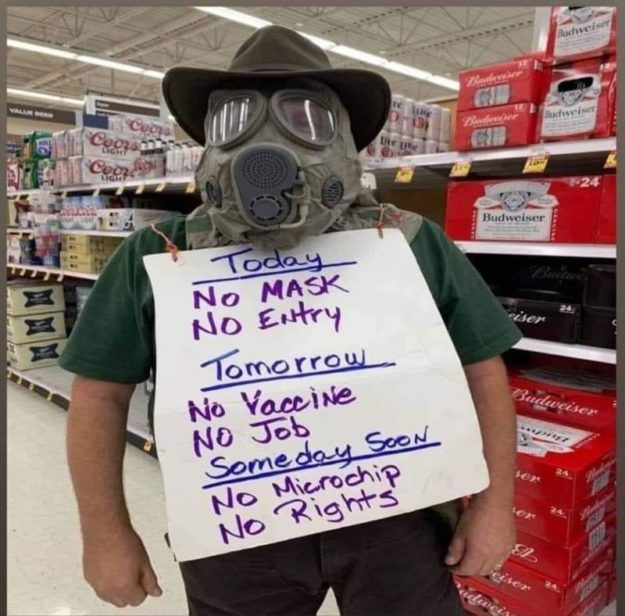 All the while censorship was ramping up.
Despite this as time passed the truth that Covid 19 was no where near as deadly as we were first led to believe became harder and harder for the Powers that be to keep hidden… something they wanted to keep suppressed because they had all invested Billions into Bill Gates Vaccines and they knew that the only reason the populations would voluntarily consent to having the shots was if they maintained a high degree of paranoia about the virus.
And The desire to maintain this hysteria is still the defining nature of the governments of the world because it is this hystera by which they gain the greatest measure of sheepish fearful compliance and submission to their new tyrannical powers and aims.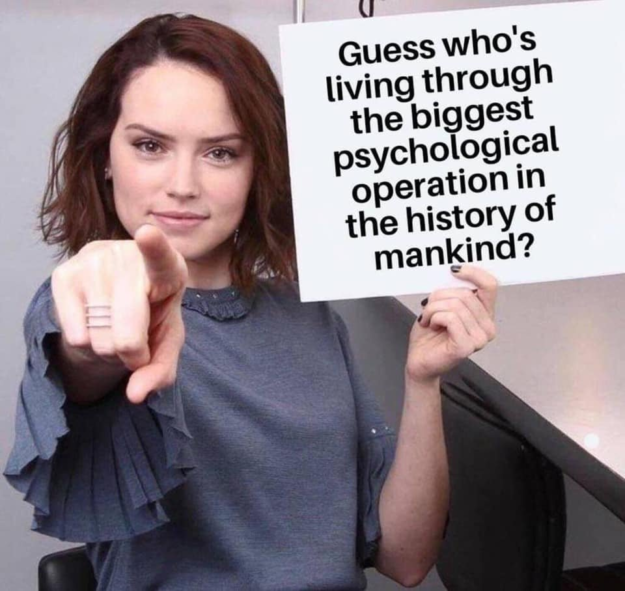 Witnessing this spectacle unfolding from the inside, with the process of time (A year), and gaining more and more information from independent sources, I modified my own position on Covid 19 from fearful father who expected to see my neighbours be taken away in body bags to return to my Libertarian outraged self at having been fed massive lies and fooled for the purpose of robbing my nation of our rights and precious liberty… and the destruction of our economy.
I would make a submission to the inquiry into the governments handling of the pandemic.
Read :
MY SUBMISSION ON THE INQUIRY INTO THE GOVERNMENT'S RESPONSE TO COVID 19.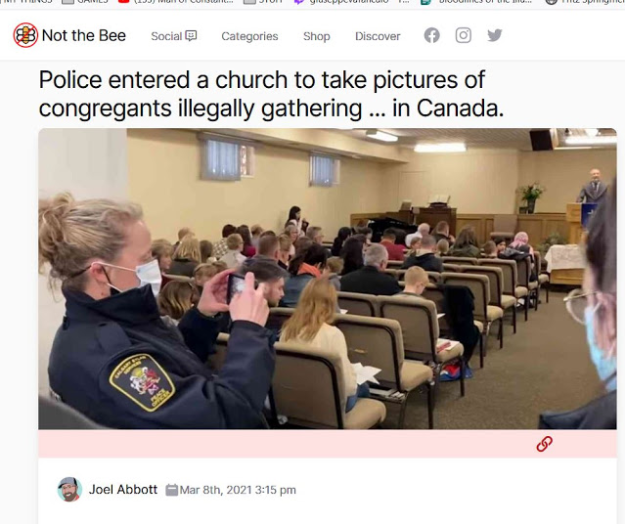 It is with contempt that I note that after all the attempts to suppress the truth that drugs like Hydroxychloroquine, Ivermectin, Vitamin D, Zinc were highly effective treatments for Covid 19… things I mentioned in my submission have now become a matter of public knowledge.
Not only does it turn out that it was the 'Fact checkers' of platforms like Facebook who were *the real fake news*… and that they were unjustly punishing's *Truth tellers* for daring to critisise the erroneous, and dangerous Socialist Official line, but had these truths been allowed to be discussed as they ought to have been… lives would have been saved!
In truth the governments of the world responses to Covid 19… the lockdowns… the mass untested vaccinations… the massive financial destruction… the massive cost in Social consequences in the loss of rights, liberties, and the establishment of a whole new body of tyrannical laws on the books…. The massive cultural change within the police forces of the world who are now willing to knock down doors and drag away mothers in front of their children over such ridiculous reasons as maybe disobeying lockdown rules and taking their child to the park!
This has been a social catastrophe for Western civilisation of unimaginable scale!
Yet I suspect few if any Politicians will face any justice for their gross incompetence and dishonesty.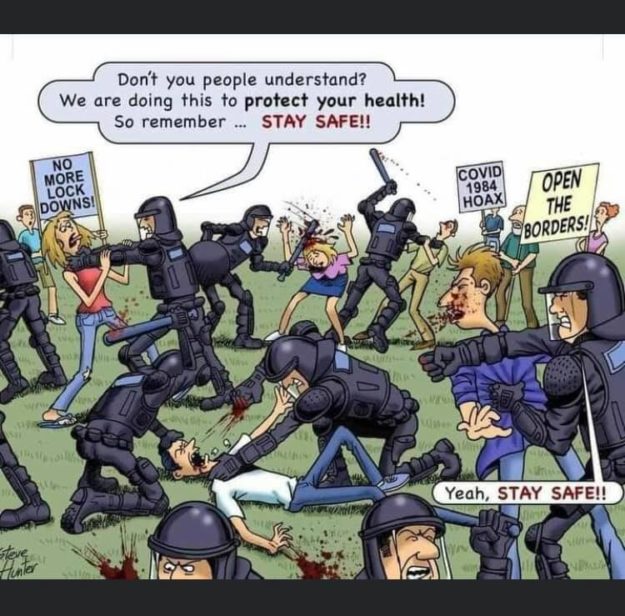 What about our rights to assemble and peacefully protest ongoing Government lockdowns and closed boarder?
Under the 'New Normal' that Politicians Like Jacinda Ardern have created, she can declare a lockdown any time she pleases, and the Police will not hesitate to drag away dissidents they have been trained to think of as Dangerous troublemakers… We have seen plenty of videos from Austraila that show this very thing, and We should not be so naïve as to believe that wont happen here in God's own.
They will target the 'Ring leaders' of protests, and attempt to provoke violence at otherwise peaceful and lawful gatherings to create the pretext for dispersing legitimate mass protests which are fundamental to democracy..
Who would have believed any of this was possible just a few short years ago?
What more the powers that be have no intention of allowing things to return to how they were before Covid 19.
There is every reason to suspect that when public hysteria is lost on this variant, that some new strain will conveniently appear.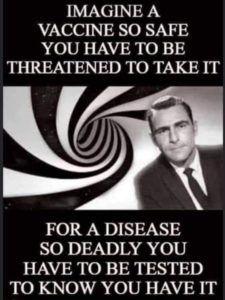 Because Covid 19 is not the world ending plague it was first purported to be, Ardern's aggressive lockdown did not merely 'flatten the curve' of infection as was planned, but totally extinguished the virus thus ruining the plan to slowly gain herd immunity via a controlled exposure to the virus as it passed through the population at a manageable rate.
Instead of admitting this unexpect result, Jacind Ardern lied about it and pretended elimination was her intended strategy all along.
She must think we are idiots to swallow that one, yet the sycophantic media never took her to task for this dishonesty, and the terrible result of this blunder is that New Zealand has remained a prison Island as Ardern keeps our boarders locked down while she awaits the bulk delivery of Covid 19 vaccine… while the rest of the world are already immerging out the other side having passed through the gauntlet and gained herd immunity.
In the US with Trump having been deposed, the media are modifying their activism to portray the Biden administration as successfully dealing with a crisis they claimed Trump was perpetuating.
Meanwhile our Kiwi economy remains suffocated with thousands of tourist businesses gone broke.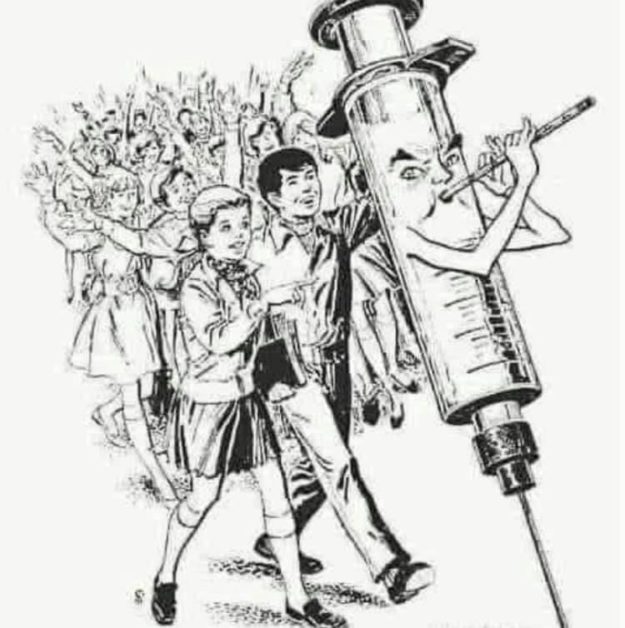 We are yet to face the pressures Jacinda Ardern will start to apply to coerce New Zealanders into taking the vaccine once the batches start to arrive yet we can be sure she will apply as much coercion as she possibly can… indirectly… esp via a big spend on Spin.
We can be sure that one way she will apply indirect pressure to comply is by allowing businesses to compel their staff into receiving the vaccine if the wish to keep their jobs… under the guise of workplace safety, and we can also anticipate her allowing stores to forbid customers from entering their premises without showing proof of vaccination… and to facilitate this we can expect the introduction of Vaccine pasports… effectively holding our rights and liberties to ransom, and creating a two tier society whereby those who have the passport will enjoy the most access and freedoms while those who choose to reject the vaccine will find themselves severely restricted and penalised.
All the while Ardern will claim all this is *not coercion* as technically speaking the vaccine is not legislated as compulsory.
To appreciate what is at stake with respect to the right to reject the vaccine, I refer you to ISRAELI RABBI CHANANYA WEISSMAN'S 31 REASONS WHY I WON'T TAKE THE VACCINE.
There are even more frightening risks involved than what he has stated.
Animal testing on similar MRNA treatments had disastrous results.
Watch AFTER BEING INJECTED WITH "MRNA TECHNOLOGY"… ALL ANIMALS "DIED UPON REINFECTION" (DR. LEE MERRITT)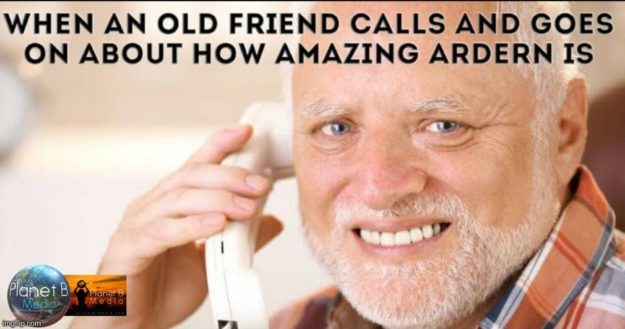 This is why it is imperative that a popular protest movement to rise up now and demand the restoration of our Pre-covid 19 Rights and liberties, including the right to gather for peaceful protest, that all such laws that were enacted via urgency without due process be scrapped, and that politicians and government employees who acted in anyway that can be seen as being draconian and a violation of legitimate rights be held to account… certainly sacked, and possibly face further punishment's for their oppressions and usurpations.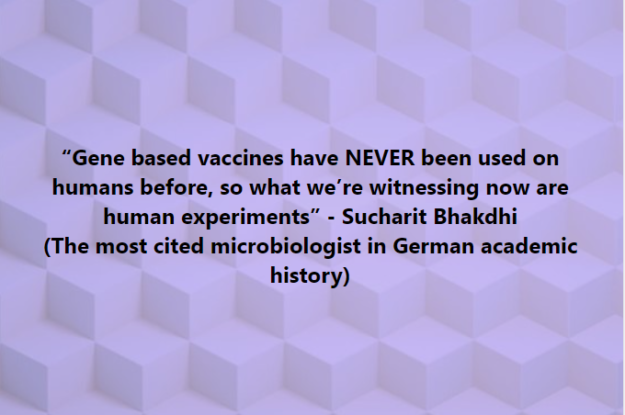 I personally have zero charisma to get such a movement up and running.
I have tried in the past yet to no avail.
It is my hope that people who share my concerns, and who are better at organisation than I can at least get a foundational meeting scheduled.
I am willing to throw my support to it.
This is a crisis for the future freedom of our nation.
What sort of world will we bequeath to our children?
If you are a concerned citizen and parent… you must be prepared to struggle for their future against the evil Socialist powers that stolen so much from us and will not stop until they have established a Socialist Totalitarian vassal state of the New World Order.
Tim Wikiriwh
Christian Libertarian.
Update: 10-4-21 Check out the video here
It corroborates many of the important things I have said above, esp about the Vaccine Passports which have been planned for the beginning.
More from Tim….
NEW ZEALAND LAWYER SUE GREY DOING SOME GOOD WORK WITH RESPECT TO NZ GOVERNMENT COVID 19 RESPONSE AND 'VACCINE' ROLL OUT.
MY SUBMISSION ON THE INQUIRY INTO THE GOVERNMENT'S RESPONSE TO COVID 19.
JACINDA ARDERN IS MORE DANGEROUS THAN COVID-19: CENSORSHIP AND CONTROL OF THE PRESS.
"UNITE AGAINST COVID-19 NEW ZEALAND" . THE SUBTILITY OF THE SERPENT THAT BEGUILES.