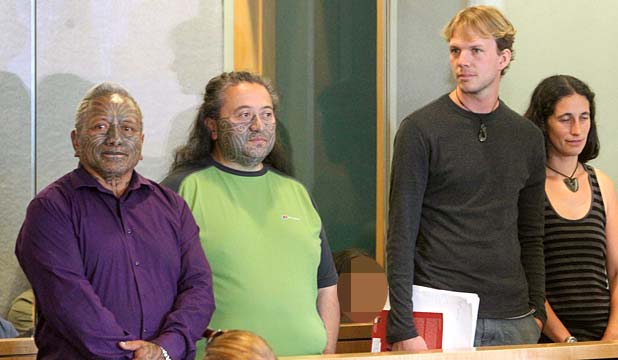 I see that would-be Terrorist Tame Iti and his Merry Band of Racist Thugs and Green Psychopaths have got away with conspiracy to commit murder!
They are not going to face Re-trial on the Hung jury verdict.
Why?
We are told that it is not because the prosecution does not have a sound case, but because they don't think the cost is 'value for money'!
They say a Retrial also could have ended in another hung jury… to that I say So what!
These Dangerous Arsesholes have got away with planning to kill White people, and training to Kidnap MPs, and other acts of terrorism!
Seeing violent criminals face Justice is one of the few legitimate duties of government.
They have failed us!
I have no doubt had their Neo Nazism been for White Supremacy (rather than Brown) and targeted Maori New Zealanders and Maori MPs that they would have been convicted of more serious charges and face heavy sentences.
(Apparanty the maximum sentence for the charges that have been dropped was 5 years. I ask why these scum were not facing more serious charges than 'Belonging to a criminal organisation?)
If the State let go White neo-Nazis the public outcry of corruption would be deafening!
So why no outcry when the shoe is on the other foot?
New Zealanders have been robbed of Justice!
A Conviction would have identified the Perverse Nature of Indigenous Rights, The viciousness of The Maori separatists, and the Warped mentality of the Radical Socialist Greens.
With no conviction these dangerous scum can continue to play their favorite parts… as victims of Greedy Whites.
This case was one of the most important trials in Decades yet has ended as a Fiasco!
Its a Flock up of Monumental proportions!
Parliament Flocked up the legislation.
The Police Flocked up their collection of evidence, and failed to charge these criminals with conspiracy to commit murder, and Kidnapping, etc.
The Jury Flocked up their verdict.
And Now the Prosecution has Flocked up by quitting!
Its Travesty upon Travesty!
They couldn't even get a conviction on a bunch of bumbling deranged Communist Morons they caught Red handed planning terrorism.
They cannot be re-tried on this charge, yet I ask this question… Do the Police have evidence enough to lay different charges against them?
Tim Wikiriwhi.
Note: It is more accurate to classify the Radical Separatists and Green Extremists as Far right Fascists, though they like to consider themselves to be Far Left Communists.
Dont you know this is the Land of Confusion?!!!
'Urewera Four' will not be re-tried