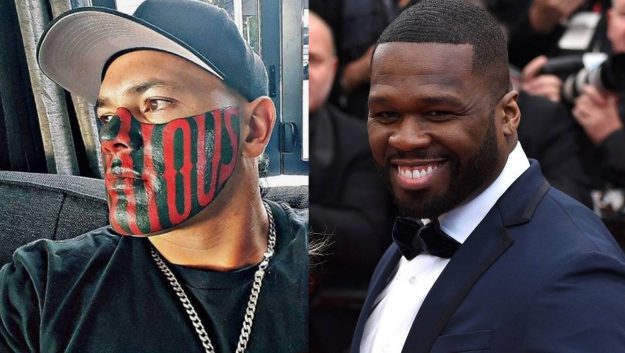 50 Cent pokes fun at Mongrel Mob member's tattoo on social media
'Rapper 50 Cent has used his personal Instagram account to poke fun at a Mongrel Mob member's face tattoo.
"What the f… is really going on man. I wonder why he can't get a job?" the rapper wrote.
The image shared was a picture of Mongrel Mob member Puk Kireka, who has the word "Notorious" tattooed in red and black across the lower half of his face.
Kireka's story was picked up by global media following an interview he did with the NZ Herald last week, where he admitted it would be tough to find employment with the tattoo. '
**** **** ****
Who thinks 50 Cent is wrong about his derision of how detrimental Puk Kireka's Mob Tattoo will affect his future Job prospects????
Even Puk Kireka knows thats a simple fact.
.
The following blog post is written in disgust… not racism… though it does focus on what is happening to a particular racial demographic… the Maori people… *My People*…
My disgust centers upon the vile lies and socialist politics that subverts the truth and fails to correctly identify the *real causes* for why…despite decades of social engineering and Billions of Tax dollars of special treatment, Maori remain trapped in State dependence, and fill up New Zealand's Jails.
Its about how our Government falsely and relentlessly attributes Maori Social failings to 'Oppression and racism' suffered from 'Colonisation' when in reality Maori are victims of the delusions that derive from this very Deceitful and toxic Socialist ideology.
One of my latest blog posts here poured scorn on a recently completed and heavily funded Government inquiry into the question of Maori Criminality that is starkly out of all proportion to their number comparative to all other racial demographics, and the resultant report called ''He Waka Roimata or A Vessel of Tears' recently tabled for the government to consider.
This report is supposed to give MPs guidance and insights into the root causes of why Maori have such disastrous social statistics. esp in relation to crime and Jail.
The release of this report, and its utterly contemptible conclusions are what have spurred me to blogging on this Current affair, as I utterly reject its main premises as not merely missing the mark by a thousand miles, but because it is a work of Evil political agenda driven propaganda… not an objective inquiry leading to sound conclusions… and it is outrageous that this fraudulent report is going to be used as a guide to Future Government policy!
We can see that the result will be precisely what Socialists intended to do all along *even before the inquiry was undertaken*… like so many of the farcical processes acted out for the sake of pulling the wool over the eyes of the public before Socialist enact their heavy handed and expensive agendas.
Such Inquiries pretend to be 'sound governance practice'… 'due diligence' feigning 'due process'… with copious helpings of 'Public consultation'… garnering 'expert opinion'… etc etc … when we know the result has been pre-determined and will entail Hundreds of Millions of Taxpayer dollars more being spent expanding State interventions and apartheid politics… yet because all this Nonsense does not correctly identify the root causes of Maori criminality and poverty, it is with mathematical certainty doomed to failure just as all the Socialist Apartheid politics of the last 50 years has proven to be.
They are not only continuing to Flog this dead horse… continuing with political ideas that are proven failures, these Socialist Politicians are doing what they always do… *Enabling* and *perpetuating* the misery!
*And this Angers me!* *This incompetence* and dishonesty Disgusts me!
Yet of course because Nanny State Socialists are 'one trick ponies'… they dont have any other Game to play…
Unfortunately the entire country must pay a heavy price for their ongoing incompetence and delusions… no one paying a higher price than Maori themselves who have been indoctrinated with these toxic lies that corrode their ability to appreciate the fundamental causes of their own predicament.
The solution to the Maori predicament is not more Nanny statism… but less…. and more self responsibility.
The solution to the Maori predicament is not more Apartheid politics and blame… but less… and more self responsibility.
Ie If Maori are ever going to climb out of the gutter it will be *when they do it for themselves* by embracing the ethics of *Self responsibility*
This is the truth that is missing from the report 'He Waka Roimata or A Vessel of Tears' that instead tries to blame 'White Colonialism'for Maori's plight rather than their own failure to embrace Ethics and values necessary to prosper… and stay out of prison.
The Fundamental truth that Current Socialist Apartheid politics and Welfare dependence are 100 times more destructive to Maori individuals well being than the so-called 'culture shock' of 19 century English Colonisation can be proven at all points if only people will open their eyes and ears… and esp their minds to considering *alternative perspectives* to the ones that they have been spoon fed by Socialist politicians and their 'Education system'.
Today's blog will consider just one aspect of detrimental choices and behaviour that makes life harder for those people who make this choice… just one reason why many Maori will find themselves welfare dependent… yet it has little to do with their race.
Upon reading the following only the belligerent minded will not already appreciate what I am about to say as being so basic and irrefutable that it barely requires being stated, yet I must do so to demonstrate the dynamics of Falsely labeling *personal individual choices* as 'systemic racism'.
Failure to Call out Maori for their own poor choices, and instead blaming the Pakeha for their woes virtually guarantees succeeding generations of Maori will continue to wallow in the mire… and continue to cultivate Race hatred for their Pakeha neighbours!
And from hatred comes violence and crime.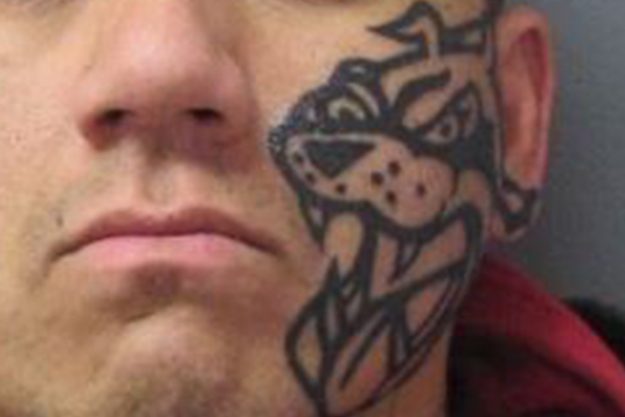 Read: Dangerous man on the run from police.
So lets talk about the vital issues of Self responsibility, and personal choices… issues Socialists avoid like the plague in favour of an ideology of *Blaming others* .
Socialism thrives on victimism… they envisage an endless struggle between Oppressor and the oppressed.
They Never associate personal outcomes with personal choices and responsibility.
Instead they seek to circumvent personal responsibility via Nanny State interventions, Prohibitions, and compulsions.
Life is Tough!
And yet Good Parents attempt to raise their children to take responsibility for their own actions.
Yet 'Adulting' can be very difficult… especially when it comes to self discipline and voluntarily obeying and maintaining morals and values you know in the long term to be wise and beneficial… all the while resisting urges and temptations to indulge in vice, or 'short cuts'… for immediate short term benefit and gratification… that are gained at the expense of others… and ultimately… ourselves.
There will always be a personal price to pay for Bad choices!
Call it Karma… reaping what you sow…. etc.
Though this is tuff… nonetheless these truths are *vital* for every individual to apprehend… irrespective of Race.
Despite what the Morally bankrupt Academics of our day preach in our institutions of learning about 'cultural relativism'… in truth the same essential morals, values, and principles apply equally to all… and your success or failure as an individual depends upon how well you grasp these essential truths… and how resolved you are to following Virtue as your guide…and in maintaining them in your personal walk.
I want to apply this theme to the story at the top of this post… 50cent and the Mobster Puk Kireka's Heavy Gang Facial tattoo…and how this demonstrates the Truth about a lack in self responsibility as being the Primary source of the Maori peoples sorry social conditions… not Colonisation.
50 cent derided Puk because his personal choice to get that tattoo is guaranteed to make his life harder 'in the big wide world'… esp with respect to future employment… and employment is one of the *most essential factors* in being self reliant and independent human being!
The ability to Earn an honest dollar.
So unless you are Filthy Rich and dont need a Job, obviously getting that sort of Tattoo may therefore be considered to be *a bad personal choice* because is will undoubtedly negatively impact on that persons ability to uprightly take care of themselves.
It is a Bad choice not restricted to Maori, but by people of all races, and yet it is a Bad personal choice made to a much higher degree by young Maori Men… usually to impress their Peers.. or to serve as a type of 'War paint'… that this person is 'Staunch'… 'Bad ass'… etc to intimidate others or cause others to be wary of messing with them… I am of course taking about Tattoos… esp Face, neck, lower arms and hand tattoos that are impossible/ difficult to conceal.
And it is the higher prevalence of such tattoos among Maori men that is but one factor that works to lower Maori Social statistical outcomes… not colonisation.
I will discuss Traditional 'Moko' in the postscript.
Many of these Tattoos are purposefully 'aggressive', most often of very poor quality, and often associated with fringe subcultures,Gangs, and Jail.
I appreciate that when you are raised in a poor community (not a personal choice children make), and immersed in Gang culture (which is often family related, or Neighborhood related, yet ultimately still a life style choice to participate in) these Tattoos are considered to be 'positive goods'… emblems of belonging… have urban warfare value… even value when it comes to 'Hooking up'.
This is what life appears to be 'all about' to young people immersed in it, yet they are setting themselves up for a very hard lesson in life that the Greater world… the world in which better quality of life exists, will not be at all impressed.
This whole 'Culture' is a study in personal ethics and choices that too easily is talked about by socialists who make excuses for Bad personal choices by their pet demographics they instead frame as 'helpless victims' of 'social failings' and oppression rather than individual choices.
If only More Youth would have the wisdom and foresight to appreciate how bad a decision to get a facial tattoo can be… unfortunately many youth dont get good parenting or mentor-ship that sets an example worthy to be emulated… unfortunately Young Maori men take their roll models from older siblings, Uncles, etc… Gang Members… heavily tattooed… Hard Drinkers… drug users… and quick to use their fists if they feel 'disrespected'.
Thus the older generation of Maori have to accept that their own life choices play a very strong part in the choices their youth will make… for better or ill.
What sort of examples did Puk's Whanau set for him?
None of this has anything to do with 'Colonisation' or Pakeha oppression.
It has everything to do with a culture of poor judgement, poor ethics, poor values, and poor exemplars.
Maori have enjoyed decades of Political and legal favoritism and yet Socialists never cease to insist Maori are oppressed.
In reality Maori criminality is a testament to Maori failure to honour the Treaty!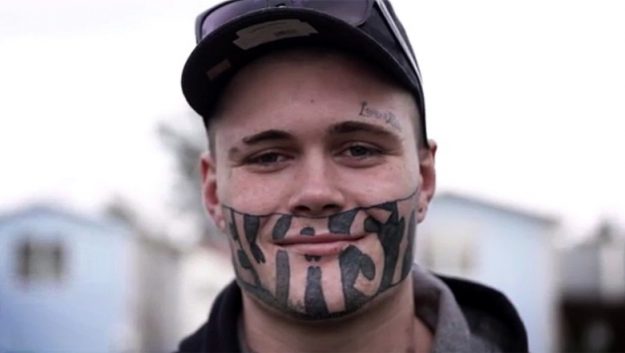 That Racism has little to do with this particular issue can be seen with the well known case of 'Devast8'… White boy Mark Cropp.
"A man with 'Devast8' tattooed across his face, who last year opened up about his job struggles as he tried to turn his life around, is back before the courts."
Read more here…
'New charges revealed: Jobseeker with 'Devast8′ across his face is back before the courts'
The fact is that these types of Tattoos carry definite social stigma and are justly associated with Anti-social behavior, and crime.
And this Sigma has nothing to do with race.. and nothing to do with 'Bigotry'… A White person with a Facial 'White Power' tattoo with find his lot in life just as difficult as any Maori with 'Black Power'
Its a simple fact that Employers, Landlords will with good reason think twice about employing or renting to a person with heavy tattoos
That this trait is very predominant among young Maori… ie that many Maori men have heavy Facial tattoos,Hands, Neck… and also carry high statistical gang affiliations is why their demographic is proportionally heavily affected, yet in reality New Zealanders are collectively a heavily Tattooed People… New Zealand has a high statistical Tattoo count from all ethnic backgrounds… yet not so much on the face.
The Internet is full of accounts of Non Maori… White Individuals who have a harder time in life because of their facial tattoos.
Its an internationally recognised problem for individuals.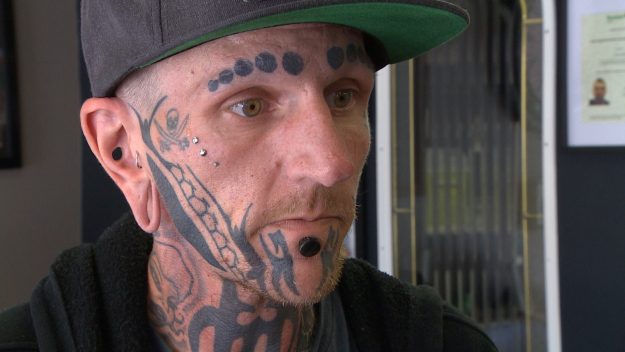 Australian Craig Ginter
Read : 'Man denied entry into Winnipeg bar because of face tattoos likely not protected by law'
Many people will not even bother to read this post simply because the facts are so obvious!
That the serious negative consequences result from this sort of personal behavior by young people has nothing to do with systemic racism, and everything to do with having made very bad choices that will impact negatively upon your future is something so Obvious that many people will wonder why I bothered to write this?
As I have explained in the very first paragraph… This post is about exposing the Lies of socialism that try and blame 'Colonialism and White Prejudices' for the poor social conditions/ High Criminality of Maori, and in the process deny the fact that the *real causes* are the lack of Self responsibility for their personal choices… and that blaming Colonisation and White racism is a disgusting lie for political ends, that not only slanders Pakeha, but attempts to justify *Racist politics* extorting hundreds of millions of dollars all the while failing to address the real Moral crisis that is impoverishing Maori and ensnaring them in Socialist dependency.
Let me finish by saying most of the insights on the importance of personal ethics I have expressed are not things I have learned in school but truths I have lived.
I spent my youth as part of the Fringe subculture in rebellion to 'conservative society', in which tattoos were the norm, and in which many foolish values are embraced as being 'Cool' 'Staunch'.
I have many Tattoos. Tattoos I wish I did not have, yet fortunately they are not on my Face, Hands, Neck, or lower arms.
I like Tattoos, yet for religious reasons I regret mine, and discourage anyone from getting them… and if they do implore they do so on discrete areas of the body that can be covered at times of Work, Job interviews, etc… because for most professional interactions with wider society having overt tattoos will be a disadvantage.
It is pointless for the Tattoo community to act as if they are somehow being 'oppressed' by 'bigoted' outsiders for 'Judging them' because of their Tattoos when its a patent fact that Tattoos and criminality… Tattoos and Gangs…, etc are not mythical associations but factual… and that not only are a large percentage of tattoos purposefully intended to send a message of 'Baddassness' but that even the Tattooed community judge each other by their tattoos… eg a Tattooed Maori is highly likely to immediately hate a Pakeha with a white power Tattoo… and so when you analyse all this you can easily see that deriving *First impressions about a persons character* from their Tattoos is a universal habit founded upon some very valid associations.
Yet sometimes these first impressions can be wrong… and of course there are many Great people with Facial Tattoos.
People can change… Criminals can reform… First appearances can be very deceiving… People do form judgments by first appearances and may will not bother to investigate further whether or not their first impressions were correct.
It has just been reported that Puk Kireka actually wants to change his ways and is seeking donations from the public to fund his education.
Read 'Tattooed Mongrel Mob member mocked by 50 Cent seeks donations to fund education.'
"A Givealittle page, started by Kireka's partner Waiora Tareha, is now seeking donations from the public to help the gang member turn his life around.
Tareha said the page was an attempt to get Kireka a helping hand from others to kickstart a new, positive life."
I wish Puk Kireka every success in his endevour to step up and create a better life for himself!
It will be very hard with that Heavy Facial Tattoo… Yet not impossible… He will have to find the inner strength to persevere.
Maybe getting it removed would be in his own best interest… these are the sorts of tuff choices he must make for his own future.
I hope he also mentors his younger Whanau into not making the same detrimental life choices that he himself made… in this way he can help them to have a better life… a smoother path… Break out of Poverty and crime… and is not this what we all want for Maori?
They must turn their backs on the lies of Socialism and race hate against the Pakeha… turn away from blaming Colonisation which has brought 1000 times more benefits and opportunities to these shores than the socialist claims of the evils of 'Land alienation and loss of culture'.
In Freedom and equality before the Law Maori may embrace *all the positive aspects of their Cultural inheritance* while also embracing the advantages of Western Science, technology, and life affirming Values and ethics that are essential for all human beings to escape socialist dependence on the State and prosper by their own efforts.
I wrote this 'Pamphlet' 'Whistle while you Work' on work ethics and work culture to help individuals seeking to better themselves via personal effort and self responsibility… Please share it with Job seekers and anyone who is keen to make a better life for themselves… they have the power!
Stop with the self-defeating Victimism and Blame!
There are Political injustices in life, and they can and do make life harder… and as a Libertarian I busy myself exposing them and calling for reforms, yet this blog post has focused on merely *one example* of a *personal choice* that has heavy consequences for individuals irrespective of their race… Yet of course there are countless other matters of personal choice, values, and personal responsibility that when considered in totality are sufficient to explain why some people wallow in poverty, commit crimes, and never rise to their full potential… while others rise above the hurdles and succeed… in spite of all the Political BS.
Be like them!
Tim Wikiriwhi.
Christian Libertarian.
Postscript: Moko.
Without spending too much time talking about the 'Old World' tradition of Moko (of which I make no claims of expertise) I just want to make a few passing points.
Firstly I want to say their is a world of difference between 'Tribal art' and Gang tattoos.
I also want to point out that Facial Moko even back in Pre-Colonial times was not universal, and that the notion that any contemporary Maori thinking that by getting a Facial Moko today somehow makes them 'A greater Maori' or somehow symbolises them as being 'more passionate' about Old world Maori culture… I cant help but to consider such motives as being Poor judgement
and actually perpetrating a type of cultural fraud.
Tattoos in Old times may have been associated with high Mana, and imbued *ferocity* to a Warriors presence in war (and on the street… and in jails… all reason why Modern Gangs love Facial Tattoos)… yet that same ferocity will work to defeat you in times of Peace… outside Gang culture…in the modern world where prosperity and Freedom from Crime and jail is to be found… so a person must weigh up the positive personal consequences they perceive of Getting a facial tattoo that they like, from any negative social costs such a Tattoo may carry in affecting their ability to prosper… and this is a personal choice… not a matter of prejudice…
More from Tim…
STOP WITH THE LIES AND BLAME! MAORI NEED TO TAKE RESPONSIBILITY FOR THEIR OWN SHOCKING CRIME STATISTICS.
PHIL ARPS: A PORTRAIT OF A REAL ALT RIGHT NATIONALIST WHITE SUPREMACIST: COMBATING MALICIOUS LEFT WING PROPAGANDA.
WELCOME TO THE MACHINE! I GUESS IT WONT BE LONG BEFORE I AM PUT IN JAIL FOR BREAKING NEW ZEALAND 'HATE SPEECH' LEGISLATION.
TIM WIKIRIWHI'S SUBMISSION TO THE NEW ZEALAND GOVERNMENT'S CONSTITUTIONAL REVIEW. 2013
LOOKING FORWARD, NOT BACKWARDS: DYNAMIC CULTURE VS STAGNATION. WHY BRITISH COLONISATION WAS GOOD FOR MAORI.
THE GREAT WAITANGI DEBATE. 2010
Universal Pride in Washington, Separatist Shame in Wellington.
The Shame of Maori Radicalism. Hate and Violence.
Why a new Constitution for New Zealand must protect the Individual from Mobocracy.
Paul Holmes on Waitangi day Stench.
State of Confusion. The Rule of Law vs The Mandate of the Majority. New Zealand's Constitutional Crisis.
Low Lives in High Places. Water and John Key's Racist Alliance
Trojan Horse: The UN Separatist Declaration of Indigenous Rights.