Update: In the past few years I have had several conversations with Phil Arps via social media, and gave him opportunity to tell me his side of events. I spoke frankly with him about what I wrote below, and he responded cordially.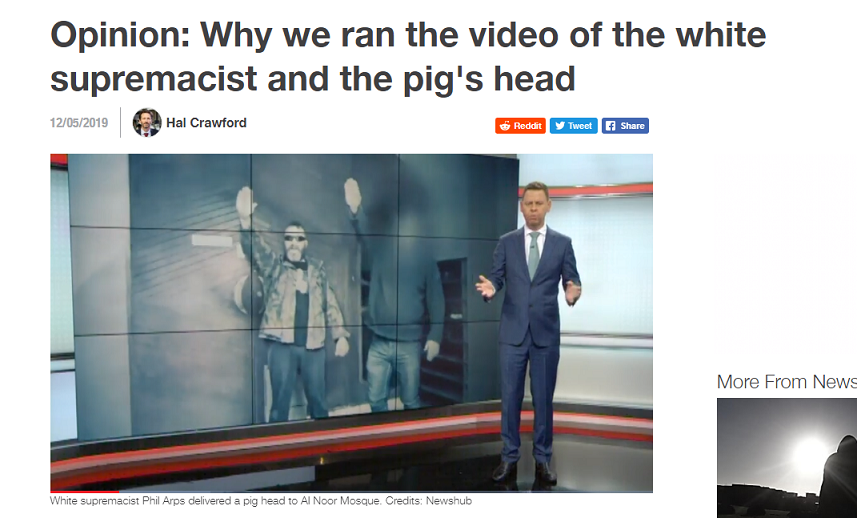 One of the most vile and Machiavellian ploys being used by the left today to discredit their political opponents and critics… esp those whose they cant defeat in open debate … those they seek to silence… those they seek to persecute and disparage the Public from paying them any heed, is to falsely label them 'Alt Right'… White supremacists…. 'extremists… etc.
The most common types to suffer this abuse are Conservatives and Libertarians.
This post is my attempt to expose this well known tactic, by presenting an *actual example* of a Real Alt Right Nationalist white supremacist … aka A Nazi… to serve as a template to show just how dishonest the left are when they label likes of Hobson's Pledge *Don Brash* 'Alt right' etc.
That there does exist some genuine Alt Right Neo-Nazi Racists in New Zealand is not in dispute, yet they are *an infinitesimal minority*, yet again it is the desire of our devious agenda driven Left wing Government to greatly exaggerate the scale of this extremist group and the danger they pose to others so as to justify Heavy handed legislation against free speech, voluntary association, and extreme Jack booted behaviour by the Police.
Since the Christchurch Terror attack, all it takes to be raided by Armed Police now in New Zealand is for some radical left Social justice warrior to call a police hot line and finger anyone they disagree with … any critics of Arderns Government as being 'Alt Right'.
The New Zealand Police have now become Politicized and are now acting as 'Thought Police' intimidating Critics of Ardern and themselves.
I want to discuss how and why the Police and government are demonstrating a very *left handed* bias when it comes racism and who they are choosing to focus their heavy handed attention upon , and talk a bit about the concepts of 'Left, right, center, and Libertarianism yet let me first present to you a poster child exemplar for what a real New Zealand Alt Right Nationalist and White Supremacist looks, acts, and talks like.
Phil Arps.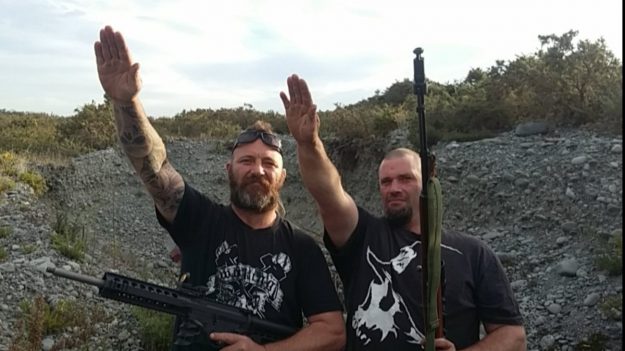 Phil Arps (left) with Guns giving the 'White Power' Nazi Salute.
I think its important to insert a NewsHub link 'Opinion:Why we ran the video of the white supremacist and the pig's head' here that exposes the sort of dangerous Racist and criminal Phil Arps is.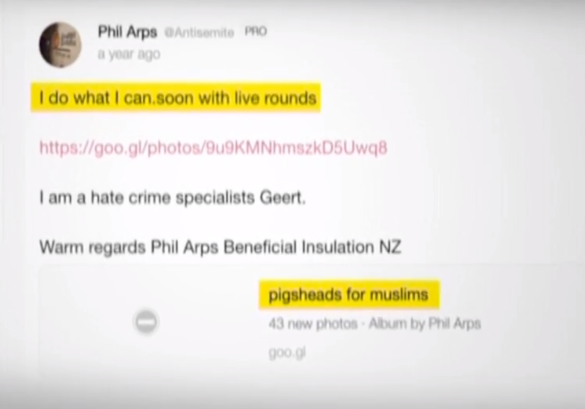 Without Doubt Phil Arps, who has just been convicted for sharing Brenton Tarant's Prohibited Live footage of his Murderous Killing spree is a dangerous and Evil Alt Right Nationalist White supremacist… a Criminal who deserves to be behind bars.
Though I dont support the censorship of Tarrant's manifesto… or the rationale that was given to justify it becoming a criminal offence to possess it or share it, nor do I agree with the extremely heavy penalties that apply to sharing the 'prohibited' video footage… and despite the fact that I believe the New zealand Police has been acting in a very Jack booted mannor themselves… post Christchurch… pointing guns in the faces of children, etc… still… despite all that… I congratulate the New Zealand Police for arresting Arps as he clearly represented a danger to Non-whites, Migrants, and Muslims.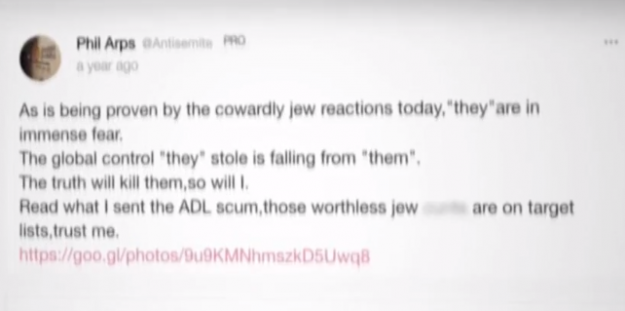 I contend that even without the censorship of the Video, … or any New Hate speech legislation that New Zealand already has regulations against Threats of violence that Arps has violated many times, and justify him being Prosecuted and heavily punished.
Even if the Video was not outlawed, there still is probably a sufficient case to prosecute him for his intention to get the video doctored so that it had 'Cross hairs' going from victim to victim… so that he and his mates could use it to intimidate others, and watch it with Glee while drinking beer in Tarants honor, Eating Popcorn, and planning what crimes they might perpetrate against the focal point of their vile Racism and Bigotry… the Muslim community of Christchurch.
I believe that an argument may be made that his intent to doctor the video in such a way constitutes yet more threats and intimidation to commit violence against his local and peaceful Islamic community… the very community that lost 50 souls in Tarants cowardly and barbarous attack.
and as it turns out… even if such a case could not be made in that regard… the public has just found out that Arps has made explicit threats *Countless times* that he intends to commit murder against Muslims, and Jews.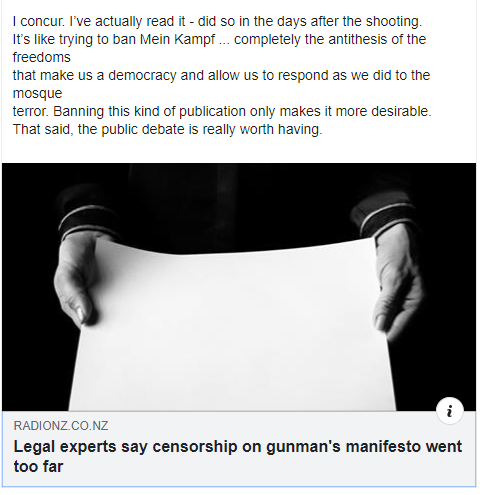 All the censorship, and secrecy the Government and Police have shrouded around Tarrant and Arps (and another… including a youth who shared the banned manifesto *Before it was prohibited*)… has meant that the New Zealand public have been left in the dark about these very important cases… and I think this secrecy is outrageous as we the people have *the right* to know what the hell is going on and why… yet after News Hub ran their story 'Opinion: Why we ran the video of the white supremacist and the pig's head' Many New Zealanders including myself got their first glimpse at what sort of person Phil Arps *Really is* and the Crimes that he has been committing against the Islamic community in Christchurch.
This is when We got to see *What a genuine Alt Right Nationalist White Supremacist looks like… how they behave… and how they think… driven by Evil… harboring malevolent intents against Non- whites, Migrants, etc… mimicking attitudes common in Nazi Germany in the 1920-40s.
So Phil Arps *is a genuine Alt right Nationalist White supremacist Hater*… a Loathsome racist… a danger to civil society that upholds Liberty and equality before the law for all.
Promoting Tolerance and peaceful coexistence.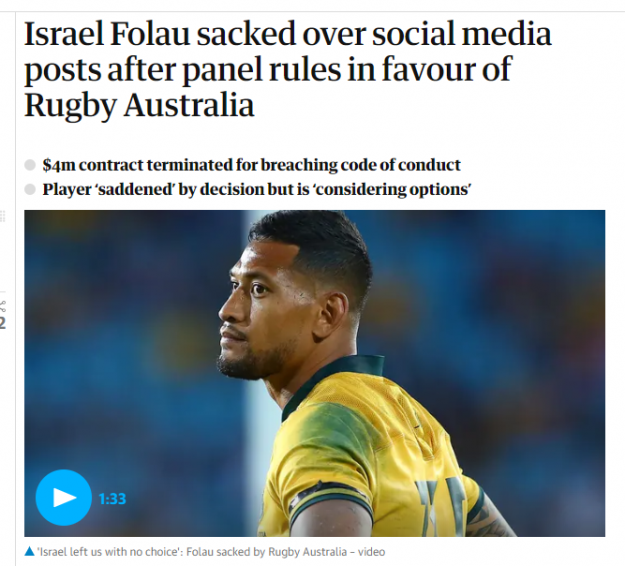 The limits on free speech is not whether or not someone may be offended by what someone else has said, but whether or not incitement to or threats of violence have been made, thus Australian Rugby Legend Israel Folau was completely within his right to quote the bible that says sinners… including homosexuals… are in danger of Gods wrath.
This is nothing new to be said in western nations, nothing to loose your job over… until Left wing radicals who hate Christianity, have managed to totally dominate the political landscape and weaponise 'Taking offence' via the pseudo-moral construct of 'Hate speech'… a construct that attempts to totally destroy the right to free speech in any nation that accepts its legitimacy.
What Ardern and the NZ Police need to remember is that a free and equal society *tolerates Free speech* and dissenting opinions, and the right to hold and expound religious opinions that may be critical of others…. *This is fundamental* to freedom and toleration…. *not a Police state that attempts to outlaw the people from expressing their religious views simply because another group dont like what they are hearing!
This Liberty is founded upon a body of enlightenment truths learned and fought for from centuries of struggle and is what has distinguished western Liberty from Tyranny of all sorts, from Fascim, from Communism, and from Islamic and even Christian forms of tyranny…. and why in most western nations Christians, Muslims, Jews, Atheists , and Hindus, have all been able to peacefully coexist… each group peacefully following their own consciences…under a social compact of equality before the law.
And all this was going just fine here until the foreign terrorist and psychopath Brenton Tarrant brought his murderous hatred to our shores!
yet instead of appreciating how good New Zealand really was in regard to these matters… the Ardern government took opportunity to destroy it all and impose tyrannical restrictions on guns and free speech!
They are manufacturing a crisis that never even existed here.
I'm Glad they have put Arps in jail. they should have done that a long time ago… they had enough laws in place to do so… yet now they are way out of hand and i hope the people of New Zealand put them back in their place!
Neither Arp or Tarrant are representative of any real crisis endemic in New Zealand!
There are Race relations problems here to be sure, yet they stream from a completely *different quarter*… and they too are the result of a politically manufactured crisis.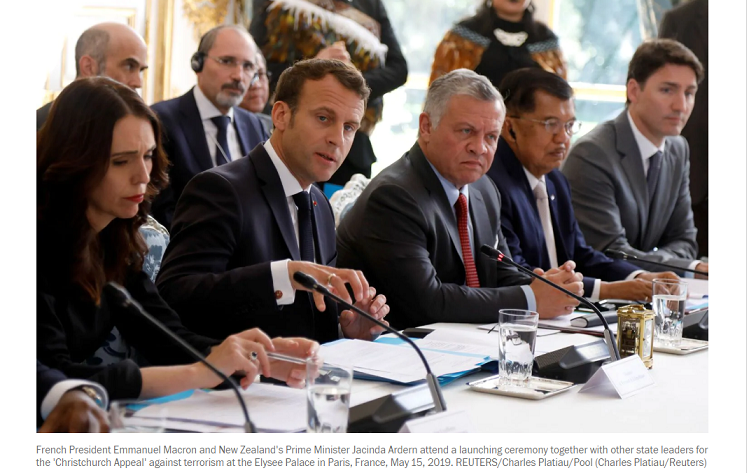 I want to talk about *Racist Doctrines that come from the far left* that likewise works to destroy yet another foundational principle of Western freedom… the principle of racial equality before the law.
Their divisive doctrines of 'indigenous rights'… and 'White privilege' … 'Treaty partnership' etc etc have spawned deep racial divisions and a loathesome horde of racists of Colour… against Pakeha (New Zealanders of white European descent).
These left wing Racists far outnumber their Far right counterparts, and represent a far greater danger to New Zealand society than *real* white supremacists do.
But to talk about this blatant form of racism is to risk being labeled 'A White Supremacist'.
Because of the failure of our Government to uphold the principle of Racial equality before the Law *Left wing Racist ideology has penetrated our government* and established an apartheid system complete with Race based Laws and institutions and created a two tier society based upon race.
Not only does this Officially endorsed form of Left wing racism now affect government policy, it also affects how they view critics of this institutionalized racism like Don Brash and his Anti-Treaty separatist lobby 'Hobsons pledge', and myself who has been a Libertarian activist calling for an end to Waitangi apartheid politics that has sprung up from Racist Radical separatist on the far left.
And yet neither *Don Brash, nor myself*… nor the hundreds of thousands of New Zealanders who have had a guts full of the institutionalized racism that has sprung up under the guise of 'honoring the treaty'… are Alt right Nationalists/ white supremacists… yet it is all too easy for the left wing politicians like Andrew Little and Tariana Turia to label anyone who opposes their Racist politics as being 'Far right'… and racist.
*******
Update: 19-5-19 Facebook temporarily suspends Candace Owens over post about 'liberal supremacy'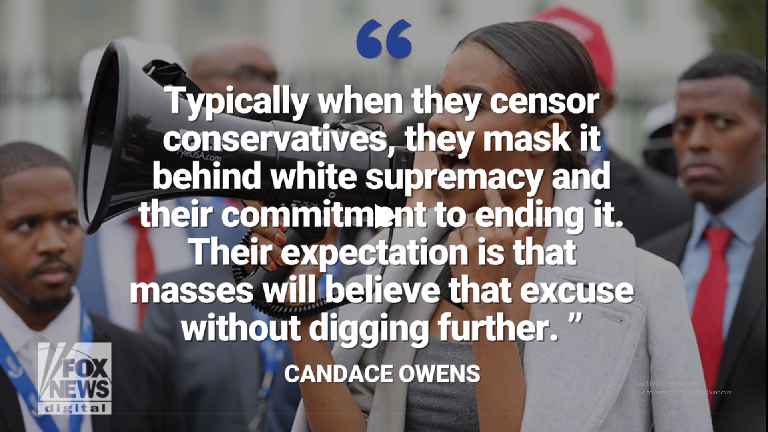 ******
The truth is that Don Brash's desire (and mine) to end Race based Laws in New Zealand is as antithetical to Alt Right racism as it is to Alt Left racism.
The Leftwing racist radicals of New Zealand are the Maori separatist movement… yet these radicals have managed to find support within the mainstream political parties mainly because they have taken control of the guaranteed Race based seats in our parliament, and the two big parties have fallen over themselves to bribe the radicals in these seats into coalition deals for the sake of control of the government and country.
Its a well known corruption of our democratic system now know as 'Brown mail'.(a phrase coined by Deputy Prime Minister Winston Peters)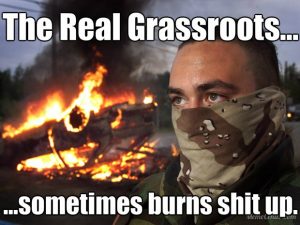 And if we step back we see this same Machiavellian mechanism being used by left wing socialists right across democratic Western societies whereby any critics of Left wing policies that involve matters of Racial or cultural content… eg people who are not happy with the way immigration is being managed… these people are being labeled 'Far right nationalists'.
An example of a Far left Racist Radical organisation in the US that pretends to be representing oppressed Blacks is *Black lives Matter*.
this organisation is very much like the Maori radical separatist movement in that they are infested with White-haters who advocate radical left wing ideology all the way up to establishing full blown Communism in the US and here in New Zealand.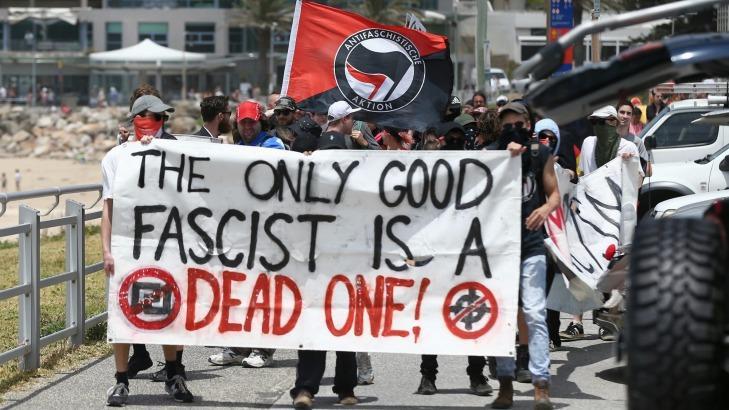 Another Violent Radical left wing group that was founded in the US that is causing Riots and violence, and is spreading throughout western Democracies … yet is not meeting with Due Police restraint is ANTIFA… with their 'Punch A Nazi'… most people getting punched are not like Phil Arps… are not supporters of Adolph Hitler… but are often little skinny White Teens wearing MAGA caps!
And by far and large these Violent left wing scum get away with it because the Police forces are soft on left wing violence and racism.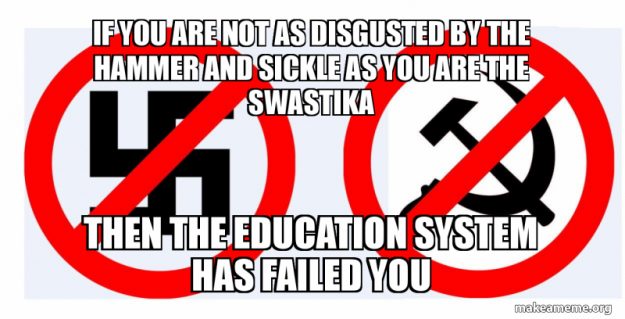 The Media across the Western world is now so infested with Woke left Wing social justice warriors that in both New Zealand and the US the Media routinely paint President Trump and his supporters as *Alt right nationalist racist white supremacists*… Fueling the mindless Zombies of Antifa into frenzied riots and acts of violence… as if a white kid wearing a MAGA hat *Really is a Nazi!*
The irony is it's ANTIFA who are acting Like NAZIs … they are the Intolerant hateful Barbarians calling for virtually everything to be banned, and attacking anyone who holds a different opinion to their own!
This is a classic demonstration of the absolute ignorance of how the Left have no idea how similar The two extremes of the Left and right are.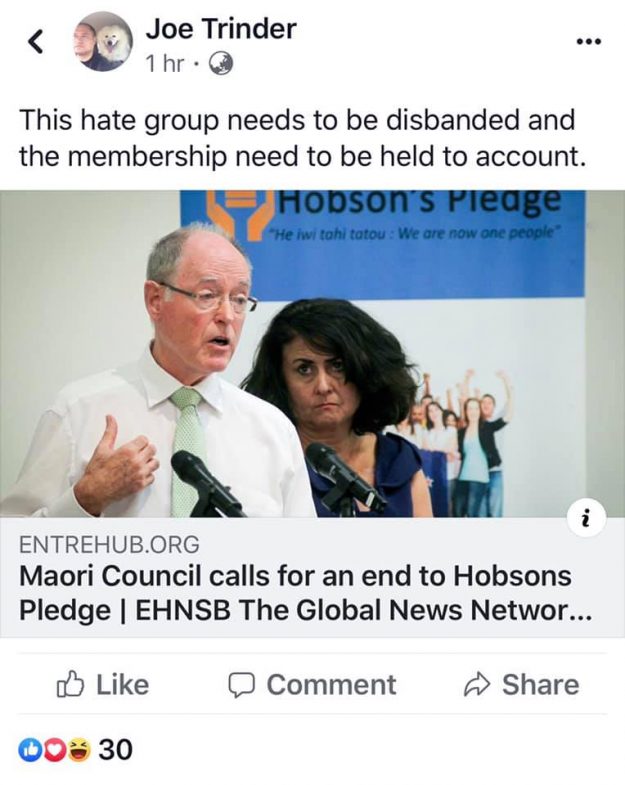 The Radical Left-wing Maori Joe Trinder wants Don Brash shut down and 'Punished' because Don Brash wants Racial equality before the Law whereas Trinder seeks to maintain and expand Racial separatism of the Treaty industry because of the vast wealth and political advantages it affords to people like himself.
Many Caucasian Vocal Internet personalities who have supported President Trump and been critical of the Lefts mass immigration policies and how Liberal governments have failed to maintain law and order (esp in France) have been systematically labeled 'Alt right' and ghosted on the internet.
When ever the Left writes an opinion piece that links Radical Nazis like Phil Arps with moderate conservative 'center right' critics they are perpetrating Political Slander of the highest order
An example of this is here … where by the conservative center right Facebook administrator of 'Right Minds NZ' Dieuwe De Boer is listed as being a part of the 'Organised Far Right in Aotearoa/NZ'
At least the author has the honesty to admit De Boer is *a conservative*… not Alt right… yet still it is outrageous to include him in an article labeled 'An Introduction to the Organised Far Right in Aotearoa/NZ'.
This is how the left opperates.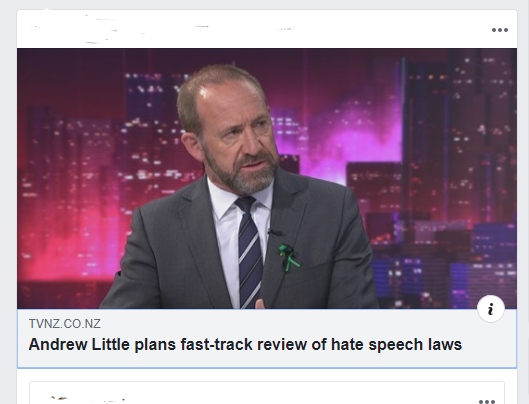 And governments across Western Civilisation are now sending out the police to harass voices of dissent, treating them as 'dangerous radicals' 'hatemongers' etc when in reality by far the majority of them are not Radicals at all… but conservatives protesting the rapid growth of the Police state being driven by the Left.
New Zealanders are being intimidated by the police for expressing their political opinions on Social media… exercising their right to fee speech… no threats… no hate… just critisisms of what our government is doing.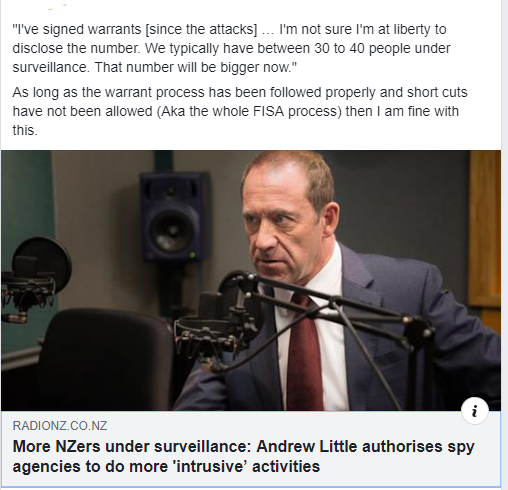 This is how dangerous and hateful the left wing has become… and yet how blind to it all the Mainstream Media and mainstream parties have become…. and because of this failure on the part of the media and Mainstream political parties… those who have had a guts full of militant left wing Aggression are far more likely to gravitate to the far right, given they can find no reasonable and determined opposition in the main body of the Center right.
Thus we should not be surprised to see the rise of Far right Groups and parties… though here in New Zealand the numbers have been very low… yet because the heavily slopped activities of Arderns government and the police post Christchurch, and their attempts to suppress free speech… we can expect the numbers of the Alt Right here not to subside… but to grow… all because the likes of the National party are not acting as a Conservative opposition party against all this left wing radicalism.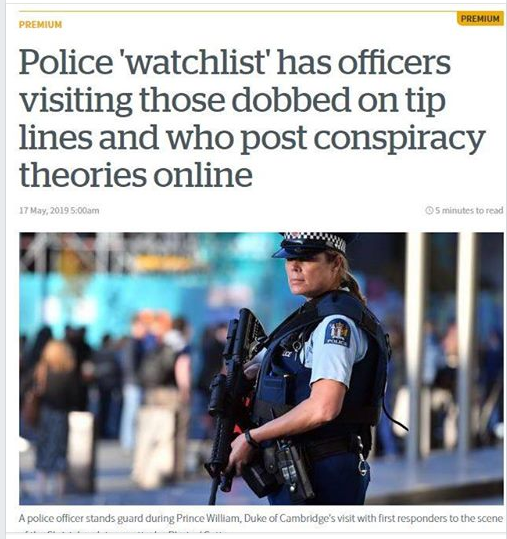 The truly *conservative center right voice* is no longer the Nz National party that has fallen so far left as to be almost indistinguishable from Labour… the Conservative right are now Epsom Mp's David Seymour's Act Party, Hobsons Pledge, and Libertarians like myself who voice our opposition to left wing radicalism and racism, yet also express our opposition to Alt right radicalism and racism…. yet the great propaganda lie is that we are Alt right… that because we want to end racial privilege to Maori that we are therefore Racist white supremacists… etc etc… all absolutely despicable lies… and yet willfully lapped up by the media, and the Left.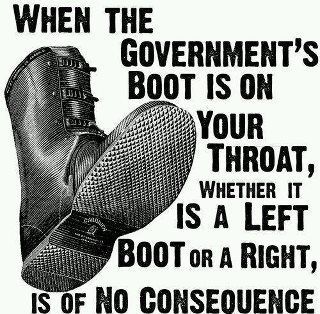 This is such a massive subject that I will have to make a second post that goes into detail about the so-called 'left/ Right' political spectrum and how cumbersome it is and how it is an insufficient… way too simplistic tool to describe individuals and various party co-ordinates within the whole political paradigm.
I will simply finish here with a photo of my own result having completed a political quiz that shows political positions on a two dimensional graph rather than on the one dimensional linear straight line from left to right that is taught in Zombie school politics class or law.
This tool is called 'the Political compass'.
There are many different versions of this quiz that have different questions, and get different results.
For people like myself I often dont like the way many of the questions are framed, nor the limited 'answers' available to pick from… (like most political polls)… and yet usually I end up just on the left side and in the middle of the Libertarian lower half of the compass… yet in the one I post below I ended up just to the right, and closer to the demarcation line between Libertarian and authoritarian (not happy about that!) … yet most importantly *still in the Libertarian sector of the compass* which is the *very opposite sector to Socialist authoritarianism of both the Left and right!
Liberarianism is one of the Hardest political ideologies to sell because on one hand when we critisise the left we get called fascists, and again when we critisisze the Right we get called communists! Both equally false… both equally despicable slanders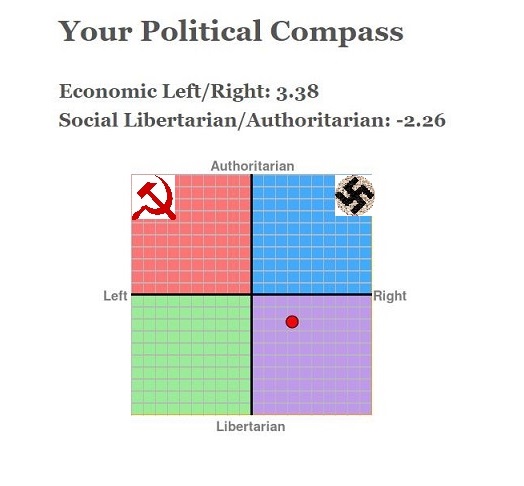 This is a result of me doing a political compass quiz.
I am the red dot on the lower quadrant… just right of center.
Where Phil Arps would register I have represented with the Swastika High up on the Authoritarian scale and to the hard right.
Jacinda Ardern would register near the top (but not at the top) and near the far left (but not at the far left extreme).
The most important thing though is not so much how far to the left or the right a person scores but more how high or low a persons views puts them into authoritarianism… and the use of political power,force, and coercion, as opposed to how Libertarian a person is… those who believe in personal liberty, self reliance, self responsibility,free speech, and volunaty community actions.
Do the political compass yourself here (see sidebar)
So despite everything the left tries to say and assume about my politics because I critisise them so much… I am not an Alt right wing Fascist whatsoever.
Libertarianism *is not Alt right* and such accusations by haters on the left are filthy and disgusting Lies of the highest order.
New Zealand is *not* a nation that treats everyone equally yet this dangerous systemic racism is not Alt Right… but Alt Left!
The toxic *socialist racist doctrine* of treaty separatism and indigenous rights… and Colonialist 'white guilt'… has grown to such a degree that even the center-right parties now advocate for it.
The Alt Right in New Zealand remains a tiny minority and yet the Way or Prime minister Jacinda Ardern and the Police are behaving anyone would think New Zealand is crawling with Neo Nazis and that New Zealand facebook users are chanting 'Seig Heil'… and threatening their Muslim neigbours!
This is total Bullshit!
This is a propaganda generated hysteria… for Machiavellian political ends,,, the subjugation of the New Zealand people…. a massive power grab!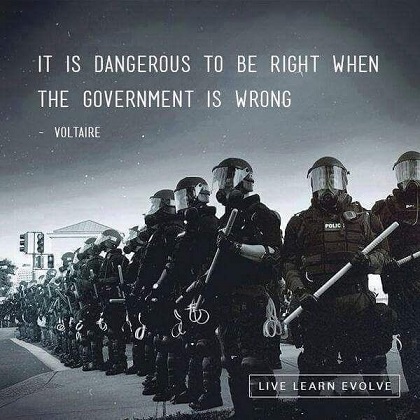 And to state something that is almost a crime to mention… The Monster who committed the Atrocities in Christchurch that has been used by Ardern and the Police to trample underfoot the rights and liberties of New Zealanders wrote in his now Prohibited Manifesto 'The Great replacement' that it was his intention to accelerate the march towards Civil War between the left and right factions within Western societies…. and the actions of Ardern and the Police are doing precisely that!
Ardern and the Police are playing their part in Brenton Tarrants diabolical plan… and they are doing there best to shut down voices like my own who use free speech on the internet to warn the Public what is going on, and to call the people of New Zealand to rally and protest against this *Police state* that has been foisted upon us in a mere matter of months.
And its not just happening here… but elsewhere also… It started earlier in Australia… its happening in the US, Britain, France, Canada… wherever Woke left wing Governments are selling out their nations to Leviathan seated at the UN.
Tim Wikiriwhi
Christian.
Libertarian Independent.
More from Tim….
NEW ZEALAND GUN COMMUNITY ROAST NATIONAL PARTY MPS FOR SELLING THEM OUT ON ARDERN'S NEW GUN CONFISCATIONS.
MY SUBMISSION ON THE ARMS (PROHIBITED FIREARMS, MAGAZINES, AND PARTS) AMENDMENT BILL
TIM WIKIRIWHI. THE RIGHT TO SELF DEFENSE: MY (UNDELIVERED) ORAL SUBMISSION TO THE NEW ZEALAND COMMITTEE OF THE ARMS (PROHIBITED FIREARMS, MAGAZINES, AND PARTS) AMENDMENT BILL APRIL 2019
THE HIGH CAPACITY AR 15 BUSHMASTER SEMI AUTOMATIC… THE RIFLE OF CHOICE TO KEEP OUR NATION SAFE. WE NEED THEM!
WELCOME TO THE MACHINE! I GUESS IT WONT BE LONG BEFORE I AM PUT IN JAIL FOR BREAKING NEW ZEALAND 'HATE SPEECH' LEGISLATION.
TIM WIKIRIWHI'S SUBMISSION TO THE NEW ZEALAND GOVERNMENT'S CONSTITUTIONAL REVIEW. 2013
LEGALISED FORCE ATTRACTS THUGS AND BULLIES LIKE FLIES TO…
LOOKING FORWARD, NOT BACKWARDS: DYNAMIC CULTURE VS STAGNATION. WHY BRITISH COLONISATION WAS GOOD FOR MAORI.
Update: 19-5-19
"OPINION: If you need evidence of why governments should not be trusted with regulating social media companies you only need to flick through the twenty four page advertorial masquerading as a report produced by the freshly minted Helen Clark Foundation last week.
It isn't a long read, being mostly stock photos and images of Clark and Ardern, but its message is clear: new regulations are needed to prevent online hate speech in order to combat terrorism.
And by hate speech they mean Neo-Nazis and people who say mean things about the LGBT community."
Read more here Mass shootings predate social media, so let's focus on the real problems
Update: 19-5-19 Revealed: Government to allocate Budget funding to fight white supremacy