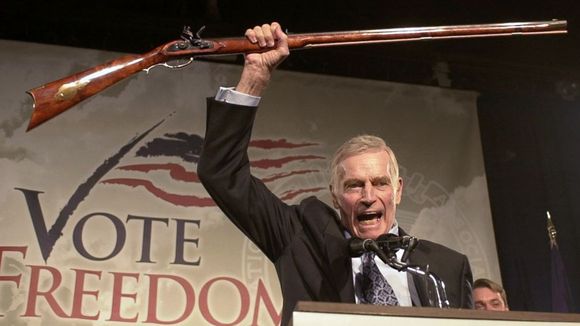 Photo: The late Great Charlton Heston addressing the North American Rifle Association 'From my cold dead hands'… in defiance of attempts by government to nullify American's gun rights.
******
New Hub: 'A 25-year-old Auckland man has been arrested and charged after claiming his prohibited firearms had been stolen in a false statement to police.
Police received a report of a burglary at a Coatesville property around 10pm on Thursday, 18 July.
The man claimed his garage had been broken into and the burglars had stolen two guns – a 9mm pistol and a rifle – from his gun safe the previous night.
Following a scene examination and a number of enquiries, the man allegedly admitted to police that he had hidden the guns.
The officers subsequently discovered the pistol and rifle, alongside two other semi-automatic firearms, hidden in the ceiling cavity of the property's walk-in wardrobe, confirms Detective Senior Sergeant Nadene Richmond.
The man has been charged with making a false statement and is due to appear in North Shore District Court on Friday. It is likely he will face further firearms charges.
The guns have been seized and will be destroyed…'
Read more :'Auckland man charged after lying in an attempt to avoid gun buyback scheme'
*****
So New Zealand has its first Legal Gun Owner criminalized by resisting this freshly baked oppressive Law.
No doubt he is just the first of many more to come.
This shows us what we already knew… that contrary to all the Spin spouted by State Authorities via a sycophantic media about 'overwhelming support and willing compliance from the gun community , that in reality there are Gun owners out there who are not happy at all, and some are determined not to comply, and instead are intending to keep their guns…. and who can blame them?
The extent of this rebellious spirit is a great unknown to the Police as they dont have a clue about how many Guns they have rendered Illegal by their new arms amendments or who owns them, yet these facts dont deter them from claiming the vast majority of owners are willing to comply.
We can understand why they are maintaining this empty rhetoric as they are relying on that narrative to dampen any hopes by wavering gun owners, that there might be a large number of the gun Community who are bravely sticking to their guns in defiance of the new laws.
This Aucklander was one of these 'obstinate' types!
Not cowered by the threats!
Obviously passionate about his guns and Angry about the Governments new prohibitions, and so he hatched a plot to keep his firearms.
In his mind… Desperate times called for desperate measures!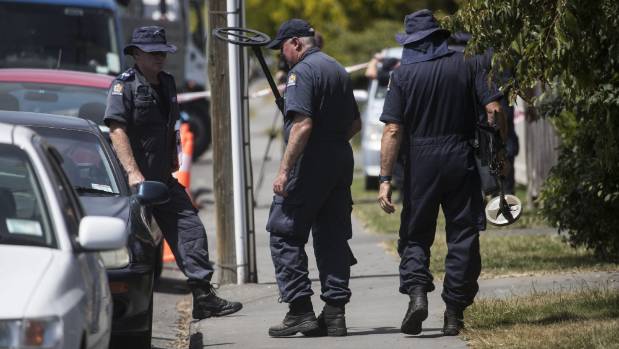 The Police are not playing games and obviously turned his place over pretty good.
Not a smart move attempting to hide them on his own property… With Expert search teams, powerful metal detectors, Dogs, and other gadgets the Police can scan through Walls, Deep down in Gardens, under concrete, and easily find Metallic objects hidden behind recently painted Closet linings and False panels etc.
And they can track where people have carried their phones with GPS accuracy out into the bush… they have surveillance cameras in Parks and Bush walks.
The cards are heavily stacked against anyone who plans to stash their Guns and wait in hope of 'Regime change'.
It would take great ingenuity to defeat all this technology which is at the Police's disposal.
Of course it can be done… Gangs and Crims have been doing it yet it takes far more Cunning, and extreme caution than this poor sod employed… esp at such times as this when the Police are watching out for this sort of attempted evasion and pouring in immense resources.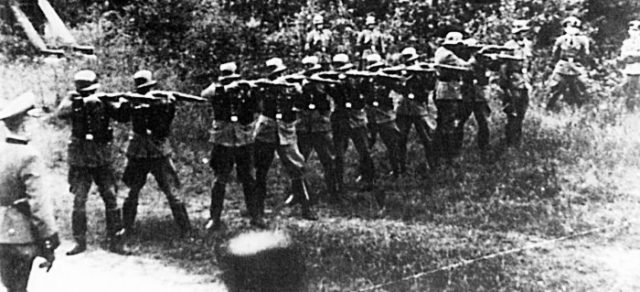 'The man has been charged with making a false statement and is due to appear in North Shore District Court on Friday. It is likely he will face further firearms charges'
[Newhub]
They cant line him up against a wall and execute him, nonetheless we can bet money that they will ask the Court to come down on him like a ton of bricks … make an example out of him to 'encourage any other 'hesitant stubborn types' into compliance.
"This prosecution also sends a message to the small minority who may choose not to comply – if they try to hide their firearms, they can face prosecution. The risk is not worth it."
Detective Senior Sergeant Nadene Richmond.
*******
I hope the Gun community is not too harsh on this guy… he is to be pitied.
Remember his 'Crime' is seeking to keep his own property that has been unjustly Outlawed via a shambolic legal process.
Remember also what has happened to the Venezuelans who complied with their Governments Gun confiscations.
There are certain times in which telling lies to dangerous powers is mortally excusable (read here)
In many principled peoples minds this guy tried something heroic… he tried to resist tyranny.
This man is a socially engineered criminal…a victim of corrupt and unjust Government… all of whom should be thrown out of office at the next election, and their New Arms amendments ought rightly to be abolished.
Now he will pay the price for his insolent rebellion of Ardern's dictates.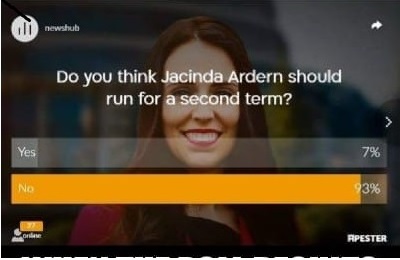 It is time for the People of New Zealand, and esp the Gun Community to start protesting against Jacinda Ardern's relentless expansion of the powers of the state and her absolute disregard for the Rights and Liberties of the New Zealand people!
She is turning our nation into a Police State!
She has just announced *more Firearms legislation!*
"… Prime Minister Jacinda announced details of the firearm law overhaul on Monday, saying it would come with a message ingrained in law: firearm ownership is a privilege and not a right."
Read more here : Firearms register among second raft of gun law reforms announced by PM
There you have it in black in white… We have a Prime Minister who does not believe the people of New Zealand have any *Rights* to own firearms!
The people of New Zealand must snap out of their shameful lethargy… and step up!
We must put Ardern out of office and Parliament in its place*… as our servants!
They are not our overlords! Not the givers of privileges that they may withdraw upon their own whims!
The New Zealand gun community had better wake up to the fact that New Zealand needs an Iron clad Libertarian constitution and a bill of rights that *has teeth*… complete with *'second amendment type Gun rights' which will put an end to the power tripping delusions of the likes of Ardern!
Thats why the Founding Fathers of America wrote the second amendment!
Stand up for your Rights! or soon you will have no guns… because you accepted the despicable Socialist idea that gun ownership is just a privilege that may be granted by government… or taken away!

The best Party represented in Parliament today is ACT.
I believe all Liberty lovers, Conservatives, and Gun Owners need to rally under the Act banner *NOW!*
Grow their Ranks… and see them enter parliament after the next election with far more Mps.
David Seymour has been the only voice of opposition to New Zealand's slide into Lefty Liberal Hell.
Tim Wikiriwhi
Libertarian.
More from Tim… ARDERN'S NEW GUN PROHIBITIONS FAIL TO REMOVE GUNS FROM THE HANDS OF CRIMINALS… WONT MAKE NEW ZEALAND SAFER…AND ONLY TARGETS THE LAW ABIDING.
MY [WRITTEN] SUBMISSION ON THE ARMS (PROHIBITED FIREARMS, MAGAZINES, AND PARTS) AMENDMENT BILL
TIM WIKIRIWHI. THE RIGHT TO SELF DEFENSE: MY (UNDELIVERED) ORAL SUBMISSION TO THE NEW ZEALAND COMMITTEE OF THE ARMS (PROHIBITED FIREARMS, MAGAZINES, AND PARTS) AMENDMENT BILL APRIL 2019
NEW ZEALAND GUN COMMUNITY ROAST NATIONAL PARTY MPS FOR SELLING THEM OUT ON ARDERN'S NEW GUN CONFISCATIONS.
WELCOME TO THE MACHINE! I GUESS IT WONT BE LONG BEFORE I AM PUT IN JAIL FOR BREAKING NEW ZEALAND 'HATE SPEECH' LEGISLATION.
IMO GREEN MP GOLRIZ GHAHRAMAN IS A MENACE TO FREEDOM. DAVID SEYMOUR SHOULD NEVER APOLOGISE FOR CALLING HER OUT.
WORLD WAR 3 ON THE WORLD WIDE WEB. THE CRUSHING OF FREE SPEECH IN NEW ZEALAND.
ITS TIME FOR THE FREEDOM MOVEMENT TO LIBERATE THEMSELVES FROM FACEBOOK… GET THE PARTY STARTED OVER ON ME WE!
PHIL ARPS: A PORTRAIT OF A REAL ALT RIGHT NATIONALIST WHITE SUPREMACIST: COMBATING MALICIOUS LEFT WING PROPAGANDA.
And…. EPIC DEFENSE OF FREE SPEECH: ANN WIDDECOMBE | WE SHOULD NOT SUPPORT NO PLATFORMING (8/8) | OXFORD UNION. YOUTUBE