Note: The following commentary is not written to attack the Transgender Community but to discuss matters of Freedom and rights. I am critical about how the Liberal left movement is behaving and how they have corrupted the government, and Learning institutions, this is not an attack on the trans people themselves and their right to exist in Liberty…
I seek to define the limit to which everyone's free choices and beliefs must be catered for by others… and the same rules apply to all… there can be no contravention of the principle of Adult volitional consent in matters of a sexual nature.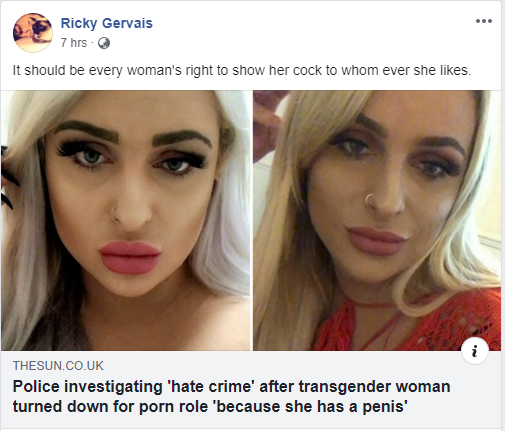 Full article here : PORN IDENTITY Police investigating 'hate crime' after transgender woman turned down for porn role 'because she has a penis'
This person is Unhinged….. They seriously thinks that straight people must go along with their personal fantasy… yet we all know from where all these corrupt ideas emanate.
The Liberal delusional philosophy is the very destruction of freedom and rights!
They seek to abdicate other peoples Volitional Consent and *force themselves upon others *!
This is how twisted this Liberal Rubbish has become!
Their Ideas turn out to be a Rape Culture in Drag!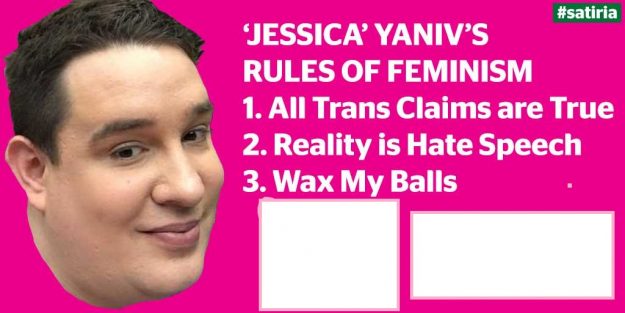 Read: Transgender activist who sued beauty salons for refusing to give her a Brazilian has human rights complaint DISMISSED after court finds her claims of discrimination 'unjustified' as workers weren't trained to wax male genitals
*Freedom* and rights proper on the other hand would say you can be Trans if you like, and you can engage in *consensual sexual activities* with willing others without threat of legal persecution… but you cant *force* others into any sort of sexual activity… you have no more right to *Demand* sex than anyone else!
Rights *dont* impose obligations on others to abdicate their own volition.
Socialist politics of Course is all about *legal force* and that is why it is Totalitarian and anti individual liberty.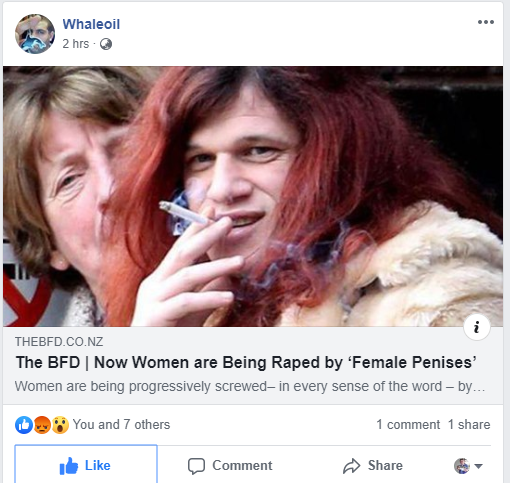 Read: Now Women are Being Raped by 'Female Penises'
If only Trans people were not under the spell of Whacko Liberalism but instead understood true freedom and Rights!
The WOKE SJW delusions are in fact working to sow malice towards them from everyone else… including many feminists because of the militancy with which they have been programmed to impose themselves upon others by *unreasonable demands* like this… I mean *no other sexual demographic* Demands… porno companies give them work… eg One legged old men dont say "Its a hate crime that porno companies wont employ us"…. etc etc… because thats not how freedom or rights work!
Western societies ought to be *very concerned* alarmed that this sort of Anti-freedom rubbish is now being investigated as a possible 'hate crime' by the Police!
This is how far the liberal cancer has embedded itself in the Engines of the State… soon It will become a hate crime to even criticize this political madness.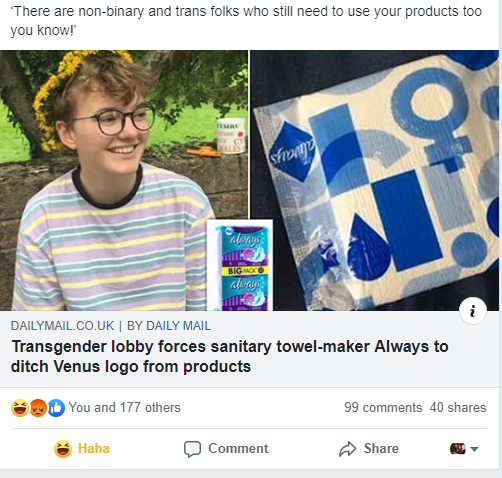 We have already reached a point whereby anyone who wants to do a political analysis or commentary (like mine) that dares to critisise the Woke Trans Agenda risks being Banned from Social Media so that this 'Threat' in itself works to suppress free speech and open dialogue… the accusation of 'Transphobia' being the operative character assassination, when in reality Libertarians like myself are *not at all* hateful of Transgender people or seeking to 'oppress them' in any way… we are simply showing how the Liberal left has overstepped the mark and are now oppressing *heterosexuals*, and Christians, and Feminists, and even Lesbian feminists (who dont believe Transgender Men should be allowed to compete against Natural woman in sports!)
When will this madness end????
The Woke Civil War.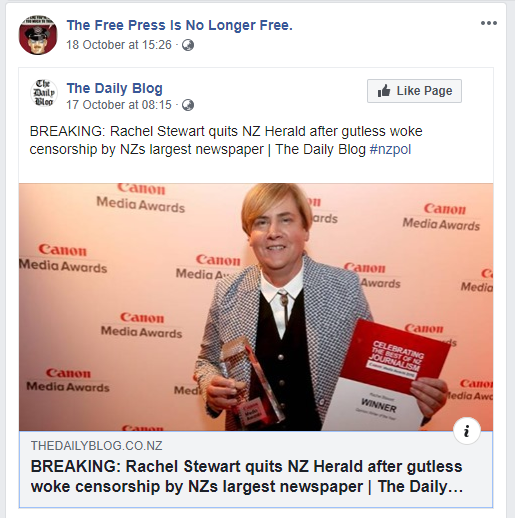 A Kiwi example of how the Transgender movement is now Savaging the feminists who helped them get established is seen in the saga of Ex NZ Herald writer Rachel Stewart who quit the herald after they spineless declined to publish an article she wrote about how the transgender movement was now turning against feminism….
Read
BREAKING: Rachel Stewart quits NZ Herald after gutless woke censorship by NZs largest newspaper
And here: GUEST BLOG: Rachel Stewart – the column the NZ Herald didn't publish
Excerpt:
It seems far-fetched that the mere hiring of a Massey University venue by a feminist organisation could cause so much indignation and rage, but these are not typical times.
A bunch of females getting together within a public space to discuss the issues currently affecting them is far from new, and very far from radical.
Yet, the idea that 'Feminism 2020' would dare to congregate at a venue on Massey's Wellington campus saw a number of students stage a sit-in, which culminated in the handing over of a petition calling on the university to cancel the event.
What is so threatening about women coming together and talking? According to the protestors and petitioners, the organisers of the event – Speak Up for Women – are essentially devil incarnates.
Petition organiser Charlie Myer said the university shouldn't be "facilitating this kind of discussion". Feminism 2020 "could have [the event] anywhere" but it wasn't appropriate for them to hold it at a university, which was supposed to support transgender students."
Last time I looked universities were required to respect and uphold the quaint, old-fashioned tenet of free speech too. And Massey has, thus far, held out against the pressure of every thrown guilt trip known to mankind. You know, we don't feel "safe".
Myer also disputed the group was feminist and simply meeting to discuss women's issues. "If your feminism isn't intersectional, it isn't feminism."
My advice to parents is to beware Massey University!
There are warped Academics there and any vulnerable young people will be exposed to heavy Transgender indoctrination…. Be warned.
It is in such places that vulnerable youth are conditioned to become transgender under the sway of such movements… only later to regret having transitioned… now it is being reported that *thousands* of Trans Youth now are full of regret and are seeking help to *transition back* to the sex of their nativity…. and we can be certian that a great deal of these youths were indoctrinated and conditioned into becoming transgender by ideologically twisted academics in Universities where these contemptible SJW Liberals congregate… spreading their Toxic and perverse ideas about sexuality.
Read: WATCH: 'Hundreds' Of Young People Regret Gender Transition, Seek Reversal
Tim Wikiriwhi
Christian Libertarian.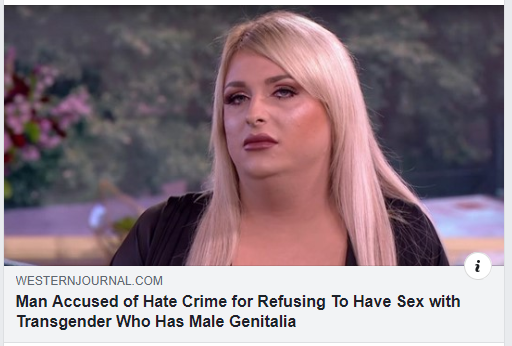 More from Tim… GEOFFREY PALMER AND THE RAPE CULTURE OF SOCIALIST GOVERNMENT. TEACHING LIBERALS THE PRINCIPLE OF CONSENT
TRANSGENDER SYNDROME: FEMINISM'S SATANIC PLOT AND THE SLIDE TOWARDS ARMAGEDDON.