To be edited.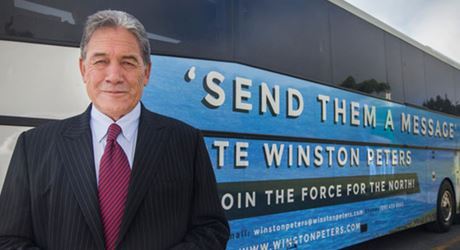 The following is about a Post election exposè by New Zealand First Party candidate Kym E Koloni on her facebook page which expresses her deep disappointment with how she was personally treated by her party and how utterly betrayed she feels by Winston Peters himself.
I will let her speak for herself and make a few comments at the end.
*********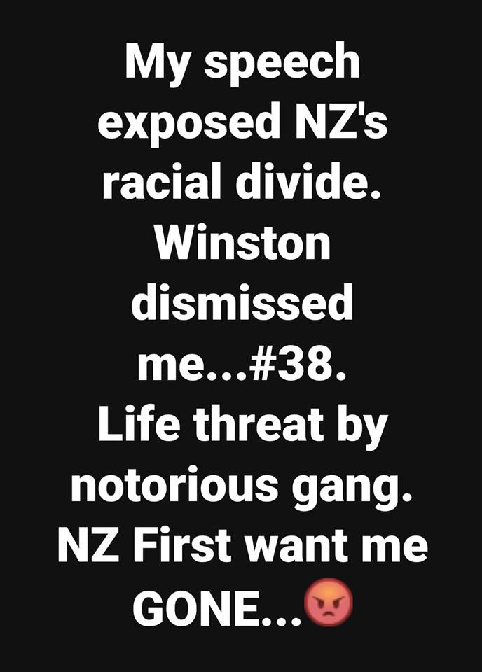 Kym E Koloni
3 hrs ·
For the record …..
When I decided to stand as a candidate for NZ First I knew it was going to be stepping out of my comfort zone.
I value my privacy…and as much as I have a bubbly personality…I enjoy privacy and silent times too.
The sacrifices of putting myself out in the public eye for the sake of my country was carefully considered. But I was up for the journey…believing NZ First policies best represented my views for NZ.
My SPEECH on the 11th Sept changed this journey, and exposed how racially separate our people have become.
Removing ALL race-based policies, including promising a Binding Referendum to remove the Maori Seats was what Winston Peters and NZ First stood for and campaigned on…100%.
Why was I not supported by my party…? Why did Winston dismiss my speech and brutally demean and insult me by saying "What do you expect…that's why she's number 38."
That insulting slamdown was not just to me…it damaged every NZ First candidate from 2 to 56.
How did those at 39 to 56 feel…? Utterly disappointed and demeaned.
I've asked the party to please point out what part of my speech was NOT our policy, and if policy had changed please inform me WHEN…and inform me when the candidates were informed.
That was 13th September. No response, no reply…silence.
Oh but the party gagged me in the meantime.
Apparently my comments were inappropriate in tone, misrepresented NZ First policy, caused significant damage to the campaign position and caused concern, indeed distress, to other candidates and members of the party.
My Northcote committee said I was arrogant and selfish, and I had jettisoned any hope of a political career.
I was told to remove the link to my speech from my Facebook page.
It was even suggested I remove my whole Facebook presence.
I was then told:
1. Not to make any media statements whatsoever, or respond to any media query.
2. Not to make any social comment on any NZ First issue.
3. Not to attend any public meeting or gathering related to the election campaign on behalf of NZ First.
4. Not to undertake any campaign activity on behalf of NZ First for the remainder of the campaign.
Effectively, they gagged me and the only option I had left was to continue campaigning independently of the party. My name was already on the ballot papers as the NZ First candidate for Northcote.I still believed I had represented our policies in everything I said in my speech.
I was still waiting for a response to my questions.
To date they have NEVER responded.
Thankfully, my faith in real NZers like me was restored.
The groundswell support I received publicly and privately was absolutely INCREDIBLE.
I needed it…thank you. ?
I suddenly had people around me who had my back.
I had eyes and ears who kept me informed and a step ahead of things happening…thank you.
My speech was being misreported over the media…but I was gagged from responding to correct it.
I was particularly disturbed to be alerted to a Head Hunter's Facebook page with a link to my speech and my face plastered over the page…."This piece of shit needs to be executed "…share this bruthas. Yes, I kid you not.
The very content of my speech wanting UNITY and one law for all…and wanting ALL New Zealanders to be treated equally, was ironically exposing the very real racial separatism I was speaking against.
So there were bully's to endure from within NZ First, the party I was representing.
There were bully's from Maori radicals, including gangs.
I learned how to BLOCK….a skill I had no need to know before.
BUT, I am now being disowned by the party…they want my membership revoked….they want me gone.
So for the record….this has certainly been a life-changing journey…not quite the way I had envisioned.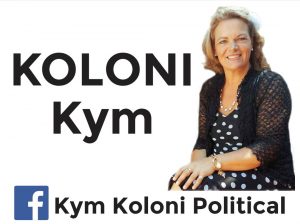 Link > Here
Stuff article…. NZ First candidate vows to remove Treaty of Waitangi from law
TV1… Watch: 'That's why she's ranked 38' – Winston brutally cuts down candidate after controversial Treaty remarks
*********************************************************************************************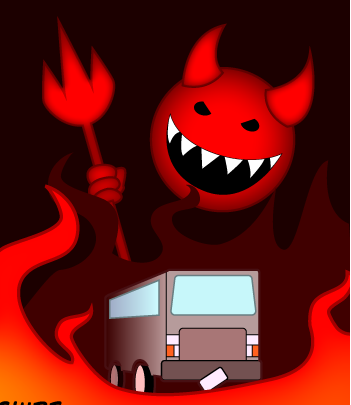 After reading Kyms post I was Angry.
Angry for Kym given she had stood up bravely for the Principle of racial Equality before the law yet had been utterly betrayed and marginalised by Winston Peters.
I was angry that this insider information served to confirm the view that Winston Peters had swindled voters like myself who gave NZ First our vote on the understand that should he hold the balance of power after the election, that he would secure a referendum on the issue of New Zealand's race based Apartheid Electoral system.
Read : 'Winston Peters delivers bottom-line binding referendum on abolishing Maori seats'
This was a policy that Winston was most vocal about leading up to the election , and one that I personally held to be the most pressing issue facing our Nation today!
And it was this policy that stirred myself and many others into throwing our support behind Winston Peters and New Zealand First despite our many reservations based upon his seriously checkered past.
In good faith I jumped into action and I wrote this… New Zealand's Hopeless Election Choices… The Selling out of New Zealand to BrownMail. RMA 2017
and This… Calling National and Labour Party voters to UNITE! Lets put New Zealand First and End Waitangi Apartheid!
My reply to Kyms post was… "Had I known all this before election day I would have immediately changed my mind about giving Winston first my vote and would have raised the alarm!"
Many People who voted for Winston feel the same way, yet of course Kym could not say any of this *before the election* being duty bound not to scuttle her own party… despite the treatment she received.
She did however work to the best of her ability to get supporters to put pressure on Winston Peters to stay the course… and not Reneg on his promises.
There was much that she saw from within the party that was shocking… and raised serious alarm bells… yet she could not communicate this to the general public.
We do not hold Kym at all responsible for Winston Peters Machiavellianism.
The Sad reality was at the time leading up to Vote Day, we supporters were left to our own imaginations… Can we Trust Winston?… are we being taken for a ride?
None the less many of us were committed to trying to get the referendum… the legitimacy of these not being something I readily accent to… yet given the circumstances was at least a shot at New Zealanders voicing their desire for reform.
Her Post-election Facebook exposè (above) made concrete what many of us suspected had happened … yet had no way of knowing for sure during the election campaign period … there were ominous signs yet we were always hoping we were going to get a referendum on this absolutely vital problem… while weathering a storm of slander by our more skeptical friends…. who all claimed to 'Know with certainty' that we were Fools to trust Winston Peters.
We were prepared to walk through this gauntlet for the sake of the cause to end New Zealand's shameful Apartheid system.
I knew that there was at least a 50%… even a 60% chance they would prove to be correct as I myself had spent over a decade arguing that Winston Peters was a dishonest Rouge … in fact there would hardly be anyone who has been more vocal on this issue than myself… yet I also knew that these people could no more predict the future than I can… or Read minds better than I… and that if we voters wanted to get the referendum we could not falter on rallying as many votes as we could for NZ first… yet all the while being active in notifying NZ First and Winston Peters that the only reason we were voting for him was for the sake of the referendum.
I did have to pinch myself often… and reaffirm to my self my premises for maintaining my support.
I was one of many who actively conveyed this message… tagging in Winston Peters to every post, saying he must not falter… and encouraging everyone else to do the same…. yet I only once received a second hand 'thank you' from a third party… the silence was deafening from Winston.
And after he failed to support Kym on her brave speech… instead he publicly derided her in spite of her speech being received by us and with Joy… and being itself in full accord with Winston's own speeches in recent times on this Vital issue… not surprisingly support for NZ First started to falter.
For all Winston Peters vast experience in Politics it is staggering to appreciate just how foolish and self-defeating his treatment of Kym was in the media!
If only he had doubled down and fully supported Kym in her stance and had encouraged *all of the 50+ NZ First candidates* to do the same… it is very reasonable to speculate that the ensuing sensation would have delivered at least twice the number of Votes for NZ First!
Just look at the impact and publicity Kyms single speech garnered!
Winston's duplicity shot himself and his party in the foot and left all the candidates wondering what the hell they were supposed to say!
When the low life media pounced on Kim's speech, Big Bad Winston crumbled like an amateur!
Instead of praising and supporting her… he threw her under his Big shiny Bus!
Looking back we can now say that even at this early stage…Winston's retreat against the Brownmail and the PC Media had begun!
When I saw this at the time, as someone who was committed to voting for NZ first on this policy alone of course it disturbed me… of course it made me begin to doubt Winston's sincerity on this matter… yet again being only left to my thoughts… I was wondering how much weight I could really place on this sad failure of Winston.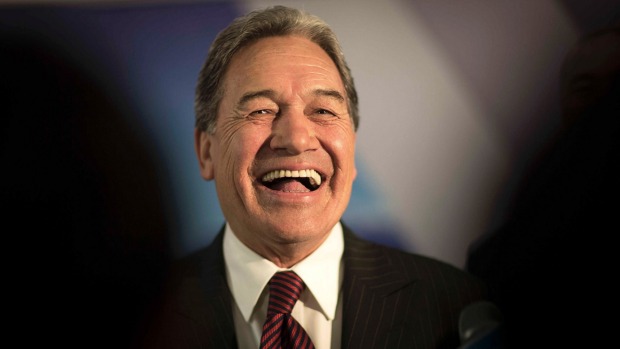 It was easy for me to make excuses in that Winston was touring the country at the time… and was clearly tired… impossible to communicate with… as he was the man of the hour.
Despite the so-called 'Jacinda affect'… or because of it, the number-crunchers were predicting that Winston would hold the balance of power and so be the 'King maker' come coalition talk time.
This fact in itself was enough for people like me committed to the cause of ending apartheid to put aside our doubts… ignore the naysayers… and stay the course… as by doing the math there was every indication that Winston would indeed be in the perfect position after the election to fulfill his election promises to us in regards to the Referendum… despite Labour categorically stating they would not support a referendum , and National making similar noises… yet not so emphatically.
And when The election was over and all the special votes were tallied… Winston had not received as many votes as he had hoped for… yet was still the most powerful man in the country given he would decide of the two Obese parties who would govern.
From a policy point of view, and given that the Maori party had been wiped out, I expected Winston to be easily able to negotiate the referendum as part of a coalition with National… though I appreciated that it was all dependent on what Winston's true ambitions were, and what National and Labour each put on the table.
Yet all the talks were done in secret… and we the public have not been informed about any of it… even after the decision was made… and this is a travesty!
We the people deserve to know what the hell was going on!
Why the secrets now?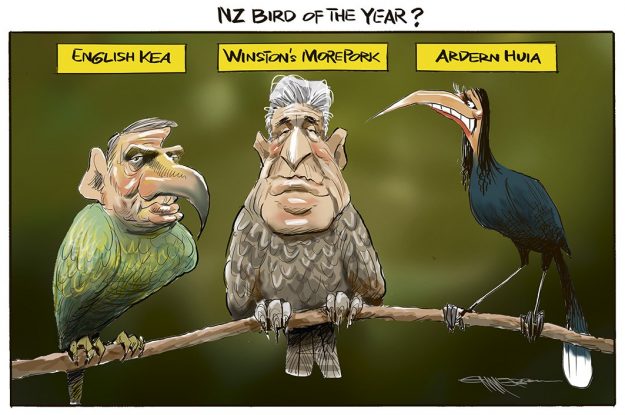 Winston's duplicity came to the fore!
Straight after the election he started making noises that indicated he was about to do the dirty on us… excuses such as "A Referendum on the Maori Seats is not so important now the Maori and Mana parties have been eliminated…" to paraphrase.
This is an absolute Joke!
The Racist seats are still there… still occupied by Racists… and still perverting our government into making racist Laws and favours!
What more Winston decided he was going to get into bed with the very Party that now occupies those apartheid seats!
I now suspect Winston Peters did not even bother himself trying to negotiate for the referendum… did not play hardball on behalf of those who voted for him specifically on this policy and to whom he was morally obliged to champion in honoring his campaign promises… even though we had delivered to him the supreme power to make Ultimatums!
I have several times tried to get Winston Peters to at least explain why he was not able to swing the deal… and why he went with Labour… yet we only get silence.
Apparently Winston does not communicate with the little people.
I even suspect he was intending to go Labour very early on and knew he would not be fighting for the referendum once Labour announced they would not agree to it… yet of course he dishonestly carried on letting us believe that he was going into post election negotiations… "not for Baubles of Office… but for what was for the good of the country".
Hollow words.
He sold us out for what was his *real goals*.
And he and his mates have again taken the Baubles of Office… over what was in our Nations best interests!
And now I must even bear my Wife's derision for giving Winston my support… she… like many of my friends tells me she 'Knew' all this would come to pass.
This would have to be one of the lowest Political low points for me… yet despite being made a fool of… when I look back at how I ended up here… I still see a clear rationale… and I still believe that I voted upon Principle.
A worthy Principle.
And that as voters… we who voted for NZ First on the basis of Ending Treaty separatism did everything within our power to see that principle prevail, yet that is the limit of our strength… and the limit of our responsibility.
The Failure squarely rests upon Winston Peters, and National, and Labour… *and the voters who voted for them*.
I voted for The principle of One law for all, and New Zealand first because of people like Kym Koloni who have now joined a most heroic club… those brave souls whom have suffered threats to their safety because they have challenged Racist Laws and institutions.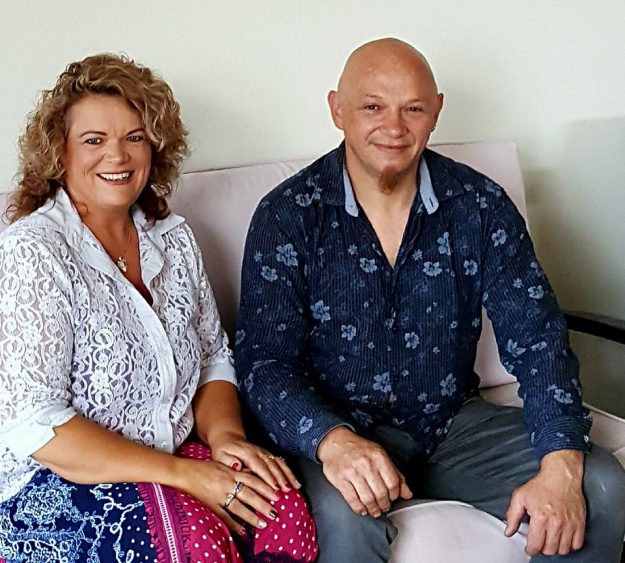 Nobody else was prepared to stand up…. certainly not David Seymour and Act.
For people like me New Zealand First was the only hope.
And this was also the opinion of the lobby Group 'Hobson's Pledge' . .. though not specifically endorsed… you can see this from their posts and from some of their reasoning's why they believed we should stay the course even when Winston was making comments that raised concerns.
Despite having vocally condemning Winston for years esp his underhanded grab of the baubles of Office in 2005, I was prepared to show grace… and to give Winston one last shot at personal redemption… which is something I personally believe in… only to have my olive branch trampled underfoot by a charlatan of such a grand scale that despite all my reasoning and excuses in this blog… I still question my own intelligence for being sucked in so badly!
Given that I never stood myself for election due to financial troubles with the IRD, I am in a quandary as to how I could have acted more wisely, and will have to bear the ignominy of having cast a vote for the Used car salesman… the very poster-child of a dirty scheming modern politician… a Lawyer none the less!… for the rest of my life.
Satan laughing spreads his wings.
Though Winston was King Maker and he now has many baubles of Office…the election for New Zealand First was actually a failure generated by a fiasco of Party chaos and mis-management and confusion.
Though Winston had managed to con more than twice as many candidates to stand for him this election, because of the incompetence of Winston's team leadership and the uncertainty he generated during the campain, they ended up with Far less votes than the previous election and Less seats in Parliament!
Many of MPs lost their jobs and are wondering 'what the hell happened?'
I guarantee they will be given some lame excuse… if any… like 'The Jacinda effect'
As a homeless Libertarian I knew that after the election either National or Labour would be in the driver's seat, a very depressing thought… for me that is like …do I prefer to be trodden underfoot by a Left Boot… or a right one?
Neither is at all appealing or preferable… and so morally speaking this situation was virtually neutral as far as my personal culpability goes as a voter…should Winston choose of go left or right… yet like I said… I did expect him to go with National… even though I think they suck … and one perverted part of me enjoys hearing all the National Party supporters squeeling like stuck pigs because Winston did not choose National!
All their decrying of MMP because they still cant get it trough their thick Meat heads that just because National got more than Labour… they did not get enough to win!
I am shocked that Jacinda Ardern is now our PM…. I think it's ridiculous… I think Labour is ridiculous… yet I also think National is an absolute joke too!
The Idea that Bill was 'A steady hand' on the economy is such a delusion that beggars belief!
His Party borrowed and spent more than any other government in the history of our Nation and leaves office with our Nation Buried in debt!
Good Riddance!
Though I expect many foolish policies from this Labour Led coalition I also have hope of some good stuff… one very important law reform is far closer now with the sacking of Bill English… and that is Cannabis Law reform … something that despite the howls of all the nasty prohibitionists will deliver massively on Social Justice and Law and Order.
I am happy that there will be an attempt to recover the Dead of Pike river and investigate this Cover up.
I am also Happy that Ron Mark is Minister of Defense and that there is good reason to think the 10:80 Program… dumping toxins by the hundreds of tonnes … and the cruel deaths it inflicts will also end.
I Visited Kym yesterday and we had a great talk (hence the photo).
We discussed things in confidence I am not a liberty to mention here, yet I suggest people pay attention to her facebook page.
I dont agree with everything Kym expounds yet certainly with a great deal.
She is a Christian and an exceptionally Brave woman who stood up for what was right… Ending Racist Laws and establishing One Law for all.
Cheers for that Kym!
You Rock!
Irrespective of what fate holds for you with regards to New Zealand first, I certainly hope this will not be the end of your activism to end Waitangi apartheid.
I hope we can work together for the sake of justice and all the people of New Zealand.
Any Kiwi interested in fighting Waitangi apartheid should sign up at Hobson's pledge and become active supporters.
Tim Wikiriwhi
Christian Libertarian Independent.
Activist for Ending Treaty separatism, and the establishment of Racial equality before the Law.
********
Another commentary….
Here is something from Whale Oil Blog that sums things up… "Winston made the most of those poll results and promised the nation an end to the festering apartheid problem embedded within our law and administration, Winston did this by promising his "Bottom line policy", that he would require a "Full public referendum" on the retention of the Maori seats, NO conditions were attached or made public, just an unconditional public promise of a referendum.
Many frustrated voters looked past all Winston's obvious faults and their concerns over other NZ First leftish Policy, to see a major reversal of the obnoxious evil of apartheid, and gave a party vote for Winston, based primarily on that one restorative policy.
Those trusting voters were DUPED, they were lied to, Winston seized his own power, by sacrificing the one policy that gave him his voting numbers and put him in that position of power.
It is a travesty of natural justice."
From here : The Winston Legacy
Update: 11-8-17… The magnitude of Winston Peters deception is becoming more apparent by the day!
That he has filed legal proceedings against National party MPs The day before the election proves positively that the entire negotiations with National and Labour were one gigantic scam and yet again we have the evidence that Winston put his own interests ahead of the Good of the Country.
There never was any hope of Winston negotiating for the Referendum with National!
He had already decided he was going to use the position we gave him for his own selfish ends!
Pension leak real reason Winston chose Labour
If you ever wondered why Winston Peters decided to get into bed with Labour after the election and if you were ever in any doubt, you only have to have a squizz at the papers filed with the Auckland High Court fingering those who the New Zealand First leader thought were responsible for the leak of his pension overpayment.
They were filed the day before the election and named all the National Party suspects, including the then Prime Minister Bill English, along with his Deputy Paula Bennett and the campaign manager Steven Joyce.
It was just over a week later that the same three Nats filed into the coalition casino with the gambler Peters, who unknown to them, or anybody else for that matter, had already laid his cards on the table.
The dealing had been done. Like all good gamblers, Peters kept a stony face, letting them believe they were still in the game whereas in reality they'd been dealt out when the court papers were filed against them. The notion that he could now be sitting at the same Cabinet table with them is beyond comprehension.
More from Tim
Excuse me David Seymour …. It was nice to meet you, yet what page are you on?…. you seem to have lost the plot! An appeal and commentary on strategy.
Universal Pride in Washington, Separatist Shame in Wellington.
Mt Everest is for Wimps! Lets Conquer Apartheid Government in New Zealand! A strategy.
Tim Wikiriwhi's Submission to the New Zealand Government's Constitutional Review. 2013