To be edited…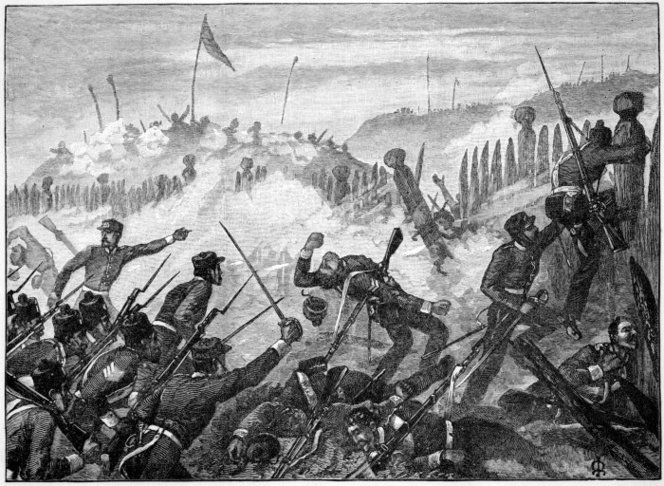 This is yet another blog post that I have been paralyzed by the shear magnitude of the task involved in doing justice to the subject … and so have again literally left it to the last hours to attempt… as I have no more time to wallow in self-doubt about my writing skills.
The day is literally at hand, and so I am compelled to write this in spite of my fears that I will shortchange the virtuous.
I am of course talking about the Fake day of remembrance that Maori radicals have managed to manipulate our government into officially endorsing and even providing Tax payer money of 1 million dollars annually to fund what will prove to be a gigantic day of propaganda designed to present the wars as an injustice committed by the Colonial government against so-called 'righteous and peaceful tribes' for the sake of stealing their lands… as if the aggression was on the side of the Colonial government… driven by greed… and in violation of the Treaty of Waitangi.
See: Fund opens for NZ Wars commemorationsMonday, 10 July 2017, 10:29 amPress Release: New Zealand GovernmentHon Te Ururoa Flavell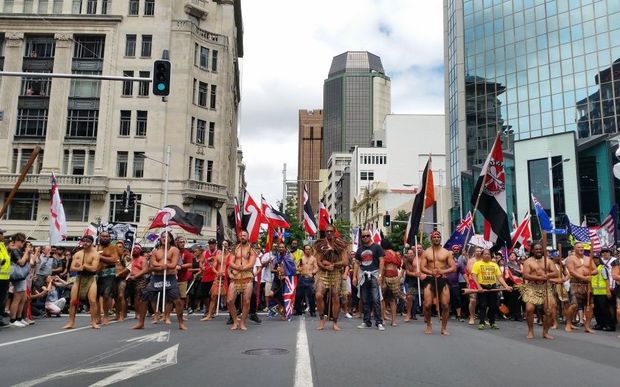 We have already seen 'Waitangi day' being absolutely hijacked by the Racist radicals and turned from what was supposed to be a day of celebrations for the unification of Maori and European Settlers as one people, under the benevolent sovereignty of the British crown … into a day of Race hate and propagation for Separatism and special privileges for Maori.
Why on earth you may ask has the government set us up to endure more of the same vile opportunism for the lies and hatred from a small but highly politicized section of our society who are hell bent on propigating grievous racial divisions for the sake of their own political agenda of extortion?
The answer is simple… The National party was in Bed with some of New Zealand's most prominent Racial separatists sitting in the shameful Racist seats of our parliament all members of one of the most racist political parties… the Maori party!
Ie the reason the National government has given this opportunity to ferment even greater racial division was because they have been selling out our country to these racist seats for decades!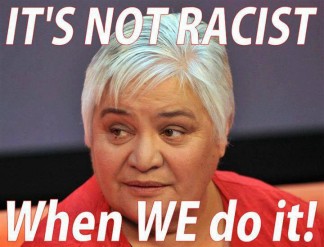 A very warped and dishonest account of events and the wars of the 1860s will be rammed down the throats of our entire nation tomorrow.
No good will come of this travesty!
Truth will be the first and greatest victim… followed by ongoing and increasing injustices against the vastly superior numbers of New Zelander's many of whom are completely oblivious to the fact that they are being taken for a ride!
These are the fools who are the 'enablers' … those whose accent empowers the Racists to achieve their vile ambitions.
Yet many of us Kiwi will immediately realise this day is just a big Charade… the familiar pantomime is again being acted out by the same old troupe of actors…with a sprinkling of new zealots… yet with the same old plot… like some badly written sitcom.
Que the Wailing Wahine!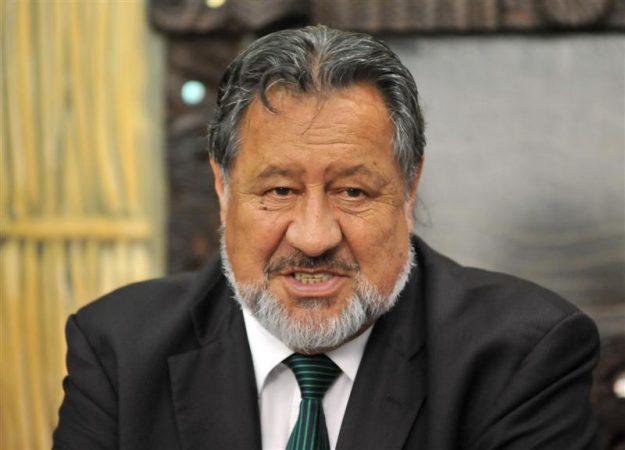 Due to decades of False revisionist history being spoon fed to the sheeple in our Education system by radicals… some who have risen into political prominence by peddling their lies… such as Auckland University Radical Pita Sharples… later to be Co-leader of The Maori Party… sufficient numbers of Non-Maori New Zealanders have swallowed the separatist narrative of Pakeha Greed and have taken on a collective guilt trip… and are supporting their own political oppression!
Though they undoubtedly know that they themselves have not acted in a racist manor towards Maori… yet in their eagerness to deny any hint that they themselves support the ill treatment of Maori have assumed they are guilty by simply being a descendant of the colonials… whom have been painted as being Greedy Bastards… or because they will perceive that because they have benefited from the colonial system (as everyone… including Maori has)… that because of the claims of the Maori radicals… that somehow they themselves have wrongly profited… so they assume they owe Maori 'Reparations'.
This is why so many Pakeha do not balk at the Billions of Tax dollars getting handed over to racists instead of being spent on Hospitals, schools, Medicines, etc.
They believe the hype that *They are responsible* for the present low condition and terrible social statistics that are wielded like a Mere by the radicals as evidence of Pakeha oppression when in reality it is the shocking lack of Personal ethics, and lack self responsibility why Maori are responsible for their own misery…themselves!
They are the ones who stuff their faces with unhealthy food.
They are the ones who Drink themselves stupid rather than saving their money to better themselves.
They are the ones who commit violence and thefts and end up in jail.
All the while refusing to take ownership of their own problems… all the while listening to the lies and agitations of their political elites who profit from the ongoing misery of their people… and who blame the Pakeha for everything!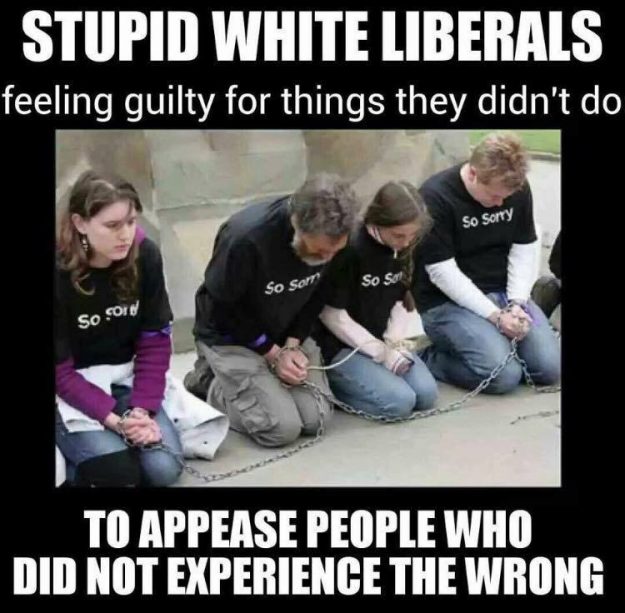 This is what Waitangi day has come to represent, and is the vile mentality that will be prominent tomorrow and will underpin 'the remberance day ' of the wars of the 1860s.
Now that was the easy part of this post… the part that is most familiar to most New Zealanders, the harder part that I can now only lightly touch upon is the actual history of the wars themselves and what they really were all about.
This is difficult because to do it with justice would require massive volumes.
It would require a monumental amount references to historic events and records, all the while having to counter-argue against the Tidal wave of Political propaganda and revisionist lies that have twisted history to suit the narrative of Maori as victims of Colonial oppression.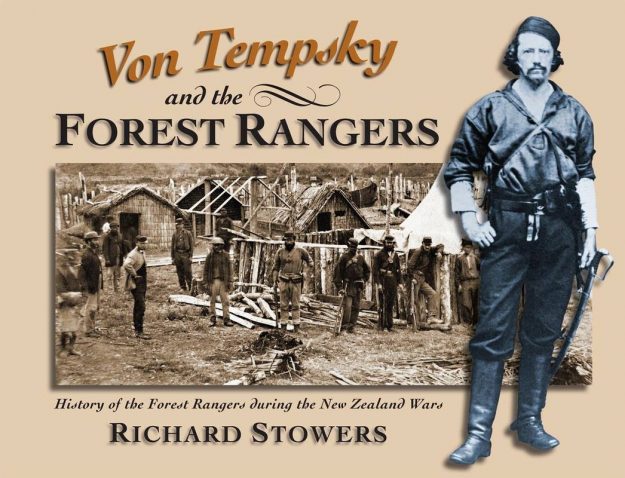 None the less I must give at least a brief commentary on the over-all principles and motives that were in play at those times…
I cannot here engage in dealing with specific accusations leveled at various battles against the Colonial troops by those that have a political vested interest to sully the reputations of some of our countries greatest heroes… like Major Von Tempsky…. a man of Outstanding Heroism and exploits… An Enlightened thinker of High Character and Art… a true Renaissance Man… and who gave his life for Law and order , Peace in this country and good will between Maori and Pakeha that lasted 100 years… and who also until recent times was honored as one of our greatest historic figures.
He was revered by friend and foe alike!
It is the rightful legacy of such Great heroes and the honor they are due that is being robbed by despicable liars for their own financial and political gain.
Even his enemies worshiped his mana as a mighty and fearless warrior.
Today he has suffered Post humorous Political character assassination by the vested interests who seek to hide the rightful guilt that belongs to the rebellious tribes who caused war against the Colonial government by open rebellion to the treaty for the sake of pushing the Pakeha into the sea and re-establishing Maori sovereignty under the Tainui King.
They thought they would easily win…and slaughter the Pakeha… 'Like cutting grass'.
These wars were not about land at all!
They were about Sovereignty!
Just one on-line reference to VonTempky's good character can be found here
"Von Tempsky took part in the actions at Hairini, Waiari, Rangiaowhia, Kihikihi and Orakau, establishing a reputation as an intrepid leader. He was a strong disciplinarian who was popular with his men. When the defenders broke out of the Orakau Pa, he led his men in a ruthless pursuit but strongly disapproved when the British troops killed some of the wounded and women. He encouraged his men to intervene in order to prevent these atrocities."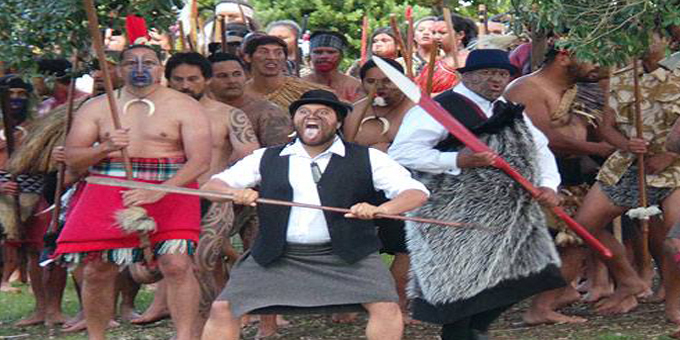 After 20 years of British rule via the colonial government and the growing settlement of the Nation the Chiefs and Maori Aristocracy became jealous of the growing powers of the government and were watching an inevitable reduction in their own powers and 'mana' over their own tribes as their people voluntarily embraced Pakeha ways, manors, beliefs that were not conducive to maintaining faith and submission to the old Hierarchy… and just as is typical for humanity the world over… when powerful vest interests feel threatened… they plot.
And so a few of the Tribes decided they would rebel and try and overthrow the Government and become masters of the country themselves… and they tried to convince many of the other tribes to join their rebellion yet were unsuccessful.
There are records of all this and one famous account that when Kingitanga Tainui emissaries approach Ngapuhi to join the rebellion that they were mocked!
Ngapuhi said they would rather be governed by an English woman than any Tainui King!
So perhaps one of the greatest proofs of the lies of today's Radicals and their historic revisionism is the undeniable fat that the wars were not Maori verses Pakeha… But Maori and Pakeha vs a handful of murderous tribes in rebellion of the treaty!
Read about this here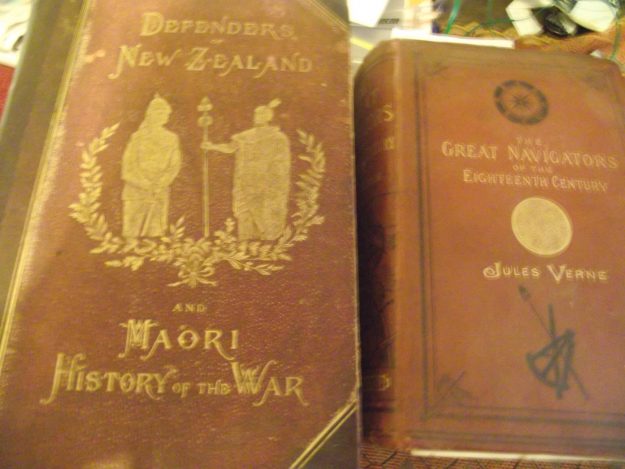 On the left is my copy of 'The Defenders of New Zealand and Maori history of the war' in which both sides of the conflict are presented.
And what is also not taught in our schools is that the rebellious tribes were murdering people and making war preparations to attack Auckland, and that they were duly warned by Govenor Grey to desist their rebellious activities… if they desired to keep their rights as enunciated by the treaty!
What is not being taught in our schools or spoken of in our media is that troops were only deployed after Governor Greys warnings were spurned and war preparations and attacks on setters continued.
He fore-warned them that if war broke out they would loose land as punishment for violating the treaty
And when the rebellions were suppressed, Land was confiscated as punishment for their murderous rebellion and as a deterrent against future rebellions… ie The treaty was not backed by a toothless lion and that there was to be a heavy price to be paid by any chief or tribe that rebelled.
And so it was the confiscations that were the chief reasons that quelled any ideas about rebellion for the next 100 years!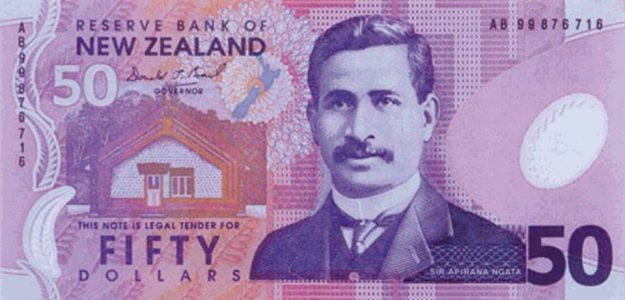 "Some have said that these conviscations were wrong and they have contravened the articles of the treaty of Waitangi, but the chiefs placed in the hands of the Queen of England, the sovereignty and authority to make laws. Some sections of the Maori people violated that authority, war arose and blood was spilled. The Law came into opperation and land was taken in payment. This itself is Maori custom – revenge- plunder to avenge a wrong. It was their chiefs who ceded that right to the queen. The conviscations can not therefore be objected to in the light of the Treaty".
Extracts from 'The Treaty of Waitangi, an explanation' by Sir Apirana Ngata.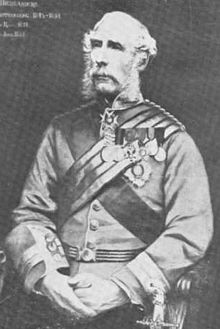 Furthermore the suppression of the rebellion was committed to General Cameron… a man famous for his compassion towards the Maori rebels… a man who respected their bravery… a man who was reluctant to use excessive force to the degree that he was derided for being too weak in his execution of the war… yet you will struggle to find any honest accounts of his humanitarianism on modern biographies written by prejudiced academics who purposefully downplay the virtues of those on the colonial side yet exacerbate their vises, while whitewashing the crimes and motives of the rebels.
This is an entire industry these Days…. the falsification of history by academics and the Monumental extortion of manufactured grievance.
And this is what will be on full display tomorrow.
Now in finishing and having presented my contentions as to why the wars happened and how it was the Rebellious Maori tribes who violated the treaty… not the colonial government who acted lawfully in full accord with the Treaty let me put in this caveat: Though I assert that the Radicals claims that the wars were started by the government out of lust for land and Greed to be fraudulent this should never be construed to say that there were never any individual instances of greed on the part of some settlers… nor any instances of 'war crimes' committed during any of the battles… of course there would have been some… yet these were not endemic or evidences of systemic corruption… and of course these sorts of things would have been committed intermittently by both sides… and it is telling that you will never ever hear any admissions of … even of the possibility that the Rebels committed atrocities even though they have been fully documented!
This shows just how absolutely un-objective the Radical separatists are and how their entire arguments are the very definition of extreme prejudice…falsehoods… the pure fabrication of vested interests with vile agendas
A classic example of this is how the radicals have managed to get our corrupt government to accepting a sanitized revisionist account of the historic murder and cannibalization of a christian Minister C S Volkner by the rebels. Read about that here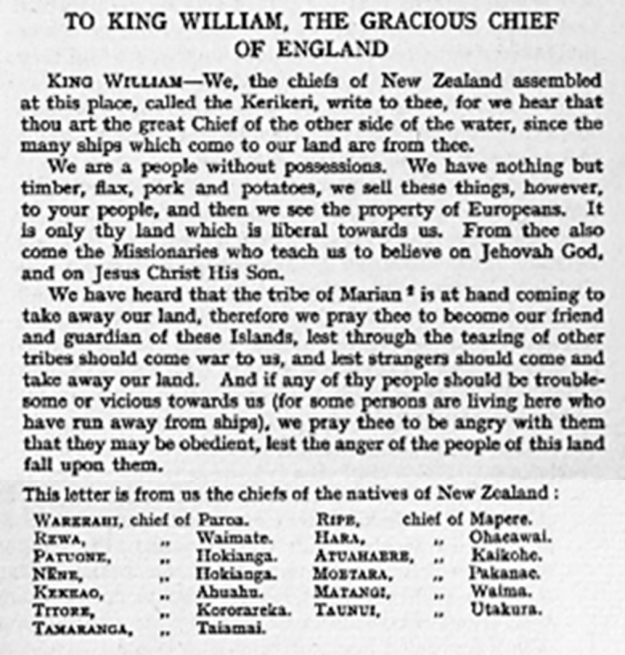 The colonization of New Zealand was not an invasion against the will of the Natives.
The truth is that Maori themselves petitioned the throne of England to establish their Rule here to maintain peace between the settlers and themselves and to protect them from France who were planning to take New Zealand for themselves. And the reluctant British parliament moved to save them in the nick of time!
The Treaty itself is a document of the highest humanitarian Ideas that stands like a shining light in the history of the world having been formulated by benevolent Men with genuine concern for the Maori people in an age of enlightenment in the British empire… have only a few years before abolished slavery!
Weakness and complicity has allowed the 100 year peace that was established via the suppression of the rebellion by the colonial forces to be shattered… and another Cold war of rebellion to be taking place… not with arms… but via political subversion and lies!
it is actually part of a Global socialist agenda against what they call 'British/ European imperialism' and it was the socialist who invented the evil doctrines of 'indigenous rights'… that overturn the principle of justice as being Equal and colourblind and instead insists so-called indigenous people have more rights than so-called 'invaders'.
Read about this here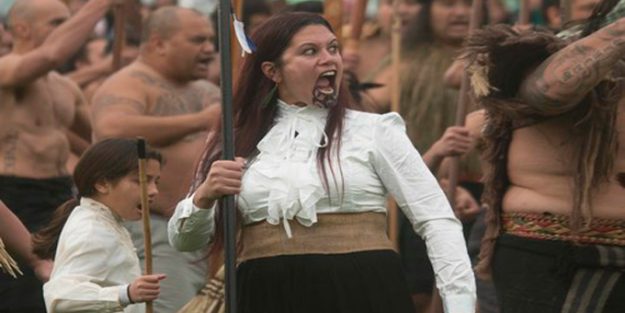 We are witnessing a politically manufactured Race relations crisis, and tomorrows events will only serve to make things worse.
The National Government and their allies… Act and The Maori Party have committed another political crime against the people of New Zealand by endorsing and funding, and enabling the radical extremists to yet again peddle their lies and hate on an annual basis.
This blogpost is part of my ongoing efforts for nearly 20 years to speak for the truth and for the principles of Freedom and Equality before the law.
Dont be fooled by all the lies that will be spoken about tomorrow!
Go study the history of our Nation… not from modern revisionist sources… but buy up Old books written in the early 2oth century… or earlier.
The Colonistaion of New Zealand was nothing like the colonisation of America, or Australia…
Read about it here… Looking Forward, not Backwards: Dynamic Culture vs Stagnation. Why British Colonisation was good for Maori.
Tim Wikirwihi.
Christian.
Libertarain Independent.
P.S… So many things I have had to leave unsaid here yet I will add one final comment.
All of this business hinges upon the idea of 'State sovereignty' I have not had opportunity to present any arguments to why this is whole concept is flawed and that enlightened minds do not endorse Sovereign states but instead argue for the Sovereignty of the individual and how this does away with Factions fighting over political power and advantage.
That will have to wait for future expositions.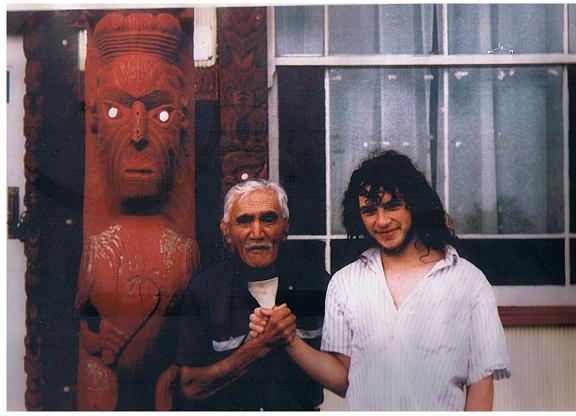 An Old picture of me with my Grandfather Autiti at Whakarewarewa.
More from Tim…
Tim Wikiriwhi's Submission to the New Zealand Government's Constitutional Review. 2013
Alcohol, Drugs, Nanny State, and the Plight of the Maori People.
New Zealand's Hopeless Election Choices… The Selling out of New Zealand to BrownMail. RMA 2017
The Verdict is in… as predicted… 'Closing the Gaps' Socialism has been a disaster for Maori and New Zealand as a whole.
The Wanganui River and the incredulous incantations of the Neo-Tohungas…
My speech for the 1Law4all party 2014 AGM. Tim Wikiriwhi. 17 June. Hamilton
The New Zealand War of the 1860s was not a 'Land war'… It was a Sovereignty War.
Mt Everest is for Wimps! Lets Conquer Apartheid Government in New Zealand! A strategy.
Looking Forward, not Backwards: Dynamic Culture vs Stagnation. Why British Colonisation was good for Maori.
The Shame of Maori Radicalism. Hate and Violence.
Maori Renaissance… *EPIC FAIL!*
Low Lives in High Places. Water and John Key's Racist Alliance
Trojan Horse: The UN Separatist Declaration of Indigenous Rights.
Universal Pride in Washington, Separatist Shame in Wellington.
Lost Plot. World Press Freedom Day.
Spiel on brain washing, and socialist engines of confomity. State education.
The Great Waitangi Debate. 2010
Update:
The 28th came and went almost as if it never happened!
Apart from a few Newspaper articles and small amounts of TV coverage we may even say the Big event was a complete wash out!
I am yet to find out exactly what/why all the hype never transpired as this was supposed to be… politically Speaking in the Radical separtist movement… A Big Deal!
Was it because of the recent collapse of the Mana and Maori Parties?
What happened to the $400 000.00 of Tax payer money that was granted … of a total of 1 million on offer for this year… and 3 million more over the next 3 years?
There were supposed to be big events at various parts of the country such as Rangariri here in the Waikato yet it appears that they all failed to transpire.
I have no clue as to what happened, why, or what this all means.
I will update this blog when I get more info.
"The government allocated $4 million across four years in last year's budget to fund the commemorations, and nearly $400,000 dollars has been handed out for 16 applications received since."
From Here
Group Event Region Event Location Event Start Date Event End Date Amount Requested
Tihi Consultants Limited The proposal is to deliver a series of events over the two weeks, leading up to a commemorative service at Te Ngutu o te Manu Reserve on 28 October 2017. Te Tai Hauāuru Hāwera Monday, 16 October 2017 Friday, 27 October 2017 $9,000.00
Te Whare Wānanga o Awanuiārangi Two-day symposia titled 'Te Pūtake o te Riri' with a number of outcomes. Waikato-Waiariki Whakatāne Wednesday, 18 October 2017 Thursday, 19 October 2017 $95,200.00
Ngāti Awa Community Development Trust Commemoration of the 1865 Battle of Te Kupenga a Taramainuku Pā Waikato-Waiariki Te Teko – Te Kupenga Pā Friday, 20 October 2017 $67,863.00
Te Reo Irirangi o Te Mānuka Tūtahi Trust Broadcasting and Online Video Streaming of the 2017 commemoration service of the Battle of Te Kupenga a Taramainuku Pā Waikato-Waiariki Whakatāne Friday, 20 October 2017 $6,000.00
Māori Land Charitable Trust Public screening of the New Zealand Wars series Te Tai Hauāuru Ōtaki Saturday, 28 October 2017 Sunday, 12 November 2017 $12,000.00
Kuranui College – Greytown Theatre based on one of the East Coast Wars affecting Ngāti Porou and Ngāti Kahungunu Te Tai Hauāuru Greytown – Wairarapa Late October $2,500.00
Bridget Williams Publishing Trust To support the Vincent O'Malley giving talks to schools about the significance of the New Zealand Land Wars Te Tai Hauāuru 20 School Visits Early 2018 Early 2018 $30,000.00
Te Rūnanga o Ngāti Ruanui Trust (TRONRT) To organise a hīkoi to the South Island to pay respect, wānanga the historical account of, and acknowledge the lives, achievement and resting place of our Ngāti Ruanui & Pakakohe Tūpuna who were imprisoned in Dunedin in 1869. Te Tai Hauāuru South Island Thursday, 1 March 2018 $61,500.00
Raukawa Charitable Trust Tour to four significant New Zealand war sites where Raukawa had significant involvement. Waikato-Waiariki Tour to four significant New Zealand war sites where Raukawa had significant involvement. Friday, 6 April 2018 Sunday, 8 April 2018 $71,200.00
Waiokura Marae and Reserves Trust Commemorate Ōrangituāpeka and the significance of the Rāhui Whenua Te Tai Hauāuru Manaia, South Taranaki Wednesday 25 April 2018 $30,000.00
From Here
Read National day to remember the New Zealand Wars to start in 2017
Read $4m to commemorate New Zealand Land Wars Maori Party