To be edited.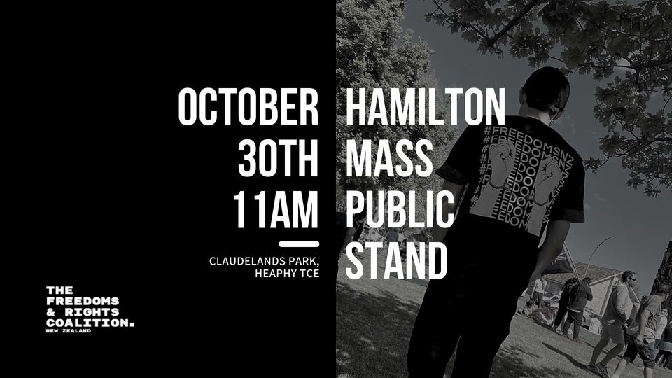 The other day I was chatting with a friend about all the lockdowns and government demands everyone get vaxed.
He thinks Jacinda Ardern has well and truly lost the plot!
He is a very mild non-political young man who just wants to get on with the business of living, yet he had no trouble recognising just how evil Ardern has become… how she is turning our nation into a Police State!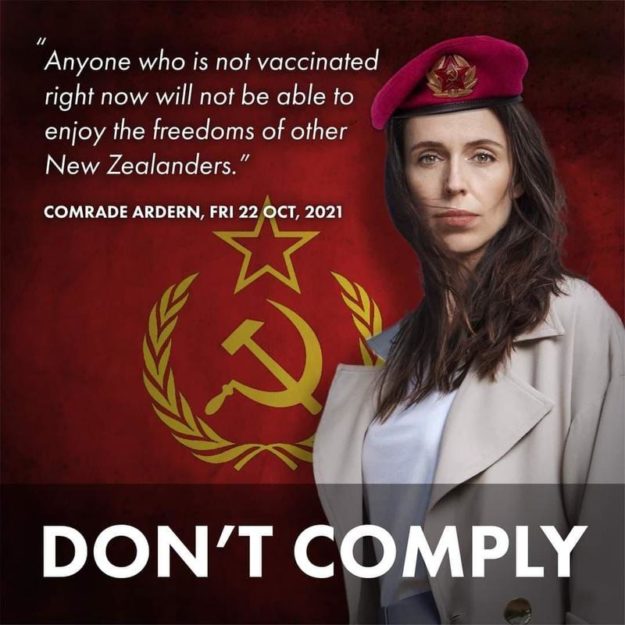 He was expressing his personal growing angst about being imprisoned in the Waikato and said it meant he was missing out on seeing Family outside the blockade.
I told him he was far from alone in his feelings, and asked if he had any idea at how many Hamiltonians showed up to the Anti-Covid 19 lockdown and Anti-Compulsory Vaccination protest that had occurred in the Weekend at Claudlands showground?
What protests?
He had no idea any such public protests even occurred?
He assumed what the media had told him… that resistance to the Ardern Strategy was tiny and only a small bunch of whackos were resisting getting the Jab.


Freedoms and Rights Coalition Waikato's democratic protest against Lockdowns and Vax mandates. Claudelands showground 11am. Oct30 (est 5000 people)
He was shocked when I showed him some photos of the event which I had down loaded from 'The Freedom and Rights Coalition' web page… Thousands of Hamiltonians protesting! (Est 5000)
My friend is like so many New Zealanders who have had a guts full of Arderns incompetence and Tyranny yet who are being kept in the dark about the scale of outrage other New Zealanders are also feeling and that he is far from alone!
Among other outrages, almost 9500 business went belly up last month, and this sort of disastrous consequence of Arderns Jackbooted policies is now fueling a popular uprising. People are incensed by her indifference to their suffering and have had a guts full of her complete disregard for their Rights and liberties.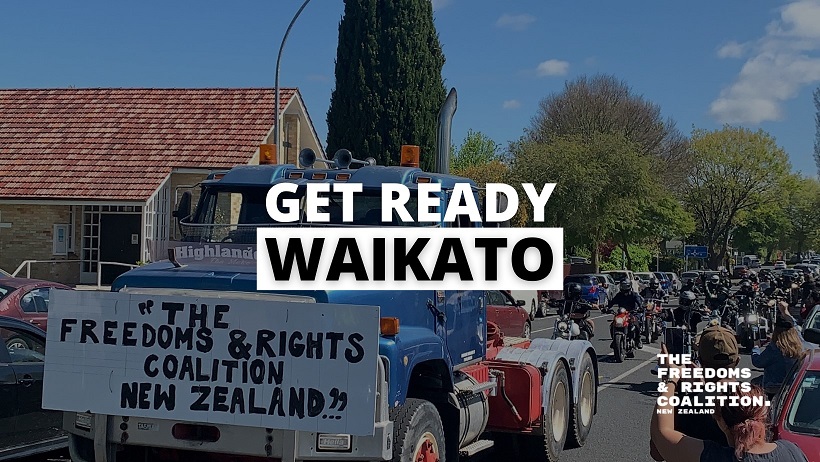 30-10-21 was a day of National Protest in which tens of thousands of New Zealanders gathered together in defiance of the Ardern regimes illegitimate and oppressive legal prohibitions that seek to circumvent New Zealanders Democratic rights!
The estimated 5000 peaceful protester's in Hamilton were not standing alone as there were significantly larger demonstrations taking place simultaneously in both Auckland and Wellington.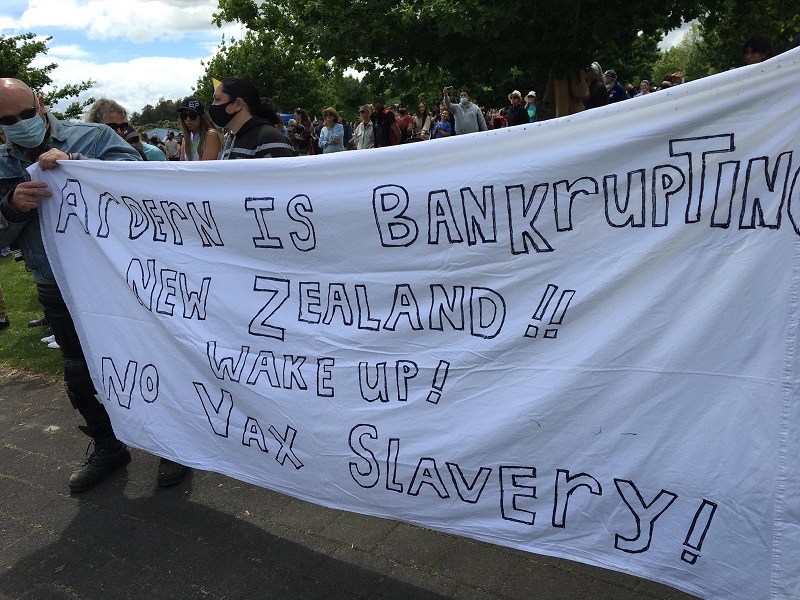 Yours truly holding up his home made banner.
The diabolical nature of the Ardern Regime (and Socialist Globalist regimes across Western civilisation) is that they have been using their powers to impose Covid 19 restrictions to prevent the voting public from gathering together to demonstrate their opposition to the financial ruin they are generating and the Police States they are cultivating while demanding the people shut up and let it happen!
Under the sham of Public safety Anti-democratic Covid restrictions prohibiting Public gatherings make it risky for citizens to assemble and by controlling the media has allowed the Government to pull the wool over a vast percentage of the population… that no resistance is even being attempted.
Individuals who are alarmed at what is happening are isolated.
Many of those who are bravely resisting compliance with big Bully Ardern in solitude feel as if their struggle is hopeless, because they are not aware of any support groups for their plight.
They don't realise the battle is now well underway to put Ardern back in her box!
Many unwilling people will have surrendered to what they assume is a lost cause.
To those whom have been holding out for their rights I am writing this blog post to say Despair no more!
The Freedoms and Rights Coalition has put out the call to Kiwis to rise up in exercise of our legitimate democratic rights to gather together and protest against Comrade Ardern's oppression!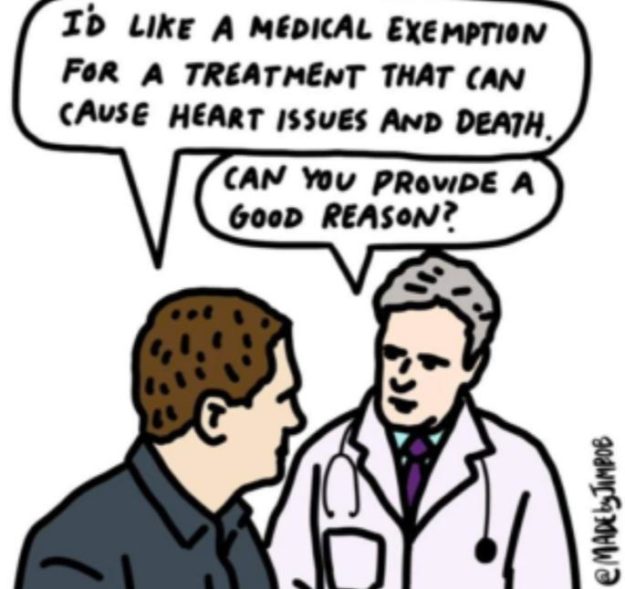 Too many Kiwi only get their information from the Mainstream.
Jacinda Ardern has New Zealand's media snuggly tucked into her back-pocket.
Our Card-carrying Media are operating like a wing of the Governments Propaganda department… filtering news stories and censoring themselves… the effect is that New Zealanders think the whole country Loves Ardern and is falling into line. because they only hear stories that promote Ardern.
The Truth is quite different.
Ardern is economically devastating our nation… almost 9500 businesses folded last month!
A popular protest movement is growing fast.
Big protests have already taken place without almost any Mainstream media coverage… and the stories that have emerged have down played the numbers of people protesting and made out it is just the whacko-conspiracy nut jobs.
The Truth is Ardern's tyranny is uniting the people against her… The people protesting are both young and Old, Maori and Pakeha… it is a beautiful thing to behold!
They are boldly chanting for Freedom!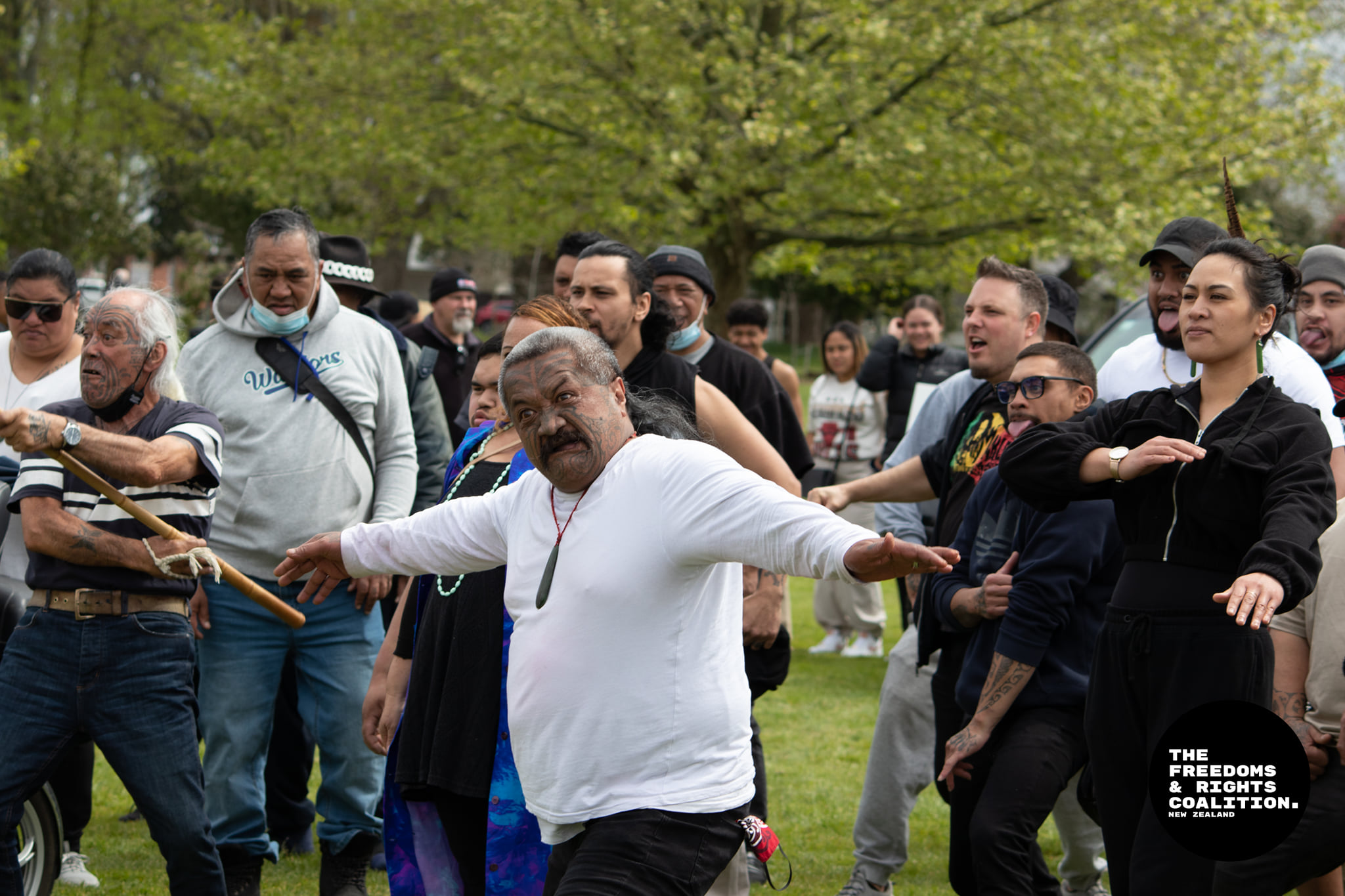 Waikato.
Yet most New Zealanders are completely unaware that the tide is turning against Comrade Ardern's Dictatorship… and yet it is!
I wrote about our corrupt media back in 2012 yet they have gotten ten times worse now under Ardern and her blatant bribery… with strings attached… and all the woke Leftist Anti-free speech doctrines that have sprung up in the last decade…. Read LOST PLOT. WORLD PRESS FREEDOM DAY.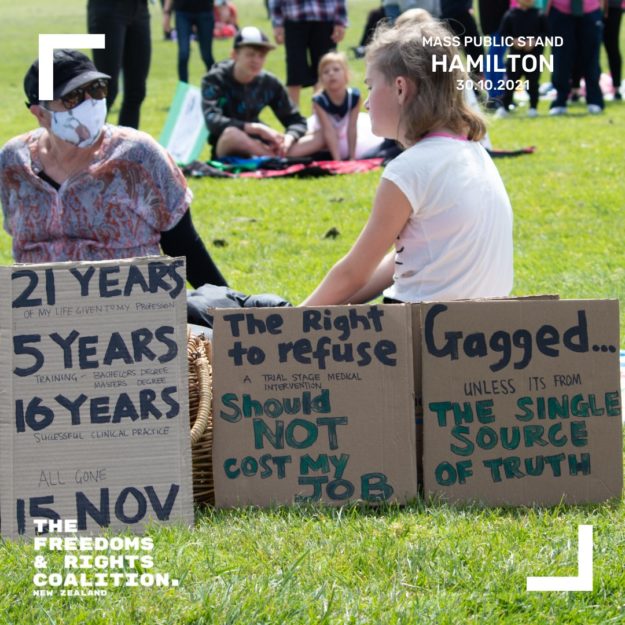 Because the Media have sold out to the government it is very difficult for the word to reach the people about planned protests.
That is what makes spreading the word so important to this movement.
Supporters are using their social media pages, and emails, texts, etc.
I was told only the day before that these events were planned, and knowing that they would not receive any objective press, I decided I would go see the event so that I could report back to the New Zealand public.
I needed to get the exercise, and this would be far more interesting than walking in my local park…again.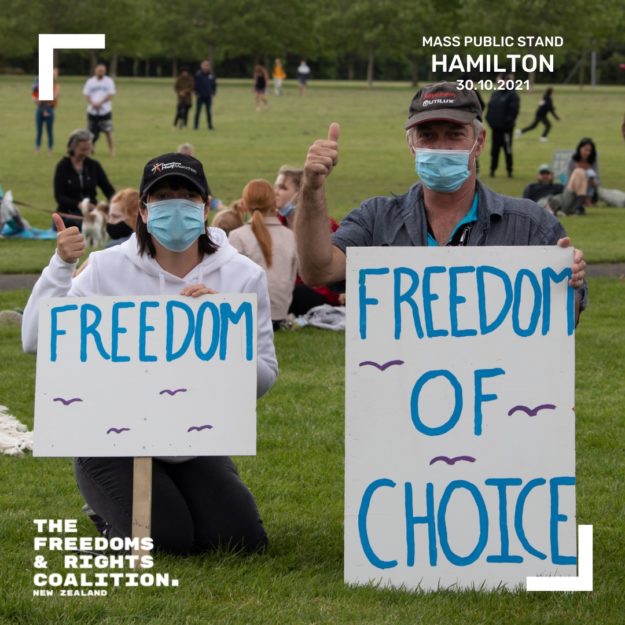 Many people were practicing peaceful Civil disobedience… not wearing any masks, and not social distancing, others (much less) were wearing masks and standing apart, and as I believe that for the sake of not generating unnecessary animosity against this righteous cause, nor to give pretext to the Police to break up the Demonstration and start arresting people, I chose to wear a mask (most of the time) and try to keep my distance as much as possible, and I appreciate why so many people were choosing to defy these oppressive and farcical measures.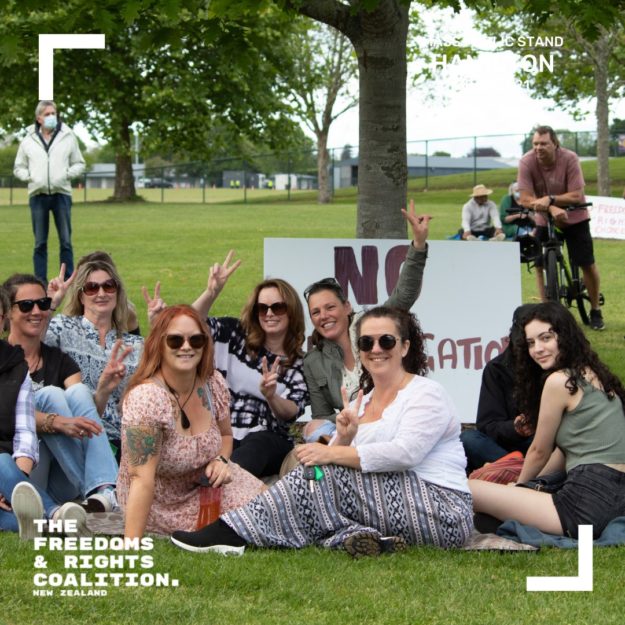 The thing to remember is that whether or not people chose to wear masks and social distance, and despite the way such protesters are portrayed in the Ardern funded media as being reckless loons whose behavior is an endangerment to the Law abiding (AKA Compliant and Complicit Sheeple), this is in fact an example of Civil disobedience at it's highest form… because these people were simply exercising their legitimate rights!
In fact it was a display of the Bold assertion and exercise of their rights that the Ardern Régime has attempted to tread underfoot via passing unjust and oppressive Laws!
Ironically… Had she not done so… Had she actually done the right thing and respected the rights of the people… there would have been no need to protest!
So Ardern herself is the chief author of this entire mess!
She is a Tyrant, and it is the Right and moral duty of a free and enlightened people to Rally against her!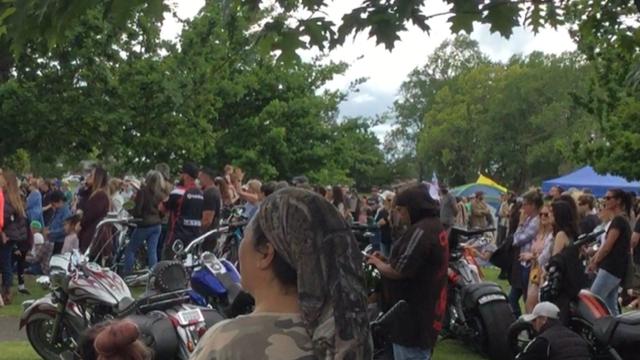 Ardern's Tyranny is a far greater threat to our Nations well being than Covid 19!
Every hour she is at the helm the people of New Zealand lose their freedoms, and livelihoods, and our Nation becomes more like China!
Under the belief that Covid 19 was truly a raging fury, Long suffering Kiwis have quietly tolerated Ardern's ever creeping Authorotarianism, yet she has finally crossed the line and has now turned massive sections of the People against her.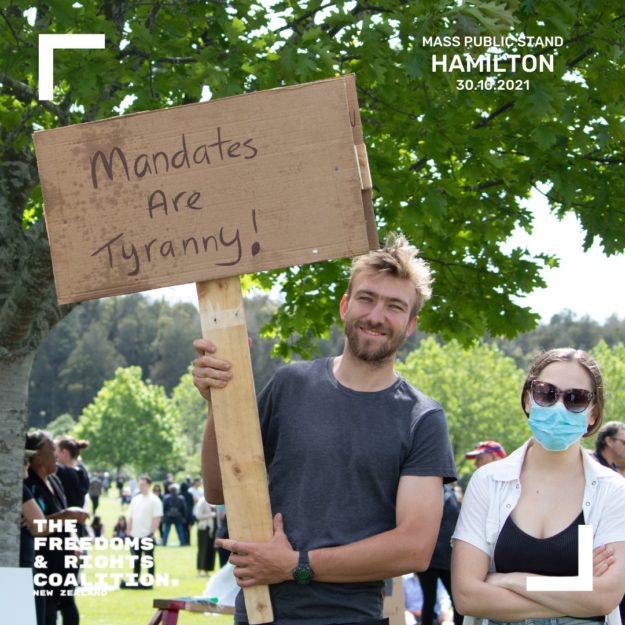 They have had enough!
They have gotten wise to the fact that the dangers posed by Covid 19 have been grossly exaggerated in the extreme to cause panic and compliance.
They have begun ignoring her oppressive laws… and it is this peaceful and principled Non-compliance that will break the Ardern regime!
This is Freedom and democracy in action against an oppressive Government.
This is what must be done when our rights are under threat from Socialist tyranny!
Let those who are scared of Covid 19 wear masks all day and stay locked up safe in their homes!
They have no right to demand everyone else share their paranoia or be confined to their homes simply to make the propagandised and traumatised neurotics feel comfortable in their sheepish cowardly delusions.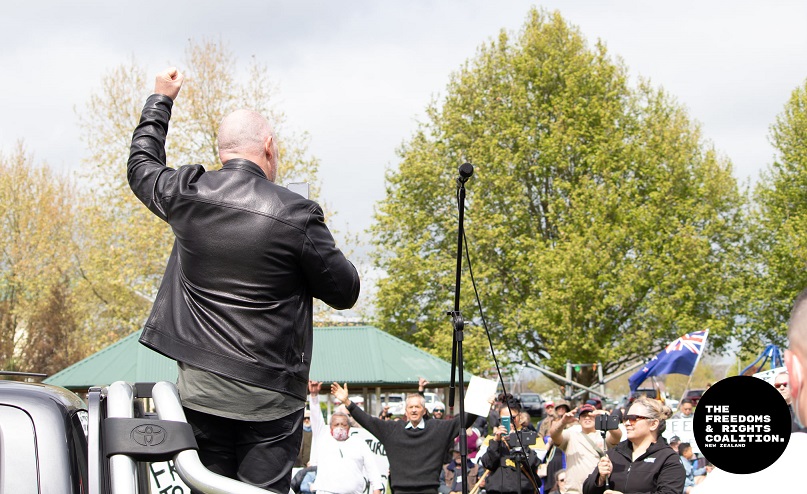 It is shameful that though I cannot tell you the name of the chief Waikato Coordinator and speaker as I have not yet been able to discover it.
When I do, I shall edit this article to include it for this man is heroically leading this protest movement from the Front!
I do know that he is a Christian Pastor… Amen Brother!
I did not hear the beginning of his speech, and yet the portions which I did hear filled me with respect and courage!
I agreed with every word!
His manner (and his Mana) was profound!
He spoke of his motivation for doing this as being love… not anger.
He said he hoped this whole movement would be characterised by love and peaceful action, and unity.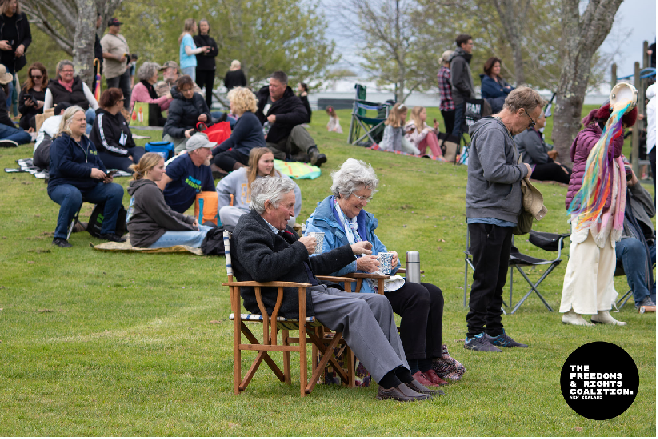 He said he knew that Covid 19 was a real disease, but that he was not scared of it.
He spoke of keeping the whole event as short as possible for the sake of not being unduly burdensome and testing on the Police.
He said he had already been finned for organising a previous protest and expected to be finned again for this one, yet he told the crowd he was ok with that and not to be angry with the Police. He said there were many good people in the Police force who have been placed in a very difficult position by the Ardern Government.
And most of all, and in finishing he made the most rousing call for the people to put their fears aside and boldly stand up for Freedom!
As a Libertarian, that was a special moment that near brought tears to my eyes!
In my 20 years of Activism I had never seen or herd anything as glorious as this!
I realised that Freedom is not dead in New Zealand!
There is hope!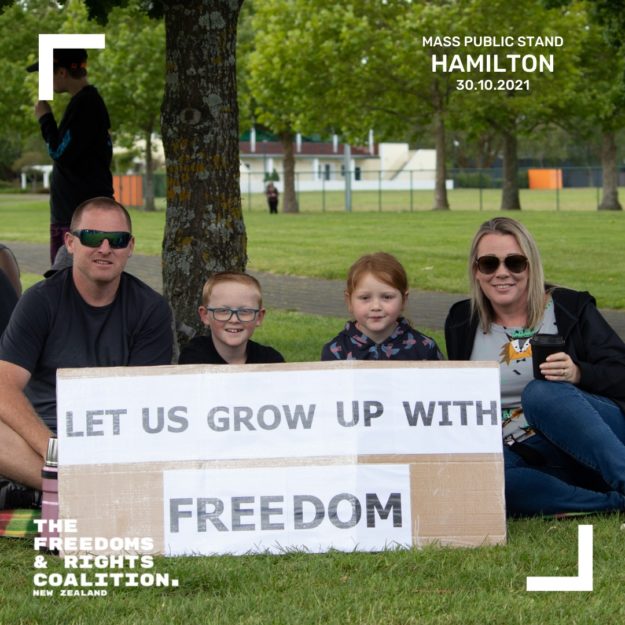 Finally he said a karakia (prayer) for the people, and our country and referenced the National Anthem that had been sung at the beginning of the event (I missed that).
He prayed that 'The God of Nations' would "Defend our Free land" and have grace upon our country and bless the people present and the task they were undertaking for Freedom and justice sake… and that New Zealand would not in this hour be lost.
He called upon God in Jesus Name… and the people… Old and Young, Maori, Pakeha, and many other hues with heads bowed said Amen.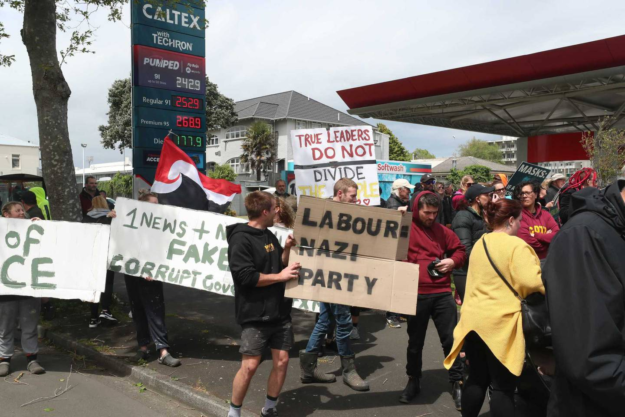 Whanganui…
Tide is now turning against Ardern's socialist tyranny… New Zealanders have had enough and want their lives and freedom back!
Since this weekend Ardern has met more protests including one in Whanganui which prevented her delivering a press conference.
This has started to rattle her and expose the truth that she no longer enjoys the adoration of New Zealanders.
For the first time I have seen her being asked awkward questions at an interview.
She had to call another press conference short because she was being heckled… exposing just how fragile her personality really is!
One of my social media friend made the following observation…
"PM Jacinda Ardern who's augments are so weak that she runs away from one person that challenges her. 😏 Absolutely pathetic…"
Jacinda Ardern's facade has now cracking, and many people who were once taken in by her Staged Act of 'Hugs' and talk of 'Kindness' now see her for the Dangerous Machiavellian she really is and has always been… a Wolf in sheeps clothing.
She is having difficulty hiding her true colours.
Her open contempt for We the people she is Lording over is staggering!
More protests are planned.
This is just the beginning!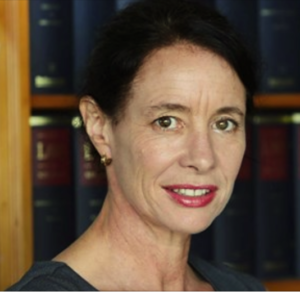 As yet another truly great New Zealander who has been doing so much to defend our Rights from this Socialist Globalist Plandemic… Lawyer Sue Grey… in Wellington said it was great to see people 'stepping up into their power' and that when we stand together 'We can do anything' and…
"They can't stop us taking our Freedom back!"
Sue Grey has become a hero of mine for she is doing what I would like to think Good Lawyers ought to do… that is boldly taking on the powers that be, and using their Lawyer-craft to win Justice and freedom for the little people suffering State oppression and injustice.
Watch Sue's speech here at The BFD.
Comrade Ardern and the Globalists have underestimated Kiwi resolve to maintain our Traditional Values!
New Zealanders Never never never will be slaves!
Tim Wikiriwhi.
Christian Libertarian.
See more Photos and activism by Freedom and Rights Coalition here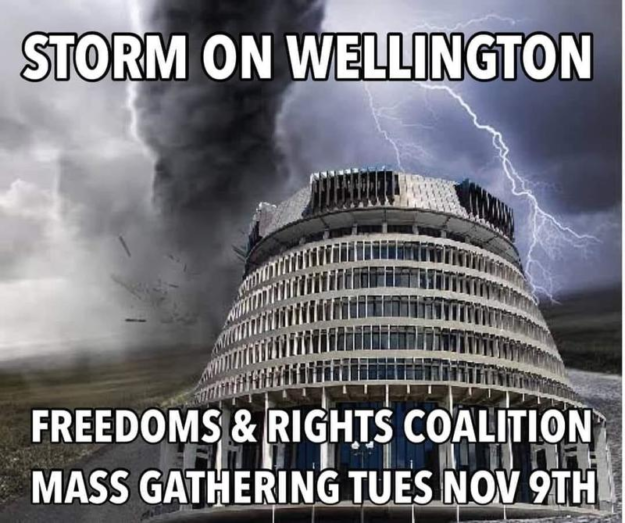 The Freedoms and Rights Coalition asks you to support them!
Note: I did not take any photos. All pictures in this article were either supplied to me by other people, or 'liberated' from other web pages (Credits given). This is important because I do not wish to expose the identities of any protesters without their consent. Thus I have not published any photos that are not already in the public domain without permission.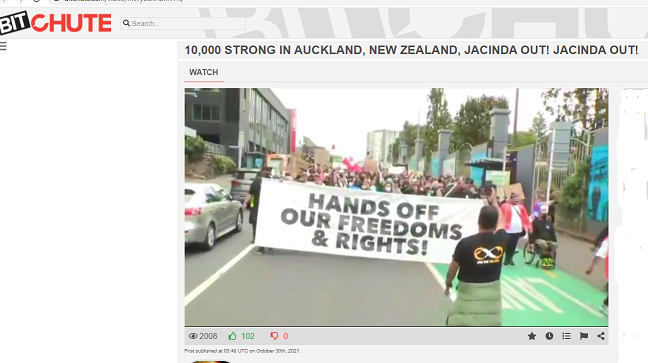 Go watch the Auckland march here.
Update: It has come to my attention that yet another Big protest happened in Tauranga on the 1st of November! Check it out here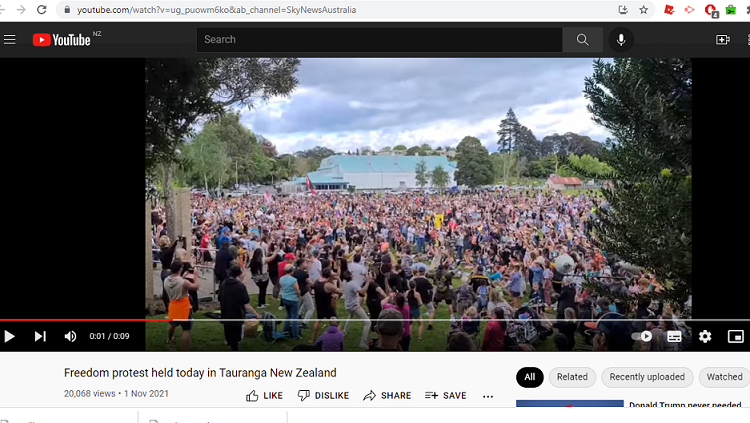 New Zealand has mobilised!
More from Tim..
JACINDA ARDERN'S CONTEMPT FOR NEW ZEALANDERS WHO WILL NOT SUBMIT. ARDERN'S ECONOMIC DESTRUCTION OF OUR NATION, AND THE RISING OF RESISTANCE AGAINST HER..
JACINDA ARDERN IS MORE DANGEROUS THAN COVID-19: CENSORSHIP AND CONTROL OF THE PRESS.
HOW MANUFACTURED FEAR TURNS SOCIETY AGAINST MINORITIES AND INDIVIDUALS. THE JACKBOOTS OF JACINDA ARDERN.
MY SUBMISSION ON THE INQUIRY INTO THE GOVERNMENT'S RESPONSE TO COVID 19.
THE STORY OF COVID 19 IN NEW ZEALAND, BY TIM WIKIRIWHI 2021.
HOW MANUFACTURED FEAR TURNS SOCIETY AGAINST MINORITIES AND INDIVIDUALS. THE JACKBOOTS OF JACINDA ARDERN.
TIM WIKIRIWHI'S SUBMISSION TO THE NEW ZEALAND GOVERNMENT'S CONSTITUTIONAL REVIEW. 2013