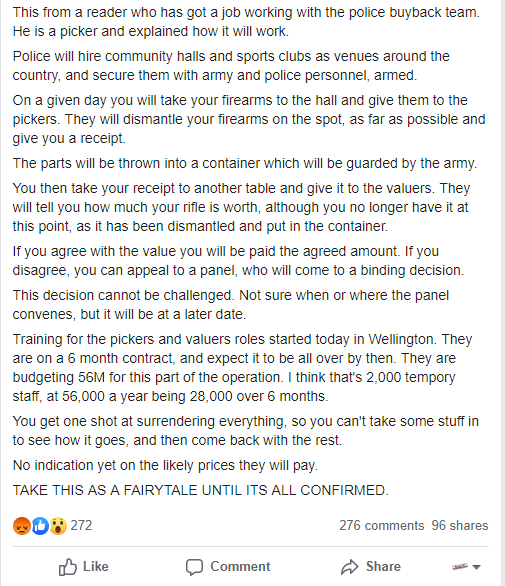 Reading the above 'post' from a Facebook Group, it is apparent the New Zealand Police continue with their belligerent attitude towards Law abiding and innocent Gun Owners.
If the report is accurate, they intend to run the 'Gun Buy back scheme' in such a way that is bound to cause Maximum Grievance and minimum compliance!
They are supposed to 'Buy back' the guns recently outlawed by Jacinda Ardern via shambolic legal processes, yet the scene is set for them to Under-value everything and thereby under compensate people for the Fire arms they are confiscating and destroying.
There is every reason to be suspicious given the dubious 'process' that has been 'un-officially described' and the paucity of the Governments allocation of a mere $168 million for compensation.
Alarm Bells should be ringing!!!!!
It is easy to infer The Government are more concerned about keeping costs down rather than paying a just price, which will virtually guarantee many Gun owners will rebel against being *Robbed of their property by the Police*.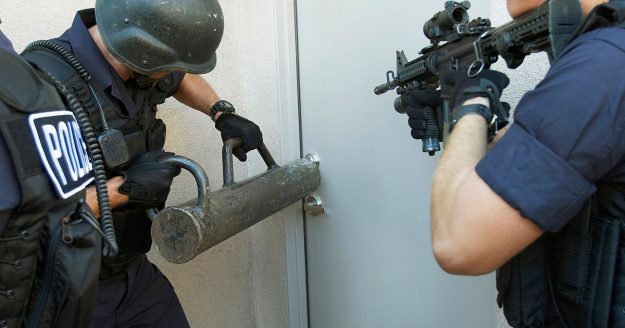 The official details will be released on Thursday.
If it pans out that the Police intend to under compensate Gun owners, why should they comply with such extortion?
The Police are obviously relying on intimidation to cause compliance out of shear terror.
We all know how Jackbooted the New Zealand police have become… They expect compliance to their unjust terms simply because *they have the guns and the legal authority to destroy your life if you dont obey…. Raid your home… point Guns at your wife and Kids… and take you away if they find *anything*.
And this appears to be the Stance the police are taking.
They are delivering an Ultimatum… Treating gun Owners as if they are Criminals.
Unless the Police front up with a fair Deal, it will only be under an atmosphere of Coercive threats that people will comply and part with their property for a sum they consider unfair.
This is not a fair and reasonable transaction but Bully Boy Gangsterism… using Stand over tactics… extorting the property from helpless victims!
This is not Justice but Terrorism by the State!
This is what a Police State looks like!
I am not a Gun owner and so this Extortion Racket will not directly affect me YET I AM ABSOLUTELY DISGUSTED that the process (post above) is what the Police have concocted to 'Relieve Gun Owners of their property' before they settle what compensation they will pay!
They leave you zero recourse…. any pretense to 'an appeal' is farcical…. once they have your property there is no intensive to pay you anything more. *nor any Legal requirement for them to do so!*
Parliament has left the Door open for large scale rip offs to occur without legal redress … and the Police know this.
I guarantee you when you hear this process has begun we will hear stories to low payments and failed appeals…
The Gun Community must Rally Now!!!!!
You must organise.
You must pool some money to stage a legal challenge now.
This group must preemptively Value some guns before handing some over and see what the Buy back scheme pays out.
If it is Robbing people You must all act collectively and refuse to comply until they pay you what your property is worth… *thats what Buy back means … and they are claiming this is a Buy back scheme…. which *always means the price is agreed and paid before the property changes hands NOT AFTER!!!
The Gun community must demand what means the Police are using to deem the value of what they are 'Buying back'.
Many of you will be thinking The same thing yet will be scared to speak up because as you may have herd that Police are threatening to take away licences from Gun owners who even talk about non-compliance!
This is what tyranny looks like.
Of course the Police will not appreciate me saying these things, or calling the Gun Community to rally in defense of their Rights and Property.
The Police would love to make it Illegal to even *talk about* non-compliance to their plans.
Yet Peaceful and principled Civil disobedience has been one of the most potent forms of democratic/people power resistance to Government tyranny and fighting Bad Laws.
Free Speech, and Freedom of association, and protest are some of the most important rights of the people to challenge State injustice, and the Police have no right to criminalise people for organising themselves into peaceful resistance and protest.
Any cursory study of the history of Rights and law reform bears witness to countless examples whereby Good people with righteous causes have used peaceful civil disobedience to fight legal injustice… in fact Few would be instances where law reform has been achieved *without protest* or Civil Disobedient non-compliance.
This always takes Brave and principled People to risk persecution by the State…violence, arrest, and even jail for the sake of Truth and justice.
I realise that though the Recent Arms amendments were enacted via farcical practices (esp on the part of the Police playing legislators) that there is now a legal obligation for Gun owners to comply, and that ultimately non-compliance will be in violation of the new laws and risks Prosecution, yet the Police ought not to be running the Buy back in such a Nazi-like fashion!
They should not be allowed to destroy *any guns* before the owners have agreed to accept the compensation offered to them and any owners who believe the offer is not sufficient their Guns should not be destroyed but become part of a second process whereby the owner makes a claim to value, and independent experts access this via Market values over seas… like for like.
Only by treating gun owners with respect can the New Zealand Police maintain Mana and receive Respect in return from the gun owning community, and gain maximum compliance.
Remember these people have done nothing wrong and they deserve to be fully compensated for what the Ardern Government has done.
We all know the Weasles in Parliament dont want to acknowledge the full amount of how many hundreds of Millions of Tax Slave Dollars they have wasted on this tyrannical legislation.
And if this Buy back scheme turns out to be a gigantic rip off how many Good People may end up in Jail because they refused to allow the government to under pay them for their property?
They will be treated like dangerous criminals instead of the victims of dangerously Corrupt government, and as such we can be sure the Jackbooted and Militarised NZ Police will not hesitate to Shoot people dead over the smallest acts of resistance.
Weep you sheeple of New Zealand!
You have allowed your Government to become Drunk on Power!
Tim Wikiriwhi
LIbertarian Independent.
P.S Please share this blogpost on facebook for me as I am currently under a 30 day ban. Cheers!
More from Tim….
NEW ZEALAND GUN COMMUNITY ROAST NATIONAL PARTY MPS FOR SELLING THEM OUT ON ARDERN'S NEW GUN CONFISCATIONS.
MY SUBMISSION ON THE ARMS (PROHIBITED FIREARMS, MAGAZINES, AND PARTS) AMENDMENT BILL
TIM WIKIRIWHI. THE RIGHT TO SELF DEFENSE: MY (UNDELIVERED) ORAL SUBMISSION TO THE NEW ZEALAND COMMITTEE OF THE ARMS (PROHIBITED FIREARMS, MAGAZINES, AND PARTS) AMENDMENT BILL APRIL 2019
THE HIGH CAPACITY AR 15 BUSHMASTER SEMI AUTOMATIC… THE RIFLE OF CHOICE TO KEEP OUR NATION SAFE. WE NEED THEM!
WELCOME TO THE MACHINE! I GUESS IT WONT BE LONG BEFORE I AM PUT IN JAIL FOR BREAKING NEW ZEALAND 'HATE SPEECH' LEGISLATION.
Updates…

Govt's offer to gun owners unfair, risks public safety
Thu, 20 Jun, 2019
"The Government risks creating a large black market by offering gun owners less than fair market value for newly-banned firearms and by putting political theatre above public safety", ACT Leader David Seymour says.
"ACT believes that if the government confiscates private property it must compensate owners by paying them fair market value. The only way the Government will retrieve all newly-prohibited firearms, and keep the public safe, is if it offers owners reasonable compensation. It has failed to do that.
"There is now a serious risk that compliance with the buyback scheme will be low and that firearms will go underground. If a significant number of guns are not handed in, the Government risks creating a black market of illegal firearms without any regulatory oversight. That may be a more dangerous world than we had prior to March 15.
"The large public events at which gun owners will be made to hand in their firearms puts political theatre above public safety. The Government wishes to create a spectacle of weapons being destroyed en masse but, by taking the approach it has, there is no guarantee all guns will be handed in. This is the made-for-TV approach to public policy that has become Jacinda Ardern's trademark.
Read more here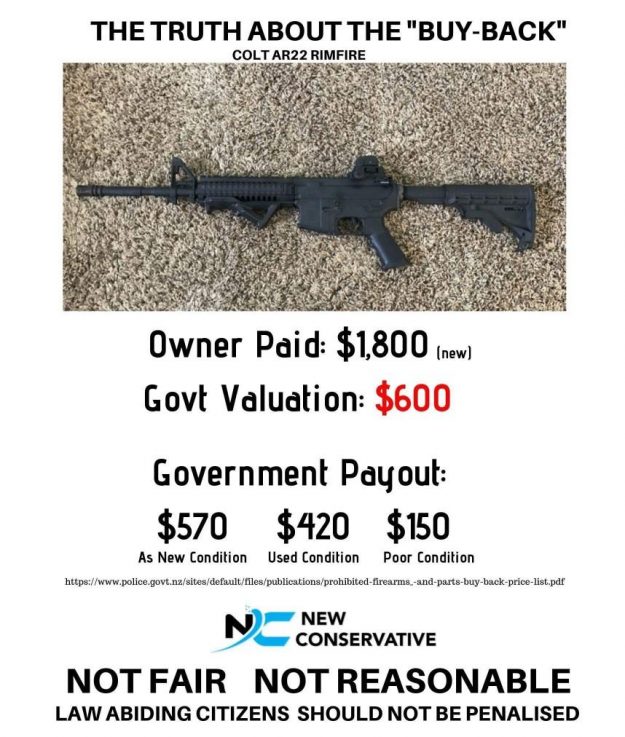 2.
Leading New Zealand ammunition seller warns of 'revolution' over Government's gun buyback scheme
The owner of one of New Zealand's largest ammunition companies has warned of a violent revolution if gun owners feel shortchanged by the Government's gun buyback scheme.
Paul Clark's company, New Zealand Ammunition, supplies both the Police and the Defence Force. He told RNZ's Checkpoint that many gun owners were planning to intentionally skirt the law by hiding their banned weapons.
He was "absolutely sure" that gun owners or organisations would appeal to the courts over the proposed prices of the gun buyback, and he was currently considering taking an action himself.
He said that if gun owners could not access the courts "the only alternative is revolution".
When asked by host Lisa Owen what he meant by "revolution", Clark said "Literally, what I just said. What have you got to lose? What other alternatives have you got in life?"…
Read more here
3.
'Illegal gun owners to 'go to ground' to avoid buyback scheme, says retailer'
Some Marlborough gun owners still do not intend to hand in illegal semi-automatic firearms despite "fair pricing" in the Government's gun buyback scheme, a gun shop owner says.
Gunshack Blenheim owner Peter Watson said he had received calls from people in Marlborough, and around the country, saying they would not be handing in their guns.
"In reality the price is fair, but what they've taken away is not fair," Watson said.
"They'll go to ground and keep them until a change of Government or a change of policy."
Read more here