Note: I will edit this post to get rid of errors, etc.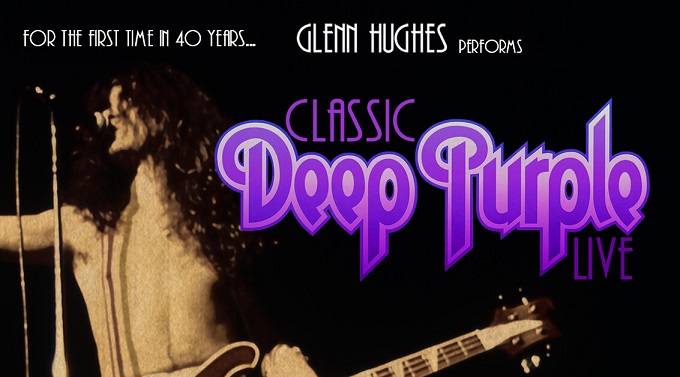 As a life-long fan hooked into Glenn Hughes Facebook page I got chills at the news he was coming to New Zealand to play His Deep Purple material.
Having missed his recent tour with the Cream Tribute band due to my current financial crisis (Cheers IRD) I had thought that I had probably missed my only opportunity to see one of my all time favorite Music Legends… as from my Teens I had not only ranked Deep Purple as one of the very best, but I had in particular cottoned on the the greatness of Glenn Hughes Funky voice.
The Songs and Lps He did were my favorite Purple, plus I had his Black Sabbath LP Seventh star…. all this … made the thought that I might miss his tour… quite frightening.
I had seen Deep Purple fronted by Ian Gillan (who is a Legend) twice, and in fact Their Tour in the Mid 80s was my very First Rock concert (I could write about that epic experience too… it was a Riot…. Literally!) … yet it was far from certain that I would make it to see Glen Hughes given my life… and that of my family being held to ransom by the Tax department for arrears.
When my wife asked me if I had anything I would like for my approaching 50th Birthday (3 August) …I could think of only one thing that I wanted… and I Cheekily said… "Well there is this Rock Legend called Glenn Hughes Coming to Auckland…"
In truth I did not expect her to get tickets… I was sure I would get the usual undies… etc, yet when the day arrived and she handed me the ticket I was overjoyed! (my wifes name is Joy)
Then she told me it was a 'Meet and Greet' I was dumbstruck! She had chosen to forego getting two tickets for us both to attend, and had instead got me the deluxe deal …. Best seat in the house… Meet the Legend etc etc!
It was seriously the Best Birthday present I have ever had in my life!
Yet now I was scared!
What the heck was I supposed to say to Glenn Hughes?????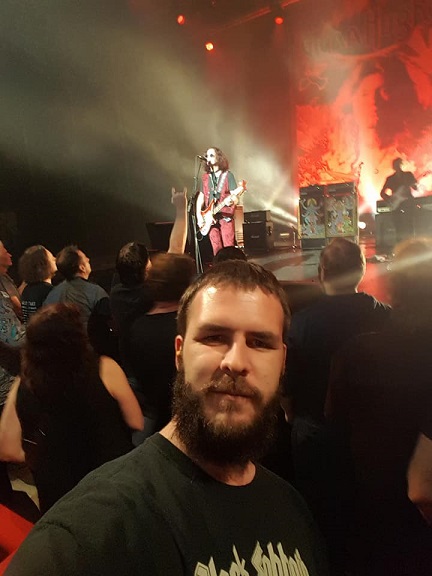 Kristos
The date 2-10-17 seemed to roll around incredibly fast… and my anxiety had not faded when I jumped in my Car and drove up to Auckland from Hamilton listening to Stormbringer on Cd… and so I arrived downtown Auckland about 3 hours earlier than I needed to out of sheer panic… and I was the first person sitting in the Lobby of the ASB Aotea Center after trying unsuccessfully to catch a few zzzz in my car parked directly below.
I had brought a book to read and dragged that out of my case… containing two of my Favorite Purple Lps… 'Burn', and 'Come taste the Band'… in the hope that Glenn might sign at least one of them… I myself could not decide on just one…(alas it was not to be… many fans had come with the same idea and the promoters said just before we met him it was impossible for him to sign stuff as there was not enough time… yet we all left with a signed poster)
Sitting there in the lobby I was treated to hearing Glenn doing sound checks… Highway star was rockin out through the closed doors just a few meters away!
I was on the phone to Joy skite-ing about having this private performance when I saw through the window a guy walking towards the doors and remarked to her… " I see a Dude in a Black Sabbath tee shirt commin… and when he got inside I fist pumped "DEEP PURPLE!"
It was Kristos Tsitsiridakis… and Ironically he had the seat next to mine!
And thus started an evening in good company!
And it is Kristos who took many of the photos that are on this Blogpost… Thanks for letting me use them Brother!
We also met a lovely Girl by the name of Leanne with whom we enjoyed the night.
It was not long before there were 50 (est) people filing into the front of the theater about to meet The Man and the Band… for questions… a chat… and photos.
And moments later…there he was… and he did not disappoint!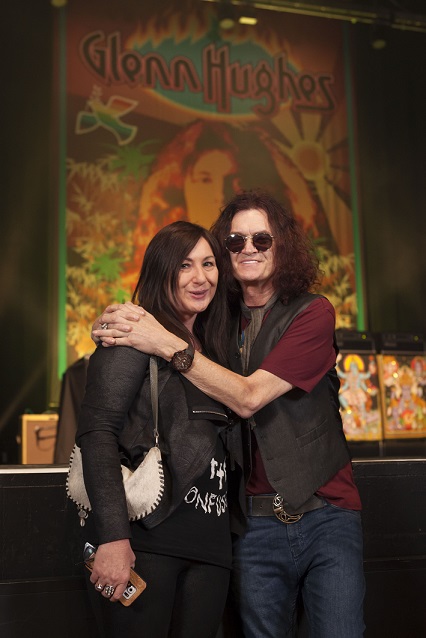 Leanne.
What followed cemented in my mind what I already knew… That Glenn Hughes is not only one of Rocks Greatest… that he Lived and breathed Rock and Roll at its most extreme… but also that he was the nicest and most spiritual, and most caring of Human beings… yet he will be the first to tell you he was not always so.
He spent the next 30-45 minutes talking to us all… telling stories… and candidly answering questions… doing his very best not to blow his own trumpet too loudly.
He talked about the loss of his friend Tom Petty who had literally just died minutes before coming out to greet us.
He talked about being broken by all the violence in the world, and in particular the horrific carnage 'At home' at the Vegas Music festival merely days ago
We were talking to the much older wiser Hughes who constantly ridiculed the person he once was… in his Purple Glory, referring to himself as being '7 years old' at the time.
One of the things that had stressed me out before the show was trying to think what questions will I ask the Man… without being too dumb… and one I meant to ask was that out of the countless gigs he has done.. 'What makes certain shows stand out as special for him? yet I never did ask.
He talked about collapsing on stage just a few days ago in Christchurch due to Dehydration and exhaustion … and I was imagining how scary that must have been for him given he had also just talked about suffering a life-altering Heart attack in 1991 from which he had been given a artificial Heart valve!
No doubt in Christchurch just a few days earlier, his life had once again flashed before his eyes… yet here he was… telling us he was fine… and ready to perform for us!
That surely will be one of his more memorable gigs… yet for all the wrong reasons!
He expressed gratitude to his fans concerns for his health, then joked that had the young arrogant Glenn Hughes collapsed on the stage like that half the audience would have yelled out "Let him Die!".
He mentioned that as he performs he takes positive energy from seeing his fans having a good time… loving his music.
His Near death experience in 91 was Pivotal for him in that it defines the low point… in fact the death of the infantile Drug and Booze fueled Hughes and the Re-Birth of the Humbled and Deeply appreciative Hughes… who now describes himself as 'deeply spiritual' and 'a missionary of Love'… yet without carrying a Bible around… or seeking to lay a trip on his fans.
He want us to know the importance of loving one another and that He loves us.
I hope that he has put his trust in the cross… and resurrection of Christ…yet it was clear that he did not wish to become a Sunday school teacher to his fans who were there to hear the Rock and Roll Preacher!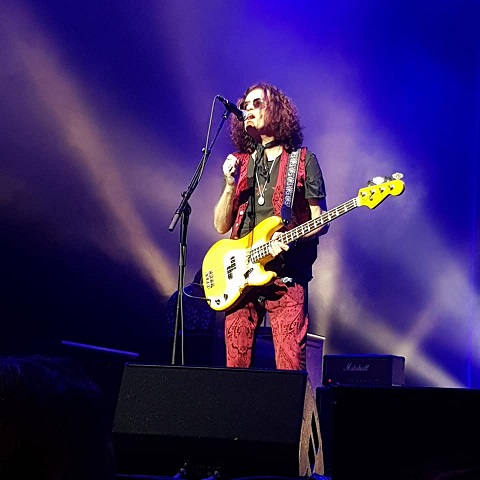 Due to Excess…He said he could not remember the 80s!… and one of his companions made us all laugh when he told Glenn he had not miss much!
Before his Heart attack in the late 80s he was living up a mountain somewhere with his girlfriend and her Family… whom he moved into his pad because Dad was a heck of a drug dealer!
They would all sit around in their undies doing drugs…one of the very young children would roll them joints.
He said the day he saw his girlfriends mother stepping over the body of her own Daughter who was in the throes of Od-ing reaching for the crack pipe… he knew Sh%t was getting heavy! (expletive mine…Glenn never swore)
Glenn has seen many of his friends taken by excess… in particular alcohol… which when asked about whether alcohol was more dangerous than any of the illicit substances… he said *YES!*
He ranks alcohol as the most lethal drug!
Yet it would take several more years… and a heart attack to snap him out of his insanity…and vanity.
So Glenn is straight now … unlike the rest of Deep Purple!
Glenn also depressed me when he said the Deep Purple was going to Finnish up this year!
He spoke of flatting with David Bowie, and that Ringo Star is a good mate, and that David Coverdale remains close… yet there is little chance they will ever tour together again.
Like clockwork, and very Typical for me in the awe of having *The Man* standing mere feet away…my brains flew out the window… and I struggled to think clearly what I ought to ask and say….and so it was not until during the show that some more questions popped into my head that I could have asked him… like… "Where are your 'Orange' amps?
He had done adverts for Orange.
Was the size of the venue a factor for not using them tonight?
Or…. does it suck for you that we are going to be sitting here like idiots rather that standing and jumping about… like idiots?
Or…. with the venue being so small and enclosed does that negatively affect the vibe for you… not being able to crank it up Stadium style?
Yet The music was flowing like wine… and he stopped between songs to tell us that playing a seated gig in a small setting means he tries to substitute a lack of 'bigness' with *Quality*…
And the stage itself was Low tek and simple… no video… almost how local hometown bands have it set up… with just a Painted sheet backdrop… and psychedelic.
I did wonder at the weird bloodthirsty 'Hindu God' with severed head bleeding into a bowl of kai that hung over one of the amps!
Quite an amusing juxtaposition!
We got our photos taken with him… I shook his hand and said "Praise the Lord for You Glenn"… and soon we were back in the lobby having a few Monteiths Pillsiners in anticipation for what we were about to experience.
Then the show Began!
Boom! I was listening to Stormbringer live!
And many many more of my most favorite Purple tracks (See Kristos pic below of the track list he scored!)
I have learned that when you are at a concert like this to relish every second!
Glenn's voice was unbelievable!
Like Rob Halfords at his prime… 5 octave range… like Paveroti … and driven by massive lungs …. more like Aqualungs!
So that he can hold these incredible notes for twice as long as other great vocalists.
He told us before the show that he still takes singing lessons!
He is always in control… never screaming….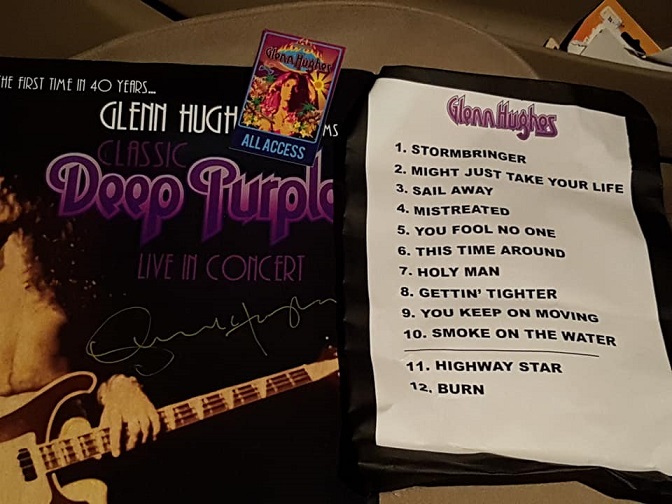 There no need for me to go though the song set he delivered with precision, Each one a stand alone Rock classic, yet I must single out his comments about writing the mesmerizing 'This time around' with Jon Lord… drunk as skunks in the early hours of the morning… in about 30 minutes… at the age of 23!!!
He admits that he still wonders about how such words could flow out of himself at such a young age… and hinted at it being like 'divine inspiration'… who can doubt it when you listen to that song… its depth… and beauty!
The Band was restrained by the venue, yet each was tight on their performance, taking full advantage of the genius of Purples material!
Guitarist Jeff Kollman hit every note with studio precision.
The drummer Pontus Engborg thrashed the drums… yet was still beautifully understated.
The keyboard Lachy Doley jumped about like mad man as he did justice to Lord's Epic Hammond genius!
Go > here to get more details on the band.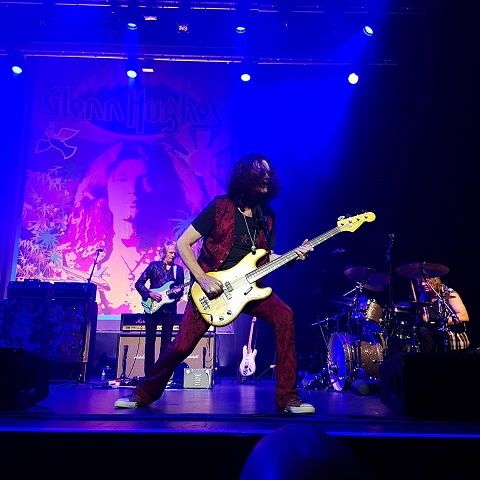 The show went on and on… Classic after classic…growing in intensity yet inevitably there was the encore and then it was over.
I did not have time to hang about with my two new friends, yet I gave them my card and said to hook up with me on facebook.
My self proclaimed status as Glenn Hughes greatest Kiwi Fan was cemented after waiting in line to pay for my parking at the vending machine… $12 $12… was what everyone was asked to pay… yet when I put my ticket in the machine… it said $24.00! 🙂
That was the price I … his greatest fan… had to pay to be first at the gig!
I'm just laughing about it.
Glenn intends to keep touring… and says he wants to come back next year… and if he does, dont miss the opportunity to hear The Voice of Rock for yourselves!
Better still get the deluxe package… best seats in the house… and meet and greet the legend for yourselves.
The tickets were dirt cheap for such an experience.
And OLD SCHOOL ROCK IS THE BEST SCHOOL!!!!!!

Lachy Rockin out at the Auckland Gig (From his facebook)
Glenn has written a Book which is something I must get my hands on, and I'm sure most of what I have spoken about above will be covered in more detail in that… and so you guys reading this blogpost can get that… and hear these tales first hand.
I would not expect the show in Auckland to rank as one of *His* most memorable gigs… *YET* for me… and many of his Kiwi fans there that night is certainly was!
And I have been to many Rock concerts of the very Biggest names.
I thank my wife Joy for such a fabulous gift… seriously a Tick off my bucket list!
And Glenn… if you read this I hope you like what I have written and I would love chat with you sometime via facebook messenger!
Tim Wikiriwhi.
Christian, Libertarian.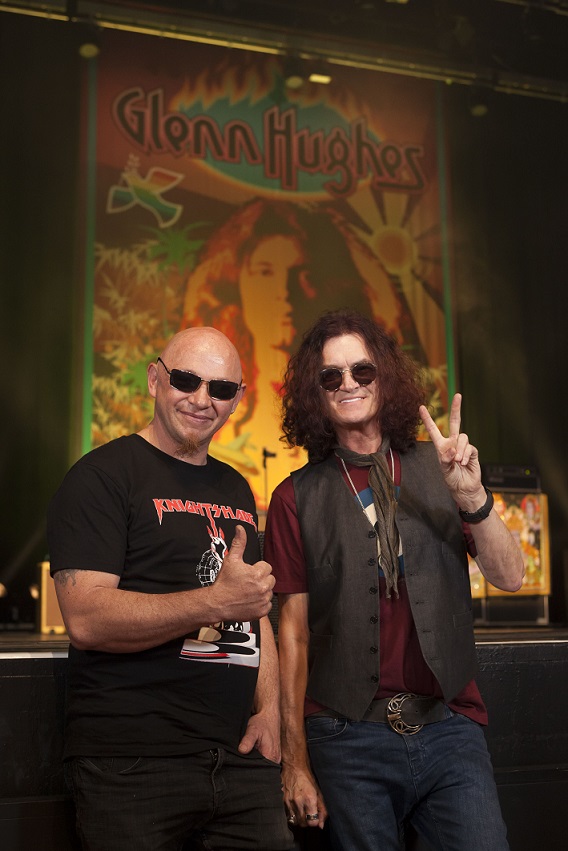 Me and my mate Glenn Hughes.
Caveat: Some of my 'Quotes' are not verbatim, but 'what I was hearing'… and written from my seat.
More Music stories from Tim….
Rock legend and good guy Glenn Hughes pays his respects at Ronnie James Dio 4th year memorial.
Falling to Pieces …. Thank's for the music Scott Weiland
Alice Cooper Goes to Hell. Nek Minnit!
Alice Cooper; 'My life is dedicated to follow Christ'
BLACK SABBATH's GEEZER BUTLER: 'I Always Felt That God And Jesus Wanted Us To Love Each Other': Blabbermouth. net
Megadeths Dave Mustaine is a Christian.
Brian Welch: From Korn to Jesus
Peter Steele Type 0 Negative. 'Dead again Hipo-Christian'.
Hell is for the Self Righteous, Heaven is for Sinners.
and from my mate Richard…. about Blackie Lawless…
I came not to bring peace, but a sword