To be edited…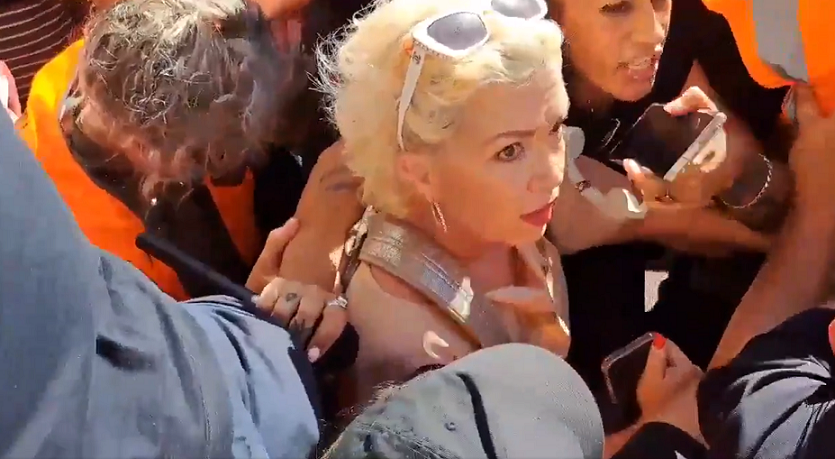 (Above) The heroic Kellie Jay Keen-Minshull aka Posie Parker in the heart of Woke fanatical hatred…. Kiwistyle.
In fear of her life. She came here to promote woman's rights and safe spaces for woman and girls.
Albert Park Auckland New Zealand 25-3-23.
Far Left Green Woke Radicalism is the number 1 Hate ideology in New Zealand, and represents an extreme danger to our society. The real problem is the Rot goes all the way to the Top. This is what Post-Ardern NZ looks like.
The extent of the Woke Craze here was on full display yesterday at Albert park.
We saw their 'tolerance' in action… akin the US BLM and Antifa violence.
It is rotting our once great and free nation from the inside out.
We have become an international joke.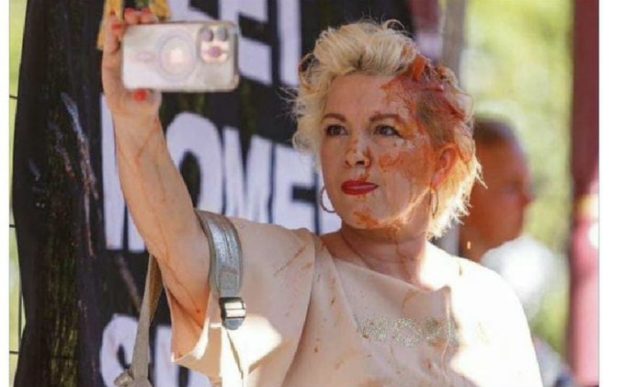 Wokism Kiwistyle embodies Marxist Anti-western Anti-Christian Anti-Enlightenment values , Radical Maori Separatism, Sexism, Slavery to the New World Order, Mass systematic immigration, Anti-free speech, pro-totalitarian Socialism, Climate Hysteria…. all rolled up into a bundle of delusional hateful self destructive Madness.
By pointing these facts out makes me (in their evaluation) a dangerous Alt right extremist Nazi… Like Posey Parker. And we should not be tolerated to express our wrongthink.

Watch the video (above)
What a welcome this Classical Woman's advocate received!
This storm has been raging within the modern day feminist movement for some time now. Once Gays and feminists were United, yet the Trans-radical extreme Left have splintered Feminists into two camps.
It's very important to distinguish Classical Feminism (which is righteous) from Rabid 4th wave Feminism (which is psychotic and hateful towards Men… that is unless they are Trans, or Gay men).
The clash within Feminism today is between these two groups. Classical Feminism has been infiltrated and hijacked by the Radical Left, yet their push to impose transgender Men into woman's spaces has caused outrage from classically minded feminists like Kellie Jay Keen, who wake up to the fact their movement now promotes gross Anti-female fantasies.
Wikipedia TERF:
TERF is an acronym for trans-exclusionary radical feminist. First recorded in 2008, the term was originally used to distinguish transgender-inclusive feminists from a group of radical feminists who reject the assertion that trans women are women, the inclusion of trans women in women's spaces, and transgender rights legislation.Wikipedia.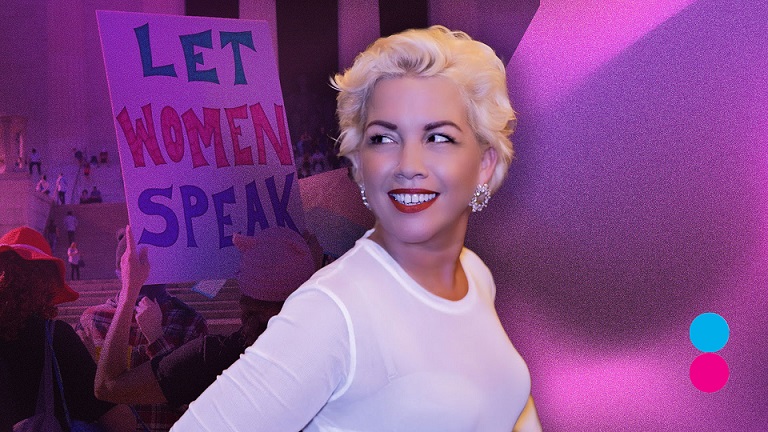 It has been truly said 25-3-23 was a black day for free speech in New Zealand.
In what was supposed to be a day for woman's rights advocacy, turned into an absolutely disgraceful exhibition for how steeped in Far Left extremism/ Woke radicalism a significant portion of our nation has become.
Kellie was assaulted even before she had a chance to speak, while the NZ Police just stood back and let the chaos ensue.
She easily could have been killed.
Was that what the powers that be hoped would happen?
When the crowd began invading the bandstand and assaulting her people, she had to run the gauntlet through the frenzied crowd of Far Left extremists who clearly wanted to inflict harm upon her protected only by a thin shield of her own security team.
It was only after her brave team had extracted her that the Police then moved to escort her the final few steps… putting on a show for the cameras. After all appearances are important.
Somewhere in a hazy Potpourri filled lounge the decision was made to allow the woke horde to run amok… to turn this political event into a fiasco… to serve as a precedent for stopping future Free speech events that dare to advocate opinions that don't align with the State's Woke agenda.
The police stood idle.

Ardern may be gone yet she's left her stains. She was hell bent on enacting heavy restrictions on Free speech under the excuse of outlawing 'hate speech', yet what constitutes hate and what constitutes Truth is most often dependent upon a persons personal values and beliefs. And given Arderns own extreme Leftist ideals it was obvious from the beginning the types of Speech she would outlaw.
The real Dangerous Radicals in New Zealand currently have a license to operate. The largely State funded Woke Left in media. In no way can it be said they represent a 'Free Press'. They work like a wing of the Woke States Propaganda department. One of their own Kate Hannah runs the 'Disinformation project'. She and her mate Ardern turned the focus of the Police onto their political adversaries creating the Bogus Far Right extremism narrative. Yesterday's obscene demonstration puts paid to that Machiavellian propaganda. Comparatively speaking The far right are non-existent in NZ! There would be only a fraction of 1% of the population who can accurately be described as 'Far right', yet Socialist's Like Ardern and the Greens have sort to change the definition of that to mean *anyone/everyone* who does not support their own Far left views.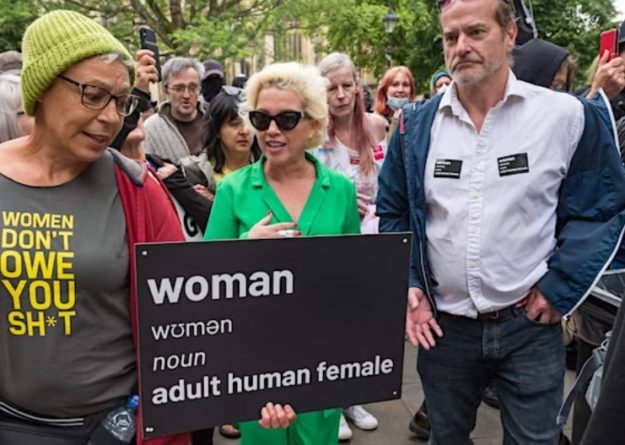 IMO The NZ Media must take the Lions share of responsibility for what happened!
They relentlessly sowed hatred against this little woman…. falsely associating her with Nazis… Falsely labelling her 'Insane' and 'Anti-trangender' when in truth she is a Womans rights advocate who simple does not want Woman's sport dominated by Men suffering severe identity crisis.
She does not want Woman and girls to get undressed in changing rooms in front of Men in wigs, and be exposed to Dicks swinging in the breeze!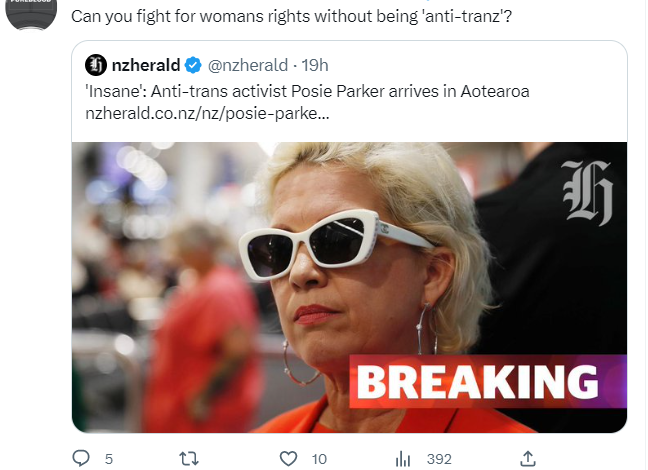 The NZHerald was particularly guilty for the Chaos. One of their own contributors (Shaneel Lal) was the poster They/them for rallying every Purple haired whacko and Commy Hipster north of the Bombays… hell bent on insuring Posey Parker would regret setting foot on New Zealand soil.
The NZ Herald thinks anyone who thinks 'People with Penises' are not woman is deemed to be 'insane'? The NZherald is insane for thinking they are! The Left have bastardised the English language. Pretending Gender and biological sex are separate things they have successfully inflicted insanity/Mind cancer.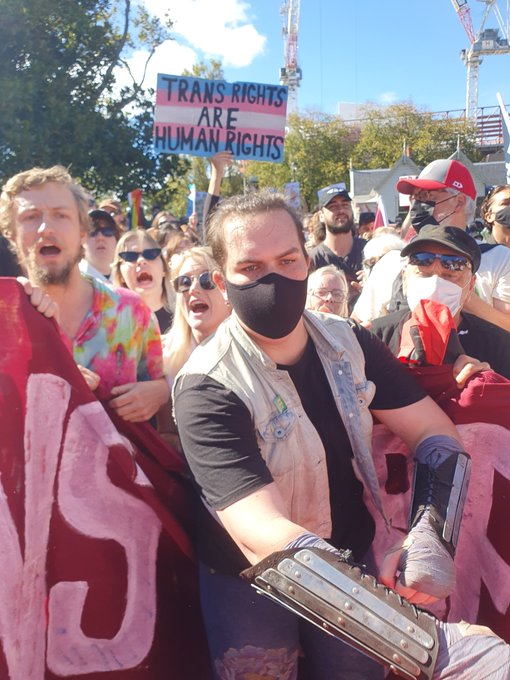 It was a vulgar display of Hypocrisy and ingratitude toward a nation that has been very open and inclusive towards them! For all New Zealand has done, this is how the Woke repay us! By violating others Free Speech, violence, and intimidation! You are dangerous Thugs. Extremists!
The tweet below shows the mindset of the woke radical and how they conflate speech with violence and violence with speech.


What the Woke Radicals did yesterday at Albert Park was not 'More speech'. It was mob violence. Only a moron, a degenerate, or a Black hearted corrupt extremist cant understand the difference. Yet I guess when a person believes Woman' can have dicks such people have abandoned reason.
The Left turn so many terms, words, and definitions inside out and back to front. Speech they don't like is criminal 'violence', yet violence they commit is lawful 'speech'. Hate is tolerance, tolerance is hate. Men are woman, Sex is not gender, censorship is kindness, etc
The Trans-activist Greens say 'Terfs' like Posie Parker deny Trans-folk have rights. That's false.
Parker does not deny Trans-folk have rights, but says those rights are *equal*. They don't get preference. They don't get to impose themselves on others. Those things are *not rights* for anyone. Today they imposed themselves on a woman. Kinda toxic IMO. Kinda Rapey don't you think? Monumental hypocrisy given how much these same activist harp on about Men's oppression of woman!
Apparently it's ok for Dick swinging Men to Dominate Woman if they self-identify as Trans!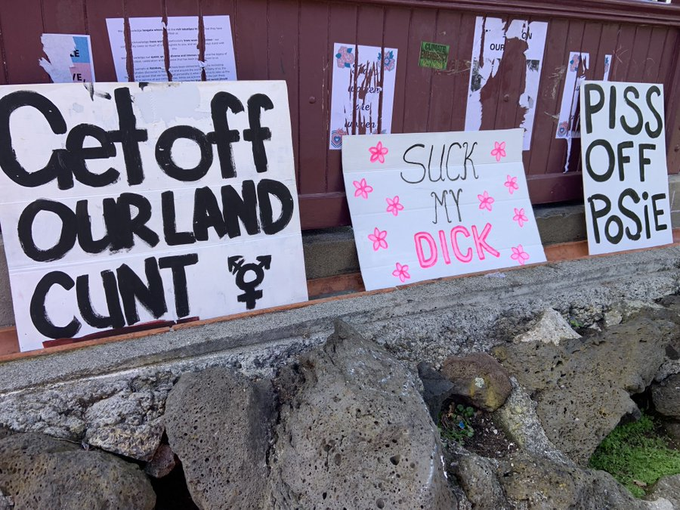 Despite the scale of Yesterday's spectacle The Greens and their Rabid band are just a fringe party for loons! Only the naïve think that Rabble represented heartland New Zealand! Only blinkered zealots seriously entertain the idea most New Zealanders believe Woman can have dicks?
No. Most New Zealanders agree with Posey.
This is election year, yet where is National's voice?
National are missing a prime opportunity to show leadership, promote Free speech and Law and Order. They should be slamming Labour and the NZ Police for not protecting Posey and Free speech in New Zealand. Luxon is a bumbling Idiot completely out of his depth. He's Woke. He's Broke
Yesterday exposed the Minority Faction for the vile anti-democratic dangerous nut jobs that they are, and the fruit of their vile anti-freedom intolerant ideology.
The truth is they represent a small but growing minority of extremists… a frantic tail seeking to wag the dog… by endeavoring to have a monopoly over what is allowed to be thought and spoken in public, and in the press.
This Rabble horde are but puppets. It's the aims of the Puppet Masters that must be understood. They want a breakdown of Western Social cohesion and order so they can implement their New World Order. They want speech to be abandoned and replaced with violence and chaos. No Cap. This same war of ideology is raging across all Westerndom… sapping out strength…. priming our civilisation for the Great Reset.
Satan laughing spreads his wings.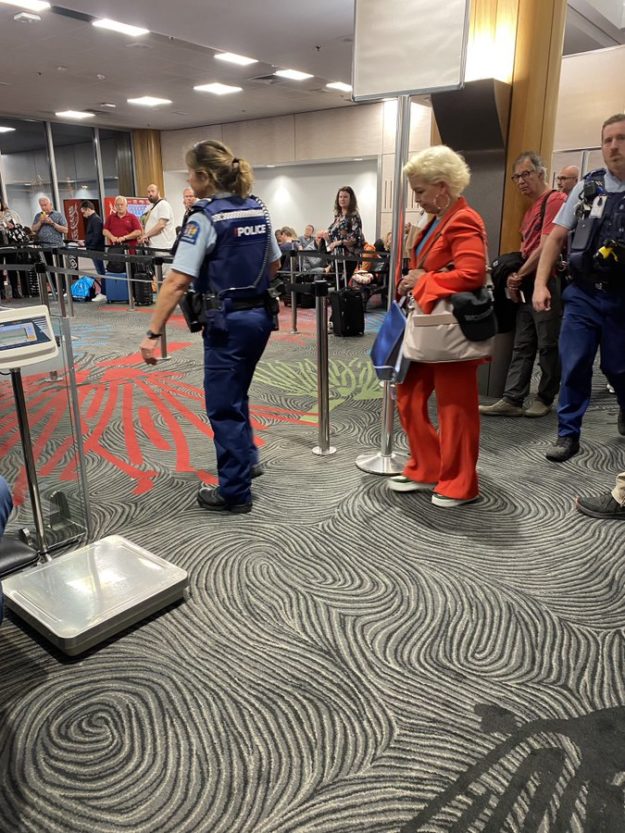 We can safely assume the politicised NZ Police Bigwigs did not want Parker to be allowed into New Zealand. Once here they did zero to insure her safety. They will chuckle she has been forced to cancel her Wellington event and were extremely happy to usher her to to the Exit lounge of Auckland airport. That's the state of the right of Free speech in New Zealand today!

Posie Parker did NZ a large service by exposing the true nature of far left woke radicalism growing unchecked here in NZ, as it is in most Western Nations. She lanced the festering boil, and all the Puss and gall erupted for all to see.
Ironically while the Wokesters wax lyrical about their success in preventing Parker from speaking, in truth they harmed their cause! Their actions have caused many supporters with ethics to abandon them in disgust.
Many Gay people are also becoming more and more applauded by the actions of Trans activists. Most Gays never sort to impose themselves upon Women and Children like the Trans community is doing.

New Zealanders had better get their act together and defeat the fast growing Leftist radicalism or surrender our country to the Savages and Totalitarianism.
Tim Wikirwihi.
Christian Libertarian.
P.S I'm not Anti-Transgender. I'm pro-equality of rights… just sayin.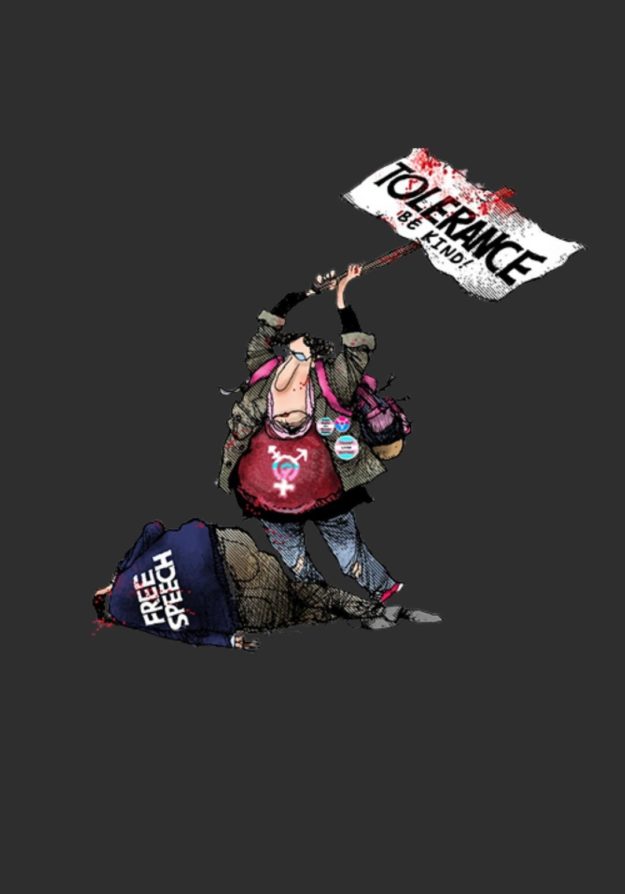 More from Tim….
THE RAPE CULTURE OF WOKE LIBERAL TRANSGENDER RIGHTS: FORCING THEMSELVES SEXUALLY UPON UNWILLING OTHERS.
MARC DAALDER PROPAGANDIST FOR FAR LEFT EXTREMISM. HIS ROLL IN 'THE GREAT DEPLATFORMING OF MATARIKI 2021.' (PART 1)
ANNA MCALLISTER: PORTRAIT OF A MAORI SUPREMACIST, AND SERIAL SOCIAL MEDIA EXTORTIONIST. 'THE GREAT DEPLATFORMING OF MATARIKI 2021'.PART 2.
PHIL ARPS: A PORTRAIT OF A REAL ALT RIGHT NATIONALIST WHITE SUPREMACIST: COMBATING MALICIOUS LEFT WING PROPAGANDA.
IMO GREEN MP GOLRIZ GHAHRAMAN IS A MENACE TO FREEDOM. DAVID SEYMOUR SHOULD NEVER APOLOGISE FOR CALLING HER OUT.
GEOFFREY PALMER AND THE RAPE CULTURE OF SOCIALIST GOVERNMENT. TEACHING LIBERALS THE PRINCIPLE OF CONSENT
TRANSGENERISM AND THE FEMINIST LOBBY'S RELENTLESS DRIVE TO CRIMINALISE CHRISTIAN VALUES.
LIBERTARIAN OPPOSITION TO THE GLOBALIST AGENDA OF MASS IMMIGRATION.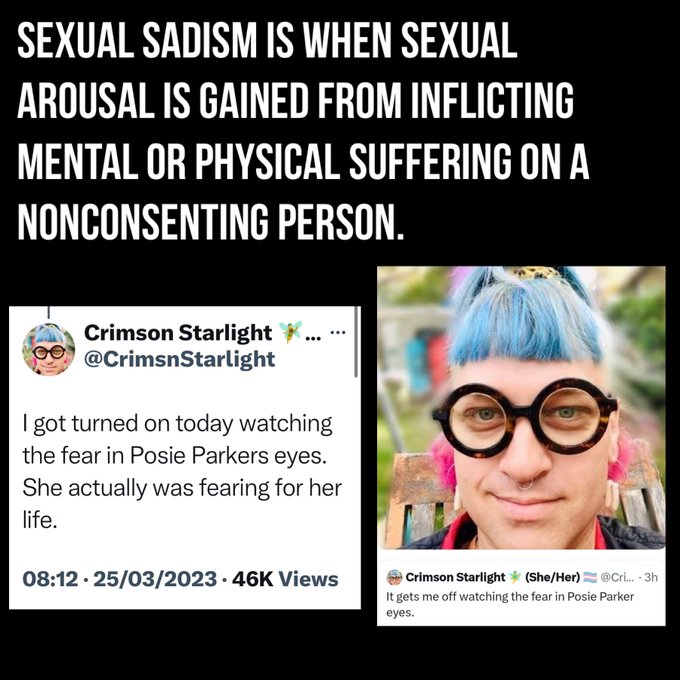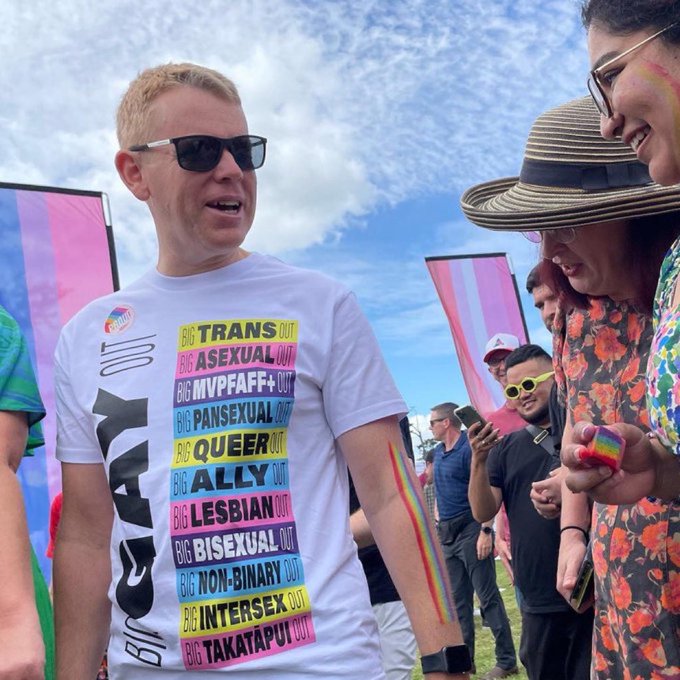 New Zealand Current PM Chris Hipkins…. who inherited power From Her Supreme Wokenss Jacinda Ardern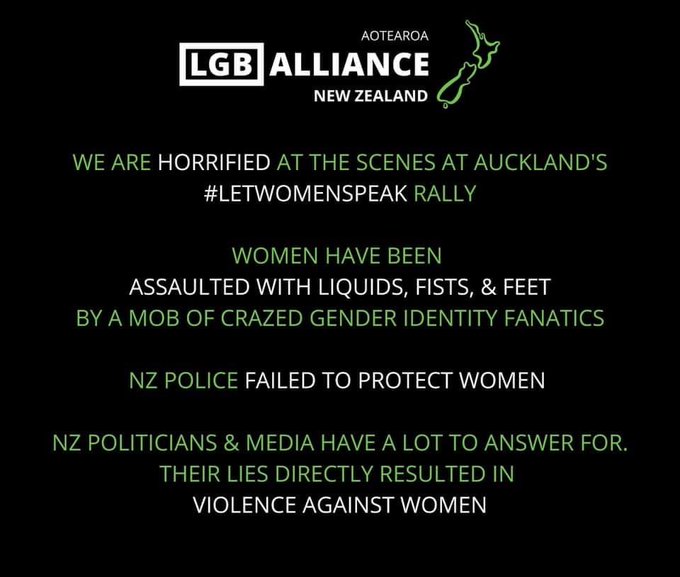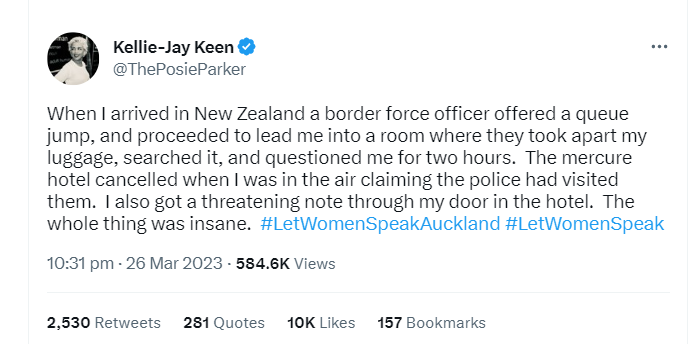 Welcome to The Peoples Republic of New Zealand where The Woke State Police keep tabs on Suspected Dissidents who seek to spread propaganda contrary to the Peoples Party's Will.