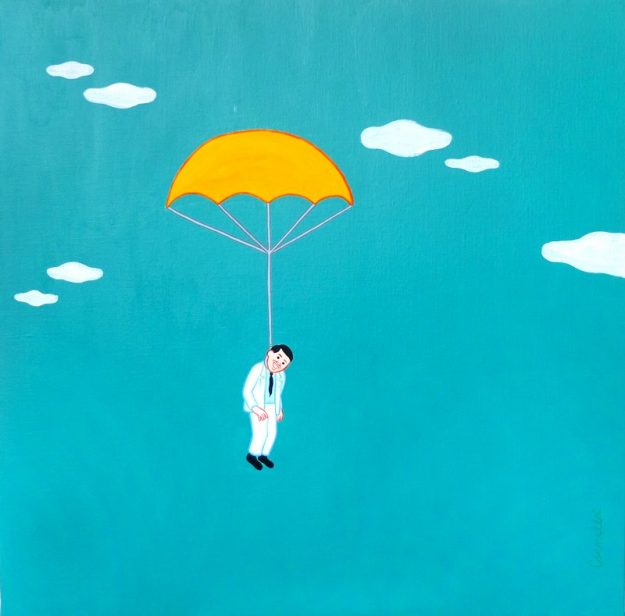 I just dropped in to proffer an explanation of my absence from this blog for the past 18 months or so.
In a word, depression. I have been beset with mental health problems my entire adult life. I have at least four diagnosed DSM-5 disorders. Of these, depression is the worst. It is, quite literally, a life-threatening illness. Fortunately, amongst other things, my life is not mine to take. Yea, though I walk through the valley of the shadow of death.
Things took a turn for the worse about 18 months ago. Amongst other things, the full implications of having recently been belatedly diagnosed with adult ADHD were sinking in, winter was coming, and my usual coping strategies of injudicious drug use and abnegation of personal responsibility were failing me. But what really got me in a tailspin was when the state started bankruptcy proceedings against me, for alleged failure to pay taxes. I saw my GP about my predicament and he had no hesitation in giving me a medical certificate for WINZ. The upshot is that, since last autumn, I've been on the sickness benefit. Yes, that's right. I'm a ward of the welfare state. So you can see what condition my condition is in.
But that's enough about me, I don't want to make this post all about my personal woes. In time-honoured fashion, I want to make it about this country's political woes. This post will be about the government's role in providing mental health services and, in particular, it's role in NZ's high rates of depression and suicide.
Straightaway, let's get one thing straight. The government doesn't actually care. The present National government doesn't even want to know. Why else would it re-brand what was formerly the sickness benefit as "job seeker support"? A sickness beneficiary already has a job, and they know it! Their job is to get well. Well enough to seek, find, and then hold down a permanent paid position. All of which is easier said than done for the chronically mentally ill. Some of whom should, and do, end up on the invalid's benefit.
The government doesn't actually care. Certainly, the neoliberal government we've had in this country since 1984 doesn't give a damn. To begin with, take the fact that the suicide rate for New Zealand males aged 15-19 doubled in the course of three years from 16 per 100,000 in 1985 to 32 per 100,000 in 1988. While trustworthy statistics aren't easy to find, it would appear that this alarming increase in NZ's youth suicide rate has held up. I see no reason to dispute the claim that NZ now has the highest rate of teen suicide in the developed world.
Former Children's Commissioner Ian Hassall makes a couple of especially pertinent points (notwithstanding his dubious analogy to climate change).
The critical fact is that New Zealand has the highest rate of youth suicide in the OECD. This excess of young people's deaths in New Zealand when compared with other OECD countries must be a result of local factors.

The statistics show that whatever these factors were, they began to operate from 1985 to 1988. That was a time of social turmoil in New Zealand. The economic restructuring that was sweeping the world was imposed faster and deeper in New Zealand than elsewhere.

"No pain, no gain" was the catchphrase of Rogernomics. What it meant was that it was expected that the structural changes would be painful but they would be worth it in creating a more robust economy.

For young people, the changes were rapid and painful indeed. Suddenly, finding a job was not guaranteed and bright future prospects dimmed for many. A reduced welfare safety net meant that many were not sufficiently helped and inequality widened.
I don't think that we can say for sure what aspect of neoliberalism is to blame, or even that we can definitively blame neoliberalism in the first place for the sustained rise in youth suicides. But it's certainly a prime suspect.
As ever: what is to be done?
Officially New Zealand has focussed on mental health and mental health services as a means of dealing with the problem. Mental ill-health and lack of mental health services cannot explain the sudden doubling of youth suicide from 1985 to 1988.

Not surprisingly, then, this approach has failed. Mental ill-health undoubtedly has a part to play in many youth suicides, but there is no reason that this should be more of a problem in New Zealand than in other countries.

It is comforting to believe that young people will be safer if our mental health services are improved but it is largely a false hope. Saying so will, no doubt make me unpopular, but so be it.
So be it, and I agree.
Sadly, throwing more money at the problem isn't going to help much, if at all. In fact, I submit that a big part of NZ's current mental health crisis is down to excessive reliance on the state to fix the problem. A bigger part is due to state intervention in the first place. It is completely wrong, for example, that the state treats the simple administration of a proven cure for depression as a greater crime than rape or armed robbery, and instead busies itself funding a lolly scramble of often worse than useless placebos.
Whereas I don't think more government money is going to fix the problem, I do think it's downright criminal to cut funding to mental health services in a time of mental health crisis. And that's what this National government has done. My point is that where the state has taken on responsibility for the provision of mental health services, it must honour that commitment in the meantime. Until such time as we can successfully devolve this responsibility to families, friends and support at the local community level. Faceless bureaucracy never made anyone happy.
At a time like this, it is utterly appalling that the government saw fit to cut funding to Lifeline, one of NZs biggest and long-established suicide counselling lines. And instead, allocate that funding to a "new, preferred supplier" called LaVey. All very well, perhaps, except for the six-month hiatus between Lifeline's funding being cut and the new provider stepping in. Oh, and the fact that Bill English's wife is on the board of LaVey! Nepotism doesn't get much uglier. (LeVa, LaVey. Whatever.)
Now, a closing few words about the efforts of the government-funded agency Like Minds and their take the load off campaign. When I first saw their video featuring Daniel from Taihape I was immediately reminded of the disturbingly dark comicbook art of the Spanish artist Joan Cornellà.
Wait just a moment! Take another look at take the load off. What on earth is that woman friend using to get her mate Dan out of his pit of depression? That's right, it's a hangman's noose.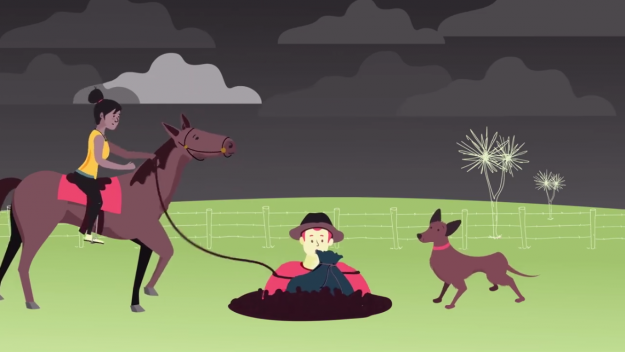 Sure, it's supposed to be a lasso. But seriously, what sort of subliminal message are they sending to the suicidal? The people at the agency that created this plagiaristic monstrosity sure have a sick sense of humour. (It wouldn't surprise me if they were the same outfit responsible for Colin Craig's election campaign material last election.)
I'm glad that I also have a sick sense of humour and can appreciate it. I hope you do too. To all my depressed friends out there, I say, life is very much worth living, no matter if it seems like a sack of shit right now. Hang on in there!