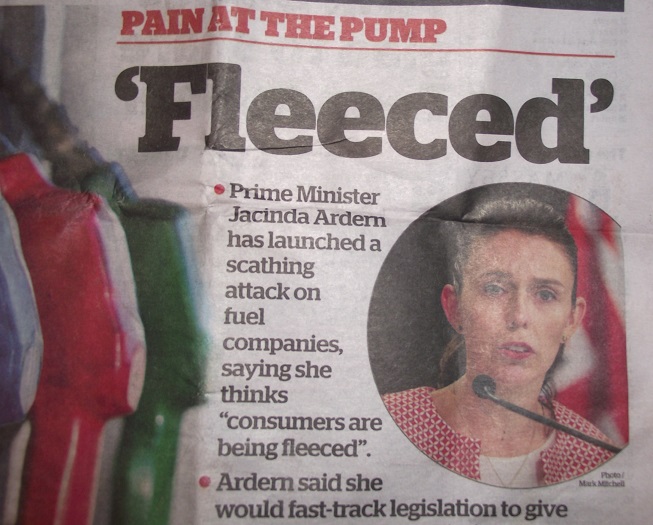 The above pic is part of a Full Front Page Propaganda Piece by the New Zealand Herald , that not only captures Jacinda Ardern's Outrageous claims that it is not the governments Rapacious taxes that are responsible for New Zealanders being 'Fleeced' at the gas pumps… as she jumps on that Tired old, yet faithful Hobby horse … blaming Greedy Fuel companies… and then following up with threats of new legislation.
All this dishonesty is Evil enough, yet if that is where it stopped the only thing that could be said about the article was that the Herald was simply reporting on Arderns lame denials, and subversion … yet that is far from what happened on October 8 2018… see the pic below.
The Herald engaged in outright Propaganda of its own… of the very worst sort… showing that it is far from impartial and that it may as well be written from an office in Arderns spin doctor department!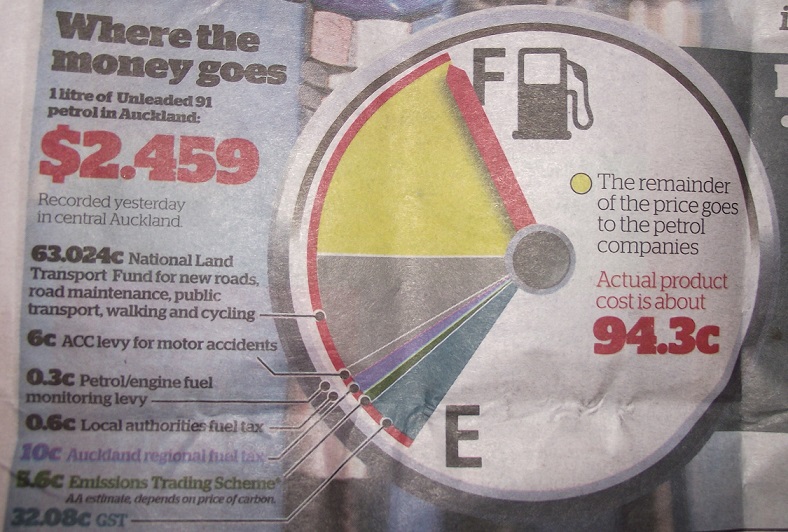 This absolutely shocking Pie Graph (above) appeared in the same *Front page* expose… which is so distorted that even a mediocre mathematician like myself cant help but spot glaring falcehoods!
The most Obvious one being that it pretends that 94.3 cents is well over 50% of $2.45.9 !!!!
The 94 cents is the actual cost of the one liter of petrol, leaving a remainder of just over $1.51 of Taxes and Fuel company overheads and profits.
By grossly misrepresenting this component (in white)… for political ends, they could then visually minimise the truth about how much of the price of fuel is taken in Taxes (Levies are just taxes too!)
Thus the Herald pie graph grossly under proportions the real amount the Government gets… esp noticeable with the segment that is supposed to show the 15% GST component (in Green)
I have worked out that the segment the herald attributes to 'GST' fits into the pie graph almost 23 times! when if this segment was honest it would be a portion that ought to only fit in 7.667 times!
This is a distortion of the truth in favour of the lies of Jacinda Ardern of a magnitude of nearly 300% !!!!
This is Barefaced dishonesty by New Zealand's Largest Newspaper!
Then just step one day ahead… to today… October 10, 2018… page 3 and we read an article baced upon the Opposition party Leader Simon Bridges who is trying to make as much political capital from the public outcry against Arderns new fuel Taxes by calling for them to be scrapped… and this article has another graph… yet conveniently for the Herald… its not a Pie graph but a bar graph (see below)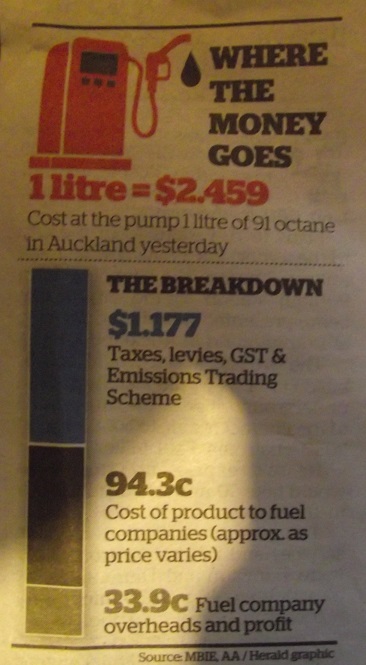 Now this one at a glance is far more honest than the one they ran only the day before on the front page…. firstly we can see that the 94.3 cent component is rightly proportioned at well less than 50% of the total cost… and 'Hello'… the real component being fleeced from us by the government is nearly 50% of the total price!
leaving a mere 33.9 cents for Feul companies overheads and profit … a proportion of the total cost being a mere 1/7th of the whole!
Now The Bullshit we are being fed by Jacinda Ardern and her sycophants at the herald is a mountain high and is despicable!
what bothers me the most is that this blatant dishonesty at the Herald may not be picked up by uncritical readers… thus perpetuating the lie that The Government is not to blame for the suffering and growing poverty in New Zealanders… and that its all because of greedy corporations that need more legislation!
Patent falsehoods for despicable political ends!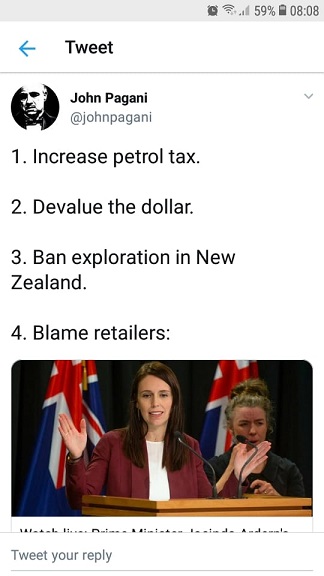 Remember Ardern's Election promise "no new taxes"… Yeah Right!
This is outrageous!
She is unfit to govern… National is no better.
New Zealand desperately needs a New Libertarian Party… and New/ better Newspapers…|
The New Zealand Herald is corrupt and has failed in its duty… the roll of 'the Free press' is supposed fulfill as a vanguard of freedom in an enlightened society.
Heads should Roll!
And to think the world swoons at Arderns feet!
Satan Laughing spreads his wings.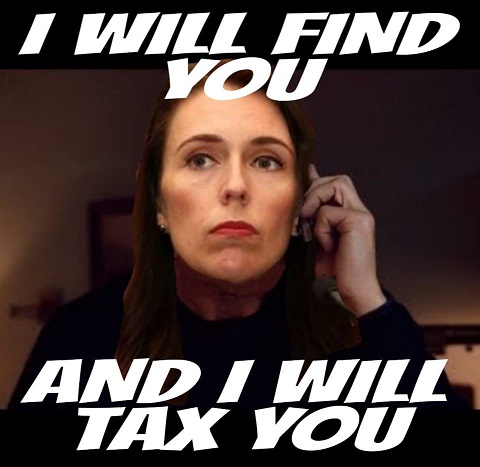 And you wonder why poverty is growing in this country!
Had enough yet?
Update: 10-12-18… I should have mentioned the fact that Ardern has an even more nefarious ends in mind she is not talking about… she… and her Green Party coalition partners are part of the Global Cabal who want to Ban Motorcars and force people into State transportation systems under their Machiavellian 'Climate change' Agenda.
So secretly she *wants* the people to hurt… she *wants* people to not to be able afford to run private motor vehicles…
This is a hot topic at the UN… where she loves to grandstand… with her Baby!
She is a Fraud and a tyrant.
Update: 13-10-18 STAGGERING OMISSIONS!!! Read Auckland fuel tax and new excise tax left out of PM's petrol tax calculations.
Tim Wikiriwhi.
Libertarian Independent.
More from Tim….
JACINDA ARDERN: HIGH ON TAX CRACK. HEAVY TAXATION AND THE GROWTH OF POVERTY IN NEW ZEALAND.
LOST PLOT. WORLD PRESS FREEDOM DAY.
SPIEL ON BRAIN WASHING, AND SOCIALIST ENGINES OF CONFORMITY. STATE EDUCATION.