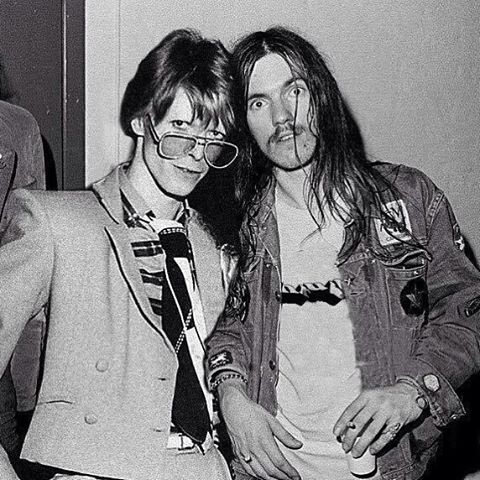 Such a great pic of David Jones fraternising with Ian Kilmister circa 1970. Too bad it's photoshopped!
My brother Tim and I grew up listening to the likes of Pink Floyd and Black Sabbath. At our family lunch on Christmas Day I reiterated to him that I was still undecided about whether or not to go see Black Sabbath play Dunedin's Forsyth Barr Stadium on 30 April this year. I mentioned that 30 April is Walpurgisnacht. I also mentioned that it wouldn't be reasonable just to assume that all three remaining band members will be well enough or even alive four months hence to play the gig, so if I did decide to go ahead ticket insurance would be a must!
I then mentioned that Motorhead's drummer "Philthy" Phil Taylor had died recently and that Motorhead's main man Lemmy had only the previous day (Christmas Eve) celebrated his 70th birthday. Rock music's founders (excepting members of the 27 Club) are mostly still alive but getting well long in tooth and claw.
My brother then morbidly observed that we can expect half of the big rock legends of our youth to die in the next ten years, and the other half to die in the ten years after that. At the rate of about one per week.
Teach us to number our days, that we may gain a heart of wisdom. (NIV)
We didn't care to speculate who would be next, but by a strange coincidence it was Lemmy himself! You can read my co-blogger Tim's wonderful tribute to Lemmy here.
And then David Bowie! You can read my co-blogger Blair's wonderful tribute to Bowie soon. 🙂
The day a person dies is better than the day he was born.

It is better to go to a funeral than to a party.

We all must die. Everyone living should think about this. (ICB)
I confess. I'm not even a big fan of Motorhead (or Lemmy's original band, Hawkwind). But I still enjoy listening to them from time to time, of course, what self-respecting metalhead doesn't?!
I'm not even a fan of Bowie at all. Well, I thought I wasn't. But now I've been given the opportunity to peruse his back catalogue, it's amply confirmed what I always knew about David Bowie. He's out of this world talented. So put me down as a small fan of David Bowie. 🙂
So I just thought I'd share some Bowie gems.
https://www.youtube.com/watch?v=jqumHTx2rb0
You can keep up with who's rockin' and rollin' six feet under here. (We've lost a few smaller rock legends since Christmas too, inlcuding Stevie Wright, John Bradbury and Robert Stigwood.)