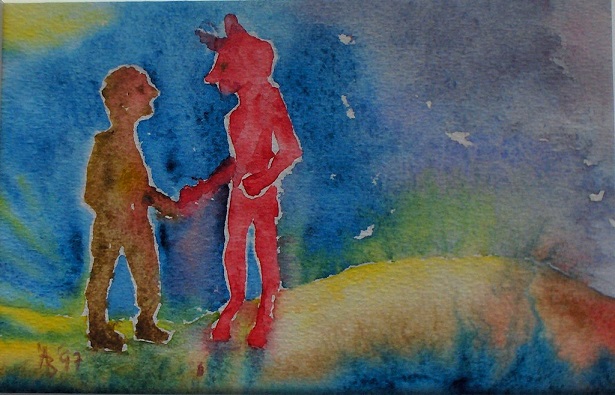 The following argument has been in my mind for decades… ever since I was converted from Atheism to Bible believing Christianity.
I am not a trained academic or Logician myself, Yet have attempted to solicit dialogue on my conjectures from several 'Trained academics' yet so far have had no response.
Thus I have never received any Rebuttal that might dissuade me from my conclusion… simple Atheist assertions that 'God does not exist… or Satan does not exist' are not arguments but groundless (and in my opinion erroneous) claims, and this post will attempt to prove the idea that even if I cant say Satan's existence today is knowable… that at one point back in history of all reality… his existence was a certainty.
The following is an expanded form of my assertion, just to lay down the framework/ context of my contentions plainly.
That I say Satan's existence is a Logical necessity is based upon the Title Jesus Christ called Satan… "The Father of Lies"… ie Satan *invented Lies* and deception… or at least he was the first *to actually lie*… and this brings up the principle of non-materialist *Free will*.
Christ calls himself… The Way… *The Truth* and the life and the Bible says that *all things were created by him and for him*, and many Infidels who cannot get past their notions of Determinism therefore argue that 'if the God exists… then *God himself* is responsible even for Satan's lies… because God made Satan, yet as I have already said they are unable to accept any notion of any created being having autonomous free-will that may differ from the ultimate will of God himself.
Yet the concept of Free will is fundamental to Christian Morality… It permeates the whole Bible from the very Beginning when God commanded Adam not to eat of the forbidden fruit, and it is what makes us *morally culpable* for our own actions while exonerating God for giving us the Liberty to make choices … for good or ill.
"…And the Lord God took the man, and put him into the garden of Eden to dress it and to keep it. 16 And the Lord God commanded the man, saying, Of every tree of the garden thou mayest freely eat: 17 but of the tree of the knowledge of good and evil, thou shalt not eat of it: for in the day that thou eatest thereof thou shalt surely die." (Gen 2)
The Fallen Angel Satan entered the garden and deceived Eve… Adam then chose to disobey the commandment of God Almighty and ate of the Forbidden fruit… and then tried to blame God for what happened by saying "… And the man said, The woman whom thou gavest to be with me, she gave me of the tree, and I did eat." (Gen 3vs 12)
Yet God was not responsible for Adams choice to mistrust and disobey God… even though God did create *the possibility* for Adam to so choose… It was Adam who was the free will moral Agent who made the choice and that is why Adam was morally culpable… and God without blame.
God is completely within his right to so order his creations of both the Angels and Humanity with the *potential to sin against him*… Not making us *mere robots*… but True *Children* whose love and ongoing obedience to his Divine rule is not something imposed upon us by our nature… but something *real* and special… and moral… none the less this requires having so ordered things that *the potential to rebel against God* was an inescapable necessity to the dynamic of being able to freely submit to his Sovereignty.
So Like the temptation of Mt Everest in the distance calling vain Men to their doom… trying and Conquer its peak… so to Did God create *the potential for Evil*… for Rebellion… yet that was only as a counterpoise for Freewill love and submission.. not because he *wanted* anyone to rebel… yet still to have *Loving Children* rather than Robots… God Deemed this risk to be worth it… and their would be few honest people who would prefer to be like Ants… wholey driven by their instincts and physical drives, than to be as they are… with Freewill to determine their own lives and activities… Taking credit for their own virtues and successes.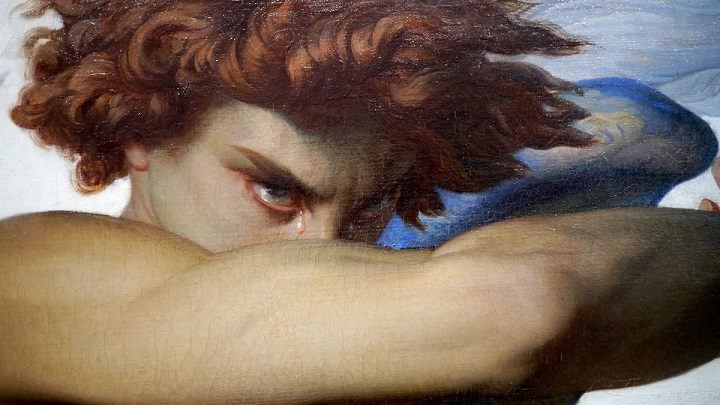 Now I have laid out the groundwork, I can address the main point of which the Title of this post… God Created The Highest Heaven… God Created The Holy Angels and that was When Satan was 'Lucifer'… the highest Angel in that Order of beings.
I have already explained that God created them with Freewill and gave them the scope to exercise this essential component of their being for which they were created.
An unknown length of 'time' passes, and then God Created 'the Heavens and the Earth'(yet not Mankind)…. and it was sometime after this that Lucifer became jealous of God… and desired to be worshiped… and that is when Evil grew in his 'heart' and he chose to Rebel against God.
This is when Satan decided to start telling lies… To corrupt many of his fellow angels into following him instead of God Almighty.
So While the *potential to tell lies* had always existed in counterpoise to being able to tell the truth…. Satan was the first Being to *ever exercise* that potential… he became 'The father of Lies'.
and it is here that I now posit my Logical challenge… We exist in a reality in which *Telling lies* is a fundamental fact of Human existence… liars exist… Down here on Earth Lies are a currency as often traded in as the truth, which of necessity raises the question… who… in the entire existence of all reality… was the first being to ever tell a lie?
We know that because lies exist today that somewhere someone back in eternity past *must have been the first Lying being*… and it is this Being The Bible calls *Satan*… the Father of Lies.
Satan is therefore a Logical necessity!
And Satan is the Being responsible for Bringing All Evils into the world… even though We as Freewill moral agents are responsible for our own choices to follow Satan's lies rather than trust in God Almighty.
This is a fundamental Dynamic to our existence!
Change my mind!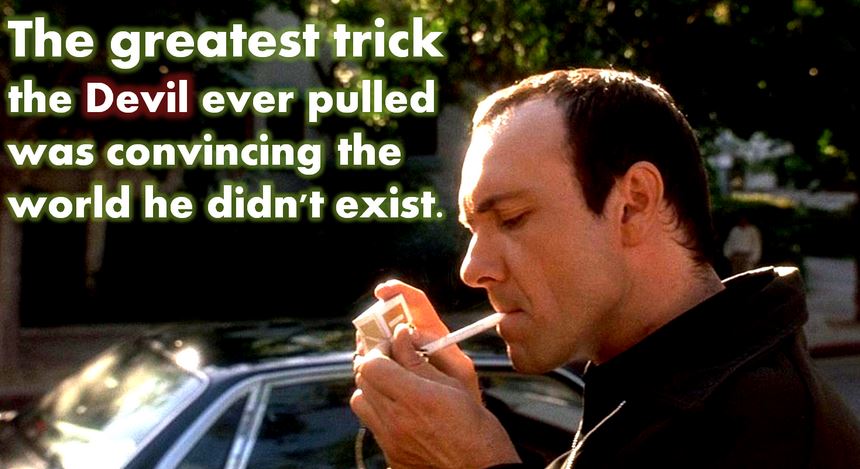 Satan Laughing… spreads his wings.
Some Atheists may say… "The father of Lies must have been a human being"… I admit that this 'Idea' is worth contemplating… yet when you consider that there is virtual universal consensus on the conjecture that the Human race has not existed for very long… and that even the Earth has not existed for ever… and that Most Atheists also harbour Ideas that we are probably not the only intelligent beings in the universe ( that this is a belief for which they dont have any more *Physical evidence* for such alien beings than I do for Satan seems to escape them… they base their conjectures on no more firm unproven rationale than I do for mine)… yet still does not their own conjectures make the notion that 'the father of lies' must have been a Human being uncertain?
Could not *another being* that pre-dates Humanity have told the first lie? (He would then be Satan!)
And then Atheists have an even greater problem… *How lies*… or even *telling the truth*… can even be concepts… if we exist in a Purely Materialistic Reality in which everything is inextricably locked into a chain of physical causation right back to the big bang?
Tim Wikiriwhi.
Christian Libertarian.
Dispensationalist.
King James Bible believer.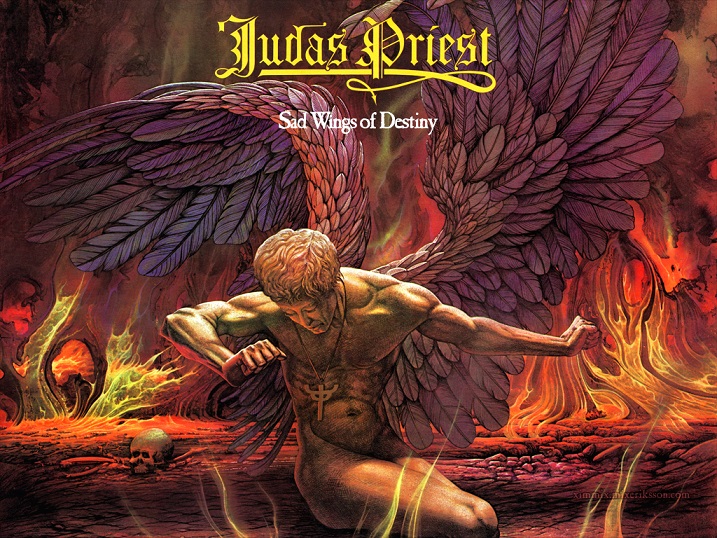 More from Tim….
CHRIST'S WORK OF SALVATION ON THE CROSS… THE GREAT EQUALISER.
THE OBJECTIVE REALITY OF HELL. SUBJECTIVE WHIM VS BELIEF IN HEINOUS THINGS: A DIALOGUE.
WHEN THE ACCUSER COMES CALLING…TRUST IN THE LORD'S GOOD CHARACTER…TRUST IN HIS WORD. (GOOD GOD/EVIL WORLD PART 7)
The Rock of Divine Revelation.
Death of an Atheist. Follow the evidence.
THEN COMETH SATAN…. "YEA HATH GOD SAID…?" AND IT CAME TO PASS…. THE BIBLE IS TRUSTWORTHY AND CARRIES THE AUTHORITY OF GOD ALMIGHTY. BELIEVE IT! DON'T LET EDUCATED FOOLS LEAD YOU TO DESTRUCTION.
GOOD FRIDAY 16: WHEN FRIENDS WHO ONCE WERE FUN AND COOL BECOME ANNOYING NAGGING CHRISTIANS!
Life and Death. Hope and Happiness. A Tribute to Rev John Steele Clark.
How can a Good God exist when there is so much evil in the world? (part1) Atheist Nihilism.
How can a Good God exist when there is so much evil in the world? (part 2) The Thirst for Blood.
Horror stories. How can a Good God exist when there is so much Evil in the world? (Part 3)
How can a Good God exist when there is so much Evil in the world? (Part 4) Interlude.
Seether: Know Thyself. How can a Good God exist when there is so much evil in the world? Part 5.
'Good Atheists' and the seriousness of sin. Good God/Evil world. 6
Hell is for the Self Righteous, Heaven is for Sinners.
The hope which is In Christ. Terrible grief shall be turned into great joy!
We are not Robots Ayn Rand. We are Moral Agents.
Monism: Evolutionary Psychology and the Death of Morality, Reason and Freewill.
Defunct / Archaic Western Dogma blindly insists : 'Whatever does not fit the Naturalistic Materialist Paradigm is Illusory'. Entity Attacks
The Lies of Atheist Pseudo Science.
Pasteur's Law, Creation Science vs Nose Bone Atheism.
Biomimicry… Plagiarizing God's designs.
Rapturous Amazement! The Advance of Science Converts The High Priest of Atheism to Deism. A Flew.
The Walls are closing in on Atheism… not Theism.
Faith, Science, and Reason. The Pomposity of Atheism.
Materialism renders Man Nought. Meaning-less, Value-less, Right-less
Dispensational Truth. 2Timothy2vs15, Ephesians 3vs1-9
Willful Ignorance and the Limits of human reason (without Divine Revelation.)