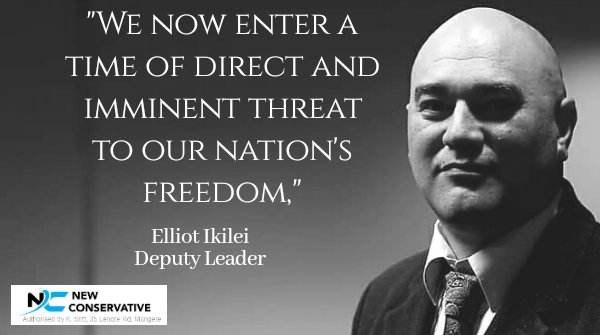 Read about the kind of guy New Conservative Deputy Leader Elliot Ikili is… here > Motorway rescue earns recognition
With regard to the up and coming referendum on the right to assisted death for the terminally ill, and to politics in general, a fundamental question asked by Libertarians is Who owns your life?
Answer: You do! Not society.
Upon that basis I believe a Yes vote for the right to assisted dying for the terminally ill is the moral vote because it is the only consistent position with the principle that (politically speaking) *you own yourself*.
Otherwise you become the slave/ property of society.
The above statement is clear cut, yet not without controversy.
The 'No' voters think this reform erodes the sanctity of Human life. So argues the New Conservative party.
I say it does the very opposite thing.
It removes power from the State and gives it back to individuals to make their own choices.
I myself am both a Libertarian, and a Christian, yet many Christians will not be able to reconcile my 'Yes vote' with how they interpret 'Christian values', and in fact many people… both believers and infidels can't imagine how Christianity and Libertarianism can be coherently united and consistent in application.
More on these nuances later, first of all I want to talk about the curious mental gymnastics I am forced to engage in this election whereby my votes on both referendums will be in conflict with the expressed policies of the political party I have decided to support. New Conservatives.
Insanity?
I forgive people for this default starting assumption.
Hopefully those of you who find my decisions incredulous will take the trouble to read this post whereby I will do my best to extricate myself from being written off as a nutbar.
I know that my choices will win few friends, and will more likely annoy any I already have because splitting my votes will tend to draw the ire and consternation of *all camps*.
Nonetheless this is the course I am choosing to navigate.
We here in New Zealand live in chaotic times politically speaking, and the two referenda being run in unison with the national elections are two highly polarising subjects… which is why they have become referenda as neither of the two large parties have the Nads to legislate these reforms, or run with them as election policies.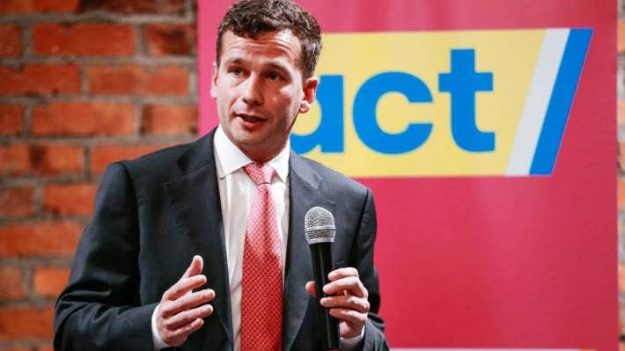 The assisted dying referendum for the terminally ill has come about because of a bill presented to parliament by Act Leader David Seymour.
I will be supporting Seymour's reform, yet I won't be giving Act my party vote.
Even though Act have never been a great party, deciding not to vote Act this election was not an easy decision to make, as what other party even remotely represents my essential values?
On several key matters of personal freedom David Seymour had stood head and shoulders above the rest of parliament in how he conducted himself this election cycle, with respect to the issues of free Speech, and his opposition to the shameful way the new Firearms prohibitions were enacted.
In the light of these noble actions I was definitely leaning towards giving Act my vote and encouraging others to do the same, yet as time progressed, Seymour's virtues became overshadowed by other unconscionable actions he would proceed to commit which have undermined my support.
With regards to the new abortion Legislation he not only supported late term abortions but also failed to vote for a proposed amendment that would have defended the rights of babies born alive after botched Abortions to receive medical aid rather than being neglected to die.
The whole basis of the pro-abortion arguments are that a woman is sovereign over her own body and the government has no authority to dictate what she does within her own body… yet once a baby has in fact been born… is *outside* the woman's body, then they ought to have the full rights of an independent human being!
I consider these failings by David Seymour to be morally reprehensible.
And how disgusting that such laws were passed under a parliament led by a Woke PM who claims she entered politics 'For the Children'!!!!
Seymour is fully complicit in this foul business.
I was also disgusted with the way he treated some of his most loyal candidates with regards to this elections Act party list, and I have always disliked what I see as a general lack of spine on some of the most important social issues facing our Nation such as ending the Race based seats in parliament, and his support for the UN Global compact on migration.
These are not attributes of a leader I can endorse.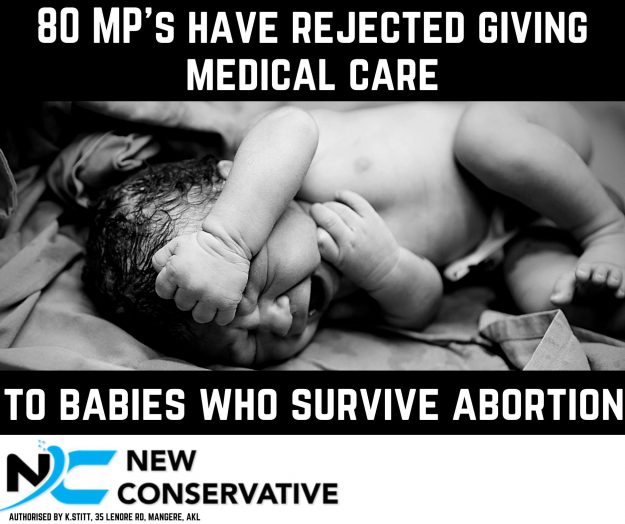 In the not too distant past voting for me was a far less convoluted enterprise.
During the first decade of this new Millennium voting was relatively easy because New Zealand had a vibrant Libertarian Party for whom I could cast my vote with confidence, and for many elections in the second decade, I stood as a Libertarian Independent, and so obviously I at least knew which candidate I would support.. yet the question of where to place my party vote has never been an easy decision since the Libertarianz Party disbanded.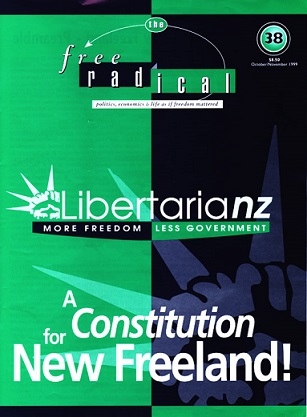 It is a matter of political folklore that the Act Party are a 'Libertarian party', yet this is to the largest extent a myth.
A myth that is mostly to the detriment of Libertarianism.
Politics in New Zealand truly is a confounding mess and almost madness to try and untangle… which causes many not to bother trying.
Act may have been founded with the aid of some Libertarian minded people, yet there were also many Ex Labour Party Neo-liberal Bigwigs like Roger Douglas and Richard Prebble, and so instead of advocating any Libertarian social reforms, Act quickly became a Crony Capitalist/'National Socialist party' that supported some Free market Economics, yet maintained Welfare State socialism with regards to virtually everything else.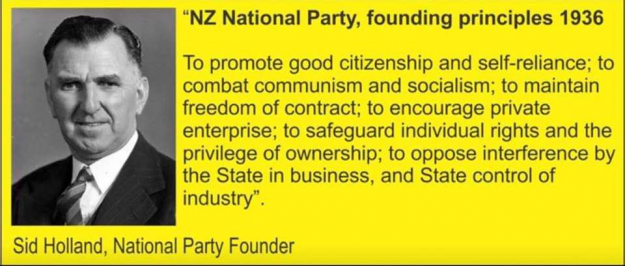 Take a look at the picture (above) that exposes how far the National party have drifted from their original charter!
If only they had remained true to their original aspirations upon which they were founded!
Act became the most Right Wing party of New Zealand.. to the right of National.. a lobby to bludgeon Left wing heavy Taxation Anti-Business ambitions of Labor and their more radical minions yet despite lofty rhetoric Act absolutely failed to stand for any reforms on individual liberty.
This has remained the case throughout their history perhaps with the one exception during the party leadership by the Great New Zealander Don Brash.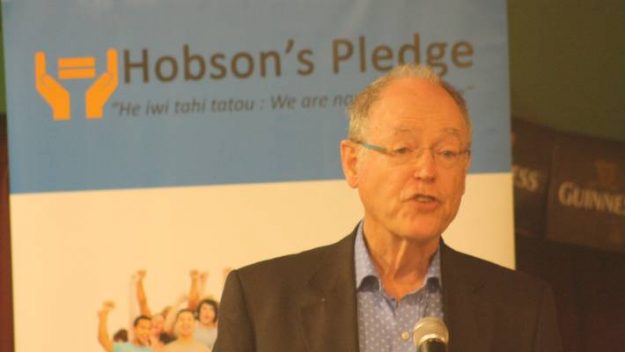 It was under Brash that Act came anywhere near a forthright stand on any law reform that was a matter of personal freedom, when Brash came out on TV in favour of ending cannabis prohibition.
His party associates like John Banks nearly had a heart attack!
Brash stint with Act was short, and any mention of Cannabis law reform left when he did.
Act has always and only played lip service to being the party of small government and personal freedom.
This is because apart from Brash the Party has been run by a bunch of Ball-less wonders.
The most disappointing for me was Jamie Whyte… because of all of them he knew better.
Most of them put money matters above personal liberty and social justice.
Act are not Nazis, yet their party is part way down a continuum at the end of which is full blown fascism.
Labour are not Communists, yet their party is well down the continuum at the end of which stands full blown Communism. Today under Ardern their policies and loyalties lie not with the interests of New Zealanders but with UN Socialist Globalism.
By labeling Act as 'Libertarian' the leftist media managed to confound Libertarianism with being Far right.
This is disgraceful slander.
Libertarianism is fundamentally different to every other political ideology.
Act's alignment with *Fascism* rather than true capitalism and Freedom, is why the True Libertarians who initially helped found Act, quickly realised what was afoot and jumped ship.
They formed their own genuine Libertarian party, and so Act became just another Party against whom the Libertarianz party had to cross swords.
For more than a decade the Libertarianz Party fought valiantly for Individual liberty and rights against ever expanding Government encroachment, yet sadly after years of courageous activism they were forced to throw in the towel from lack of traction and financial support.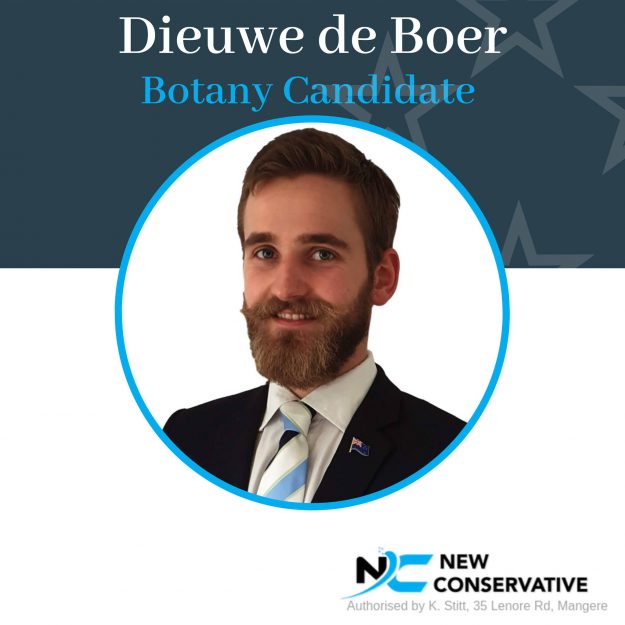 MMp's 5% mark to get an MP into parliament is in my opinion far too high, and represents a barrier to breaking the stranglehold the two major parties enjoy.
The Political playing field is also heavily tilted in favour of maintaining the status quo, and New Zealanders themselves are heavily conditioned to their chains.
The Libertarianz party could not sustain itself against the overwhelming odds.
Freedom lovers failed to rally under their noble banner from a delusion of 'wasting their votes'.
Well… I ask… where did casting your votes for other parties get our Nation?
Because New Zealanders did not heed the Libertarians on their Soap boxes, and rally behind them is why our nation now experiences the dawning of an era of Tyranny!
I implore Freedom lovers to not make the same mistake!
Stop voting for the very parties that have abandoned our values and taken our nation towards complete enslavement!
The demise of the Libertarianz Party spelled the end of New Zealanders clear choice between Freedom and various levels of Tyranny.
Between Justice and various levels of oppression.
Between fairness in economics vs heavy Political obstacles.
Libertarian minded New Zealanders were cast adrift… forced to swim about in a stinking cesspool, looking for the best place to put their democratic votes.
The political climate and darkened mentality of our times have made this a very dirty business.
Most of the wares on offer by todays mongers are of dubious quality.
The Libertarian pines over his ale, looking out upon a scene of chaos, confusion, and mayhem.
Is there any hope to be found?
The question of which political parties (if any) should the Libertarian now give their vote is a highly troublesome dilemma, as at a glance there appear only shades of grey tending towards complete blackness.
It is very difficult to determine whether *any* of the parties standing ought to be supported.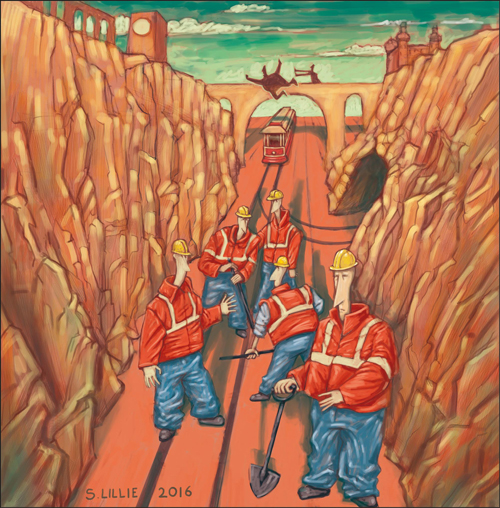 Trolley Problems © Steve Lillie 2016. Please visit www.stevelillie.biz
The closest way to describe what voting now entails for a Kiwi Libertarian is to liken the decision making process to solving a bunch of 'Trolley Problems' that will be familiar to those who have to some degree studied moral philosophy.
'The trolley problems' are designed to highlight the many complexities involved in dealing with moral dilemmas in which *means and ends* are far from ideal.
Solution tends towards making pragmatic determinations hoping for the best outcomes attainable via the least repugnant means… for the overall sake of committing the lesser Evil.
The trouble is the lesser evil is still evil.
Wikipedia discussion on Trolley problems can be found here
There is no space here or sense in attempting to fully articulate the conundrums involved. It must suffice to say this is an abhorrent 'game' for any Idealist to be forced to play, and being independent thinkers, the once united Libertarians have now fragmented… going their own ways… as each individual makes their own determinations as to how to solve the set of trolley problems presented to them at election time. This election is particularly significant as we also must vote on the two referenda.
In truth the most moral of men and woman, and the greatest leaders of history have had to face frightful moral dilemmas, and most of them have had to carry the weight of harsh criticism for the decisions they made from lesser mortals who would have been stupefied and paralyzed had they themselves been faced with the same crisis.
To shrink from tuff calls is symptomatic of Moral weakness.
One day we all will stand before our Maker and give account of ourselves, and it is He who shall determine the virtue of those who made tuff calls.
Two examples might be the decision to use the Atom bomb on Japan in 1945, another might be Churchill's decision to ally with Stalin for the sake of defeating Hitler.
Both of these involve weighty moral dilemmas that provoke strong criticism to this day.
Given today's circumstances I know a few Ex Libertarianz party members who today throw up their hands in disgust… and refuse to vote… the irony is that not voting… *is their vote*… to do nothing.
In the perspective of the Trolley problems not voting is the equivalent of never choosing to throw the lever… not intervening at all to try and mitigate any crisis that is unfolding, and allowing things to take their course… no matter how horrendous the result of their inaction might be, or how things could have turned out had they been brave enough to reach for the switch.
Most of us have heard the saying "Evil prevails when good men do nothing".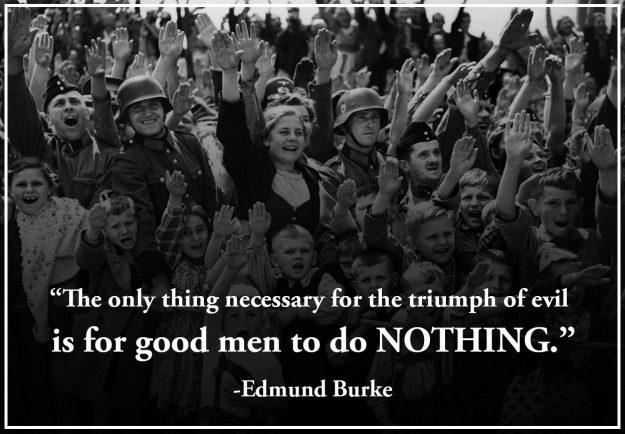 For me *to automatically* determine to 'do nothing' is no escape from moral culpability in what ensues, it is in fact an abdication of moral duty… a most heinous moral failing… maybe the worst of them all!
Bible Theologians would call this 'The sin of Omission'… and one example of this in the Bible is told by Jesus when asked about the moral duty to 'love thy neighbour as thyself'.
He spoke of the predicament of the man who was beaten and robbed, yet the 'Religious Jew' walked past him without giving him any aid. It was only when the Good Samaritan came along that the man received care.
By doing nothing The Religious Jew was deemed to be wicked, and so *automatic inaction* cannot be the moral position…if there exists at all any plausible means of steering things towards a more desirable outcome without committing unconscionable evils in the process. 'Not Voting' cannot absolve a person from the resulting evils his inaction inevitably entails.
It's like walking past our sick and dying country on the other side of the road as if it's not your problem, rather than inconveniencing yourself and getting your hands dirty.
The reality is that though no registered political Party standing in October 17 is fundamentally a Libertarian party, there is still a broad range of parties standing and the fact is it still makes a massive difference which ones manage to get their hands on the levers of Power.
Lives are at stake!
Freedom is at stake!
Quality of life is at stake!
Our Children's futures are at stake!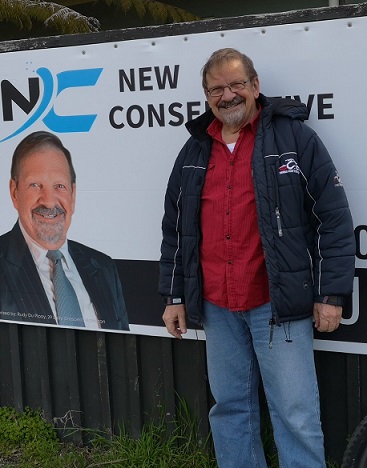 New Conservative candidate for Hamilton West Rudy du Plooy.
When I survey the Political landscape, despite the absence of a Libertarian party, judged by their policies and election campaigns certain parties do stand out as vastly superior to either National or Labour.
Some are worse, such as the Greens, and The Maori Party.
Some are no better such as NZ First, Top.
Many ex Libertarianz will be voting for Act, yet personally speaking of the two parties that most clearly articulate principles, and values that I considered honorable, it is the New Conservatives who come out on top.
Their forthright defense of Free speech.
Their rejection of 1080.
Repeal all the new and hastily enacted Firearms prohibitions created in the wake of the Christchurch terrorist attack.
Their defense of National sovereignty in opposition to UN Globalist slavery.
Their rejection of Ardern's Covid 19 'elimination strategy, Lockdowns, and their absolute rejection of compulsory vaccinations.
No to carbon taxes, first 20k of income tax free.
Their rejection of 'Transgender indoctrination' in schools against parents wishes.
Their rejection of the UN Global compact on migration, etc all these clearly stated policies mean New Conservatives trump the Act Party by a country mile, and that is why I will be giving them my party vote, and having had a coffee with their Hamilton West candidate Rudy du Plooy last week I will also be giving him my candidate vote.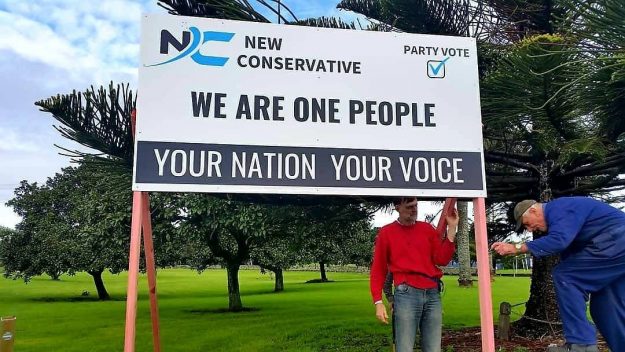 It is fitting that here I discuss one of NC's most important policies, and examples of their party's integrity and courage and that is their forthright call for the end of Treaty separatism and the race based seats in parliament.
Rudy is an immigrant from South Africa and so he has experienced the evils of Apartheid and appreciates just how violent and unjust Racist politics and bigotry can become.
That is why his party is calling for racial equality before the law.
The Treatment of White South Africans currently going on over there is appalling! Yet not a peep is raised about it by our Woke PM Ardern… because ultimately socialists like her support the oppression of White people.
Many of her own policies are heavily prejudiced against Pakeha New Zealanders, and for all her talk about humanitarian migration, she remains silent in opening New Zealand's doors to help more oppressed white South Africans… because they are white.
This too despite the fact that White South Africans integrate well into our society as they share common traditional values… yet these are the very values socialists like her are determined to destroy.
Statistically speaking Ardern wants Less white people in New Zealand, and she can turn a blind eye to the fate of white farmers there under the contemptible socialist bromide that they are paying the dues of the white race for the past apartheid regime.
By Socialist math two wrongs do make a right.
Hence Ardern has little conscience about supporting Racist legislations under the pretense of 'De-colonising' New Zealand.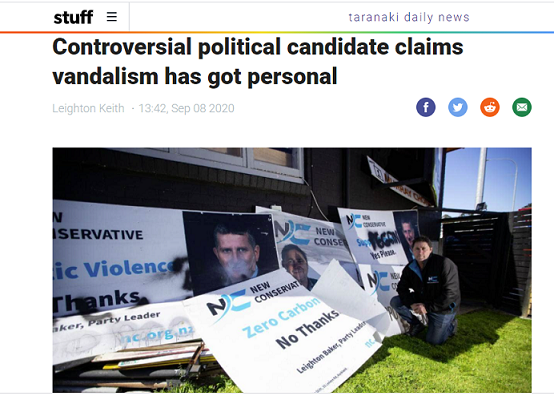 In New Plymouth which is a hot bed of Radical Maori separatist activism the NC candidate Murry Chong has heroically weathered a Tempest of outrage for his forthright stand against attempts to further entrench fraudulent Waitangi Apartheid and Treaty partnership doctrines and institutions there. He has suffered the most skewed press that mischaracterised his defense of Racial equality as 'Opposition to Maori Representation'… which is a complete lie.
What he and his fellow New Conservatives oppose is the ongoing creation of special seats of power whereby Iwi can extort the rest of the people perpetually… as if they have more rights than everyone else.
They seek to rid our nation of such corrupt politics, and when the Maori seats and the rest of the apartheid institutions are abolished, He understands that Maori rights will still be protected by the Law in common with everyone else. Maori will still be able to stand of Parliament and Council, only to do so they will have to campaign before the entire community which will cut off the truly *racist radicals* for ever attaining office because their nasty bigoted views and ambitions will never fly with the whole of the people… and that is how a democracy is supposed to function!
The Racist radicals know that should apartheid politics be brought to an end… so too will their ability to extort unearned and undeserved wealth and privilege be broken.
So many New Zealanders have completely forgotten the most important fundamentals of justice and good government!
The New Conservatives have candidates in every electorate including the Maori seats.
Personally I don't think it was the right thing to stand in those electorates, yet having said that I appreciate the Nads it takes to do so.
Their candidates in the Maori electorates will face heavy angst from many Maori who have been brainwashed into thinking their party policy to abolish the race based electoral system is a demonstration of anti-Maori bigotry. They will face threats. Yet should they maintain their composure and speak truth with eloquence they will be able to present their case with love.
Truth and principle, and Righteousness are on their side!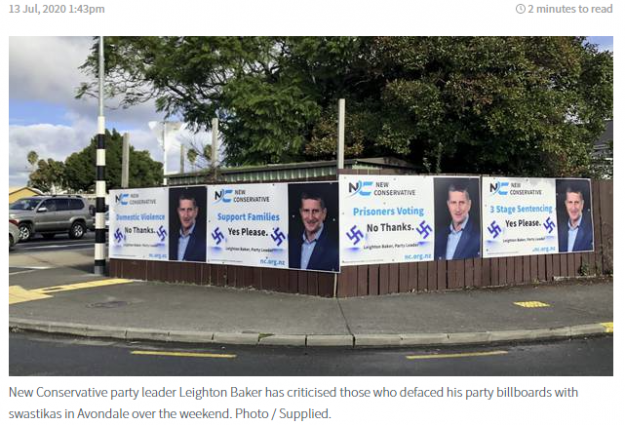 You know The New Conservatives are the party that threaten Left wing Radical socialism as no other party is enduring the hate and violence as they are…
Read: Police investigating after New Conservative member 'slashed' with knife in west Auckland
Read: Controversial political candidate claims vandalism has got personal
Read: New Conservative party's electoral campaign billboards defaced with swastikas
I salute all NC candidates for their bravery… The one-eyed mainstream media takes no more pleasure than to pillory the small parties and their candidates who bravely challenge the 'norms' of the status quo.
Act's David Seymour in private professes that the race based system is corrupt and ruining our country yet does not have the balls to say so in public at election time.
That is cowardly. That is unprincipled scheming, and demonstrates the sort of Game playing politician he really is.
How is he any different for the scoundrel Winston Peters who betrayed his supporters last election with regards to making the abolishment of the race-based seats a bottom line for coalition talks?
Sadly… when you dig deep down… despite many good things David has done… he and Winston are not as different as he likes to think.
He too is a game player.
The Leftist radicals of Labour, the Greens, and the Maori Party demonstrate their absolute disregard for fair elections in that they have implemented a strategy of destroying New Conservative election bill boards all about the country… despite their own parties getting far more Taxpayer loot to fund their own campaigns!
Like I said earlier about the struggles of the Libertarianz Party before them… New Zealand elections are far from fair… far for being fought on a level playing field, and so The New Conservatives face an uphill battle against dirty political tactics at every step.
I urge every New Zealander who is alarmed at our headlong plunge into tyranny under Jacinda Ardern to get behind the brave and principled New Conservative party!
If 5% of us do… they will be in parliament and possibly even be included in a coalition government, most likely with National and Act.
This would position them well to lever National into making concessions in alignment with our Values and principles… away from the direction Ardern has carried us.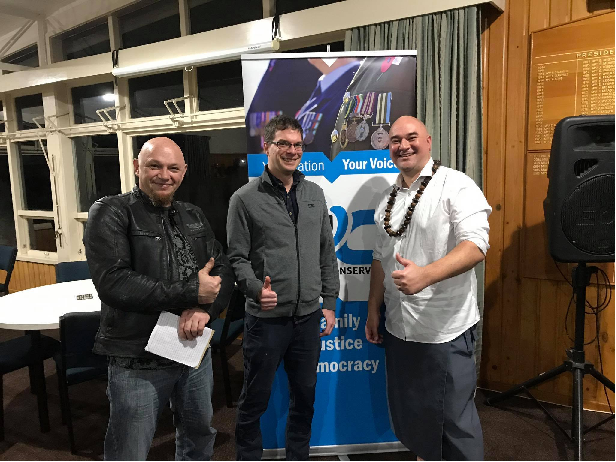 These are good people who hold to the traditional values that made New Zealand a great and prosperous place to live.
They care about all New Zealanders.
I attended a public meeting a few months back in Te Awamutu where I heard several candidates speak, including the party's passionate and compassionate deputy, Elliot Ikilei.
He spoke very well, and I was particularly impressed with his insights into the many social conditions that are common for troubled youth that play a large role in such important issues in Maori criminality.
He articulated that from his experience working in this field that all the separatist rhetoric about Maori crime statistics as being evidence of systemic oppression of Maori from colonisation are absolutely false!
Instead he argued that the main driver of Maori criminality was broken homes and a lack of a Father in the house, and thus all the 'positive discrimination' going on in the name of 'closing the gaps' between Maori and the rest of the country absolutely miss the fundamental issues.
He described how the institution of the Domestic Purposes benefit *was devastating for Maori* because that was corrosive to maintaining families, promoted single parent-ism, and it's institution correlates perfectly with the exponential growth of Maori dependence on welfare and Broken homes.
Thus Elliot understands that socialism is a dangerous trap!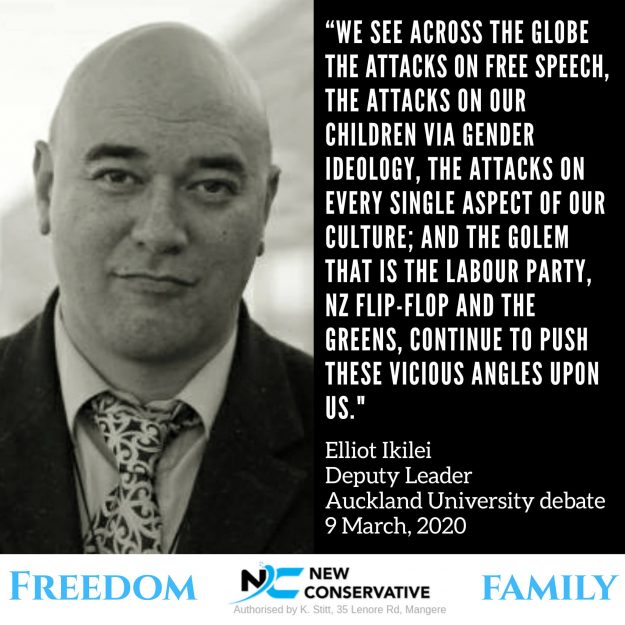 I myself also know Maori must take ownership of their own violence and substance abuse… these are not evils that can be justly blamed on their Pakeha neighbours but represent the ugly truth of a serious lack of wholesome values that are requisite in having happy homes and personal prosperity in a free and modern society.
Maori need to cut with the shameful blame, and take more ownership of their own mess!
I like the New Conservative party very much.
They have their hearts in the right place.
They offer real and much needed alternatives.
None of them appear to me to be in politics for powers sake, yet they are not perfect.
They have many policies and values I myself hold dear, yet I know they are not a consistent Libertarian party.
They are Democrats… with all the weakness that entails.'
This being so I see great opportunity for improvement, and given the chance I would like to engage in healthy dialogue to see if they are open to reasonable challenge on some of their policies which I do not endorse.
I have already mentioned that I will be voting yes for the right to assisted dying.
This is at variance with the New Conservatives.
Maybe sometime soon I will write a blogpost explaining in more detail why I believe they are wrong to oppose this legal reform, yet because this current post is already insanely long, I want to finish by discussing the New Conservative policy of Citizens Binding Referenda and my intention to vote 'yes' for Cannabis law reform in the forthcoming referenda which is again against the expressed policy of the New Conservatives.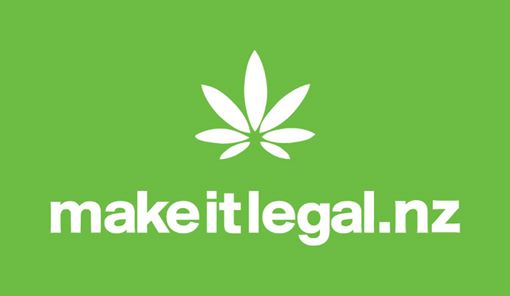 At the Te Awamutu meeting my friend and fellow Libertarian Robin Thomsen and I introduced ourselves to Elliot and engaged in a short conversation.
Elliot was happy to talk and spoke candidly.
After a few other subjects I broached the topic of the Cannabis Referendum and asked what his party would do should they succeed in getting into parliament, yet also the people of New Zealand vote for Cannabis legalisation?
He said his party would honor that result despite it being contrary to their own policy and hopes.
That answer was consistent with their policy of citizens binding referenda and demonstrates integrity to that political school of thought despite the result going against their own opinions as to what is best for the country.
As far as ending the war on cannabis being 'bad' for New Zealand I emphatically reject that position.
This is a topic I have involved myself for many years having experienced first hand the injustice of criminalising cannabis users, and understand the manifold other detrimental effects these bad laws have on our society. I have been an activist for reform for over 30 years, and in fact it was activism to 'Free the weed' that was my first foray into politics trying to fix a broke system.
I would jump from hedge to hedge… covertly distributing 'NORML' Pamphlets in Tauranga letterboxes in the dead of night.
I knew the difference between dishonesty and violence, from peacefully enjoying a doobie with friends in my own home… I knew I was being oppressed and that the Law needed to be changed.
I will post links to other Blogposts on this subject below.
The point I wish to finish on, and one I hope the New Conservatives are open to reconsider is the weird way in which they promote binding Citizens referenda in the face of knowing it is just as likely for the majority of people to vote for laws they believe to be *Bad* as it is for good… and I am using the Cannabis referenda as an example.
Is it not apparent to them that *Mob Rule* is no guarantee of Good law or justice?
I see their policy on binding referenda as their Achilles heel.
It's a policy that actually undermines the *Real foundations of Just Law* which are the Objective principles of Justice such as personal sovereignty, and equality before the Law… and that just government has strictly limited authority over the lives of citizens, the impartial enforcement of legally binding contracts, and limited powers over only such matters pertaining to the defense of rights.
The terms and condition upon which Government is founded, and limits of it's powers ought to be embodied in a constitution with an iron clad bill of rights upon which democratically elected Parliaments have no authority to encroach.
This is a million miles away from having a system of Mob rule… open ended social arbitrary Law whereby the greatest mob get their way.
Under such a system there is no protection for Individuals or minorities, and the Masses are notorious for being easily duped and manipulated by Charismatic demagogues.
I have much to say on these matters, and it would be my pleasure to open a dialogue with the New Conservatives about these vital political truths.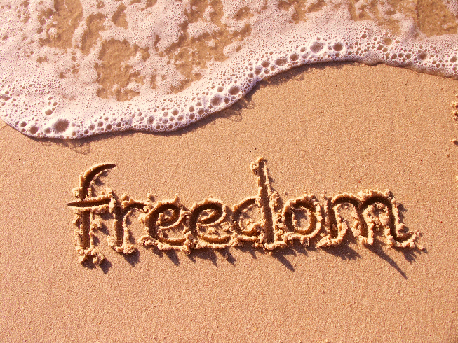 Now remember the moral dilemmas of the Trolley problems and the uncomfortable reality of having to make choices under circumstances less than ideal, via means that are less than ideal, and which also probably will result… no matter what decision is made in ends that are less than ideal?
My decision to vote 'Yes' on the Act Party's Right to assisted death for the terminally ill referendum, and 'Yes' on the Green Party's Cannabis Law reform Referendum, and also 'yes' for the New Conservative party this election are each individual decisions I have arrived at as being the most moral, and just choices available to voters this election.
I am being compelled to make compromises, and there is always an element of risk, yet ultimately from my best evaluations all these choices are the most consistent with my Christian Libertarian values and ideals.
Such is the human condition and predicament.
I don't pretend my choices are not open to critisism… such is the nature of moral dilemma.
I hope this blogpost is instrumental in winning support for the New Conservatives from Liberty lovers, Free thinkers, and all who are concerned about the Free fall of our country into socialist tyranny.
I believe they will reach 5% if enough of us resolve to give them our support.
They deserve it.
Our Country desperately needs to steer a new course to get back to the freedom and Values we enjoyed not too many years ago before the likes of Ardern came to power.
She is turning our Nation into a Police State!
Tim Wikiriwhi.
Christian Libertarian.
More from Tim.
TIM WIKIRIWHI'S SUBMISSION TO THE NEW ZEALAND GOVERNMENT'S CONSTITUTIONAL REVIEW. 2013
SPINELESS BETRAYAL AND EVIL PREVAIL. VOTING IDIOTS, COWARDS, AND TRAITORS.
WHY CHRISTIANS SHOULD SUPPORT ENDING CANNABIS PROHIBITION. NEW ZEALAND REFERENDUM 2020.
THE CHRISTIAN FELLOWSHIP IS A VOLUNTARY PRIVATE SOCIETY, NOT A THEOCRATIC POLITICAL MOVEMENT.
THROWN UNDER THE CAMPAIGN BUS… THE RIDE TO HELL WITH WINSTON PETERS. 2017
JACINDA ARDERN IS MORE DANGEROUS THAN COVID-19: CENSORSHIP AND CONTROL OF THE PRESS.
NEW ZEALAND GUN COMMUNITY ROAST NATIONAL PARTY MPS FOR SELLING THEM OUT ON ARDERN'S NEW GUN CONFISCATIONS.
THE MATRIX : FACEBOOK, AND THE END OF FREE SPEECH AND DEMOCRACY IN NEW ZEALAND.