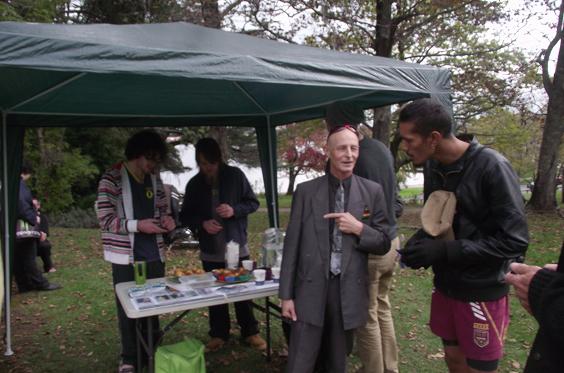 Hamilton New Zealand.
An Eternal vigilance Salute goes out to Hamilton Activist Gary Chiles for organising the Norml J Day for the Waikato this Year.
It took place in the Hamilton Domain (Lake Stage) despite the fact that Hamilton City Council had tried to stop the event taking place on the basis that it violated their new 'Smoke Free' policy for public spaces.
Gary decided that he could not in good conscience allow such a pretext hinder his intention to rally Middle Earth Hobbits, wizards, and Ents for this annual protest against Cannabis prohibition.
It was peaceful Civil disobedience at it's finest, Everyone was well behaved, and by the time I hopped back on my Triumph… gratefully… no one had seen any sight of the Police.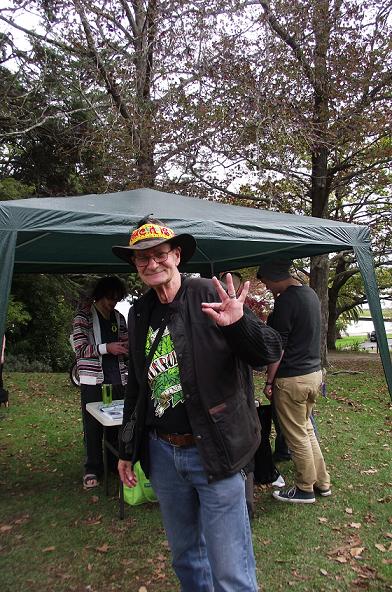 We were graced with the presence of New Zealand's Pre-eminent voice for ending the War on Cannabis Dakta Green.
It was great to catch up for a yarn with this Legend.
Dak is never short on interesting Schemes to inspire his Fans… sitting at his feet.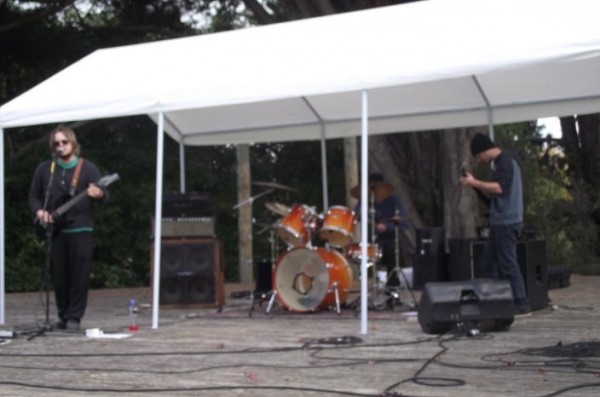 The Bands Played on.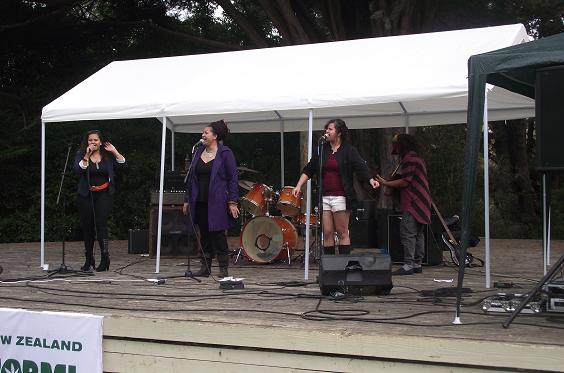 I had already asked Gary for a speaking spot in today's program, before the Council decided not to grant permission for Norml to use this domain.
This ruling put Gary and people like myself who had already said they would participate in this day of peaceful protest against oppressive prohibition in a very difficult position and we had to make a moral decision to step up for the sake of the cause…. an act of peaceful civil disobedience.
I got up and spoke for 5 minutes.
I Attempted to motivate people into becoming active in the struggle to end Cannabis Prohibition.
As a Libertraian Independent, I asked for Hamilton Westies to give me their Candidate vote this election, and suggested they give their Party vote to ALCP because IMO they have Cannabis users best interests at heart.
The following is the script I had penned as a ruff guide to my speech… which I ended up 'winging' to a great extent…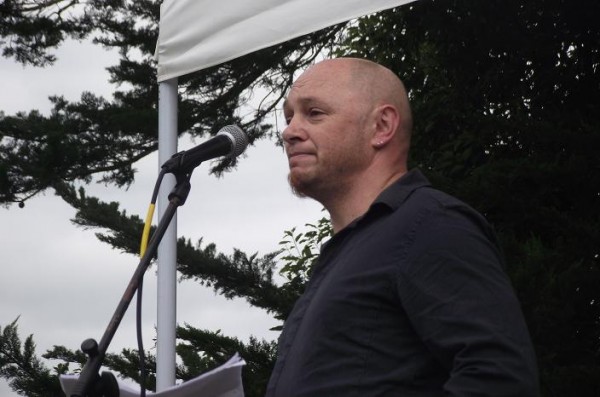 My Jay day speech 2014.
Hi Everyone, my name it Tim Wikiriwhi and I am an Independent Libertarian whom is standing for parliament in the up and coming election, for the seat of Hamilton West.
I have been actively involved in activism for ending the war on drugs for over 15 years.
I used to smoke a lot of Pot in my younger days and was arrested and processed 3 times so I know first hand just how oppressive and unjust prohibition is, and how it generates social alienation.
There have been some amazing progress on this issue in the US and other places.
Recreational use of Cannabis has been legalized in some states , yet here in New Zealand The movement to End prohibition seems to be barely treading water.
Why is this?
Many reasons… the main one being complacency by kiwi smokers themselves.
Another reality that it is certainly much easier to get the Government to ban things than un-ban things.
Just look at how easily the Anti-Legal high prohibitionists were able to get unprecedented media coverage, while the Legalise pot movement gets almost Zero…. In spite of the war on Drugs being such an overwhelming failure and drain on our legal system.
In spite of many Global Big wigs…. Including Helen Clark sitting in High Office in the UN declaring the War On drugs causes much more social evils and injustice than drug use does!
When I look at the Shrill alarmism of all the Moms and grannies who turned up at Ban the Legal High rallies, and then read about the relief and joy they felt at hearing about the election year reversal on the PSA and Banning of all synthetic highs…. I marvell that they are happy that their young ones are again exposed to police brutality, and that Police can now Bust Their young adults for quietly smoking these substances…. They rejoice at the Idea that their young people will get Police records… etc.
Isn't that Crazy?
To me this demonstrates not only how Bigoted phobias operate, but also a wilful ignorance of just how evil the War is that they are supporting… it's a war on their own Kids, their friends and neighbors.
We need to challenge that ignorance… we need to expose just how unjust and tyrannical the war on drugs is.
If we can do that…. Then we will have the Moms and the Grannies marching in the streets…. Calling for and end to the war…. And the Media will grab hold of it…. And parliament will fold….
That is how the system works.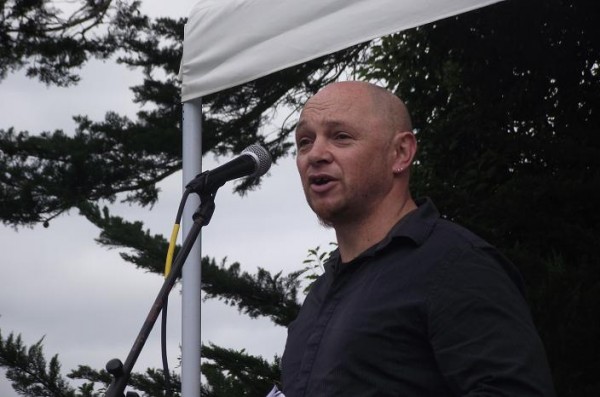 We have a lot of work to do changing the perception about just how nasty and wrong the War on drugs really is.
Yet that will only happen if you guys…. Pots smokers and Libertarians stop sulking…. Stop accepting all the slurs that the bigots heap upon you as being Dopey and lazy…. And claim the high moral ground which is rightfully yours!
Get up off your butts and agitate for change!
We need everyone to get serious and demand Liberation.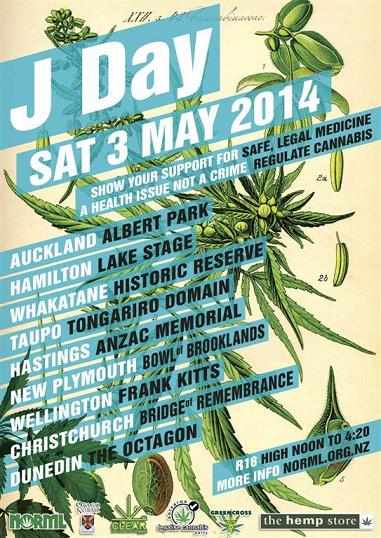 Let me tell you that Pot smokers and Libertarians by far out number the Vocal bigots who managed to grab the Media attention and sway Parliament to Ban Legal highs.
Way out number them.
Thus it cant be said that we lack numbers.
We only lack the will and the fortitude
How many people turned up today just because they thought this was a great day for smoking Weed?
While I appreciate you showing up, the truth is this day is about rallying support for Legal reforms, and if you do nothing for the cause in between Jay days… you are just a pretender… just a sheep.
Get agitating for change Guys.
This is election year.
I am sorry if I've laid a heavy trip on you…. And ruined your Buzz, I cant help that…. If the shoe fits… etc.
If that has been you… the good news is you can change that by getting active.
Be forthright in defense of your inalienable rights to peacefully pursue your own happiness!
condemn the bigotry every time it rears its ugly head in your presence!
Use The Social networks.
Contact Norml and ask what you can do to help.
We must rededicate ourselves to the struggle and regain momentum.
That's all I've got to say.
I am Libertarian Independent Tim Wikiriwhi
I ask Hamilton Westys to give me your Candidate vote this election,n and suggest you use your party vote for the ALCP.
Thank you Gary Chiles for organizing today's protest, thanks to the bands and every one else who is participating in this even despite Hamilton city Council and thanks everyone for Listening.
Enjoy the rest of your day
Tim Wikiriwhi.
Libertarian Independent.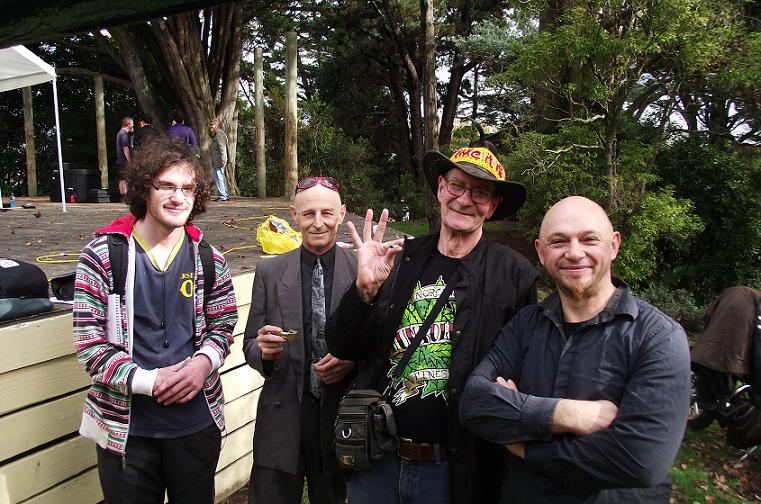 William Mckee, Gary Chiles, Dakta Green, and Tim Wikiriwhi.
It was a successful days activism.
Great To meet Gary and catch up with Dak.
And to meet new faces.
meanwhile…. J-Day revellers spark up amidst controversy
Legalise Cannabis Party expects vote increase
Citizens denied access to public space for Hamilton J Day
Read more EV…. Standing up for Justice more important than Personal Ambitions
Tick…Tock… Tick… Puff Puff. Where does Act's Jamie Whyte stand on Cannabis Law Reform?
Hero Dakta Green to continue fight against Cannabis Prohibition.
Dakta at the Liberty Conference. Auckland 2012.
Jackbooted State Goons lay Filthy hands on Peaceful Law Reformer.
@#$% you I wont do what you told me!
Medical Cannabis. Wonder Drug! Halts Epileptic Seizures in Children! PTSD. Etc etc.
American Christians using medical cannabis to save their Children's Lives. Epilepsy .Self help (4)
Colorado and Washington Legalise Recreational Use of Cannabis!
Eternal Vigilance welcomes food porn queen Higella Lawson to New Zealand!
Hightimes. Biologist Explains How THC Kills Cancer Cells.
Exercising Your Right to Refuse Random Drug Testing at Work.
LEAP NZ Law Enforcement against Prohibition. New Zealand.
New Prohibitions. How our Police and Government work for Criminal Gangs.