From >>>here<<<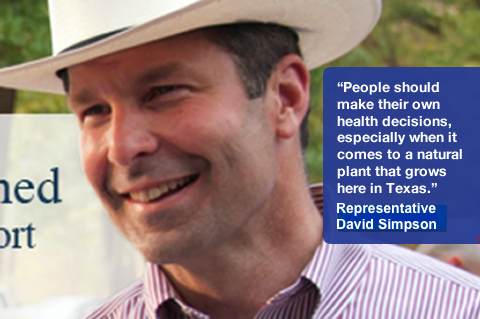 David Simpson, the Republican state representative who wants to repeal marijuana prohibition in Texas, is a radical. I mean that in a good way. The bill he introduced on Monday would not merely allow specified marijuana-related activities—the approach taken by every state that has legalized marijuana so far. Instead Simpson, who is in his third term representing an East Texas district that includes Gregg and Upshur counties, aims to eliminate all references to marijuana from the state's criminal code. In an essay published by The Texas Tribune's online opinion section, he explains why, laying out "The Christian Case for Drug Law Reform":
As a Christian, I recognize the innate goodness of everything God made and humanity's charge to be stewards of the same.
In fact, it's for this reason that I'm especially cautious when it comes to laws banning plants. I don't believe that when God made marijuana he made a mistake that government needs to fix.
New York Times editorial writer Lawrence Downes likes what Simpson has to say. "I don't think I've read a more concise and persuasive conservative argument for rethinking marijuana laws," Downes writes. But Simpson's goal is more ambitious than that:
In the name of protecting the public, certain substances have been declared evil and contraband. So evil are these substances that state and federal agents are empowered to enforce laws with little or no regard for constitutional protections of individual rights, the sanctity of one's home or the right to travel freely….
Our current "war on drugs" policies [are] spurring a proliferation of ever-changing exotic designer drugs and a disregard for contitutional protections in the name of eliminating drugs at any cost. Just think of no-knock warrants, stop-and-frisk, civil asset forfeiture and billionaire drug lords.
The time has come for a thoughtful discussion of the prudence of the prohibition approach to drug abuse, the impact of prohibition enforcement on constitutionally protected liberties and the responsibilities that individuals must take for their own actions….
Should we be concerned for our friends and neighbors who abuse a substance or activity? Yes, we should help them through sincere and voluntary engagement, but not with force and violence.
Is there a place for prohibition? Yes, a prohibition of aggression (Romans 13). Our laws should prohibit and penalize violent acts. This is the jurisdiction of the magistrates under the new covenant—harm to one's neighbor.
Civil government should value everything God made and leave people alone unless they meddle with their neighbor.
This is not just a brief against marijuana prohibition, or even the war on drugs in general. It is a brief against using force to stop peaceful, consensual activity. Simpson, who calls himself a "constitutional conservative," elaborates on that libertarian theme in his campaign biography:
Man's actions which harm other men must be checked by force to preserve human life and liberty. I believe that this is the legitimate role of civil government—to do justice and to protect individual rights of life, liberty and property. This consists of enforcing the rules between individuals (contracts), punishing the wrongdoer who harms his neighbor here at home, and defending us from our enemies abroad. Civil government, otherwise, should leave us alone and free.
We need more Republicans like David Simpson.
**********************
Amen!