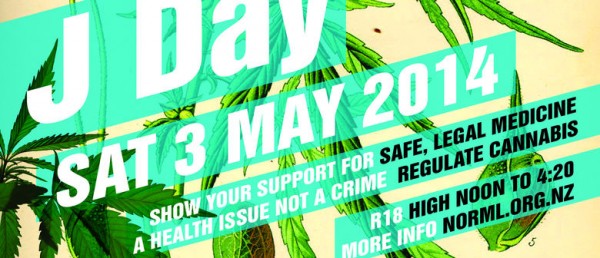 Citizens denied access to public space for Hamilton J Day

NORML NZ Press Statement for Immediate Release: 24/04/2014

Citizens denied access to public space by Hamilton City Council to celebrate Hamilton J Day

The Hamilton branch of the National Organisation for the Reform of Marijuana Laws' request to use the Hamilton Lake Domain Stage to hold its annual J Day gathering in Hamilton has been denied by the Hamilton City Council. The Council is claiming the event violates the Hamilton City Smoke-Free Environment Policy.

This event is primarily a political protest, involving activists, supporters, musicians, political party candidates and other speakers, but it is also a rare opportunity for the community to come together and discuss evidence based health and justice policies and to connect with others in their community that share their views.

"None of the event information provided to the Council by NORML, or any of NORML's materials promoting this event, make any mention of an intention to violate a smoking prohibition, and we made it clear that we had offered to help with extra Council signage and include constant announcements to remind attendees that the Council has a smoking prohibition in all City parks to be fully in compliance with their smoke free policy," said event organiser and Hamilton NORML member Gary Chiles.

NORML has said that it considers the action of the Council to be a direct violation of the organisation and its supporters' democratic rights to gather and protest against the injustice of New Zealand's cannabis prohibition, and also an unreasonable assumption on the part of the Council that an event clearly promoted as a law reform protest is promoting behaviour inconsistent with their smoke-free policy.

NORML invites all Hamilton supporters of cannabis law reform to gather peacefully to celebrate J Day at the Lake Domain Stage Saturday 3rd May at 12:00 as planned.

We have a democratic right to protest and a right to freedom of speech under the Bill of Rights Act, and we have every intention of exercising those rights.

ENDS
The power-tripping control freaks at the Hamilton City Council are at it again! Last I heard
A group feeding Hamilton's needy say the council is forcing them out of Garden Place to stop more homeless people coming to the area.

But the council says while they have received complaints about the group feeding the homeless, their primary concern is the fact that those involved don't have the appropriate permit to operate in a public.
Now they're denying people the opportunity to gather in a public space and celebrate a wonder plant that God placed on this green earth explicitly for our use!
Then God said, "I give you every seed-bearing plant on the face of the whole earth and every tree that has fruit with seed in it. They will be yours for food."
Big ups to Hamilton J Day organiser Gary Chiles for standing fast in the face of the Hamilton City Council's authoritarian tantrums.
It is not for our elected representatives to lord it over those whom they are supposed to serve.