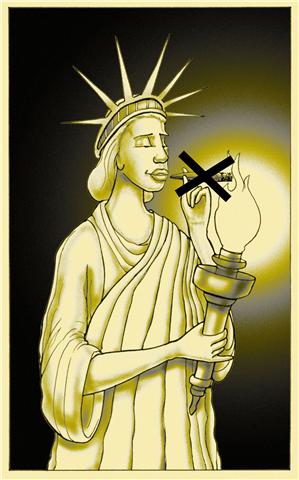 The following is a pamphlet I wrote in defence in individual liberty and private property when Helen Clarks government passed the Anti-smoking legislation in regards to pubs, clubs, Cafés and Restaurants. I was a spokesman for the Libertarianz Party at the time and was busy trying to rally public support of a Bar in Cambridge called 'Kelly Browns'. The Owner was one Dean Risi and he was Risisting the new Legislation because he believed it was tyrannical and persecuted his patrons, many of whom smoked cigarettes while enjoying a beer.
I remember him saying that he was not prepared to throw his patrons out on the street. In particular one Old timer who was a returned serviceman whom fought Hitler in defence of Kiwi Freedom was a regular patron and cigarette smoker. He was raided several times by the police… like he was fencing stollen goods! I interviewed him on My Community Radio programme 'The New Freeland show' and held a Libertarian rally at his Bar and awarded him the Libertarianz Party 'Light of Liberty Award' given to those whom bravely stand up in defence of Justice, Individual liberty, and private property. He was a worthy recipient. Almost every other Bar in the country had cowered into submission at the threat of prosecution. He was a brave man indeed. Yet sadly we were unable to prevent him from being shut down by the Government. Our Hero of the resistance was crushed.
I put my pamphlet up here in its original form because though I am no longer a spokesperson for the Libertarianz Party, I still endorse the arguments contained within, and to my knowledge so too does the Libertarianz Party though strictly speaking this is a historical document, not a current policy statement for the Libertarianz party. It does reflect my position in respect to the forthcoming election, ie that smoking is a matter of personal choice… a legitimate liberty, and that Bars, and clubs etc are Private property, and as such it is up to the owners of that property to dictate whether or not they will allow smoking on their premises *Not the Government*
Personally I find cigarette smoking to be a foolish habit, yet I believe it is a matter of the utmost importance that individual liberty and the principle of private property be respected by the State. Smoking is a matter of personal ethics and self responsibility… no business of Nanny state.
* I am encouraging Hamilton voters in the 2011 election to give their party votes to either The Libertarianz partry, or to the Act party, or Aotearoa Legalise Cannabis party.
**********************************************************************************************************
SMOKERS HAVE RIGHTS!
Tim Wikiriwhi. Libertarianz Party Candidate For Hamilton West (2005) . www.libertarianz.org.nz

Dear Smoker,
Have you been standing out in the cold long enough to realise that you are being royally screwed by Nanny State?
Or are you so pathetically gullible as to believe that those idiots in the Beehive have the right to cast you out of pubs and clubs like lepers?
Do you have to be punched in the nose before you realise that our government is corrupt and doing you violence?
Have you swallowed all the P.C Bullshit propaganda that having a smoke at the bar is actually a crime?
There is a word for those who accept such political oppression…SAPS!

Hello, my name is Tim Wikiriwhi. I am the Libertarianz party candidate for Hamilton West, and I have written the following letter to tell you that Non-Smokers are not the only people to have rights, and in fact they have used perverse powers of government to shag you!
As we speak, many of them are laughing at you in puritanical hatred, too silly to realize that by casting you outside, they have actually undermined their own rights and liberties and given socialist politicians tyrannical powers!
I seek to awaken you to the fact that you and such bar owners who would allow you to smoke in their bars have the legitimate rights to do so, just as your ancestors have done for centuries, yet because we have a corrupt system of government, and almost nobody has made a stand against such corruption, you are being robbed by taxes and unjustly discriminated against!

These are not trifling matters!
This issue cuts to the very heart of justice and liberty in New Zealand, and by allowing yourselves to be treated like second-rank subjects, you are guilty of collaboration with Fascism!
If you think I am overstating the case then obviously you have not been standing out in the cold long enough, nor do you realise that the Lion's share of the $$$ you pay for your smokes is extorted from you to pay the wages of those in Wellington who are ram-rodding you!
These are crimes against you and me!

In Western civilization, our rights and Liberties have been hard won by courageous spirits who have been imprisoned, tortured and murdered. Wars have been fought to defend them.
It is a travesty that Kiwis have sheepishly allowed the little Feminist Nico-Nazis to rob us of our freedom and property rights!

Anti-smoking laws are immoral because they interfere with our rights to free trade!
Do not be fooled into believing that because smoking is considered harmful to your health, or that smoking is a ' national health crisis', that this vindicates such draconian laws, as this is the oldest Machiavellian trick in the book, used by all tyrants to justify their evil ends!
How else can they get the foolish masses to go along with them, unless they are convinced such tyranny is needed 'to solve emergencies', and that such anti-freedom legislation 'is for their own good'?
Under the pretence of 'health and safety' the socialists have invented a new crime!

I realise there is every chance that I am confronting you with political ideas that you have never heard before! It is no coincidence that you were not taught the fundamentals of our individual rights in our state schools, as our corrupt State is not in the business of promoting freedom and self-responsibility, but in accumulating POWER to itself and DEPENDANCE and so they teach young Kiwis the politics of socialism, that the end justifies the means, and the supremacy of democracy over Individual liberty!
This is a system of divide and conquer, in which they would have you believe that our individual rights are in conflict, one with another, and deny the fact that government is instituted to protect our individual rights, instead they would have you believe it is the roll of government to determine who has rights and who does not!
Instead of being a governed by just principle, they have sold you the 'Mickey' that politics is "the Art of compromise!" DON'T ACCEPT THEIR TERMS!

Moreover they have taken such powers as to invent new pseudo-rights at their own whim, and sell these rights at election time!
It is this racket that allows politicians to grandstand as 'agents of the public good' at election time, knowing that the majority of people have no grasp of politics and are easily duped by pandering to their popular phobias and prejudices.
The Anti-smoking laws are exactly this sort of political charade, as was the ban of prostitution from the suburbs.
Using these sorts of emotive subjects, it is easy for politicians to appear as 'upstanding' at the expense of the rights of whatever minority they have chosen to single out for discrimination.
It is essential to realize that while smoking, like prostitution, may be considered 'a vice', when peacefully practiced on private property; it cannot be legitimately constituted to be a crime!
This means the morality of smoking in bars, or working in a bar that allows smoking, is a matter of personal choice…that is it is a matter of personal freedom and it is tyrannical to grant legal favouritism to non-smokers in violation of the rights of publicans and smokers!
The essential point is not that such things as smoking are not harmful to those who do them, but that they do no involuntary harm to anyone outside the property in which such rights and liberties are practiced.
Whether you can legitimately smoke anywhere, for e.g in bars and clubs, or even our own homes, is not a matter of Democratic whim of the biggest mob, but of Individual property rights and free-trade.

PUBS AND CLUBS ARE NOT PUBLICLY OWNED BUT ARE PRIVATE PROPERTY!
Free-Trade is the only system of economics that recognizes free-will choice and is therefore the only moral system, yet because the free market does not allow socialist politicians the powers to meddle with our lives, they despise it, and would deceive you into believing that your freedom is wrong!
Under free trade (Just as it was prior to the smoking ban) Publicans had the freedom to decide how THEY were going to run their business, whether THEY were going to allow smoking in THEIR bars or not, and Patrons were free to decide whether they were going to frequent such establishments or not, and Staff were free to choose whether or not They wished to work in such environments or not.

Every job has it hazards, e.g exhaust fumes in one industry, noise in another.
When we consider accepting a job, we understand this means accepting both the risks and benefits that go with it and may refuse any such employment that we consider the risks outweigh the benefits.
Employers who seek to retain their staff will take all measures either to eliminate, Isolate, or minimise recognized hazards, while still keeping to their core business.
This mean if some folks are worried about 'passive smoking', they have a choice not to work there, nor to patronize such establishments that allow smoking…it is as simple as that!
They can open their own non-smoking bars etc if they so wish…End of story!
There is no force in any of this, and everyone was free to exercise their own morality as self-responsible adults.

Of course Socialist DO-GOODERS despise your moral Freedom and continuously seek out ways to rob you of your rights as adults to make your own choices, in the pursuit of your own happiness, and FORCE THEIR BELIEFS UPON YOU via tyrannical Laws.
They seek to run your lives and businesses as if they own them, and they are prepared to destroy those who would resist their Fanatical despotisms!

ASK KELLY BROWNES DEAN RISI who has been singled out by the state, that seeks to crush all resistance to their evil rule!
Because we have no constitution to protect our individual rights from such tyranny, Dean is being forced to close his doors for three weeks as his 'punishment' for continuing for allowing patrons to smoke in his bar, in defiance of the ban and has been castigated by the Liquor licensing Authority, as "unfit to have a liquor license."
No only will this cost him $30 000, they have put a gun to his head, and all others who would resist their tyranny, by holding his livelihood to ransom in regards to his liquor license!
He has been told, should he continue to in defiance he "wasn't going to be open for much longer"!
All this because he chose to defend his, and everyone else's, freedom and private property rights!
Speaking to this hero I asked him, have they broken you?
NO! was his answer!
I told him he was truly a hero and that the Libertarianz party are 100% behind him and would do what ever we can to help him.

My party colleagues and I are standing for parliament with the intention of abolishing the smoking ban and every other silly law that contravene our rights and liberties.
We seek to restore your legitimate right to make your own choices!
We only need to get a handful of Libertarianz into parliament to raise public awareness of these vital issues and move the debate over to focus on these essentials.
And when we get enough support from the people of New Zealand, we shall institute a Libertarianz Constitution that shall keep democracy in check, by guaranteeing our rights as individuals, protecting us from corrupt laws and mob rule!
We would privatise the health system, the free market making healthcare much cheaper, vastly more efficient, and would place the onus of smoking back on smokers (Ironically this will be cheaper for smokers as we also would remove all the taxes on smokes, which vastly exceeds the current expense incurred of providing healthcare to smokers within the national health system)

I shall finish this rave by making the point that we need to unite together what has been wrongly segregated by socialism, which means we need to grasp the essential unity of our different circumstances, and put aside our superficial petty personal bents in the name of freedom and justice.
I am not asking you to forsake your our moral beliefs, but simply to understand that they are your personal choices and that it is wrong to force others into conforming to your beliefs. Just as you desire the liberty to hold our own beliefs, I simply ask you to love thy neighbour as thyself and grant them the same liberty.

Everyone, such as The Farmers resisting Transpower trespass, and Queens chain access across their land, need to understand
jeopardizes their property rights, and must get in behind Dean Risi and make the state recognize and respect private property also! In so doing they are defending their causes as well.
Non-smokers need to snap out of their desire to impose their beliefs upon their smoking neighbours, realizing that such impositions encourage the state to ignore private property rights and that they themselves are in danger from such a disrespectful government.
We teach our kids not to steel, trespass, or vandalize the private property of others, we need to teach ourselves and our government likewise!
This is an enlightenment! A revolution of the mind, and truly a giant step in social progress!
Election time is at hand, and this is the perfect time to dispose of those Socialist politicians who made a career out of stomping over our rights and liberties and to get fresh resolute men of principle into government to put an end to this nonsense.
Vote Libertarianz!

We are ready to halt the B.S and bring you in from the cold!
Please contact me to find out how you can help agitate for change!
NOW!
Kind regards

Tim Wikiriwhi
**********************************************************************************************************

NEW ZEALAND – APRIL 13: Kelly Browne's bar owner Dean Risi enjoys a drink on the bars opening night. Mr Risi has been treatened with legal action by insurance company AMI for using the name Kelly Browne's, which also features in the company's advertising. Photo: Phil Walter/Getty Images
Apr 13, 2000

http://www.libertarianz.org.nz/dean-risi-honoured-with-light-of-liberty-award/

VOTE TIM WIKIRIWHI LIBERTARIAN INDEPENDENT HAMILTON WEST!