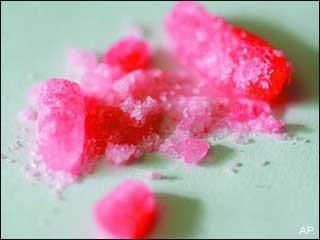 Man o Man The Paranoia and bigotry of the sheeple is so easily manipulated into the evil spirit of Persecution. The ease with which common Paranoia's and bigotries are manipulated and inflamed is currently evidenced by the comments on Facebook, that one photo receives, as it 'does the rounds'.
It is that Photo above (looks like Red Jelly crystals)… and therein lies the seeds of Hysteria… It looks yummy… yet is supposed to be 'P'… Crystal Meth… esp flavoured we are told… to poison little Children!
Now this post is spreading across Facebook provoking both terror and hatred against Drug users… and insodoing fans the flames of legalised persecution and support for the vile 'War on drugs'.
Kiwis look with revulsion at the fanatical hysteria of Muslims over a Cartoon, yet I say to you Prohibitionist chumps ought take a look in the mirror you Hipocrites! This Meth story is absolute crap yet that does not hinder you all for wanting to lynch all druggies!… You are all as pathetic as the worst religious zealots… bunch of witch burners!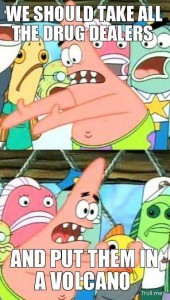 Common sense ought to prevail. This story is completely irrational. Simply put 'P' is way too expensive to be dished out as candy to wee kiddies.
Oh but you think the dealers want to hurt the kids (They are all Evil bastards aye) or They wanna get them hooked so they can fleece them of their pocket money! (The diabolical fiends!) *BULLSHIT!* ITS ALL IN YOUR PERVERSE HEADS YOU NASTY FEAR RIDDEN FREAKS! CAN YOU NOT TELL WHEN YOU ARE BEING PLAYED LIKE A FIDDLE? YOU ARE BEING MANIPULATED BY HITLER LIKE SCUM WHOM HATE FREEDOM! Meth users are the 'New Jews' of our Era.
And if that's not good enough here is a link which shows this Paranoia has no basis…
http://www.snopes.com/medical/drugs/candymeth.asp
As long as You sheep are so easily manipulated by your fear Evil political Forces will prevail.
By Tim Wikiriwhi Christian Libertarian.
Does the war on drugs do more harm to America than actual drugs?
http://www.foxnews.com/opinion/2012/03/01/does-war-on-drugs-do-more-harm-to-america-than-actual-drugs/?intcmp=spotlight