A manned Mars mission? A lunar base? Asteroid mining?
Nope.
NASA Chief: Next Frontier Better Relations With Muslim World

NASA Administrator Charles Bolden said in a recent interview that his "foremost" mission as the head of America's space exploration agency is to improve relations with the Muslim world.

Though international diplomacy would seem well outside NASA's orbit, Bolden said in an interview with Al Jazeera that strengthening those ties was among the top tasks President Obama assigned him. He said better interaction with the Muslim world would ultimately advance space travel.

"When I became the NASA administrator — or before I became the NASA administrator — he charged me with three things. One was he wanted me to help re-inspire children to want to get into science and math, he wanted me to expand our international relationships, and third, and perhaps foremost, he wanted me to find a way to reach out to the Muslim world and engage much more with dominantly Muslim nations to help them feel good about their historic contribution to science … and math and engineering," Bolden said in the interview.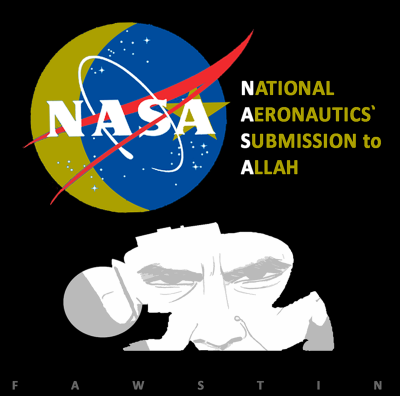 As Bosch Fawstin says, "No, this is not a story from The Onion." And, no, it's not April Fools Day, either.
The end isn't nigh. It's been and gone. (This actually happened in July 2010.)
[Hat tip: Joe Maurone]