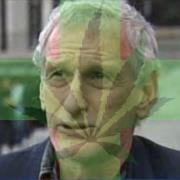 Billy McKee is in the Palmerston North District Court today.
Outside, supporters are holding a peaceful protest and an all-night vigil.
PEACEFUL PROTEST AND ALL NIGHT VIGIL.

We are traveling from around the country to support the court case of GreenCross director Billy McKee, who is a medical cannabis user and amputee.

Supporters from Invercargill to Auckland will be converging in Palmerston North on September 3, outside the court to stage a peaceful protest and all night vigil to support Mckee.

Billy lost a leg below the knee when a drunk driver deliberately rammed his motorbike over 30 years ago. The incident resulted in him being confined to a wheelchair and in constant pain from nerve damage to the stump as well as suffering from post traumatic stress disorder.

The pain medications he was prescribed by doctors caused intolerable side effects where even driving was considered unsafe. He found that the only thing that controlled his pain, depression, irritability and other symptoms, while still allowing him to function, was cannabis.

This led him to study the medical benefits of cannabis, become a counsellor and form GreenCross, an organisation devoted to helping sick people obtain relief through the medicinal use of cannabis.

McKee now faces jail time for running GreenCross and helping sick patients obtain their medicine.

He was entrapped by an undercover police officer posing as someone suffering from severe migraines. McKee said that migraines can indicate in the early stages of brain tumors and many people have found that cannabis relieves the symptoms of migraines and allows them to function normally.

McKee accepted the young man as being a genuine sufferer. The undercover cop appealed to his compassion in asking Billy to supply him with cannabis. Billy says, "I was really worried about him."

As a result of trying to help someone, Billy is now facing charges that could see him sent to prison for up to eight years. Prison terms have also been imposed on other medical cannabis users due to a law that lacks compassion.

McKee, who is going to a jury trial, is calling for jury nullification of the charges of the grounds they breach his human rights.

Even if he has broken the law, the Jury has the moral authority to return a not-guilty verdict, sending a message to politicians that medical cannabis users should not be targeted for arrest.
I'm sorry I couldn't be there. I know you'll stand tall, Billy. I hope and pray that you walk free.