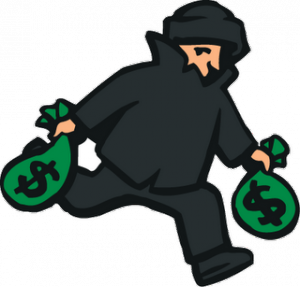 Yesterday someone broke into my house and stole my iMac, some laptops, cash, an X box and a few other things.
Luke 6:29
Whoever hits you on the cheek, offer him the other also; and whoever takes away your coat, do not withhold your shirt from him either.
I'm not concerned about the loss… but yeah… I'm not really feeling this scripture (Tim, please tell me this one is part of an irrelevant dispensation 🙂 )
A christian friend said hearing about the theft made him angry – I don't want to be angry. How should I, or any Christian, react to being robbed?
On a personal level I'm unsure of how to react but on a political level I find things much more straight forward – when a person steals another person's property the thief should have to repay the victim the value of the stolen goods plus a penalty proportionate to the value of the stolen goods.
Proverbs 6:30-31
People do not despise a thief if he steals to satisfy his hunger when he is starving.
Yet if he is caught, he must pay sevenfold, though it costs him all the wealth of his house.
It's often said that criminals have a debt to society but this is incorrect – criminals have a debt to their victims and when possible penalties should be given with the aim of restoring victims. When restitution is not possible then even selling a person into slavery is justified.
Exodus 22:1-4
Whoever steals an ox or a sheep and slaughters it or sells it must pay back five head of cattle for the ox and four sheep for the sheep.

If a thief is caught breaking in at night and is struck a fatal blow, the defender is not guilty of bloodshed; but if it happens after sunrise, the defender is guilty of bloodshed.

Anyone who steals must certainly make restitution, but if they have nothing, they must be sold to pay for their theft. If the stolen animal is found alive in their possession—whether ox or donkey or sheep—they must pay back double.
I hope this post provokes a robust discussion. Unfortunately I may be limited to making follow up comments using my smartphone. 🙂