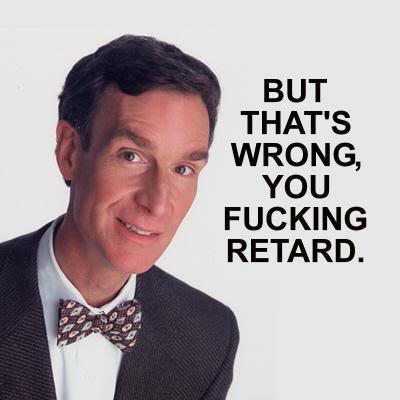 False belief? Could be a simple mistake. You don't know any better.
But what if you act on it? Then it's a false pretext. Could be a sin of ignorance. You should know better than that.
What if I tell that you're wrong and tell you why you're wrong—but you persist in the error of your ways? Then you commit a sin of culpable ignorance.
Let's be clear. We're not talking Lutheran trifles here. A sin of culpable ignorance is a mortal sin. ('Mortal' as in brain death. Yours.) Your offending isn't at the lower end of the scale. It's at the other end of the scale. You haven't merely offended, you've blatantly violated. You have declared yourself an enemy of Reason and an enemy of God. Blasphemy! You have taken the name of Reason—the Lord thy God (or, if you prefer, your Only Absolute)—in vain and broken the Third Commandment.
Thomas Jefferson got it.
Fix reason firmly in her seat, and call to her tribunal every fact, every opinion. Question with boldness even the existence of a god; because, if there be one, he must more approve the homage of reason, than that of blindfolded fear.
It's a shame that Jefferson didn't read this before he put pen to paper. To *say* in your heart, "There is no God," is foolishness. But to *argue* God's non-existence is in its very nature an act of worship! (And thereby self-refuting!) Gobsmack!
What about Ayn Rand? She said she got it. She paid a fortune in lip service. But flattery gets you nowhere. Inference takes you places! So is Objectivism the road to nowhere or are Objectivists on a hiding to nothing? Yes, indeed.
I am not primarily an advocate of capitalism, but of egoism; and I am not primarily an advocate of egoism, but of reason. If one recognizes the supremacy of reason and applies it consistently, all the rest follows.

This—the supremacy of reason—was, is and will be the primary concern of my work, and the essence of Objectivism. Reason in epistemology leads to egoism in ethics, which leads to capitalism in politics.
Did you just feel a puff of air? That was Satan spreading his wings. But this time it ain't no laughing matter. The greatest intellectual saboteur of all time, operating deep within Reason's inner sanctum, is now exposed as traitor to the true Royal cause. Objectivism is the philosophy of reason all right – reason with a silent 'T'.