Marijuana makes people feel good. Apart from making people feel good marijuana may have some other positive effects – glaucoma remedy, pain relief, cancer cure (yeah right), etc. but overwhelmingly the effect of smoking marijuana is that it makes people stupid and lazy – and I'm not just talking about immediately after smoking it – people that smoke regularly are stupid and lazy on a full time basis.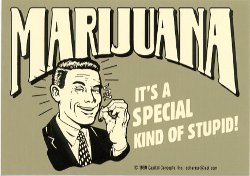 "Stupid and lazy" might be overstating it for some but a regular dope smoker is certainly less intelligent and less motivated than they would be without it.
The truth about marijuana is that it is predominantly harmful.